Mark Sanchez, Philip Rivers, and the 10 Most Overrated QBs of the Last Decade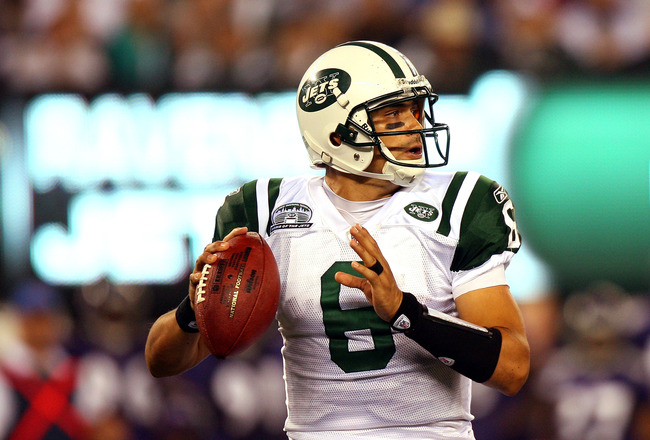 Andrew Burton/Getty Images
Mark Sanchez and Philip Rivers authored horrendous performances in their season openers last night on Monday Night Football.
Sanchez threw for just 74 yards, while Rivers struggled with the rainy conditions in Kansas City as the Chargers offense looked completely out of sync for much of the night.
It's easy to make a case for both players being overrated, albeit for different reasons.
Here's a look at 10 of the most overrated signal callers of the last decade in the NFL.
No. 10: Donovan McNabb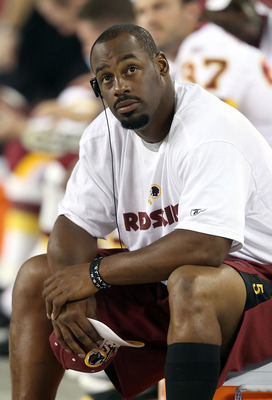 Christian Petersen/Getty Images
McNabb's place on this list is a bit lower than might be expected, because his status as "overrated" is beginning to change with age.
At the same time, playing in Philly garnered him a great deal of accolades that are helping him remain relevant despite his increased and decreased skills.
The six-time Pro Bowler hasn't had a great individual year since 2004, when he threw for 3,875 yards, 31 touchdowns, and just eight interceptions.
Amazingly, McNabb has never had a 4,000-yard season during his career, and probably never will.
Ultimately, he might never have actually been as good as we thought he was. Maybe it would have helped if Terrell Owens had stuck around a bit longer.
No. 9: Philip Rivers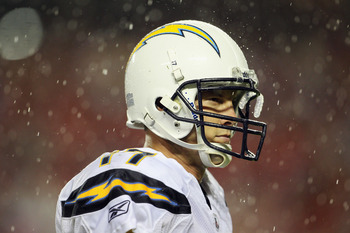 Jamie Squire/Getty Images
Rivers has been piling up yards and touchdowns on the West Coast. He just hasn't quiet managed to maintain consistency when it matters.
Back-to-back 4,000-yard campaigns are difficult to overlook, but Rivers has been fortunate to have a tremendous amount of talent around him, including LaDainian Tomlinson, Antonio Gates, and Vincent Jackson.
Numbers aren't everything, and Rivers really could use some work on his intangibles.
His fiery demeanor makes him a dictator in the huddle and makes it apparent that his relationships and teammates might never be perfect.
Much like some of his counterparts on this list, Rivers needs to back up the numbers by finally winning something in the postseason.
It's probably not going to happen this year.
No. 8: Eli Manning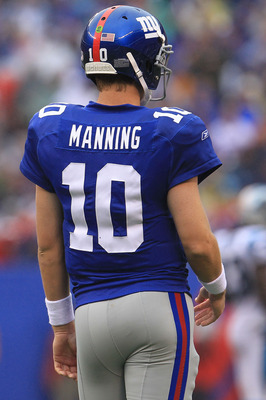 Chris McGrath/Getty Images
There's just something about being a decent quarterback in a New York market.
Eli will never be his brother, but he seems to get nearly as much attention despite putting up fairly modest numbers overall.
He finally notched his first 4,000-yard season in 2009, but it was all for naught as the Giants went 8-8. In reality, he has never been much more than an effective game manager during his career.
Manning's legacy is far from complete, but let's refrain from considering him among the best quarterbacks in the NFL until he begins producing elite numbers on a consistent basis.
No. 7: Matt Hasselbeck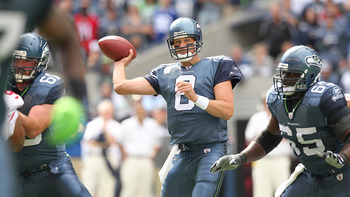 Otto Greule Jr/Getty Images
Hasselbeck's statistical achievements are modest when compared to the NFL's better quarterbacks of the last decade, and the success of his Seahawks' teams have fluctuated wildly during the last 10 years.
The last two years of relative ineptitude and injuries have pushed the 34 year old out of the discussion as being one of the NFL's best, and it's about time.
Hasselbeck has never had a 4,000-yard season and has only had three individual seasons that stand out. He best came in 2007 when he threw for 3,966 yards with 28 touchdowns and 12 interceptions as the Seahawks finished 10-6.
The mark of a great quarterback is the ability to make average players around him better, something Hasselbeck hasn't done consistently during his playing career.
No. 6: Daunte Culpepper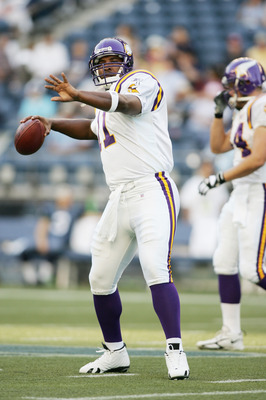 Jonathan Ferrey/Getty Images
Culpepper's rocket arm and amazing athletic ability blinded many NFL observers from something that should have been obvious: His production was inflated by an abundance of talent around him.
Lucky enough to have a young Randy Moss and an old Cris Carter when he broke into the Vikings lineup as an unheralded youngster out of Central Florida, Culpepper's 33 touchdowns pushed him into the ranks of NFL superstars.
He didn't stay there long.
After two years of mediocrity, Culpepper put together back-to-back outstanding seasons in 2003 and 2004 and again was mentioned among the NFL's best.
His career took a turn for the worst again after that, and injuries and inconsistency caused him to bounce around the NFL.
In reality, Daunte Culpepper might have been nothing more than a product of the dynamic Vikings' system.
No. 5: Carson Palmer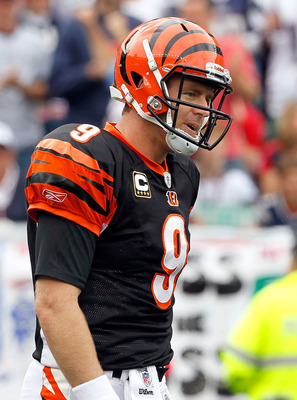 Jim Rogash/Getty Images
Aside from his second NFL season in 2005, Carson Palmer hasn't been a great quarterback for the Bengals.
In fact, he has actually underachieved considering his lofty status as a former No. 1 overall pick.
Perhaps more than anyone, Palmer needs the Chad Ochocinco-Terrell Owens marriage to function and lead to productivity for the entire season.
Otherwise, a repeat of last year's fairly modest 21 touchdown, 13 interception season could be enough to cause the Bengals to start looking for a younger, cheaper alternative.
No. 4: Vince Young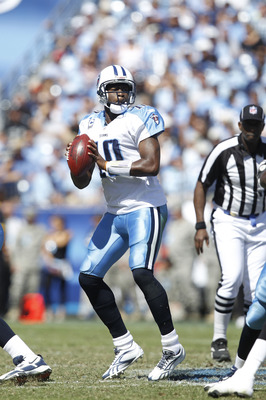 Joe Robbins/Getty Images
Vince Young went from being an electric player expected to transcend the quarterback position to just another average guy asked to hand the ball to a running back.
After his well-documented fall from grace, Young found himself being bombarded with praise for last season's renaissance performance.
In reality, the Titans' string of success was 90 percent Chris Johnson and 10 percent No. 10.
Even in his fifth season, Young remains a relatively raw commodity as a quarterback. It seems unlikely he will ever become on of the game's elite.
No. 3: Jay Cutler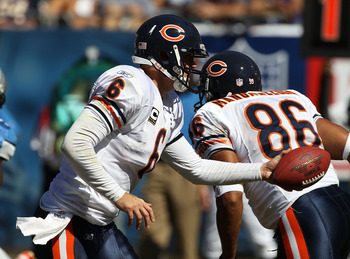 Jonathan Daniel/Getty Images
Jay Cutler has one of the strongest arms in the entire NFL and a lightening-quick release. That doesn't mean he will ever live up to the hype.
After tossing 26 interceptions in his first season with the Bears, there is no sign that Cutler's once-promising career is heading in the right direction.
A patchwork offensive line and an unimpressive group of receivers makes it likely another huge interception total is right around the corner.
Soon, 20 or more interceptions might become the norm for the quarterback who was considered a blossoming All-Pro just two years ago.
No. 2: Michael Vick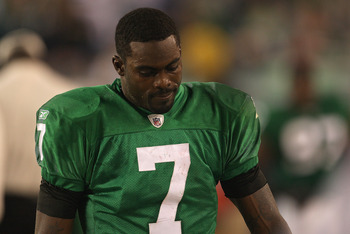 Mike Ehrmann/Getty Images
After a strong performance in relief of the injured Kevin Kolb Sunday against the Packers, fans and analysts alike are already calling for Vick to be named the Eagles starting quarterback for the rest of the season.
We've been blinded by the speed before, and it appears it's about to happen again.
Vick is without question one of the more unique talents to every play the quarterback position in the NFL, but he remains an average passer.
The numbers simply don't lie.
Vick has never thrown for 3,000 yards in a single season or tossed more than 20 touchdown passes. As sexy as his running skills might be, there is no question he is an underwhelming passer.
At some point, Vick will have to prove he can run a West Coast offense and move the ball without having to resort to his legs.
Don't count on it ever happening.
No. 1: Mark Sanchez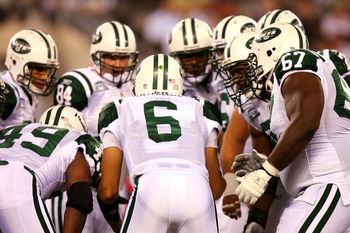 Andrew Burton/Getty Images
Already having doled out plenty of love to another unproven USC quarterback a few years ago, the media eagerly anointed Mark Sanchez as the face of the Jets despite no track record of success.
If Monday's dreadful outing was any indication of what is to come, Sanchez could find himself back on the bench as a failed game-manager.
His sloppy style of play is characterized by an over-reliance on checkdowns, and shockingly inaccurate passes, not to mention poor decision making.
It's too early to write off Sanchez just yet, but anything he does from here on out will be considered a huge surprise.
It's time to send the hype machine to the shop for some major repairs. It might also be time for the Jets to take Mark Brunell out of the freezer and get him ready to go.
Keep Reading