Week 1: How The Calvin Johnson Play Shook Up Fans and Media Alike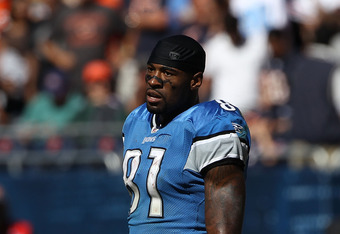 Calvin looks about as shocked as the rest of us are.
Jonathan Daniel/Getty Images
It didn't matter if you were a Bears, Lions or a fan of any other NFL team– if you saw Calvin Johnson- Week 1 at Bears" target="_blank">this play, you probably thought it was a touchdown.
The Play
The Lions were down 19-14 with 31 seconds to go in their opening game against the Bears when Shaun Hill dropped back, set, and threw a 25-yard jump ball to Calvin Johnson in the end zone.
Johnson, who was covered by Bears corner Zack Bowman, was able to snag the pass out of the air and land in the end zone for what looked to be a touchdown.
While an official initially signaled touchdown, it was quickly ruled as an incomplete pass.
Upon further review, the replay showed that Johnson caught the ball with two hands, then shifted the ball to his right hand so he could brace himself to fall on his left side, all the while jumping to lay to his side as he then, lets his right arm (with ball in hand) touch the ground as he let it slip out of his hand.
After this viewing, the ruling of an incomplete pass was upheld by the officials.
Two plays later, the Lions were looking at an 0-1 record and their 28th straight road loss.
Reaction
Many fans, including myself, were confused by this call. After all, the looks of the play showed that Johnson seemingly had possession of the ball and even came down with both feet in bounds.
So why wasn't that considered a touchdown?
Apparently, as described in the video clip of the play, the officials had discussed that "the process" of the catch must be maintained throughout the entire play.
What does that mean?
Apparently, it means what is mentioned in this video. The rule basically states that the receiver must maintain possession of the ball and control after he touches the ground.
Confused yet? Fans are, and understandably so, since we as fans do not play the game. If we don't play the game, we don't know all of those intricate rules.
However, because of this play, there has been a lot disagreement about about the call, like in this article written by Pat Kirwan of NFL.com.
Kirwan even goes as far to compare the rule of a reception to that of a running back who dives into the end zone at the 1-yard line, only to break the plane even though the ball may fall out of his hands, yet it'd still be considered a touchdown.
The point Pat Kirwan made that seems to stick out in my mind is consistency among rules. I certainly understand the point he's making (though I don't agree with his example) because that seems to be the issue, or at least it feels like the issue.
My thoughts
I have to admit that even though I am a major Bears fan, I was certain that the play would be ruled a touchdown. The more I looked at the play in slow motion, the more I questioned the eventual call.
However, I understand the ruling among the officials and that since I do not play the game, I'm not going to know all of those intricate rules.
That being said, it seemed inconsistent because by the idea of maintaining possession in bounds, Calvin Johnson did that seemingly with flying colors.
But this new talk about "the process" seems to, at the very least, throw a wrench into a machine I thought was working.
I'm not sure if I would go as far as suggesting a change in the rule, like Frank Tadych is suggesting in this article, but I do think it is worth reviewing for the sake of the players and coaches.
However, being the Bears fan I am, I certainly was concerned with something more (since the off-season, actually):
Is Zack Bowman really going to be a dependable corner this year?
That is another discussion for another article.
EDIT (Sept. 15, 2010):
If any of you were wondering if a play like this has happened in the past, check out this article by Chicago Bears Senior writer Larry Mayer as he talks about two other instances where this "process" rule nullifies some catches–both for the Bears.
Larry even provides a link to a video to watch all 3 plays (including this past Sunday's Calvin Johnson play).
Please, feel free to check it out and let me know what you think.
This article is
What is the duplicate article?
Why is this article offensive?
Where is this article plagiarized from?
Why is this article poorly edited?

Detroit Lions: Like this team?