NFL Power Rankings Week 2: San Francisco 49ers Falling Fast?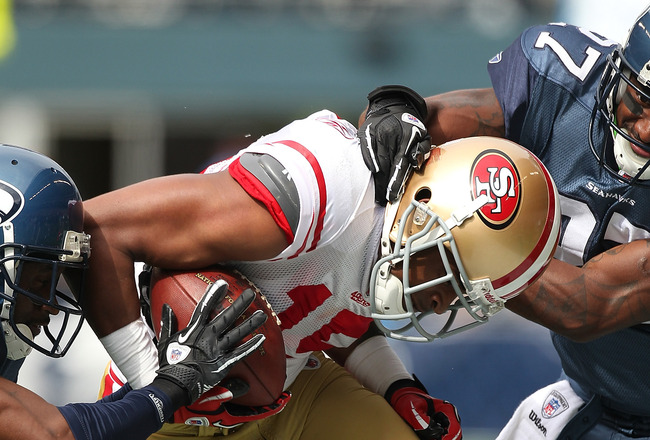 Otto Greule Jr/Getty Images
NFL power rankings are a great way to gauge how your favorite team is performing early in the season.
Week 1 is (nearly) in the books and already NFL fans are beginning to get a sense of which teams are built for a season of success and which teams are still a few years away from competing for a ring.
Some dreadful performances (hello, 49ers) pushed teams way down in the ranks, while a few surprising wins pushed teams into the top 15 (hello, Redskins.)
Let's take a look at the complete 32 team ranking.
32.) Buffalo Bills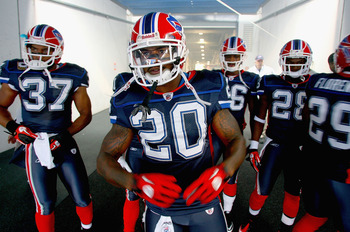 Rick Stewart/Getty Images
As anticipated, the Buffalo Bills' offense dropped a turd in upstate New York on Sunday, managing only 166 yards of total offense.
Bills fans can take solace in the fact that C.J. Spiller looked electric, finishing with 6 yards on 7 carries. Oh, wait...
31.) St. Louis Rams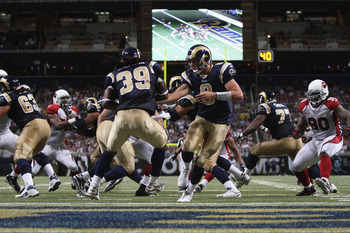 Dilip Vishwanat/Getty Images
The Rams showed some spunk in their home opener, taking the game to a deciding final play.
My sense is that the Arizona Cardinals are much worse than anyone expected. An 8-8 record could literally win the NFC West.
Sam Bradford looked up and down, but with 55 passing attempts in his NFL debut, that's to be expected.
30.) Oakland Raiders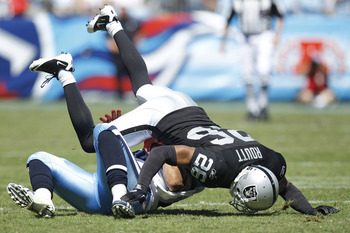 Joe Robbins/Getty Images
Some positive offseason momentum quickly slipped away as the Oakland Raiders looked lost for most of their game against the Tennessee Titans.
While the Titans are legitimate playoff contenders this year, the Raiders looked unorganized and unprepared.
What's even more troubling for Raiders fans is their biggest hole is their offensive line, head coach Tom Cable's area of expertise. LT Mario Henderson's days may be, and should be, numbered.
29.) Tampa Bay Buccaneers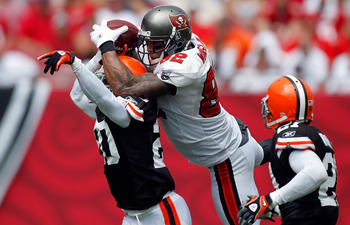 J. Meric/Getty Images
A win is a win is a win in the National Football League.
While beating the Cleveland Browns doesn't prove much about the Bucs, it should give one of the NFL's youngest teams some confidence heading into week two. Not much is as important as that in the NFL.
28.) Cleveland Browns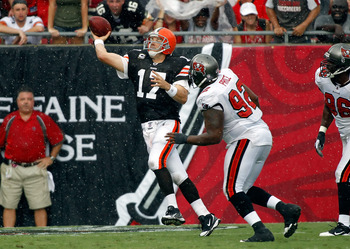 J. Meric/Getty Images
A promising first half quickly fell apart thanks to Jake Delhomme's refusal to not turn over the ball.
Like the Lions, this team is certainly improved in 2010 and should be keep the majority of the games they're in close. But, losing to the Tampa Bay Bucs in week one will inspire little confidence in Delhomme and the offense.
27.) Detroit Lions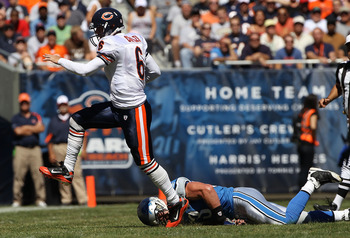 Jonathan Daniel/Getty Images
There is no doubt the Detroit Lions are much improved in 2010 and have as solid a young nucleus as any team in the NFL.
The fact remains, this team hasn't learned how to win. Calvin Johnson's brain fart (regardless of how asinine the rule is) was the perfect example of a team finding a way to lose.
That mentality will have to shift before they can start stringing together some wins.
26.) San Francisco 49ers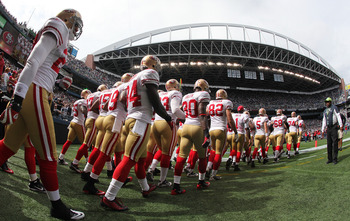 Otto Greule Jr/Getty Images
Talk about a team whose positive momentum was abruptly halted.
After going 4-0 in the preseason, and residing in the NFL's worst division, even the most cynical 49ers fans expect a playoff berth from this team.
A 31-6 butt-whooping at the hands of the NFL's least talented team (take a look at the Seahawks' roster sometime) and the Niners are back to square one.
25.) Kansas City Chiefs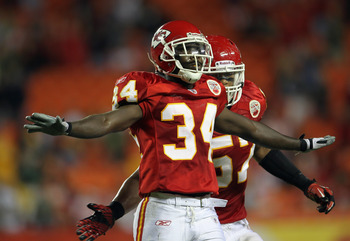 Jamie Squire/Getty Images
Their ranking may seem a bit unfair as they have yet to take the field in the regular season. But, let's be realistic.
The Chiefs are a long way from fielding a competitive team, even in the lowly AFC West. I don't see them staying within two touchdowns of the San Diego Chargers tonight.
24.) Arizona Cardinals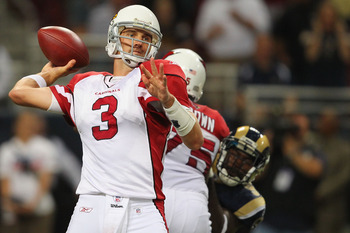 Dilip Vishwanat/Getty Images
The Cardinals barely squeaked out a win against a team that should struggle to win a single game the rest of the season.
Derek Anderson wasn't atrocious (which I suppose is a positive) and it would appear anyone could win the NFC West.
Still, this is not a good a football team and they'll have major problems winning outside of their division.
23.) Chicago Bears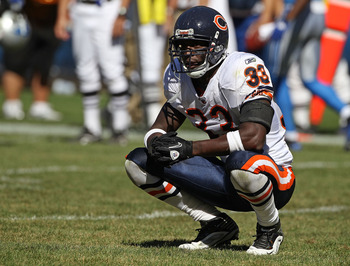 Jonathan Daniel/Getty Images
Jay Cutler threw for 372 yards and a couple scores and the Chicago Bears still almost lost to one of the NFL's worst teams.
In fact, if not for a fairly obscure (and horrible) rule, the Bears would be 0-1 and already in a hole in the NFC North.
The Bears should be able to move the ball on people, but propensity for turnovers should keep this team down.
22.) Carolina Panthers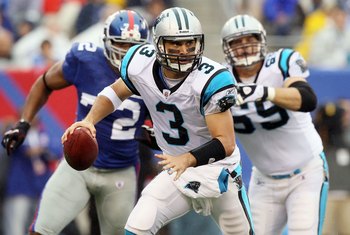 Jim McIsaac/Getty Images
Granted, the conditions weren't ideal, but Matt Moore and the Carolina Panthers offense looked miserable for most of the day.
Amassing less than 250 yards of total offense, and completing just over 40 percent of their balls, the Panthers will have to rely on an underrated, though beat up, defense all season.
Not a promising proposition.
21.) Denver Broncos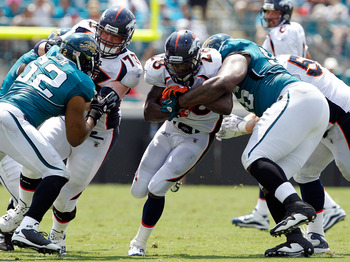 Sam Greenwood/Getty Images
Statistically, the Denver Broncos beat the Jacksonville Jaguars on Sunday.
Kyle Orton looked more than serviceable, throwing for nearly 300 yards and completing 22 passes. But the Broncos run game never got going and some costly turnovers spelled disaster for the Elways.
20.) Seattle Seahawks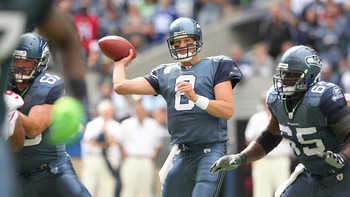 Otto Greule Jr/Getty Images
Despite a roster with 27 new faces and countless fringe-NFL talent players, the Seahawks dominated the San Francisco 49ers in every phase of the game on Sunday.
An aberration or a sign of things to come? It will certainly take a few weeks before any real truths have been learned, but the 'Hawks have to be early season favorites in the NFC West.
19.) Philadelphia Eagles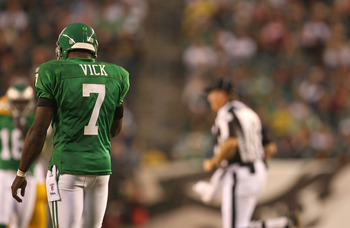 Mike Ehrmann/Getty Images
The situation in Philadelphia could be worse than anyone anticipated.
While most pundits had predicted the Eagles to win somewhere between 7-9 games, the harsh reality of Kevin Kolb's debut could make reaching those goals impossible.
Before leaving the game with a concussion, Kolb looked awful. If not for some retro-Mike Vick play, and some uncharacteristically bad decision making from Aaron Rodgers, the Eagles would've been run off the field.
18.) Atlanta Falcons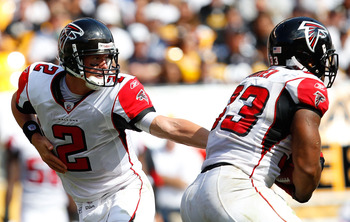 Jared Wickerham/Getty Images
The Falcons have been a trendy pick to make some noise in the NFC South in year 3 of the Matt Ryan era.
An OT loss to the undermanned Pittsburgh Steelers is not a good sign for this coming of age Falcons team.
Legitimate playoff contenders should not lose to Dennis Dixon-led teams, no matter how staunch their defense is.
17.) Jacksonville Jaguars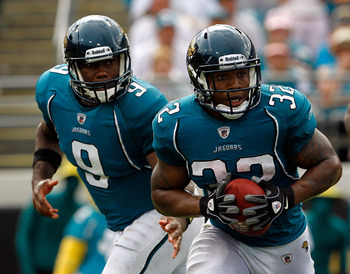 Sam Greenwood/Getty Images
If one thing became clear during the Jaguars win Sunday it's that TE Marcades Lewis can play and will be a key member to that offense.
With Pocket Hercules a sure bet to total over 1,500 yards of total offense, and a playmaking defense, the Jags could surprise some people this year.
Unfortunately, the Jags are stuck in the difficult AFC South and barring a disastrous injury to Matt Schaub or Peyton Manning, the teal and black won't make the playoffs in 2010.
16.) Pittsburgh Steelers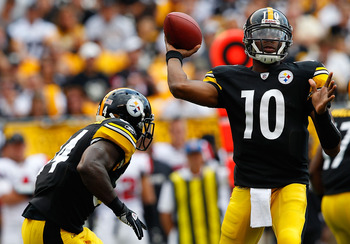 Jared Wickerham/Getty Images
No team had a more important opening game than the Pittsburgh Steelers.
Desperately needing a split in their first four games, the Steelers relieved a lot of pressure off themselves by beating the Falcons in OT.
The team will never be world beaters with Dennis Dixon at QB, but they've proven that they can be gritty and find a way to win ugly.
15.) Miami Dolphins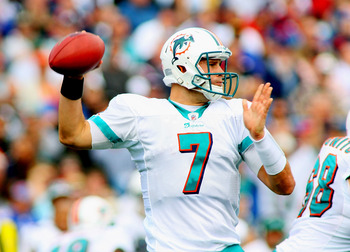 Rick Stewart/Getty Images
It wasn't pretty, but the Phins did what they had to do and beat a division rival to open their season.
While the Bills are pretty horrendous, division games are never easy (just ask the Niners) and the Dolphins should be satisfied with Chad Henne's efficient, if not impressive 2010 debut.
14.) Cincinnati Bengals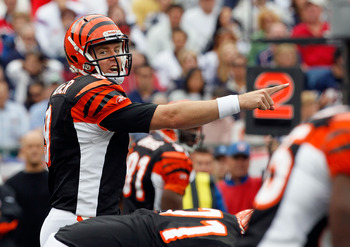 Jim Rogash/Getty Images
The Bengals amassed 26 first downs and nearly 350 yards through the air. Chad Ochocino had an outstanding day and the offense, after some early sputtering, generally looked in rhythm.
The defense wasn't so impressive, getting shredded by Tom Brady and the Patriots offense for 38 points.
If the Bengals can it together on both sides of the ball, they could compete for an AFC North crown.
13.) Washington Redskins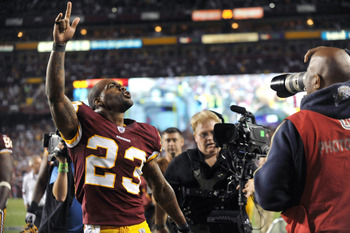 Larry French/Getty Images
What the Redskins did on Sunday night shouldn't be overlooked.
Their defense shutdown one of the League's most powerful offenses, and the offense controlled the ball just enough to win.
As the season progresses, the offense will improve to be sure. Don't rule the 'Skins out as contenders in the NFC East.
12.) New York Giants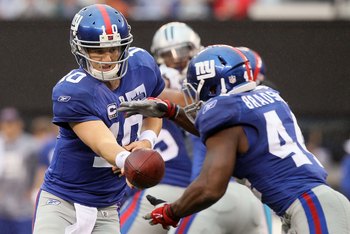 Jim McIsaac/Getty Images
After a less than promising first half, the New York Giants put it together agains the anemic Carolina Panthers and rolled to a victory in the New Meadowlands.
There were signs of distress, however, has Eli Manning turned the ball over three times and new feature running back Ahmad Bradshaw got off to a slow start.
Division play will be the tell of whether or not this team can bounce back from last year's disappointment.
11.) Tennessee Titans
Joe Robbins/Getty Images
Beating up on the Raiders is probably not the best barometer of what the 2010 season holds for the Tennessee Tians, but they couldn't have asked for much more.
A relentless pass rush, a smart Vince Young, and Chris Johnson being Chris Johnson should land this team in the playoffs.
10.) Dallas Cowboys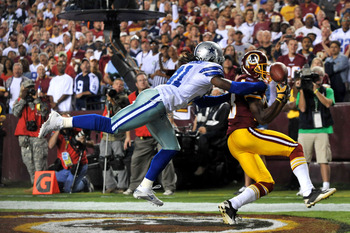 Larry French/Getty Images
The Cowboys season got off to a resounding thud on Sunday night, losing to the Washington Redskins13-7.
Expectations all offseason have been that the Cowboys will be playing a home Super Bowl come February. Unless there is a major overhaul on the offensive line, the Cowboys dream season may quickly turn into a nightmare.
9.) Minnesota Vikings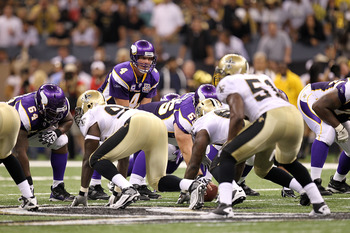 Ronald Martinez/Getty Images
The Vikings doubters have been out in full-force early in 2010.
Favre is too old, Sidney Rice is too suspended, and Adrian Peterson fumbled too much.
While the Purple and Gold didn't look great against the Saints, they should be able to rebound. 10 wins sounds about right...
8.) Indianapolis Colts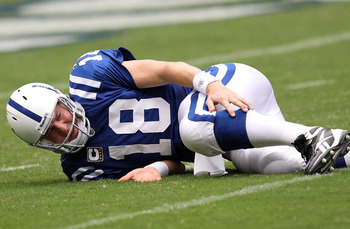 Ronald Martinez/Getty Images
All the passing yards in the world from Peyton Manning couldn't save the Colts on Sunday, whose run defense did everything but in their loss to the Houston Texans.
Arian Foster, who spent most of last season on the Texans practice squad, gashed the Colts for 231 yards and 3 scores.
Colts fans can take solace in the fact that in 2006, the Colts Super Bowl season, the team's run defense was atrocious for much of the regular season before finally putting it together during their playoff run.
7.) Houston Texans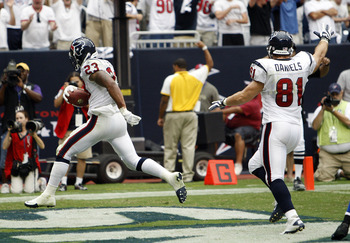 Bob Levey/Getty Images
The Houston Texans may have found a legitimate star in RB Arian Foster.
The one-time practice-squader put on a performance for the ages, scoring 3 touchdowns and piling up nearly 230 yards of rushing.
The Texans established threats had only pedestrian games thanks to Foster, as Matt Schaub and Andre Johnson hooked up just 3 times for 33 yards.
6.) Baltimore Ravens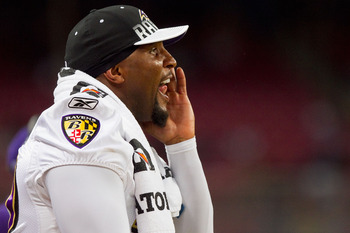 Dilip Vishwanat/Getty Images
The Ravens secondary could be their undoing, but the rest of their team is of Super Bowl caliber.
Ray Rice is as dynamic as any back in the NFL, and Joe Flacco finally has a playmaker in Anquan Boldin.
Much will be learned about this team tonight against the Fightin' Rex Ryans.
5.) San Diego Chargers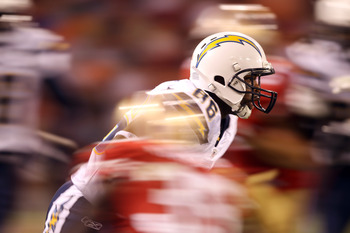 Ezra Shaw/Getty Images
All the pieces are in place for a deep San Diego Chargers playoff run.
They could conceivably wrap up the AFC West by early December and rest their starters before the playoffs get started.
Of course, with Norv Turner's track record early in the season, the Chargers could be scrambling in mid-November.
4.) New York Jets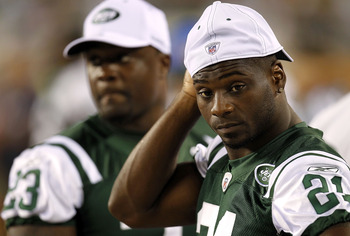 Jeff Zelevansky/Getty Images
As Bill Simmons aptly pointed out, the Jets barely squeaked into the playoffs last season with a 9-7 record.
They aren't coming off a Super Bowl win. They have yet to prove anything of real substance.
But their offseason acquisitions can't be overlooked. Their secondary is the best in the NFL and their rushing attack should be dynamic.
The Jets season will rest on the right arm of young Mark Sanchez. If the Jets stick to their strengths, running the ball and playing defense, they should content for a Super Bowl.
3.) Green Bay Packers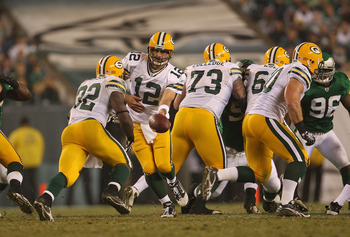 Mike Ehrmann/Getty Images
The Packers didn't look like world-beaters against the Eagles on Sunday, but they won in a hostile environment and proved that even when they aren't on top of their game, they'll find a way to win.
That's important for any team that relies so heavily on outstanding quarterback play. They should make a run at a spot in Dallas come February.
2.) New England Patriots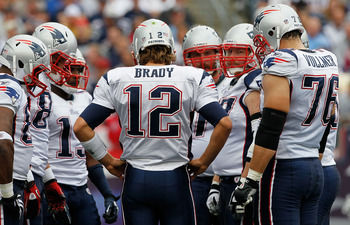 Jim Rogash/Getty Images
They say it takes two full years to recover from an ACL tear.
The proof was in the pudding for Tom Brady on Sunday, as number 12 completed 25 of 35 passes for 258 yards and 3 scores against a decent Cincinnati defense on Sunday.
If week 1 was a sign of things to come, expect Brady to be back in the MVP conversation in no time.
1.) New Orleans Saints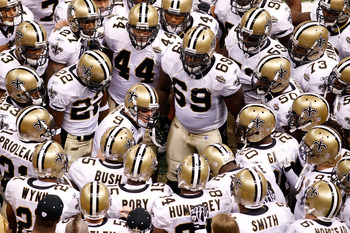 Chris Graythen/Getty Images
Until the reigning Super Bowl champs get beat, they deserve the top spot.
While the Saints offense didn't produce the gaudy numbers that their fans are so used to on Thursday night, they showed everything they needed to prove that they have the weapons for a repeat title run.
Keep Reading