B/R Quick Pick Challenge: Jay Cutler and Other Top Week 1 Starters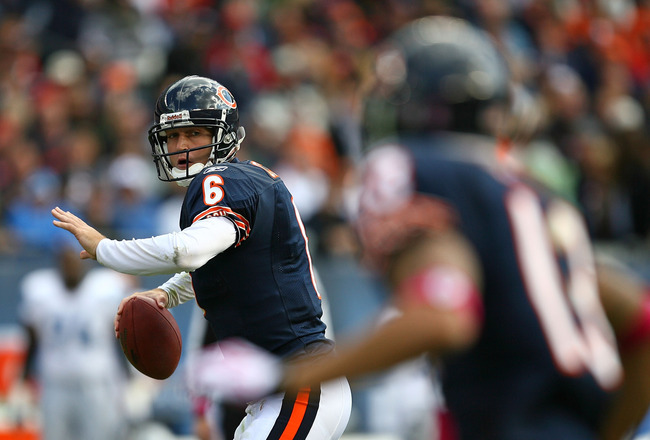 Though he struggled with turnovers throughout the rest of the season, Bears QB Jay Cutler hammered the Lions with over a 100.0 QB Rating.
Jonathan Daniel/Getty Images
The Quick Pick Challenge on Bleacher Report is a great way for fantasy players of all types to come together and prove their fantasy prowess.
For the grand total of FREE, anyone can enter the Quick Pick Challenge and have a chance at winning the Grand Prize of two tickets to this year's Super Bowl!
Miss a week? No problem! You're still eligible to win the weekly prize, which is a jersey of your choice.

But somehow, as I've recommended this contest to friends and some family members, I've heard quite a few people saying, "I don't understand the rules" or "I don't know enough about fantasy football."

I'm here to help, friends.

Let's start with the rules. Each week, players will choose a lineup that includes one of the following: Quarterback, running back, wide receiver, tight end, a team that will win their game.
The catch is that you only get to choose the player or team once throughout the season, so picking the right matchup for each player is of significant importance.

The NFL is somewhat of a crapshoot from week-to-week, but understanding matchups and opportunities is an area that can be used to help make informed decisions throughout the Quick Picks Contest here at Bleacher Report.

Keep in mind that the perceived top players from the regular season like Adrian Peterson, Aaron Rodgers, Andre Johnson, Dallas Clark, etc. may not be the best players to put in your lineup early in the year. Because we only get to use them once throughout the season, players should consider that there may be better opportunities for the top players as the season goes along.

Although strictly copying my picks will likely not lead you to win this contest, these picks may be a good guideline for visitors who might be wondering what to do at a position or two.
Quarterback: Jay Cutler, QB, Chicago Bears (vs. DET)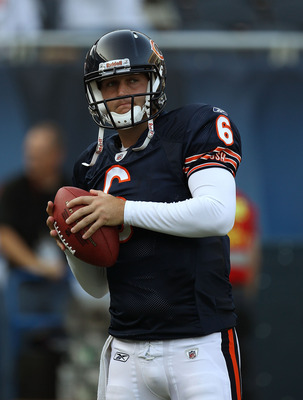 Jay Cutler is now playing in a Mike Martz offense, which could lead to huge fantasy numbers.
Jonathan Daniel/Getty Images
Jay Cutler, QB, Chicago Bears (vs. DET)
In his two games against the Lions in 2009, Cutler threw for over 400 yards, six touchdowns, and zero interceptions along with a rushing touchdown in the first matchup.
Although he is learning a new offense, Jay Cutler is still the face of the Bears. The new Mike Martz offense means passing, passing, and more passing, which should translate to points, points, and more points for Cutler this season.
Turnovers are the major concern with Cutler, but the Lions have a very inexperienced secondary that he has carved apart in the past, making him a great Week 1 option.
Other Good Options

Philip Rivers, QB, San Diego Chargers (at KC)
Derek Anderson, QB, Arizona Cardinals (at STL)
Matt Stafford, QB, Detroit Lions (at CHI)
Try to Avoid
Chad Henne, QB, Miami Dolphins
Although the Buffalo Bills have a porous defense, it might actually be TOO porous to make Henne a great fantasy play this week.
Most experts expect the Dolphins to run away with this game, so the Dolphins will likely be up late in the game, which means less passing opportunities for Henne on an already run-first offense.
Running Back: Jerome Harrison, RB, Cleveland Browns (vs. TB)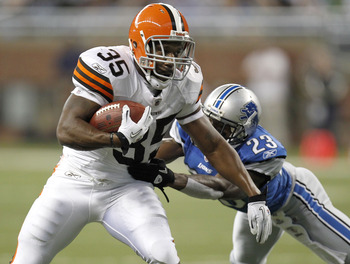 Jerome Harrison had an absolutely monter final month of the season and could be ready to continue that in 2010.
Gregory Shamus/Getty Images
Jerome Harrison, RB, Cleveland Browns (vs. TB)
Though I wouldn't fault anyone for putting Titans' running back Chris Johnson in their lineup this week, a lesser-known option for the Cleveland Browns named Jerome Harrison may actually be the best option this week.
The Browns' offense may be bordering on anemic this season, but this matchup may just be too good to pass up on.
Harrison had an absolutely ridiculous end to the 2009 season, carrying the ball over 100 times for 561 yards and five touchdowns in the final three weeks of the season, all of which were Browns victories.
With rookie Montario Hardesty out for the season, Harrison now has much less competition for carries and his Week 1 matchup is excellent against a terrible Buccaneers defense at home.
Other Good Options
Chris Johnson, RB, Tennessee Titans (vs. OAK)
Rashard Mendenhall, RB, Pittsburgh Steelers (vs. ATL)
Cadillac Williams, RB, Tampa Bay Buccaneers (at CLE)
Try to Avoid
Felix Jones, RB, Dallas Cowboys (at WAS)
As a Cowboys fan, it hurts me to talk ill of Felix Jones, but we just don't know what we're going to get in this backfield right now.
The Cowboys seem content with giving Marion Barber and even Tashard Choice a decent number of carries, so Felix Jones' touches could be limited against an already good Washington Redskins defense.
Jones is definitely a breakout candidate in 2010, but we should wait to see how he's used in the offense this year before we risk putting him in our lineup.
Wide Receiver: Malcom Floyd, WR, San Diego Chargers (vs. KC)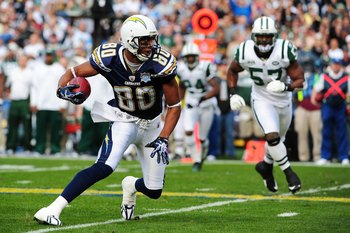 Malcom Floyd is in the same mold as Vincent Jackson and has established a good relationship with QB Philip Rivers.
Robert Laberge/Getty Images
Malcom Floyd, WR, San Diego Chargers (vs. KC)
With Vincent Jackson looking like he's going to sit out the entire season or be traded, the Chargers have looked in a new direction at wide receiver, and that direction is Malcom Floyd.
At 6'5", 225 lbs, Floyd's body and playing style closely resemble Jackson's. Better yet, Floyd has been a fantasy monster against the Chiefs over the past two seasons. Over his past four games against the Chiefs, Floyd has 14 catches for 237 yards and three touchdowns in limited playing time.
Though Antonio Gates may still be the top target, the Chargers are a pass-first offense with an elite quarterback in Philip Rivers, so Malcom Floyd will have a great opportunity to produce this week.


Other Good Options
Calvin Johnson, WR, Detroit Lions (at CHI)
Terrell Owens, WR, Cincinnati Bengals (at NE)
Johnny Knox, WR, Chicago Bears (vs. DET)

Try To Avoid
Mike Sims-Walker, WR, Jacksonville Jaguars (vs. DEN)
Though Sims-Walker had a breakout year in 2009, his inconsistency made it extremely difficult to start him from week-to-week.
Over the final five games of the season, Sims-Walker had just one game with two or more receptions, finishing with less than 30 receiving yards in the other four games.
Sims-Walker is David Garrard's top target, but that also means he is the opposing defense's top concern in the passing game. Rumors of the Broncos' Champ Bailey's demise have been greatly exaggerated, and he will be blanketing Sims-Walker all day.
Though the Broncos struggled during the second half of the season in 2009, the pass defense remained elite, finishing fourth in the league in passing yards against.
Tight Ends: Kellen Winslow, TE, Tampa Bay Buccaneers (vs. CLE)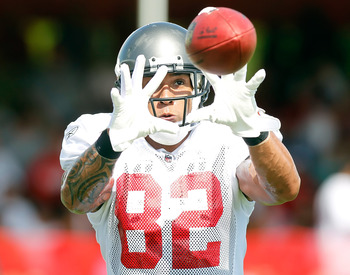 Kellen Winslow will have a chance to embarrass the Browns organization that gave up on him.
J. Meric/Getty Images
Kellen Winslow, TE, Tampa Bay Buccaneers (vs. CLE)
Following a season in which Winslow publicly criticized the Browns' organization for the way they handled his staph infection, Kellen Winslow was traded to the Tampa Bay and signed the largest contract for a tight end in NFL history.
Winslow went on to have one of the most productive seasons of his career, establishing himself as one of the go-to targets for rookie quarterback Josh Freeman. With Antonio Bryant now gone, Winslow should be an even more important part of the passing game.
This is the first time Winslow will face the Browns, and it should give Winslow a bit of extra desire to prove to the organization that they made the wrong decision regarding him.
Other Good Options
Antonio Gates, TE, San Diego Chargers (at KC)
Vernon Davis, TE, San Francisco 49ers (at SEA)
Greg Olsen, TE, Chicago Bears (vs. DET)
Try to Avoid
Chris Cooley, TE, Washington Redskins (vs. DAL)
Chris Cooley's situation in Washington is an interesting one. Although he is expected to be the top tight end again for the Redskins, there is a good chance that Fred Davis gets more playing time than he did last season when Cooley was healthy, given the success he had once Cooley went down to injury.
Also, Chris Cooley has just three touchdowns over the past two seasons and hasn't scored against the Cowboys since 2007, so Cooley's fantasy value this week is very questionable.
Team To Win: Tennessee Titans (vs. OAK)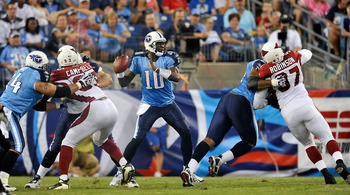 Titans QB Vince Young led the Titans to a 7-2 record as a starter in 2009.
Grant Halverson/Getty Images
Tennessee Titans (vs. OAK)
After a miserable start to the season in 2009, Vince Young led the Titans to a 7-2 record after he relieved Kerry Collins as the starter in Tennessee. The Titans host the Raiders in a potential blowout, with their potent rushing offense facing the Raiders' 29th ranked rush defense from 2009.
While most experts would say that the Raiders have improved this offseason, they are still a very questionable defense and the Titans should have no problem running away with this one.
Other Options
San Diego Chargers (at KC)
Miami Dolphins (at BUF)
Chicago Bears (vs. DET)
Try to Avoid
New England Patriots (vs. CIN)
Just a few years ago, this game would've been a laugher and an obvious choice for the pick of the week, but that is no longer.
While the Patriots are still a playoff frontrunner, they face an extremely underrated Bengals defense with perhaps the best cornerback tandem in the league in Johnathan Joseph and Leon Hall.
Randy Moss and Wes Welker should still get their touches because of the Patriots' pass-happy offense, but the last time we saw this team, they were getting absolutely battered by the Baltimore Ravens—a team which the Bengals swept in 2009 to win the AFC North.
Week 1 Wrap-Up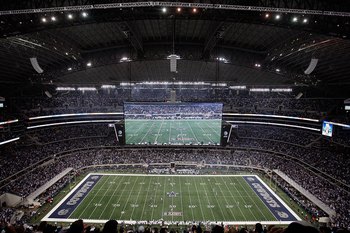 Superbowl XLIV will be played at beautiful Cowboys Stadium in Arlington, TX.
Ronald Martinez/Getty Images
Best of luck with your Week 1 Quick Picks. You've seen my lineup, so feel free to leave a comment with yours!
I hope you come in SECOND place on the year, behind me of course!
If you leave a comment, I might even consider bringing you to the Super Bowl with me, where we can watch my Cowboys hoist the Super Bowl trophy again!
Keep Reading

Tennessee Titans: Like this team?