NFL Season Opener: Box Score & Observations From Saints Victory Over Vikings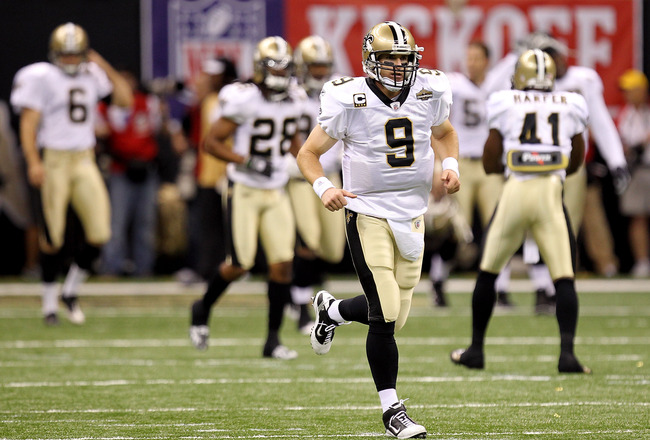 Ronald Martinez/Getty Images
The 2010 NFL Season Opener is finally underway as the New Orleans Saints beat the Minnesota Vikings with a box score of 14-9
It was great to finally watch some real football for the first time in seven months, and hopefully this game is just the first of several exciting ones to come.
After what seemed to be endless speculation, this was the first true indicator of some key team elements.
Therefore, here are ten observations that I made throughout the ball game.
Note, I predicted the Saints to beat the Vikings 27-24.
Drew Brees Looks Sharp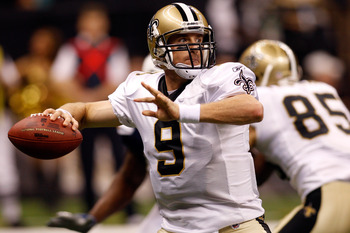 Chris Graythen/Getty Images
Drew Brees is coming off a career year, which he capped off by claiming the Super Bowl MVP honors.
Today, he picked up right where he left off as he threw for
If he keeps playing like this, the Saints could find themselves contending for another title.
All he has to do now is avoid the infamous Madden Curse.
Vikings Have Issues In The Secondary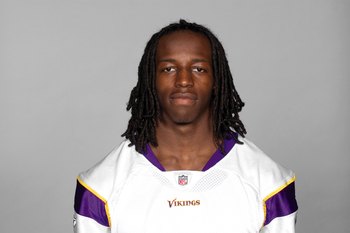 Getty Images/Getty Images
Heading into the game, the Vikings secondary was banged up and it clearly showed.
In particular, safety Hussain Abdullah looked terrible in coverage and was constantly beat by the Saints receivers.
If they don't improve, this could be the weak link that prevents them from making a serious push at a Super Bowl this year.
Vikings Pass Rush Non-Existent
Jed Jacobsohn/Getty Images
The Vikings defensive line is widely considered one of the best in football. However, today, it seemed as if the Saints' offensive line was able to negate their efforts.
Throughout the game, they provided Drew Brees with adequate protection in the pocket and only allowed one sack.
Favre Shows Decent Mobility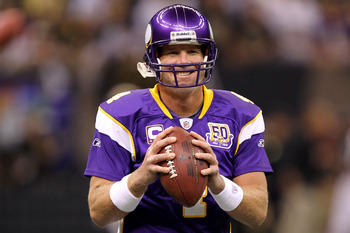 Ronald Martinez/Getty Images
Brett Favre underwent surgery on his left ankle during the offseason, and several questioned as to how it would hold up against the Saints aggressive defense.
Surprisingly, he showed decent mobility and was able to make some impressive throws.
Maybe it was just another episode of the Favre antics after all.
What Happened To The Saints Balance In The First Half?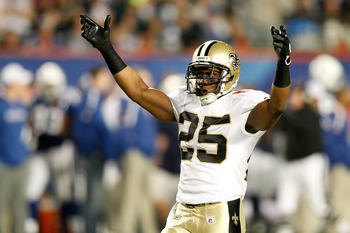 Chris Graythen/Getty Images
An integral key to the New Orleans Saints' offense last season was their incredible balance.
On the other hand, that wasn't the case today especially in the first half when they only ran the ball three times compared to their 22 pass attempts.
Only 3 Carries For Adrian Peterson In The Second Half?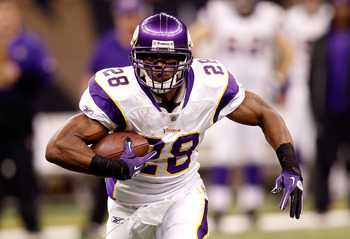 Chris Graythen/Getty Images
Assuming it was a coincidence; but as the Saints started to run the ball more, the Vikings ran it less.
Despite having an impressive first half, Adrian Peterson only carried the ball three times in the second half.
I think if the Vikings want to be successful this season, they'll need to make Peterson their workhorse and take some pressure off of Favre.
Garrett Hartley Misses 2 Field Goals
Chris Graythen/Getty Images
I have been skeptical as to why so many were giving Garrett Hartley the ultimate praise, and today he proved me correct as he missed his two field goal attempts.D
Despite showing tremendous composure in the playoffs last season, I'd think twice before considering a player who's only made 27 career field goals (including playoffs) an elite kicker.
Vikings Linebackers Play Well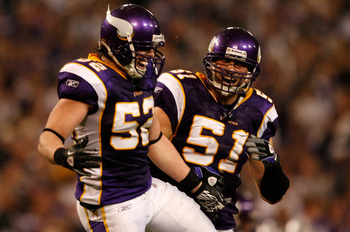 Elsa/Getty Images
As I referenced to earlier, the Vikings front seven is one of the best in football. Today, their linebackers strengthened that claim with their performance today
Chad Greenway had a game-high twelve tackles, E.J. Henderson bounced back nicely from a leg injury that prematurely ended last season, and Ben Leber had a solid all-around game.
Considering their porous secondary, they will need to maintain their high level of play.
Saints Corners Look Solid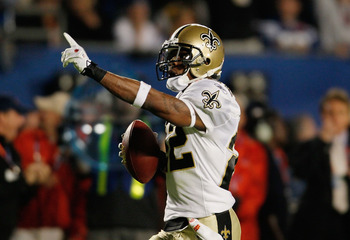 Donald Miralle/Getty Images
The Saints cornerback tandem of Tracy Porter and Jabrari Greer is one of the most underrated in the league, in my opinion. Hopefully, their play today on the national stage will garner more recognition.
Nonetheless, they did an excellent job shutting down the Vikings receivers and forcing Favre to a 55 percent completion.
Keep Reading

New Orleans Saints: Like this team?