Start 'Em or Sit 'Em: 10 Tough Decisions for Fantasy Football Week 1
Jed Jacobsohn/Getty Images

The regular NFL season starts tonight, and we're all scrambling to put in our final fantasy picks before the Vikings and Saints kickoff in New Orleans.
We have to choose wisely in order to rack up as many points as possible to start the season off right. You were probably pretty excited to pick up Sidney Rice in your office draft, and I bet you were even happier that your coworkers waited until you made your selection to tell you he'd be out for most of the season.
To help keep you from making another season-ruining mistake, here are the players to start and sit for Week 1 of this NFL season.
Begin Slideshow

»
Derek Anderson beat out Matt Leinart for the starting quarterback position in Arizona, and he is by no means a top NFL quarterback, but he has plenty of material to work with.
Starting the season against one of the worst teams in the league will allow for Anderson to put up big numbers during this game.
Jed Jacobsohn/Getty Images

Forsett may be the number one running back in Seattle, but he hasn't demonstrated lately that he has what it takes to earn the majority of the carries for the Seahawks.
Expect Leon Washington to share the position and cut down on Forsett's numbers.
Bob Levey/Getty Images

This game could be one of the biggest upsets of the week, and it will be all about offense.
Even though Houston has a passing offense, expect Foster to see quite a bit of action against the Colts. Indianapolis isn't amazing at defending against the rush, so starting Foster is a great idea.
Christian Petersen/Getty Images

McNabb isn't 100 percent recovered from his ankle injury, which will be a problem when he and the Redskins take on the Dallas Cowboys.
He missed two preseason games, which will hurt him as he tries to learn a new offense in Washington. He needs a few games to get back in fighting shape, and he'll be fine as the season progresses.
But sit him for the first few games.
Christian Petersen/Getty Images

After an injury to Chris "Beanie" Wells, the Cardinals will be looking to Tim Hightower to pick up the slack. Wells will probably play this week, but expect Hightower to get the majority of the carries.
The Cardinals' coaches have come to rely on Hightower to get the job done when Wells cannot, so definitely start him this week.
Ronald Martinez/Getty Images

With the addition of stubborn (but talented) Dez Bryant to the Cowboys receiving corps, Witten will be left feeling a bit neglected by his buddy Tony Romo.
Simply looking at Witten's stats, drafting him was a no-brainer, but the 'Boys roll deep at the receiver position. Expect Dallas to show off what the young Dez Bryant has to offer against the Redskins.
Jared Wickerham/Getty Images

With Santonio Holmes gone, Wallace will be stepping it up to take his place. Some think that Mike Tomlin will be running a more conservative passing game because of the uncertainty surrounding Dennis Dixon, but let's not make assumptions.
Hines Ward is still around, but Wallace's rookie season was fantastic. Expect the Steelers to test him out against the Falcons.
Marc Serota/Getty Images

You picked him for his stats, but you need to sit him against tough defenses.
Pittsburgh is a prime example. The Steelers have one of the best total defenses in the league, so keep Turner in your back pocket until the Falcons play a lesser defense.
Ezra Shaw/Getty Images

This choice should be obvious to most. Sidney Rice is out, and Percy Harvin is questionable, so Peterson will be carrying the Vikings' offense.
As long as Peterson can hold onto the ball, he'll put up some good numbers against the Saints.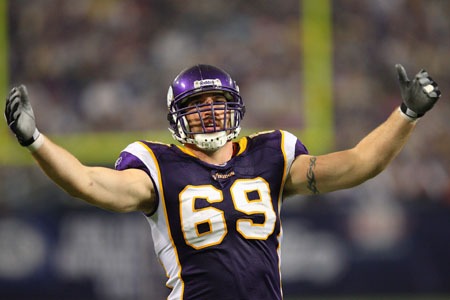 They're playing the Saints. No matter how good the Vikings' defense looks, the safest bet is to pick someone else for this week.
The Saints have one of the best total offenses in the NFL, and keeping the Vikings defense will ruin your week.