Troy Smith: San Francisco 49ers Stockpiling Former Buckeye Stars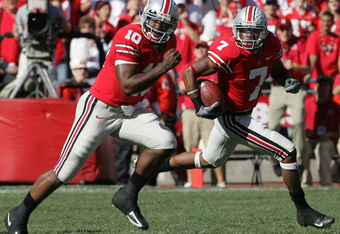 Monday's signing reunited high school and college teammates Troy Smith and Ted Ginn Jr.

As late as a day ago, many in the San Francisco 49ers community considered second-year Ball State alumnus Nate Davis to be the future of the team at the quarterback position.

He had a strong arm, good vision, and good instincts; and while he suffered from dyslexia, many thought he would soon surpass Alex Smith and David Carr as the top option at QB in San Francisco. The adventurous even began to imagine a QB controversy in the making, as many 49er fans have never forgiven the team for passing on Cal's Aaron Rodgers in 2005 and have been looking for a chance to run Alex Smith out of town.

Nate Davis had shown impressive promise is his rookie preseason, leading drives and generating points in critical situations, particularly against the Dallas Cowboys. His performance in the 2010 preseason was a pronounced regression, however, culminating in an almost painful-to-watch display of futility against a depleted San Diego Chargers defense. The young QB looked confused and flustered and failed to lead more than one isolated scoring drive before giving way to undrafted training camp invitee Jarrett Brown.

Despite his preseason plummet and the fact that head coach Mike Singletary had named Alex Smith and David Carr as the unquestioned first and second string QBs earlier in camp, rumors continued to circle that it would only be a matter of time before Davis took the reins of the offense.

Those rumors stopped Monday night, when Coach Sing and his staff made the decision to sign the recently-released Troy Smith, who had played two years with the Baltimore Ravens. The 49ers released the highly-touted Nate Davis to make room on the roster for Smith.

Troy Smith brings a resume highlighted by the 2006 Heisman Trophy and a start in the 2007 BCS National Championship Game, an experience shared with the 49ers' other big-name offseason acquisition: Ted Ginn Jr (the pair also starred at Glenville High School in Ohio). Smith has experienced little success at the NFL level (558 yards and 3 touchdowns in 14 appearances and 2 starts), but he may offer versatility to the roster which Nate Davis could not.

The 49ers seem secure in Alex Smith and David Carr's combined reliability and durability, so they may have been looking to offset some of the skill sets they were forced to part with during the roster cuts earlier in the week.

Smith's mobility and versatility may allow the 49ers to recoup some of what they lost in players like Michael Robinson. While it is doubtful that Smith will challenge for the role of special teams captain, he may be able to contribute there, where Nate Davis would have simply manned the sidelines with a clipboard. Smith's skills also give the 49ers a new option for employing the now-obligatory "Wild Cat" offense, should they choose to do so.

Nate Davis may still prove be a quality starting QB in the NFL, but he was far from being ready to contribute in that role and his value beyond the QB position was immensely limited. Smith is far from a proven upgrade, but if nothing else, he gives the 49ers more options out of all 53 players earning a salary.

The team is bound to be crucified in the court of public opinion, just like when they released Shaun Hill early in the offseason. However, taken in fullest context, both moves improved the roster, particularly in the short term. May this be a signal that the rebuilding era is over, and the new glory era has begun?

Keep the Faith!
This article is
What is the duplicate article?
Why is this article offensive?
Where is this article plagiarized from?
Why is this article poorly edited?

San Francisco 49ers: Like this team?