NFL Cuts: Taking a Look at All 32 Team Cuts From This Weekend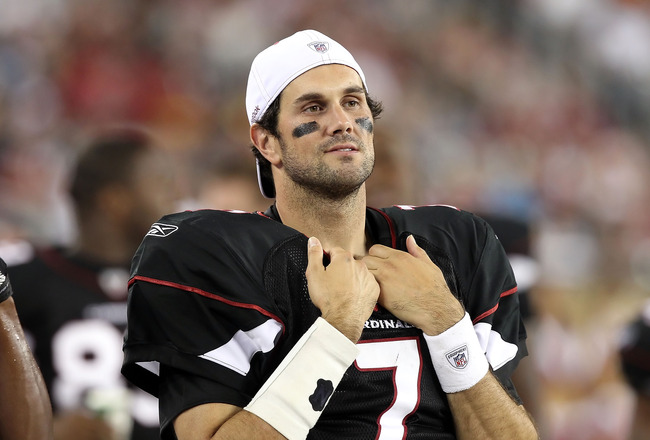 Christian Petersen/Getty Images
It's always a tough time in football when teams come to the unfortunate decision to cut or save a player's season.
Although I'm not an athlete, I think it's fair to say that this would be the equivalent of being demoted at the workplace, only to see all of your hard work in training camp go to waste, for a head coach to say "Sorry, we have to let you go."
So far this preseason, we've seen a number of notable cuts. Matt Leinart and TJ Houshmandzadeh are of course the standouts, and although these roster adjustments may seem positive, perhaps there is the off chance that they come back and bite the team in the backside some time this season.
However, this unfortunate scenario we can only wait for, and right now there are several players who have shed a tear or two due to the loss of their team position.
Who are these troubled players?
Unfortunately there are several of them, but the following list should highlight each one of them, and also suggest how these cuts may or may not affect said team.
Arizona Cardinals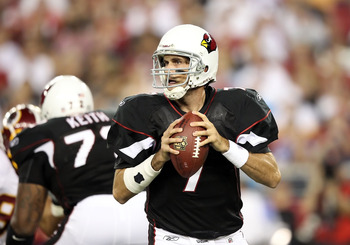 Christian Petersen/Getty Images
Big Name Cuts: QB Matt Leinart, TE Anthony Becht, LB Monty Beisel, LB Cody Brown.
The Cardinals have been in the limelight the past two weeks for all the wrong reasons. Matt Leinart was the firm starter on the team, until his preseason display more or less made head coach Ken Whisenhunt think twice about the young man's ability, and demote him to the second-string role.
But unfortunately for Leinart, the bad news didn't stop there. The Cardinals then received offers from the likes of the New York Giants for Leinart's services, only to be let down in the long run.
Now the situation stands that Matt Leinart has been released from the team, and finds himself among numerous other players searching for a job.
Chances are, Matt Leinart will land on his feet. There are several teams in need of a backup quarterback out there, and the likes of Oakland, Washington, or Cleveland could all come knocking in the near future.
Other roster cuts include tight end Anthony Becht and linebackers Monty Beisel and Cody Brown. Although these cuts aren't overly concerning, the Cardinals aren't exactly the greatest defensive team, so perhaps cutting two linebackers will cost them in the long run.
Still, the biggest story is Matt Leinart, and now the pressure is on Derek Anderson. Head coach Ken Whisenhunt sure is under the gun right now.
Atlanta Falcons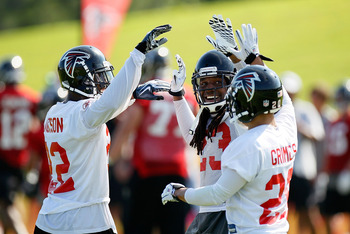 Kevin C. Cox/Getty Images
Big Name Cuts: CB Chevis Jackson, FB Dan Klecko, C Brett Romberg
There isn't a great deal of news to report from Atlanta right now, but the storyline of Chevis Jackson's dismissal doesn't exactly surprise many people.
Last season, Chevis Jackson had a rather hit-and-miss season, as he only posted 29 tackles, 1 sack and 1 forced fumble in 15 games.
These type of stats are never going to do a cornerback any favors, and given the expectations in Atlanta right now, it is no real eyebrow-raiser to see Jackson homeless.
Other notable cuts include fullback Dan Klecko and center Brett Romberg. I don't blame you if you've never heard of either of these guys, as Klecko failed to play a single drive last season for the Falcons.
Good news all around Atlanta right now, as the cuts have been far from headline-grabbing.
Baltimore Ravens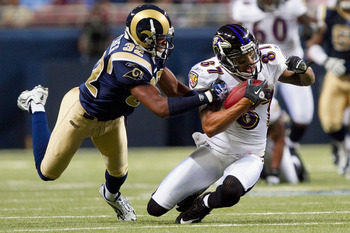 Dilip Vishwanat/Getty Images
Big Name Cuts: CB Travis Fisher, K Shayne Graham, QB Troy Smith, WR Demetrius Williams.
The Ravens are another team that have high expectations for 2010, and it was important for the coaching staff to weed out any weak players that were meaningless to the roster.
By looking at who Baltimore have cut, it's obvious to say that they have been successful in doing so. After Saturday, wide receiver Demetrius Williams now finds himself in a whole new world as he has spent his entire career with the Ravens from 2006 onwards.
Stats wise, Williams wasn't living up, and given that there is serious competition at the wide receiver spot in Baltimore, his 142 yards and 1 touchdown didn't help matters, especially considering that Anquan Boldin was signed this offseason.
Backup quarterback Troy Smith is also on his way down, as he failed to make the cut. Joe Flacco is far from great, but it's clear that the Ravens have every intention to hold onto him for many years to come, so Troy Smith's efforts are no longer needed.
Whether these guys find a new home is questionable, but hey, they could just about start their own flag football team if worst comes to worst, right?
Buffalo Bills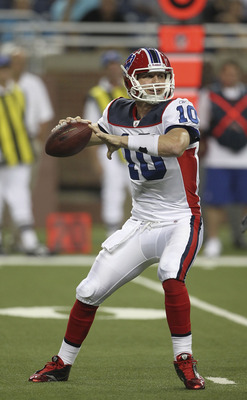 Leon Halip/Getty Images
Big Name Cuts: QB Levi Brown, OT Kirk Chambers, WR James Hardy, WR Chad Jackson.
The Bills are perhaps the worst team heading into the season. Very little talent, and no real solid starting quarterback in place just yet.
Given all of the Bills' woes, you'd think the last person they would be cutting is a young passer. However, Levi Brown is now gone, along with the likes of Chad Jackson and James Hardy, who may be counting their blessings at the end of the day.
Most of these guys we have seen very little of in Buffalo, and Levi Brown and Chad Jackson have had little to nothing to do.
These cuts shouldn't affect the Bills too much, but maybe they've let just a little talent slip through their fingers. We'll have to wait and see.
Carolina Panthers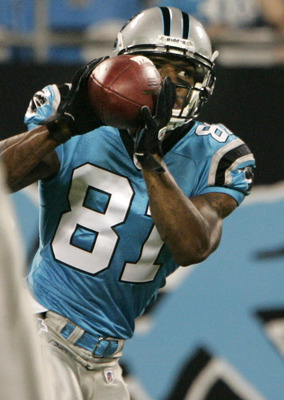 Mary Ann Chastain/Getty Images
Big Name Cuts: QB Hunter Cantwell, WR Kenny Moore, DL Tank Tyler.
Like the Bills, you'd think the last players the Panthers would be cutting are quarterbacks and wide receivers, but once again this is the case.
So far this preseason we've seen Jimmy Clausen and Matt Moore struggle. Neither have been fantastic, so there is the chance that Hunter Cantwell's release may not have been the smartest thing by the Panthers right now.
Still, with that in mind we haven't seen much of the young man, and the same could be said for wide receiver Kenny Moore.
The Panthers cuts aren't at all crucial. There is still talent on this team, and the loss of two young offensive players won't do too much damage. However, the Panthers are a rebuilding team, so this could cost them if something is to happen to Steve Smith, or one of their back up quarterbacks.
Until then though, nothing to worry about here.
Chicago Bears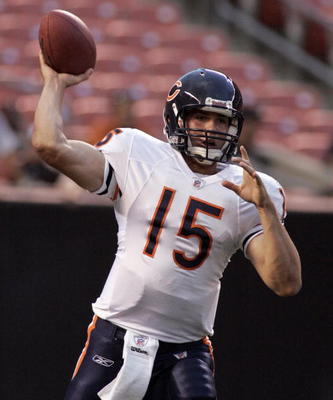 Justin K. Aller/Getty Images
Big Name Cuts: WR Juaquin Iglesias, QB Dan LeFevour.
I've always been a big Dan LeFevour fan. He was a great talent in College, but it's a shame to see that his NFL career has been so dismal, this early on.
The bad news hasn't stopped coming for LeFevour, and now he has been cut by the Chicago Bears, and isn't likely to see the playing field anytime soon.
The Bears have also cut wide receiver Juaquin Iglesias, who we have only seen this preseason on a select handful of drives.
Neither of these cuts are groundbreaking, and neither really matter. Jay Cutler is the man in The Windy City, and he always will be. The Bears have a wide receiver race going on which seems to be destined to span over the entire season, so the loss of Iglesias is nothing major.
Cincinnati Bengals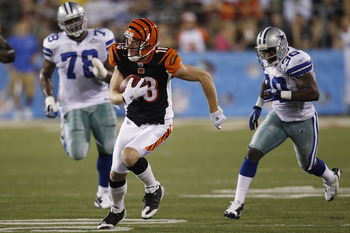 Joe Robbins/Getty Images
Big Name Cuts: WR Matt Jones, G Isaac Sowells, TE Chase Coffman, S Kyries Hebert, FB Fui Vakapuna, S Marvin White, S Rico Murray, S Jeromy Miles, K Dave Rayner.
The Bengals are stacked on offense. They have talent oozing out, and by losing a few receivers, full backs and tight ends, no harm is done.
Perhaps the most notable loss is wide receiver Matt Jones, who has a handful of highlights to his name, but nothing major to keep him in the side. Other cuts include the likes of tight end Chase Coffman and safety Marvin White.
Cincinnati are one of the many AFC favorites this season. Marvin Lewis has a firm grip on this team, and it would be hard to say that any of his decisions are wrong right about now. These cuts are meaningless, and only leave more room for talent to explode in Cincinnati.
Cleveland Browns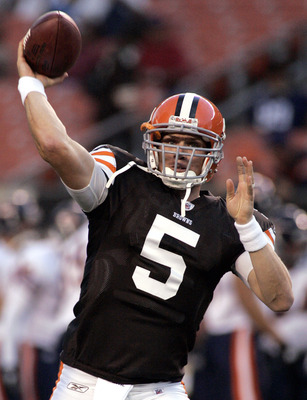 Justin K. Aller/Getty Images
Big Name Cuts: WR Bobby Engram, CB Brandon McDonald, QB Brett Ratliff.
The Browns have made some notable cuts this preseason. The first of which being backup quarterback Brett Ratliff, who was always a possibility to somehow slide into the starting role, should Jake Delhomme and Colt McCoy be unable to fulfill their duties.
The other cuts that the Browns have made are toward wide receiver Bobby Engram and cornerback Brandon McDonald.
Although Bobby Engram has had a moderately successful past, particularly in his time with the Seattle Seahawks, his future with the Browns is no longer certain, as his stats last season were close to dismal during his time with the Kansas City Chiefs.
The Browns aren't exactly short at the receiver spot, what with Josh Cribbs developing at a steady rate, but there isn't exactly a blockbuster player at the position, so the loss of Bobby Engram isn't exactly meaningless.
The Browns have made notable cuts to make the team better, and given how great Eric Mangini and Mike Holmgren have assembled this team recently, you'd be stupid to question their actions. These cuts aren't overly important, but Brett Ratliff is a minor loss.
Dallas Cowboys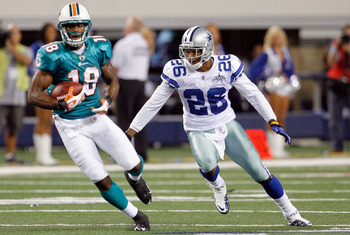 Tom Pennington/Getty Images
Big Name Cuts: CB Cletis Gordon, DE Junior Siavii.
Not a great deal of news to report from America's Team right now. They are strong Super Bowl favorites, and we all knew that there were very few position worries heading into September for the Cowboys.
Therefore, it is no great surprise to see only two notable players cut. The first name to hit the slicer was cornerback Cletis Gordon, who failed to portray any motivation in Dallas, as he only went on to feature in only one game in the entire 2009 season.
The other name was defensive end Junior Siavii, who also failed to make a name for himself in Dallas, as he recorded 11 tackles in 16 games last season.
This news is far from big, and Dallas won't suffer as a result. There is simply too much talent in Big D right now, and if Wade Phillips wanted to, he could probably cut even more players and still feel no affects if the opportunity arose.
Denver Broncos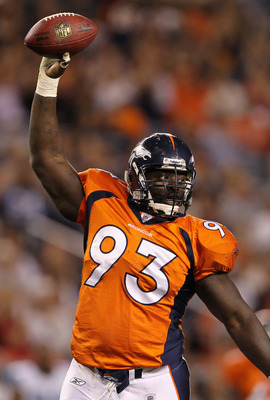 Doug Pensinger/Getty Images
Big Name Cuts: DL Jarvis Green, LB Darrell Reid.
The injury riddled Denver Broncos do look decent on paper right now, but perhaps they let some talent slip through their fingers when they decided to release defensive lineman Jarvis Green earlier today.
For the most part, Green hasn't been a sack machine, but he had 36 tackles and one sack last season for the New England Patriots, and was showing signs of serious development and potential when he made an arrival in Denver.
Unfortunately Green isn't the youngest player in the league as he now enters his ninth season, and he did only play 13 games last season under Bill Belichick.
The second notable to come from the Broncos is linebacker Darrell Reid who was also a mediocre standout in Denver last season, when he finished the year with 4 sacks, 24 tackles and 2 forced fumbles.
Maybe these cuts will come back to bite the Broncos, as they aren't the most stable defense in the league right now. They've lost two potential defensive stars, and may be regretting it to say the least if the defense crumbles under pressure this year.
No Elvis Dumervil this season adds extra strain on the Broncos linebacker corps, so it will be interesting to see how Josh McDaniels handles the situation.
As for the cuts, it's fair to say that the Broncos will be fine without Green and Reid, but it is also fair to say that they may need them come midseason, if things fall apart quickly.
Detroit Lions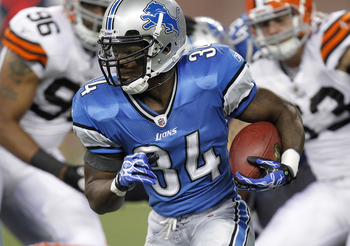 Gregory Shamus/Getty Images
Big Name Cuts: CB Dre Bly, OT Jon Jansen.
A small celebration may be going on in the Kevin Smith household right now, as the troubled running back has successfully attained his role in the side, as backup running back behind rookie Jahvid Best this season.
The Lions offense is looking remarkably stable right now, and considering the turnaround from their woeful 2008 ways, some serious credit must be shown toward Jim Schwartz and his efforts.
But still, it is cutting season, and this time around the likes of cornerback Dre Bly and Jon Jansen felt the pinch.
Dre Bly was brought into Detroit fresh from the San Francisco 49ers, where he posted 29 tackles, 1 sack, 2 forced fumbles and 3 interceptions last season. The news of his cut is small, but considering that the Lions have always had troubles at the corner position, he would have at least been a suitable backup if injury occurred.
Offensive tackle Jon Jansen was the second man to go, and his efforts last season in 11 games in which he started 2, weren't enough to please Jim Schwartz.
The Lions have stayed out of trouble, and these cuts are nothing major. Things are definitely looking up for the boys in blue this year.
Green Bay Packers
Jonathan Daniel/Getty Images
Big Name Cuts: QB Graham Harrell, TE Spencer Havner, RB Kregg Lumpkin.
Green Bay are fresh off a horrid week, after hearing the news that the team would be short two key defenders in Al Harris and Atari Bigby for six weeks.
However, luckily the good news is that the Packer offense is just right, and things are finally solid in just about every area of Mike McCarthy's game plan.
With this in mind, you won't be surprised to hear that the Packers main cuts game on the offensive side of the ball, as the Packers released backup quarterback Graham Harrell, who was no real use to the team, considering how great Aaron Rodgers is, and how suitable Matt Flynn is in the backup role.
Tight end Spencer Havner was also told he was no longer needed, and many Packer fans would be familiar with his efforts last season, as he finished the year with 4 touchdowns and 112 yards.
Realistically these losses are borderline important. The Packers offense is set for the future, and losing these type of players won't affect them in anyway.
The Packers have two great quarterbacks, and two great tight ends in Jermichael Finley and Donald Lee. No harm done here, and the Packer train keeps on rolling to what Green Bay hope to be a Super Bowl appearance this season.
Houston Texans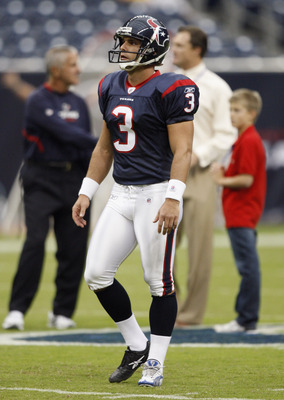 Bob Levey/Getty Images
Big Name Cuts: K Kris Brown, CB Jacques Reeves, RB Chris Henry, TE Derek Fine, C Chris White, RB Jeremiah Johnson, QB John David Booty.
Along with the Packers, the Texans are also one of many teams that have a very impressive offense heading toward September, although Houston did put forward a number of cuts earlier today.
The most notable one would perhaps be kicker Kris Brown, who had become a long time fan favorite in Houston since 2002.
Last season saw Brown attempt 32 field goals, and nail only 21. Maybe this is the reason for his cut, or it could also be due to the age factor, as the old time kicker has been in the league since 1999.
Other cuts include running back Chris Henry, who has had little to do in his time with the Texans, but with the injury to rookie Ben Tate, may have been awarded a few more carries this season.
Nothing at all concerning from this long list, but it is always sad to see a veteran go. Lets all congratulate Kris Brown on such a long and storied career, whether or not he signs with a number team remains to be seen, but he certainly deserves some recognition.
Indianapolis Colts
Scott Boehm/Getty Images
Big Name Cuts: QB Tom Brandstater.
Very little to report from Colts camp right now, as they have only made one notable cut by releasing young second year quarterback Tom Brandstater, who made several appearances for the Colts this preseason.
Brandstater, who was fresh off a signing with the Denver Broncos, arrived in Indianapolis earlier this year, and was of course never hopeful of much, given that Peyton Manning was the sheriff about town.
If there is a less relevant cut in football right now, I haven't found it. The last thing the Colts need is a quarterback, and by releasing Brandstater, no harm is at all done.
Hopefully this young man he lands on his feet, as he is only a second year player. But we will have to follow his story as the season progresses.
Jacksonville Jaguars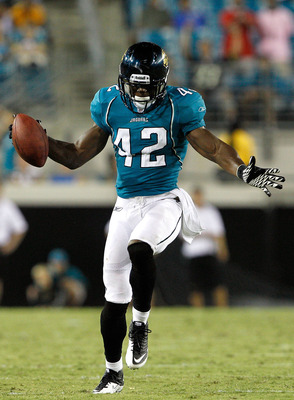 Sam Greenwood/Getty Images
Big Name Cuts: S Gerald Alexander, RB Kolby Smith, CB Scott Starks, TE Ernest Wilford, WR Troy Williamson.
It's obvious to all that the Jaguars are a team in turmoil right now, so it is questionable as to why Jack Del Rio released a handful of semi-talented guys today, in an effort to reduce the roster to 53 men.
The most questionable cut perhaps came at the safety position, as Gerald Alexander finds himself jobless and thankless for his 2 interception and 3 forced fumble effort last season.
The Jaguars also cut cornerback Scott Starks, along with wide receiver Troy Williamson, two positions that the Jaguars have struggled at in the past.
Not only are these moves as questionable as the Jaguars drafting Tyson Alualu earlier this season, they really do have the potential to harm the Jaguars. Jack Del Rio is on a hotseat, and by releasing some potential playmakers, he may not have done himself any favors.
Of course, all this worry could be for nothing. But given the way things have been going in Jacksonville, I don't favor his chances.
Kansas City Chiefs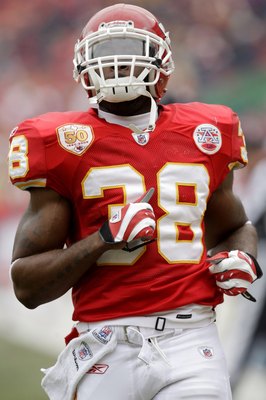 Jamie Squire/Getty Images
Big Name Cuts: S DaJuan Morgan, QB Tyler Palko .
The Chiefs only made a couple of cuts today, and although they are far from worrying, they did let go of third year player DaJuan Morgan, who was beginning to find his feet after a rough two years in Kansas City.
Morgan, who only posted 18 tackles last season struggled for game time, and given how fickle the Chiefs defense has been at times, it isn't exactly arguable as to why he was released in the first place.
Kansas City also successfully cut quarterback Tyler Palko, who was never going to see a great deal of game time as long as Matt Cassel was in the starting role.
These two losses don't mean much for the Chiefs, and they shouldn't make too much of a difference in the long run. Maybe they haven't allowed DaJuan Morgan to develop enough, but I guess that is a possibility head coach Todd Haley is willing to live with.
Miami Dolphins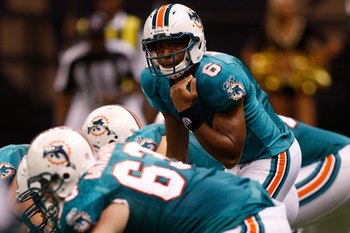 Chris Graythen/Getty Images
Big Name Cuts: QB Pat White, WR Patrick Turner, OL Andrew Hartline, TE David Martin.
The Dolphins made news today as they released wildcat specialist quarterback Pat White, in an attempt to meet roster demands. But perhaps more shocking was the fact that Pat White proceeded to turn around to the media and state that he'd like to go back to baseball, and try and reignite his hitting career.
Away from White, other cuts included the likes of wide receiver Patrick Turner, who was always going to be struggling for game time given the recent acquisition of controversial wide receiver Brandon Marshall earlier this offseason.
For the most part, we never got to see much of White and experience his possible chemistry with quarterback Chad Henne, but he now enters his second years a professional player and looks to take his talent elsewhere.
The Dolphins are a strong favorite to match the New York Jets and New England Patriots in the AFC East this season, and it was vital that they post the right roster for the job. It looks like they have done that, and although their cut numbers have been low, they haven't released a great deal of talent.
Miami did lose their wildcat specialist, but we've all seen that Chad Henne can cope when it comes to tricky play. Nothing major here, Tunatown should be just fine.
Minnesota Vikings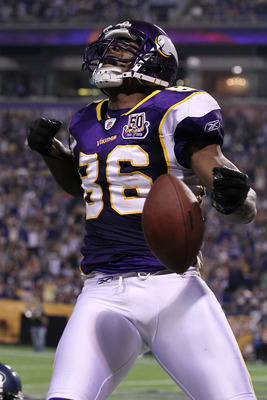 Chris McGrath/Getty Images
Big Name Cuts: K Rhys Lloyd, WR Javon Walker.
You'd think the last position the Vikings would consider a cut would be at the wide receiver spot, but today Javon Walker felt the heat, and was told his efforts were no longer needed on the team.
Last season Javon Walker struggled for game time in Oakland. He played only 3 games, and when he arrived in Minnesota, it was always going to be an uphill task to the top competing against Percy Harvin, Sidney Rice and Bernard Berrian for a starting role.
Previously in Walker's career, he did show bursts of talent. On one instance he posted 1,084 yards in his time with the Denver Broncos, and perhaps that is why the Vikings were originally interested in him in the first place.
Unfortunately, it didn't work out, and neither did kicker Rhys Lloyd, who was the other Viking to feel the cut.
With Brett Favre back on offense, losing Javon Walker is more or less like killing a fly on a hot summers day. The Vikings aren't stacked at the wide receiver position, but they can get by if worst comes to worst.
Minnesota are still favorites in the NFC North along with Green Bay, and these two cuts won't limit their chances of taking the top crown home again this season.
New England Patriots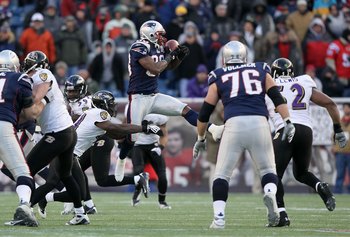 Al Bello/Getty Images
Big Name Cuts: WR Sam Aiken, LB Derrick Burgess, DT Damione Lewis, LB Pierre Woods.
The Patriots lost a very promising wide receiver in Sam Aiken to cuts, as the team are stacked at the receiver position.
Many may remember Aiken's dazzling play last season in Week 13 against Miami, where he outstretched a Dolphins cornerback and came up with a pretty catch over the head, and ran it in for a long touchdown.
These type of plays were what made Aiken a very distinct possibility for future years, but I guess the Patriots preferred to let the eight season player go, rather than keep him on board for another season this year.
Other cuts in New England include linebacker Derrick Burgess who had 5 sacks and 1 forced fumble last season. This is another questionable move, as the Patriots linebackers have struggled recently.
Realistically the Patriots can survive with these cuts, but I think if they were able to stay on, they would have been a luxury if things really went south. The loss of Aiken is nothing major as Wes Welker and Randy Moss are still about, but losing a linebacker isn't favorable right now in New England.
It's not panic time, but it isn't exactly meaningless either.
New Orleans Saints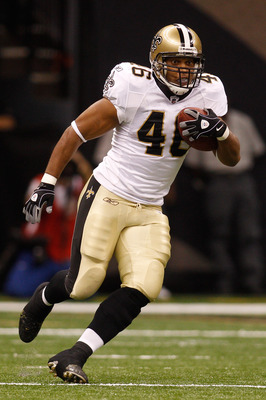 Chris Graythen/Getty Images
Big Name Cuts: RB Ladell Betts, DE Bobby McCray, FB Jason McKie, QB Patrick Ramsey.
It must be hard to be cut from a Super Bowl winning team, but that was the fate that running back Ladell Betts along with a handful of others felt earlier on today.
When it comes to New Orleans, they aren't in desperate need of a run game, so the loss of Betts isn't at all crucial. However, he was gained by New Orleans from Washington this year, after he posted only 210 yards and 2 touchdowns in the nations capital.
Other Saints cuts include the likes of defensive end Bobby McCray, who struggled to make an impact with the team last season.
None of these cuts are too crucial for the Saints right now, and even if someone were to go down injured, it was always doubtful that one of these guys would be stepping in.
The Saints have tough competition this year with the Atlanta Falcons in the NFC South, but today's cuts aren't a reason to set them back.
New York Giants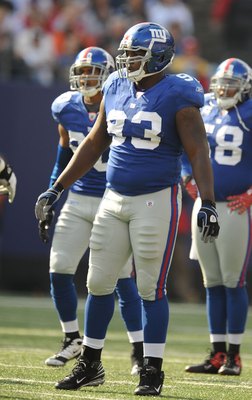 Al Bello/Getty Images
Big Name Cuts: DT Jay Alford, QB Rhett Bomar, RB Andre Brown, WR Derek Hagan.
A week ago the Giants were favorites to gain Matt Leinart, that is until they signed Sage Rosenfals, and Leinart became no longer needed in Big Blue.
Tom Coughlin decided to cut four players today, one of whom was defensive tackle Jay Alford who struggled with injuries last season, and failed to play at all.
Right now you have to rewind back to 2008 to find any stats on Alford, but his 2.5 sacks were decent, however not enough to earn him a role with the Giants in the future. Realistically, Alford was always going to struggle to make the cut, as missing an entire year will never do anyone any favors.
The Giants also went ahead and cut quarterback Rhett Bomar, as Sage Rosenfals was required, more or less pushing him right out of town.
The Giants did lose a few younger guys in all of this, but just about every cut here shouldn't affect them. New York already have decent tackles, quarterbacks, running backs and wide receivers, so Tom Coughlin won't cop any stick for these roster adjustments.
New York Jets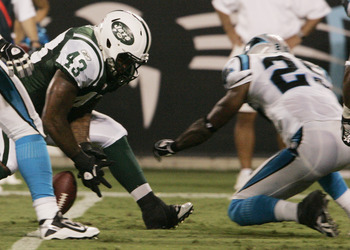 Mary Ann Chastain/Getty Images
Big Name Cuts: FB Jason Davis.
Funnily enough the Jets failed to make many cuts today, as I guess head coach Rex Ryan has used up all of his headlines recently with Darrelle Revis, and the tiring hold out saga.
Still, one noteworthy cut was made, and full back Jason Davis was sent to the chopping block. For those that aren't familiar with Davis, I can understand why. He missed all of last season, and in 2008 only played 5 games with the Chicago Bears.
It's not surprising to hear that Davis was cut, as that kind of absence from the game is a career wrecker. It's obvious that the Jets' focus is on Darrelle Revis and the team defense right now, so perhaps sorting out the roster wasn't Rex Ryan's biggest possibility.
This cut won't affect New York in the slightest, and nor should it. Their run game is solid, along with most of their offense.
Oakland Raiders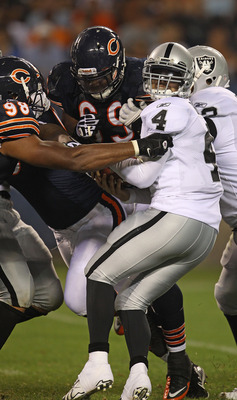 Jonathan Daniel/Getty Images
Big Name Cuts: QB Colt Brennan, C Chris Morris, DE Jay Richardson.
The Raiders lost a quarterback today in Colt Brennan, which is questionable considering how much Jason Campbell has struggled at times this preseason.
Unfortunately for Brennan, this has been an ongoing problem throughout his three year career. He has ultimately failed to land on his feet, and during his one year stint with the Washington Redskins, he also struggled to receive any playing time, let alone a few snaps.
Aside from Colt Brennan though, the loss of experienced Raider defensive end Jay Richardson was felt today around Oakland, as Richardson had been with the team for a handful of years now. Last season Richardson posted 23 tackles and 3 sacks, okay stats by today's standards, but not overly fantastic.
At the end of the day the Raiders are still a rebuilding franchise, and any cut could be considered a loss and step in the opposite direction. However, these three are quite possibly as easy a let off as it gets, and Oakland should do just fine barring an injury to Jason Campbell.
Tom Cable has made the right decisions so far, and this one is no exception. Let's hope Oakland can keep that trend going this season.
Philadelphia Eagles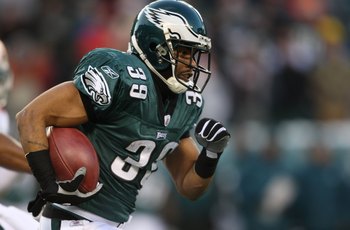 Nick Laham/Getty Images
Big Name Cuts: S Quintin Demps, G Max Jean-Gilles, S Macho Harris, TE Cornelius Ingram, WR Kelley Washington.
Recently the Eagles traded right guard Stacy Andrews to the Seattle Seahawks earlier this week, for a 2011 draft pick.
When it came to cutting players today though, the Eagles spared no mercy, as they released safety Quintin Demps, along with Macho Harris and three other notable players. Quintin Demps has always struggled in Philadelphia, but was always a suitable backup if things went haywire, and some serious action was needed.
Last season Demps posted 14 tackles and 1 interception in 9 games, which may be a partial reason for his cutting by head coach Andy Reid. Other players include the likes of Max Jean-Gilles and Cornelius Ingram, that were never key players in the Eagles side.
Philadelphia have the toughest schedule in the league this season, so anyone could say that they should take as much talent as they can get. Still, every team has to meet the roster requirements, and I think the Eagles did a firm job considering how tough this can be.
The Eagles defense has never been a high concern, but the safety position hasn't been exactly solid. Quintin Demps was never solid either, but he is one of the bigger losses to come from today's cut.
Pittsburgh Steelers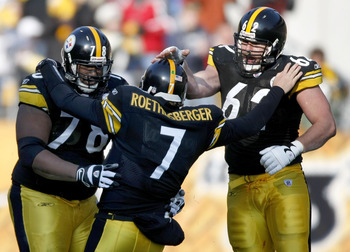 Gregory Shamus/Getty Images
Big Name Cuts: C Justin Hartwig.
There was not a whole range of news to report from Pittsburgh, but the one notable cut came from the center position, as Justin Hartwig was cut from the side.
Recently Justin Hartwig lost the starting center role Maurkice Pouncey, a young rookie that impressed head coach Mike Tomlin from the very get go. The more devastating side to this news is that Justin Hartwig was set to earn $2.080 million this season, that will now go astray for the time being.
When it comes to protection, the Steelers are obviously not willing to take chances. Sure Pouncey is a rookie, but if he has impressed the coaching staff, than it seems to be the right decision.
With no Ben Roethlisberger for four weeks, and either Dennis Dixon or Charlie Batch to be filling in, some pocket presence is needed for either of these two guys.
Justin Hartwig is likely frustrated right now that he has lost so much money, but I guess that's football. On the brighter side the Steelers didn't have to cut any other notables, which is always a positive at this point in time in the season.
St. Louis Rams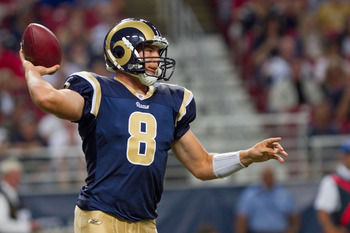 Dilip Vishwanat/Getty Images
Big Name Cuts: None
Don't get fooled by the photo, because Sam Bradford did not get cut. No, the Rams were one of the only teams that didn't cut any notable players, although they did let go of safety Brett Johnson, tight end Darcy Johnson and center Tim Mattran.
This can only come as good news for the Rams, as it means no small talent was wasted, and no big talent was thrown away either. St. Louis is still a rebuilding team obviously, and with Sam Bradford leading the way, he'll need every bit of help he can get to return the Rams to an above .500 record.
Who would have though St. Louis would be the team to make no notable cuts? I know I didn't.
San Diego Chargers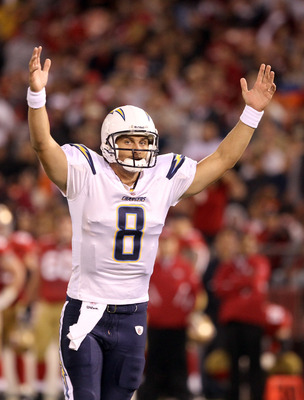 Ezra Shaw/Getty Images
Big Name Cuts: QB Jonathan Crompton, WR Josh Reed, CB Nathan Vasher, SS Quinton Teal.
Everyone knows that the Chargers are set at the quarterback position with Philip Rivers leading the way, so Norv Turner went ahead and released rookie Jonathan Crompton today.
Other players that were released include the likes of wide receiver Josh Reed, a long time Buffalo Bills veteran that posted 291 yards and 1 touchdown last season. Josh Reed's efforts were never really needed in San Diego, but perhaps he could have been a suitable back up, although Norv Turner didn't see it that way.
The other noteworthy player that was released was strong safety Quinton Teal, who was signed by San Diego from Carolina this season. Teal always struggled at the position, but he is young, so perhaps he has a future elsewhere.
The Chargers are fresh off a deal with Cowboys wide receiver Patrick Crayton, so I highly doubt these cuts are meaningful to anyone on the team, let alone the fans. They certainly don't affect San Diego, and right now Philip Rivers believes this is the best Charger team there has been in the past four years.
Whether you agree with him or not, these cuts won't affect San Diego either way.
San Francisco 49ers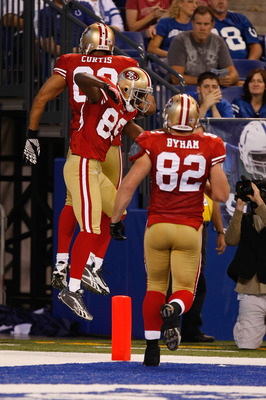 Scott Boehm/Getty Images
Big Name Cuts: WR Jason Hill, CB Karl Paymah, RB Michael Robinson, LB Matt Wilhelm.
Three year 49ers receivers Jason Hill was cut by Mike Singletary today. Along with Hill, names such as Karl Paymah, Michael Robinson and Matt Wilhelm also saw their last days at Candlestick Park.
The biggest name to come out of these cuts though was of course wide receiver Jason Hill, as he was always the type of player that could slip into the side, whenever San Francisco needed him. Stats wise, Hill never was fantastic. He struggled for game time, and last season posted 90 yards and 2 touchdowns.
On the flip side of the coin 49er faithfuls will be delighted to know that third string quarterback Nate Davis made it through the final cut, and will indeed have a place on the team this season.
The 49ers offense looks strong right now, and even though Alex Smith and Jason Hill had some connections over the past few years, it won't be anything that will be sorely missed in San Francisco.
The 49ers did lose a cornerback and a lineabacker, however it won't affect them too much. These type of positions are quite filled and solid right now, so no need to worry for any niner fans reading this.
Seattle Seahawks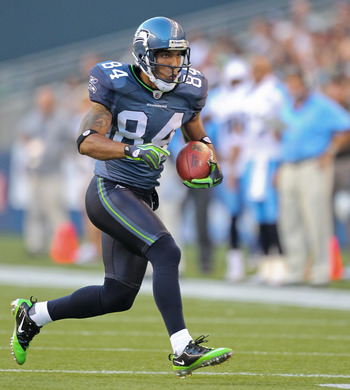 Otto Greule Jr/Getty Images
Big Name Cuts: WR T.J. Houshmandzadeh, DT Amon Gordon, WR Brandon Jones, QB J.P. Losman.
Seattle have had quite a controversial past few days. Much of this worrying has centered around big name free agent T.J Houshmandzadeh, who Seattle acquired a year ago, during a rather expensive attempt to gain a big name receiver.
Today, Houshmandzadeh was officially cut. He is no longer a Seahawk, and no sparks the debate for each and every team in the hunt for his obvious talents.
Unfortunately for the Seahawks, they really do lose a key player. Much of this loss comes down to Houshmandzadeh's $7 million contract that Seattle couldn't afford, although Pete Carroll did make it clear that he had more faith in other wide receivers.
But away from Houshmandzadeh, J.P Losman also felt the chopping block today, and Matt Hasselbeck is now the clear starter, even if he is facing a make it or break it year.
Seattle are arguably the biggest losers out of all this, and no one can say that they haven't lost some obvious talent.
Will it cost them in the long run?
Well they did draft Golden Tate from Notre Dame, but still, T.J Houshmandzadeh was a luxury this team briefly enjoyed, even if his stats didn't portray it.
Tampa Bay Buccaneers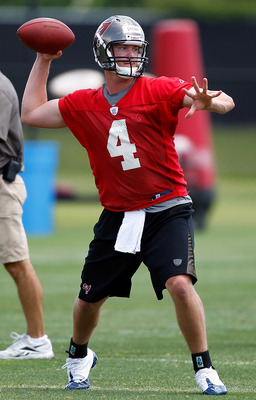 J. Meric/Getty Images
Big Name Cuts: WR Michael Clayton, QB Jevan Snead.
Like Dan LeFevour, I always rooted for Jevan Snead, as I wanted to see him do well. Unfortunately for him it doesn't seem that he'll get his shot this year, as the Buccaneers released him today along with wide receiver Michael Clayton.
In Michael Clayton's career, he has experienced both the good and the bad. He has had above 1000 yard seasons before, but during his time with the Bucs last season only managed 230 yards and 1 touchdown in 13 games.
It does come as quite a shock though to see these two cut. The Bucs purposely drafted Jevan Snead for a reason, and although Josh Freeman is still very young, it seems to defeat the purpose in the drafting system.
Secondly, cutting a receiver like Clayton from a team that can use some offensive threats doesn't make all that much sense. The Buccaneers did just lose Antonio Bryant to free agency this offseason, so now Josh Freeman finds himself even shorter of targets to throw to.
Maybe this will all blow over, we'll have to wait and see. But these moves aren't what the Bucs needed right now.
Tennessee Titans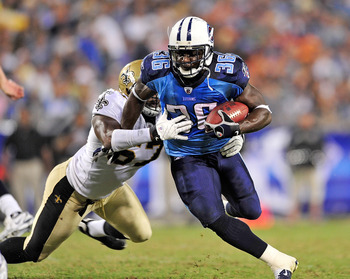 Grant Halverson/Getty Images
Big Name Cuts: DE Raheem Brock, RB Samkon Gado, CB Tye Hill, RB Alvin Pearman, S Myron Rolle, TE Sean Ryan, QB Chris Simms.
Tennessee haven't lost many key players just yet, but they did lose defensive end Raheem Brock and running back Samkon Gado.
Last year Raheem Brock recorded 3.5 sacks along with 32 tackles, and his presence was felt when he was on the field throughout all 16 games. To go with Brock, Samkon Gado saw his days outnumbered thanks to Chris Johnson, as his rushing ability was no longer needed.
Other notables include the likes of Tye Hill and yet another running back, Alvin Pearman. I think you'll agree that these won't change the team in the slightest, but it still highlights the fact that when there is a star player, there really is no need for anyone else.
Tennessee are hoping to capitalize on their talent this season, and following Vince Young's return to form, you can't help but like where this is going.
Cuts? Who cares.
Nothing matters when you have the likes of Vince Young and Chris Johnson together.
Washington Redskins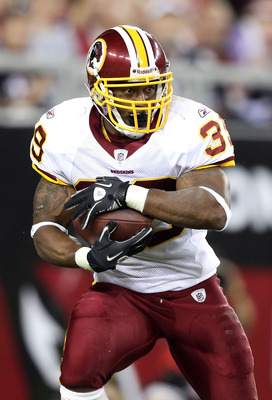 Christian Petersen/Getty Images
Big Name Cuts: RB Willie Parker, OL Chad Rinehart, WR Bobby Wade.
Finally we reach the tail end of this slideshow, and take a look at who the Washington Redskins cut.
For the most part, I don't think anyone in their right mind believed that Willie Parker would make it in Washington. His 389 yards and 0 touchdowns with the Steelers weren't enough to please Mike Tomlin, and they sure as heck weren't enough to please the stern Mike Shanahan this preseason.
Other cuts include offensive lineman Chad Rinehart and Bobby Wade, small names, yet players the Redskins could have done with if it were possible.
So far Mike Shanahan has weeded the weak links out of this team likely, although he continues to reach conflict with Albert Haynesworth.
Washington are walking the fine line between winning and losing right now, and with Donovan McNabb still indefinite for Week 1, we'll have to wait and see what they can produce in a tough NFC East division.
These cuts shouldn't matter too much, but Willie Parker would be feeling it right now. When it's all said and done, Washington have made the right moves though.
Keep Reading

Seattle Seahawks: Like this team?