NFL Cuts: Breaking Down The San Diego Chargers 53-Man Roster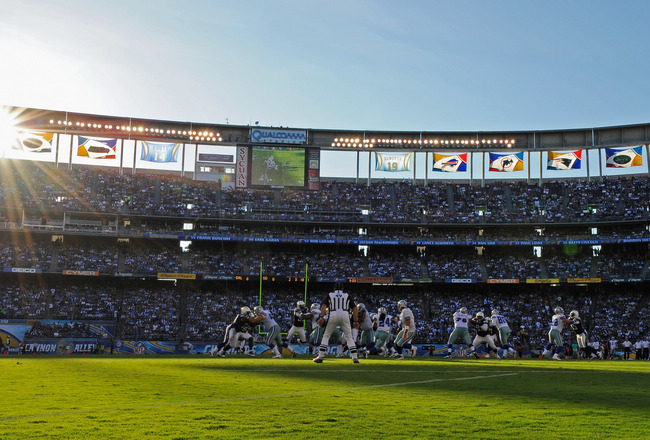 Kevork Djansezian/Getty Images
At 3:00 P.M. PST, the San Diego Chargers announced their official 53-man active roster. The speculation is finally over, and it is now time to take a look at how the Chargers' 2010 roster took shape.
There are certainly some disappointments and surprise decisions that will make fans in San Diego very upset. Expect a lot of anger to once again be directed at AJ Smith in the next week.
Without further delay, here is a breakdown of the new look San Diego Chargers.
Quarterbacks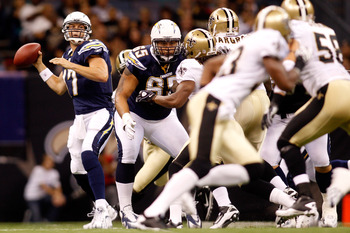 Chris Graythen/Getty Images
Depth Chart:
(1) Philip Rivers
(2) Billy Volek
Cuts:
(1) Jonathan Crompton
Grade: A/A-
Thoughts: This is a top five pair of quarterbacks in the NFL. Philip Rivers is one of the best around right now, and Billy Volek is arguably the best back up in the League.
The decision to cut Jonathan Crompton is interesting. He could potentially be placed on the practice squad (in fact, I expect it), but that doesn't mean he'll make the active roster in the event of an injury. In all likelihood, should Philip Rivers go down the Chargers will pursue a veteran free agent.
Cutting Crompton was logical. He has a lot of work to do before he becomes a successful quarterback, so cutting him frees up a roster spot for someone who can contribute.
Running Backs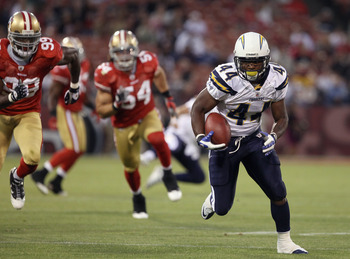 Ezra Shaw/Getty Images
Depth Chart:
(1) Ryan Mathews
(2) Darren Sproles
Cuts:
(1) Curtis Brinkley
(2) Shawnbrey McNeal
Grade: B
Thoughts: The decision to cut Curtis Brinkley hurts every San Diego fan, myself included. Brinkley has had a fantastic off season, and it seemed to me that he could have easily fit into a third string slot and eventually replace Darren Sproles, who will likely leave the Chargers next season.
That having been said, Ryan Mathews and Darren Sproles still make up a fearsome tandem that should easily rank in the top 10 in rushing in the League.
I expect Brinkley to be kept on the practice squad.
Fullbacks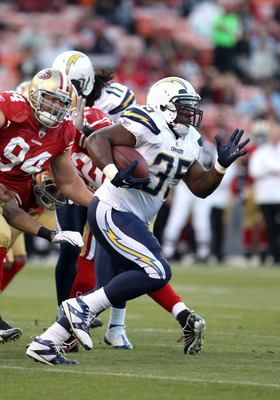 Ezra Shaw/Getty Images
Depth Chart:
(1) Mike Tolbert
(2) Jacob Hester
Cuts:
(1) Billy Latsko
Grade: A
Thoughts: No surprises here. Tolbert and Hester are players. They have made some great plays so far this off season, and look to contribute well blocking, running, and receiving, as well as on special teams.
As for Latsko, he had a tough job in front of him. Ultimately there was no way that he could've uprooted Tolbert or Hester.
Wide Receivers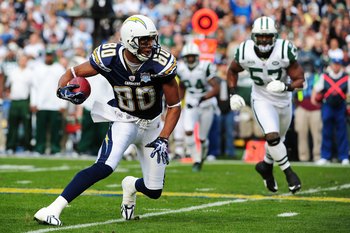 Robert Laberge/Getty Images
Depth Chart:
(1) Malcom Floyd
(2) Legedu Naanee
(3) Craig 'Buster' Davis
(4) Patrick Crayton
Cuts:
(1) Seyi Ajirotutu
(2) Jeremy Williams
(3) Richard Goodman
(4) Josh Reed
Grade: C+/C
Thoughts: The worst part about this is that the receiving corps could have been so much better.
I will go ahead and say that picking up Patrick Crayton was a good idea. For a conditional seventh round pick, Crayton will provide quality depth, veteran experience, and a solid option that will allow for three and four wide receiver sets that can keep Antonio Gates lined up as a tight end.
At the same time, though, seeing Seyi Ajirotutu and Jeremy Williams get cut hurts. These two have a lot of potential, and both had fantastic performances in the preseason. They should both be placed on the practice squad, but they won't last long. There are plenty of teams in the League who need receivers who probably already have these two on the phone.
Overall, this group is solid, and will help Philip Rivers. I give the C+/C grade for the fact that the personnel decisions here could have been a lot better.
Tight Ends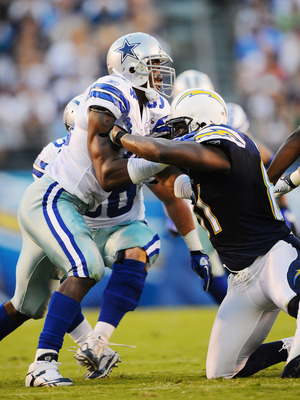 Kevork Djansezian/Getty Images
Depth Chart:
(1) Antonio Gates
(2) Randy McMichael
(3) Kris Wilson
Cuts:
(1) Dedrick Epps
(2) Richie Brockel
Grade: A
Thoughts: Not many surprises here. Gates, McMichael, and Wilson provide the Chargers' offense with everything they need from the tight end position. The three together make up an excellent combination of receiving and blocking tight ends.
As for the cuts, both were expected. Richie Brockel was not performing well enough to uproot any of the other four tight ends. As for Dedrick Epps, his preseason performance should at least place him on the practice squad.
Offensive Linemen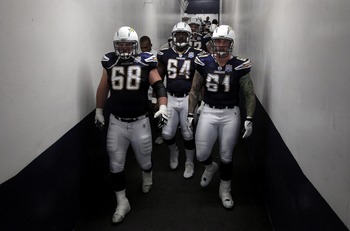 Donald Miralle/Getty Images
Depth Chart:
LT: (1) Brandyn Dombrowski
LG: (1) Kris Dielman, (2) Tyronne Green
C: (1) Nick Hardwick, (2) Scott Mruczkowski
RG: (1) Louis Vasquez, (2) Ryan Otterson
RT: (1) Jeromey Clary
Cuts: Nic Richmond, Corey Clark, Brady Bond, Jeff Hansen, Cameron Stephenson
Grade: A/A-
Thoughts: Not many surprises here. All the first string players have had their jobs long since cemented, so ultimately the decision came down to depth.
Mruczkowski and Green were expected to stay, as both ended last season on the active roster. The new addition Ryan Otterson earned his spot, and should develop well as a guard and, potentially, as a right tackle.
As for the cuts, all of them were more or less expected. With solid depth established, these five players didn't really do enough to earn them a spot. However, I do expect Jeff Hansen and Nic Richmond to be considered for practice squad duty.
Defensive Linemen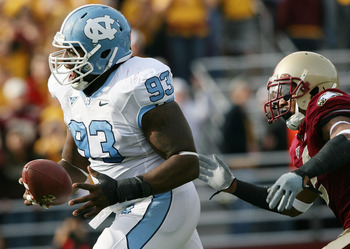 Elsa/Getty Images
Depth Chart:
DE: (1) Luis Castillo, (2) Jacques Cesaire, (3) Travis Johnson, (4) Alfonso Boone, (5) Vaughn Martin
DT: (1) Cam Thomas, (2) Antonio Garay, (3) Ogemdi Nwagbuo
Cuts:
(1) Derrick Jones
Grade: B+/A-
Thoughts: This is a very underrated group of players. All of them have proven themselves capable during the preseason, and should play very well in rotations.
As for the cutting of Derrick Jones, it is disappointing, but it was expected. The Chargers organization seems to like the chemistry that the current defensive linemen have, and did not feel the need to change that.
Derrick Jones has a lot of promise, though, and should be a lock for the practice squad.
Linebackers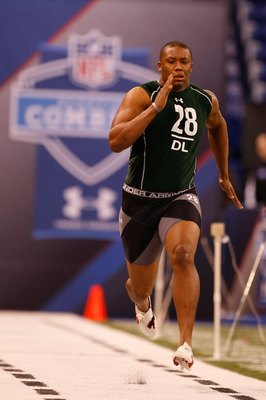 Scott Boehm/Getty Images
Depth Chart:
(1) Shawne Merriman, (2) Shaun Phillips, (3) Jyles Tucker, (4) Antwan Applewhite, (5) Larry English, (6) Brandon Lang, (7) Stephen Cooper, (8) Kevin Burnett, (9) Brandon Siler, (10) James Holt
Cuts: Mike Nixon, Kion Wilson
Grade: A/A-
Thoughts: This should be a very good group of linebackers. They combine pass rush and coverage very well, and they provide formation versatility.
Everyone has noticed by now that fan favorite Brandon Lang has made the roster. Although he will be at the bottom of the depth chart, expect him to show up and make some plays this season as he develops behind quality players like Shaun Phillips and Jyles Tucker.
Holt was the right choice as the fourth inside linebacker. He was a great special teams contributor last season, and seems to be fitting into the linebacker corps nicely.
As for the cuts, neither really showed a lot of flash. I do, however, expect Kion Wilson to get a look for the practice squad.
Cornerbacks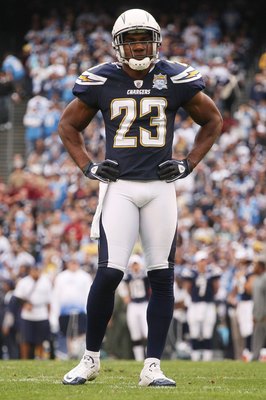 Stephen Dunn/Getty Images
Depth Chart:
(1) Quentin Jammer
(2) Antoine Cason
(3) Donald Strickland
(4) Fred Bennett
(5) Dante Hughes
(6) Brandon Hughes
Cuts:
(1) Traye Simmons
(2) Nathan Vasher
Grade: A
Thoughts: I really like this group. While there isn't a solidly defined second string cornerback, this group probably has the best depth out of any team in the League.
Strickland is a player, a shoe-in for the nickel back spot, and could very well challenge Cason as the season moves on.
Bennett and the two Hughes players are also great players. All three have made great plays in coverage and against the run, and could very well be used in six defensive back sets and nickel blitzing packages.
No surprises with the cuts. Vasher was brought in as depth security, but seems to be completely out of form. Traye Simmons didn't see much of the field, and clearly didn't make enough of an impression on the San Diego staff.
Safeties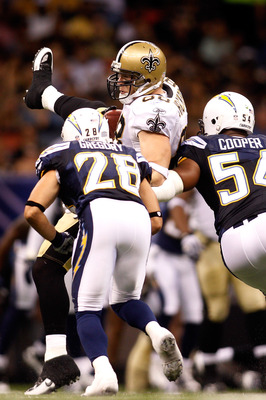 Chris Graythen/Getty Images
Depth Chart:
FS: (1) Eric Weddle, (2) C.J. Spillman
SS: (1) Steve Gregory, (2) Paul Oliver, (3) Darrell Stuckey
Cuts:
(1) Quinton Teal
Grade: A-
Thoughts: What a great group of safeties.
While there is no Troy Polumalu type difference maker in this group, they will do a good job of holding things down in the backfield.
Weddle and Gregory will make a great starting tandem. Weddle is a proven player, and should improve even more this year.
Gregory exploded onto the scene at the end of last year as well as during the preseason this year. He should do fine as the starting strong safety.
The depth is great as well. CJ Spillman and Darrell Stuckey will provide good competition for the starters while improving their play as best they can.
Oliver is the interesting piece of this group. He is a fine backup, but his use is really more in special packages. He is fast, agile, and he hits hard. He could easily be used on safety blitz packages.
Quiton Teal became a non-factor when the other five players proved themselves capable. Teal was more of an insurance policy than anything else.
Specialists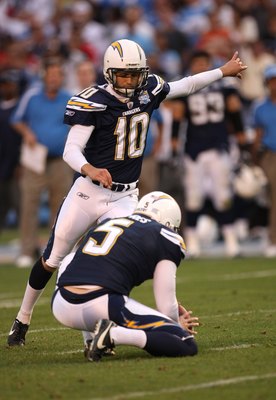 Stephen Dunn/Getty Images
Depth Chart:
P: Mike Scifres
K: Nate Kaeding
LS: David Binn
Cuts:
(1) Nick Novak
(2) Glenn Pakulak
Grade: A
Thoughts: Nothing needs to be said here. Everyone expected the specialists to look like this, and this group should have another stellar year.
Final Grade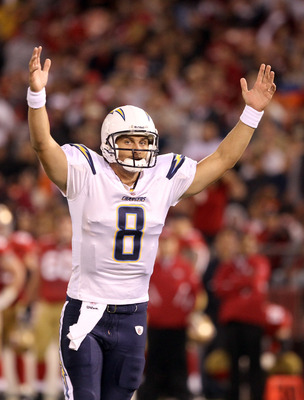 Ezra Shaw/Getty Images
Final Grade: B
Just like Jonathan Crompton (pictured here), a lot of San Diego fans will be raising there hands and scratching there heads at some of the decisions on the final roster.
Cutting Seyi Ajirotutu, Jeremy Williams, and Curtis Brinkley were probably the only really strange decisions made by the staff, and each cut will have its own effect.
The final roster has a distinct defensive taste to it, and the linebacker and defensive back heavy roster implies that Ron Rivera is ready and waiting to implement some of his exotic schemes, whether those be six DB sets, nickel blitzes, six linebacker sets, or anything else of that sort.
This is an exciting roster, but it has the potential to backfire on the San Diego Chargers. Only time will tell, though. In either case, Monday, September 13th should be an interesting day for the San Diego Chargers and their fans.
Keep Reading

San Diego Chargers: Like this team?