Fantasy Football Rankings: The NFL All-Sleeper Team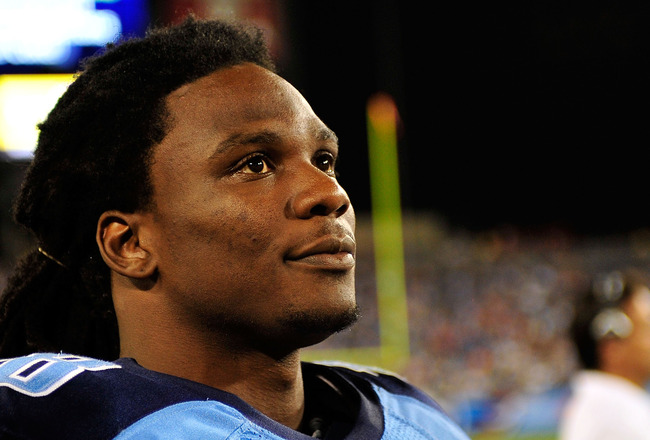 Grant Halverson/Getty Images
Ladies and gentlemen, you are all currently looking at the projected No. 1 draft pick in many a fantasy league.
Also, you are looking at the best-looking man with gold instead of teeth. Somehow, he pulls it off.
For many years, Chris Johnson would have been the automatic first pick. But as fantasy football has evolved, many avid players have deviated from the usual snake draft format, but have instead moved onto what some call the big boy version of fantasy football.
The auction draft.
Auction drafters look at Vitamin C.J. and see someone they just can't afford. The average value on many websites is $50 for Johnson's services.
Which doesn't include a happy ending.
Thank God.
High dollar amounts can scare the auction amateur away. But fear not, because if there's one thing I hate, it's seeing people draft so badly that they forget to pick up a quarterback.
Oh, and Dakota Fanning. But that's a separate story.
So how can you save your money and get a team that's stacked for the season at the same time? Well, aiming for some of these fellas is a good way to start.
Or, just get someone to sponsor your team and spend their money. That's always a good plan.
Follow me on Twitter and read more at L.A. Sports Examiner.
QB: Chad Henne, Miami Dolphins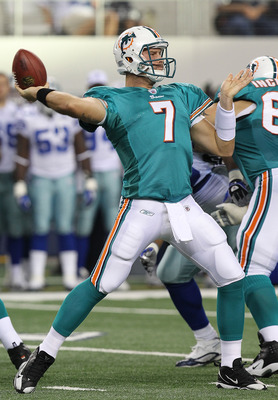 Ronald Martinez/Getty Images
Average Auction Value: $4
Average Positional Ranking: 17
Now, fans everywhere are probably saying, "But this is a running offense! No way Henne has a good year!"
Au contraire, mon frère.
The Dolphins may be a running team, with Ronnie Brown and Ricky Williams collecting a lot of the points, but that's good news for Henne. When defenses load the box to stop those two, Henne will see tons of single coverage on his wideouts.
Start salivating, Dolphins fans.
This year, Henne's targets are much better. He managed nearly 3,000 yards and 12 TDs with a mediocre receiving core in 2009. In 2010, he has Brandon Marshall, who has three straight 100-catch seasons with TD numbers on the rise, and some other solid, developing receivers.
Mix that with the short screens to Brown and Williams, and Henne is poised for a breakout.
RB: Michael Bush, Oakland Raiders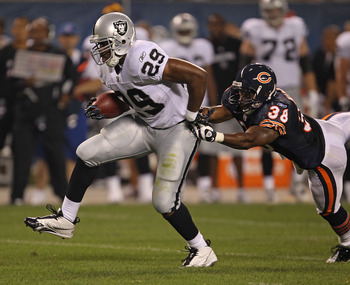 Jonathan Daniel/Getty Images
Average Auction Value: $7
Average Positional Ranking: 29
Having Oakland Raiders players on offense is usually a death sentence for fantasy footballers. Starting JaMarcus Russell last season might have made you wish you had just left your starting quarterback slot blank.
In 2010, however, things have changed.
Bush averaged 4.8 yards per carry last season in limited time, and now that he's healthy, he will see his carries increase. Now, with Jason Campbell, a developed quarterback, defenses will have to back off the line, opening the lanes for Bush.
Sounds like a good situation just got better.
Yes, he will have to share some carries with Darren McFadden. However, don't be too surprised if Bush starts to dominate the running game, as the injury-prone McFadden pulls a "Bush" and runs side to side, not up and down.
A Reggie "Bush," not a Michael. Same last name, different levels of class.
RB: Darren Sproles, San Diego Chargers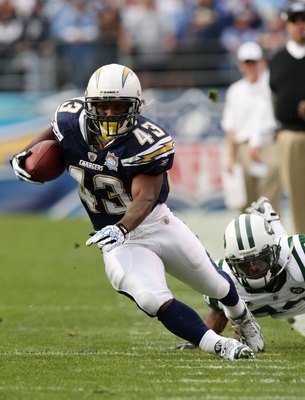 Stephen Dunn/Getty Images
Average Auction Value: $5
Average Positional Ranking: 43
Yes, I know that Sproles will be playing second-fiddle to Ryan Matthews to start the season. Surprisingly, Northwestern teaches us how to read depth charts.
We even have a major for it.
Fantasy footballers should note that taking Matthews comes with that rookie risk. Yes, he could be a good power back, but without Marcus McNeill on the line, there's no way to know how productive he will be.
Sproles is a different story.
He can stretch the field, catch out of the backfield, and return kicks with the best of them. He may not get a ton of rushing yards, but Philip Rivers needs options and Sproles is one of his best remaining targets.
Sproles will certainly take some carries away from Matthews if he can't produce at the high clip that he's projected to meet. And if anyone can have the cliché nickname of "lightning in a bottle," it's this guy.
He's faster than a prepubescent virgin.
WR: Josh Cribbs, Cleveland Browns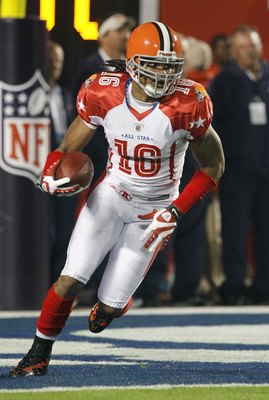 Scott Halleran/Getty Images
Average Auction Value: $2
Average Positional Ranking: 60
Joshua Cribbs is a Swiss Army knife. If you want someone to do everything on the field, you need Cribbs.
Also, he works as a bottle opener and scissors.
All kidding aside, Cribbs lights up a stat sheet. Even in the preseason, he was returning kicks like the Pro Bowler he was in 2009, and players who double as kick returners can really boost a team with bonus points.
But luckily for his owners in 2010, his role has expanded.
The Browns have stated all offseason that Cribbs's role would grow, and for good reason. His explosive speed will make him effective in the Wildcat, and catching passes from a proven NFL quarterback in Jake Delhomme will raise his receiving totals significantly.
Delhomme may not be great, but he's better than the duds Cleveland had under center last year. And that may be all Cribbs needs to explode for an even better season than 2009.
WR: Golden Tate, Seattle Seahawks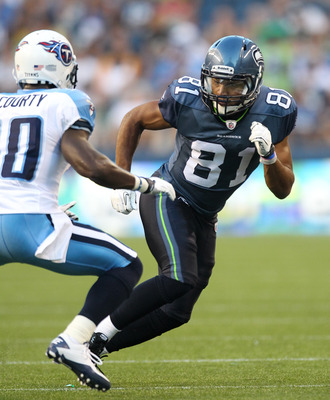 Otto Greule Jr/Getty Images
Average Auction Value: $4
Average Positional Ranking: 65
Don't worry, this won't turn into some Notre Dame love-fest. I like Notre Dame as much as I like "Marley & Me."
Yeah, I've seen that movie, so?
Tate is in a very interesting position in Seattle. Currently third on the Seahawks' depth chart, he doesn't appear to have a niche carved out for himself.
Just wait, however, and his options become clear.
With an aging Matt Hasselbeck at the helm, the Seahawks will be using slot receivers and dump-downs a lot more, and Tate's perfect for the job. He has great hands, and can make those short routes into a goldmine for fantasy owners.
Also, rumors have swirled about T.J. Houshmandzadeh getting traded. If the Seahawks start to struggle, look for He of Long Name to get dealt, and Tate to take over as an every-down wideout.
Either way, Tate will steal the show in Seattle. And not just in pastry shops.
TE: Visanthe Shiancoe, Minnesota Vikings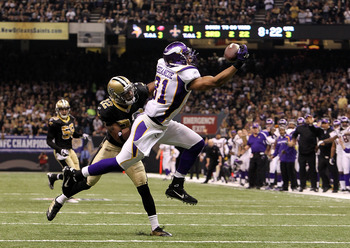 Ronald Martinez/Getty Images
Average Auction Value: $4
Average Positional Ranking: 11
Some people are really bad with history in fantasy football predictions, and Shiancoe's draft stock is another example of that.
Experts predict his numbers won't get near his efforts from last season, and they couldn't be more wrong.
With Brett Favre back under center, Shiancoe will still see the ball plenty in the red zone. He had 11 TDs last year, second most for all tight ends, yet he keeps falling eight spots below guys like Jason Witten, who only had two scores.
Shiancoe's owners should expect more of the same.
Minnesota has already seen a number of their receivers go down with injuries, but the Old Gunslinger still loves to throw it around. Expect Shiancoe to fill Percy Harvin and Co's shoes and give Favre a big target down the middle of the field.
Or, just expect more touchdowns. That's okay with you, right?
K: David Buehler, Dallas Cowboys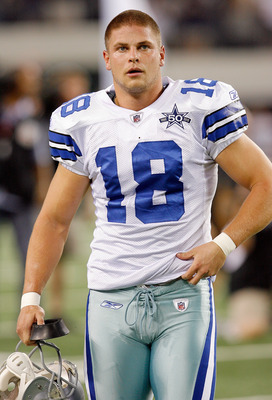 Tom Pennington/Getty Images
Average Auction Value: $0
Average Positional Ranking: 20
For those readers who are trying to conserve money, kicker is an easy place to save some shekels.
How? Don't spend any.
A lot of kickers don't cost much because many teams never bother drafting one. But to fill out your team, Buehler is the best of the freebies.
This guy has one of the strongest legs in the NFL, and was drafted to force teams into touchbacks. Now groomed into a field goal kicker, Buehler will give your fantasy team long kicks, which can earn bonus points.
Plus, he plays for a team that should be in scoring position plenty. The Cowboys may be the NFC's most-hyped team and with their offense, Buehler will have more opportunities to rack up easy points if the team doesn't score a touchdown.
And if they do, he will have more extra points than anyone in the league. Boo-hoo.
DEF/ST: Tennessee Titans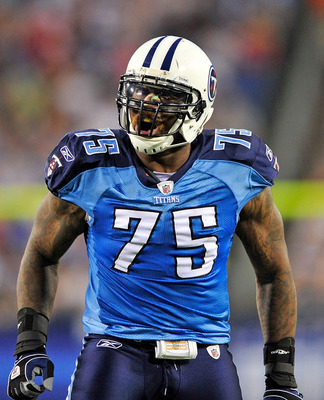 Grant Halverson/Getty Images
Average Auction Value: $1
Average Positional Ranking: 18
Call it a hometown pick or a biased decision, it doesn't really matter.
Just know that when the Titans come to town, their opponent's offensive line will have to be ready.
In the 2010 preseason, the team that blitzed the least out of anyone in 2009 came out firing. Defensive coordinator Chuck Cecil added new packages and tons of stunts that surprised opponents, leading to sacks and hurries galore.
Owner Bud Adams added much needed depth to the defense, loading up the line with veteran guys like Raheem Brock and Jason Babin. The hole left by Keith Bulluck is sizable, but a slew of newcomers have shown up strong to fill it up.
Yes, the Titans have some tough games on the schedule. Playing them against the Colts and Cowboys could be suicide. Other than that, however, the revamped Tennessee D will put up formidable numbers for a team ranked this low.
Now they just have to get Michael Griffin off the field…
Follow me on Twitter and read more at L.A. Sports Examiner.
Keep Reading

Tennessee Titans: Like this team?