NFL Preseason Week 4: 10 Observations From 49ers Victory Over Chargers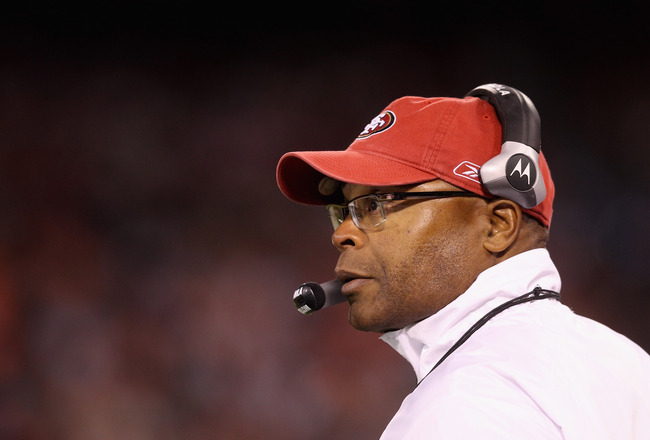 Ezra Shaw/Getty Images
The San Francisco 49ers beat the San Diego Chargers Thursday night 17-14. With the win, the 49ers have swept through the preseason with an undefeated 4-0 record.
Even though the fourth preseason game is widely considered low priority, yesterday's matchup was definitely an indicator of some key team elements.
Therefore, here are 10 observations that I made throughout the ball game.
Dominque Zeigler Should Be The No. 4 WR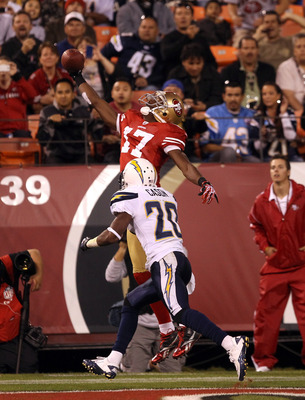 Ezra Shaw/Getty Images
Throughout this offseason, there's been a heated competition between Jason Hill and Dominique Zeigler for the fourth receiver spot on the depth chart.
After last night's outing, I firmly believe that Zeigler has proven himself as the better option.
He ran sharp routes and made numerous acrobatic grabs (even if they were out of bounds). While he still has a few aspects of his game to polish, I see tremendous potential.
Note: neither receiver are in risk of losing their jobs.
Tremendous Pass Rush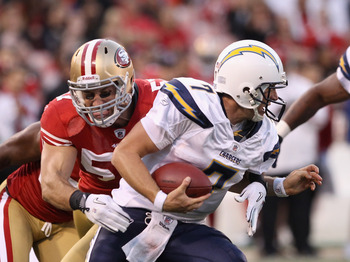 Ezra Shaw/Getty Images
As I've stated on numerous occasions before, generating an effective pass rush is an integral key to success.
The 49ers did exactly that as they registered a whopping five sacks against the Chargers.
Last season, the team ranked tied for fourth in quarterback sacks, and all signs point towards replicating that performance.
The team relies on a cumulative effort from a wide array of defenders, as opposed to a single dominant force. Similarly, there were five different players who sacked the quarterback last night.
Nate Byham Has Impressed Me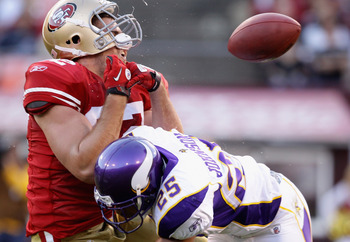 Ezra Shaw/Getty Images
When the team invested their sixth round draft choice on Pittsburgh TE Nate Byham, I was confident that they were adding a strong in-line blocker who would set the edge for their rushing attack.
During the preseason, Byham has demonstrated that he can not only effectively block, but that he can be a reliable target in the passing game as well.
Yesterday, he had three receptions for 30 yards.
This gives the 49ers an effective trio at tight end that they can utilize in different packages and schemes.
3rd Down Efficiency An Issue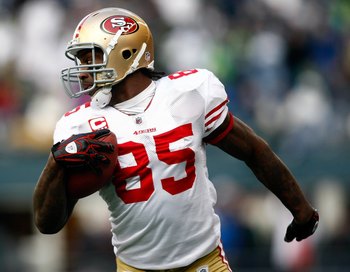 Jonathan Ferrey/Getty Images
In the NFL, the ability to move the chains and convert third downs is critical for an offense. Unfortunately, that has been the 49ers Achilles heel for a while now. In fact, last season they were at 30 percent which ranked 29th worst in the league.
After improving in the area and converting 43.75 percent of their third downs last week against the Raiders, the 49ers followed up with dismal play last night by only converting 27 percent.
The team will definitely have to improve on that, moving forward.
Big-Play Defense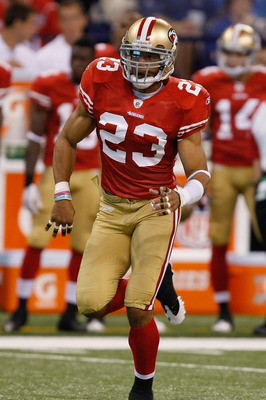 Scott Boehm/Getty Images
One of the 49ers team philosophies is to make big plays on defense, and last night they did that and more.
Along with five sacks, the unit also recorded three interceptions and recovered a fumble.
This is great news heading into the regular season, as I expect this type of play to continue.
Nate Davis Shows Promise, But...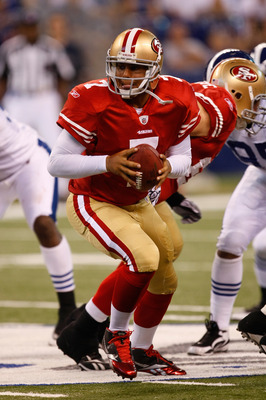 Scott Boehm/Getty Images
Nate Davis, the team's '09 fifth-round draft pick, has shown great potential throughout this preseason.
He clearly possesses the strongest arm out of the three quarterbacks on the roster, as he displayed with his 60-yard bomber against the Vikings.
Against the Chargers, though, he was below average.
Despite throwing a touchdown, he made several poor decisions as he only completed 50 percent of his passes and also threw a pair of interceptions. His final passer rating was a pathetic 40.5.
While it's still his second year in the league and only preseason, it's apparent that Davis has a long way to go before he overtakes Carr as the backup.
...Speaking Of Carr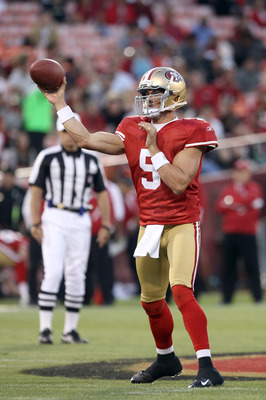 Ezra Shaw/Getty Images
While some were questoning Carr's spot on the depth chart a couple weeks ago, I believe that he's answered all his doubters and cemented himself as the primary backup.
He ran the offense efficiently and completed 5-of-6 passes for 58 yards.
The 49ers should feel safe heading into the season with Carr behind Alex Smith.
Penalties A Major Concern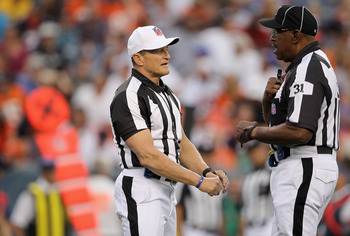 Doug Pensinger/Getty Images
If a team wants to shoot themselves in the foot, the best thing they can do is commit unnecessary penalties.
Unfortunately, through four preseason games that's all that we've witnessed. In fact, they finished second in most penalty yards surrendered during that span.
While last night was a bit improved, there was still the same simple lack of focus and discipline.
If this team wants to have the success they're capable of, then they need to fix this issue immediately.
Anthony Dixon Bounces Back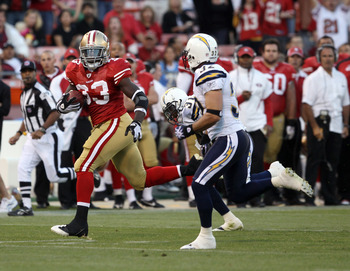 Ezra Shaw/Getty Images
After two mediocre games, in which he totaled a 2.9 YPC average, rookie running back Anthony Dixon bounced back to rush for 80 yards on only 12 carries.
He's also scored a touchdown in each of the four preseason games and I think it'd be wise for the 49ers to utilize him in short yardage and goal-line situations.
That said, fantasy owners be aware. He could be a great waiver wire pickup.
Navarro Bowman Looks Great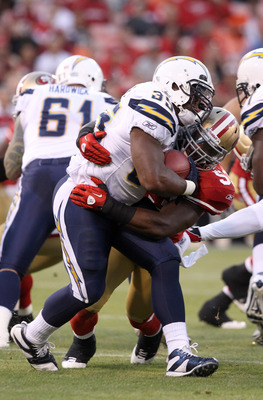 Ezra Shaw/Getty Images
Rookie linebacker NaVorro Bowman was an absolute beast last night, recording seven tackles (two for loss), a sack, and forcing a fumble.
He's shown sharp technique, remarkable instincts, and I think he could be a valuable contributor this season.
I think he would be a great eventual replacement for Takeo Spikes, as he and Patrick Willis would form a strong tandem for years to come.
Keep Reading

San Francisco 49ers: Like this team?