Cincinnati Bengals Vs Indianapolis Colts: Roster Cleanup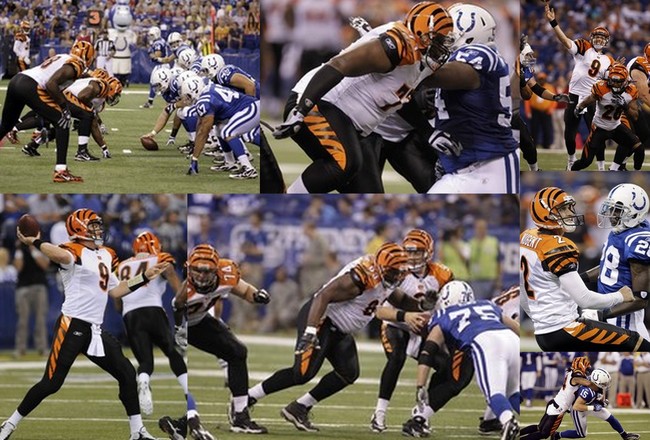 Bengals Colt Sept 2nd 2010

...and it all comes down to this. Not a Super Bowl and not a rivalry game simply cleaning out the gutter before the leaves of fall clog the drain. That is right Bengals' fans, Thursday, September 2nd 2010 marked the most meaningless football game in the preseason that can only be given the respect of the Detroit Lions 0-15 game prior to the most memorable loss in team history. The Bengals have some questions to sort out, but no questions that mean anything but who is going to get a chance to be the next big thing—next year.
(Photography courtesy of the Associated Press, The NFL, and The Cincinnati Enquirer)
The Offense: First Team Practice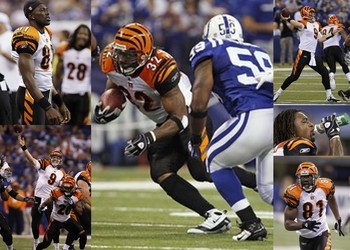 First Team Offense
With some abandoned wisdom, the Bengals decided to give the first team one series (equalling nine plays). The first-string continued to practice the no-huddle, with five of the eight non-kicking plays being run in the hurry-up style made famous by the Sam Wyche and the Bengals 22 years ago—the last Bengals Super Bowl team.
Drive Summary:
Four minutes, two seconds: Three runs by Ced and five pass attempts by Carson culminated with another beautiful 52-yard field goal by Mike Nugent.
First-Team Call Outs:
Carson Palmer: 5 attempts, 4 completions, 28 yards (longest 12 yards) for a 90 passers rating.
Cedric Benson: 3 attempts, 6 yards, 2 yard per carry average (longest 5 yards)
Chad Ocho Cinco: 2 targets, 2 receptions, 18 yards (longest 12 yards)
Drive Breakdown (Source: NFL):
Cincinnati Bengals at 13:46
1-10-CIN 32 (13:46) (Run formation) C.Palmer pass short left to J.Shipley to CIN 38 for 6 yards (B.King, K.Conner).
2-4-CIN 38 (13:15) (No Huddle) C.Benson left end to CIN 43 for 5 yards (B.King).
1-10-CIN 43 (12:48) (No Huddle) C.Palmer pass short right to R.Kelly to CIN 47 for 4 yards (P.Angerer, F.Moala).
2-6-CIN 47 (12:17) (No Huddle) C.Benson right tackle to CIN 49 for 2 yards (R.Humber, P.Angerer).
3-4-CIN 49 (11:40) (Shotgun) C.Palmer pass short right to C.Ochocinco to IND 39 for 12 yards (R.Fisher). P21-10-IND 39 (11:06) (No Huddle)
C.Benson left end to IND 40 for -1 yards (F.Moala).
2-11-IND 40 (10:32) (No Huddle) C.Palmer pass short right to C.Ochocinco to IND 34 for 6 yards (P.Angerer).3-5-IND 34 (9:50) (Shotgun) C.Palmer pass incomplete deep left to T.Owens.
4-5-IND 34 (9:44) M.Nugent 52 yard field goal is GOOD, Center-Cl.Harris, Holder-K.Huber.
Kicking Competition: It All Comes Down to This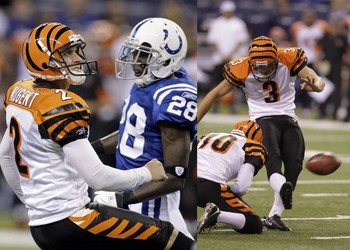 Nugent and Rayner
Nugent and Rayner faced off at full strength and ready to go for the title of Bengals kicker. Neither will be able to shake Shayne Graham's shadow initially (and until they get to challenge Graham's choking playoff performance). Yet, despite a shaky start for both of these kickers, the competition is closer than expected, particularly due to lack of opportunities for Nugent (due to a groin injury sustained in camp).
In the Colts game, Rayner hit one field goal from 39-yards while Nugent connected from 52 and 34 yards.
Extra points were gimmes for both players (Rayner was 2 for 2 while Nugent was 1 for 1), but where this competition may come down to—kickoffs—both players were very close (while Rayner was given many more opportunities). Rayner had four kickoffs averaging 67-yards for the game (though as he has shown prior, leg fatigue did set in later in the game. The distance was as follows: 71, 70, 67, and 60 yards). Nugent was had three kickoffs, averaging 66.67-yards for the game which was like a strong bell curve (first was 61, second 71, and third 67).
The most subtle but no less significant quandary facing the Bengals this offseason concludes in a nearly statistical deadlock. It appears Nugent has a slight edge in strength but durability may be an issue because of the force Nugent kicks with. Rayner is facing more of a challenge in terms of endurance as he consistently wore down as the games.
For a statistical comparison (and to illustrate the difficulty of this decision) see the following statistical analysis of the two player's performance during the preseason by clicking this link.
Battle Of The Backups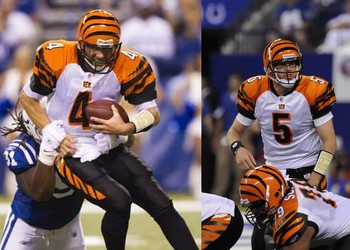 O'Sullivan and Jordan Palmer
The competition of the semi-mediocre backups continued. O'Sullivan was his usual self, not delivering much but surprisingly not giving up the ball (and for once, no intentional grounding). Sully finished 9 of 12 for 102-yards (longest pass was 23-yards), no touchdowns, and a 100.0 rating.
Though the real story of the game was Jordan Palmer who finally had a Palmer Family-worthy performance, completing 10 of 14 for 114 yards (including a beautiful 50-yard strike to Jerome Simpson), two touchdowns, and a 135.1 rating.
After looking at the entire preseason, journeyman O'Sullivan and young Palmer are third-stringers at best. Likely Sully will be a goner and the Bengals will end up picking up another, more seasoned veteran which will likely be on the open market after today.
The Simpson.....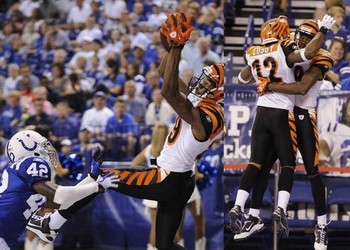 Jerome Simpson Scores on Colts
Jerome Simpson made a case that he has gotten better and is competitive. Though no superstar, Simpson finally showed poise and control this preseason (two years after expected) to make a case for his position on the roster. Except for a bad bounce on a punt return (hit him), giving him a fumble in the game, Simpson caught a 50-yard strike for a touchdown—helping both his own and Jordan Palmer's cause in the process.
Lining Up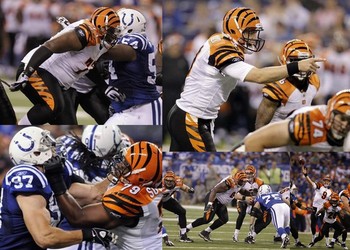 O-Line
The offensive line showed consistent improvement through the preseason including Andre Smith who is finally on-track. Though O'Sullivan was left less than protected at times, the more and more one watched, it appeared that Sully himself was having trouble directing the offense in general (which even translated upfront).
Bengals Backfield: Locked and Loaded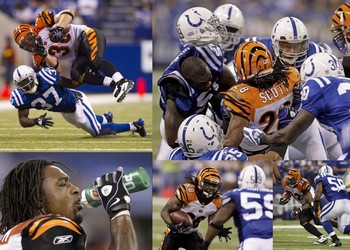 Bengals Backfield
It looks like the Bengals will have to Ceds this year. With another breakout performance from Cedric Peerman (6 attempts, 100-yards) with a 93-yard breakaway touchdown sprint made his case to be the third string while Brian Leonard rehabs his foot.
James Johnson was respectable but just did not compete.
The first two strings in Cedric Benson and Bernard Scott were low key in their final tune-up though they certainly showed that they are ready for the regular season.
Keep Reading

Cincinnati Bengals: Like this team?