Top Running Backs In NFL History, Team by Team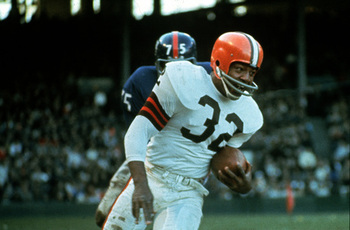 Who is the greatest running back in NFL History?
Easy, Jim Brown.
Who was the greatest running back in Dallas Cowboys history?
Now there is a more difficult question. Obviously, Emmitt Smith got more of the glory, but boy, that Tony Dorsett sure was amazing.
In light of the upcoming NFL season, let's take a look at the greatest running backs in NFL history, going team-by-team.
New York Giants: Tiki Barber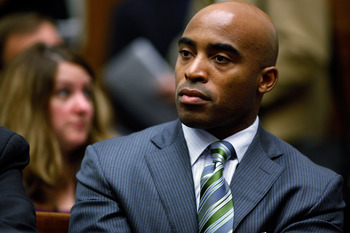 Chip Somodevilla/Getty Images
It almost seems unfair that such a loser would be the greatest running back in the proud history of the New York Giants franchise, particularly when he chose to leave his team on the precipice of a Super Bowl Championship.
Unfortunately, though, he is the franchise leader in rushing yards, touchdowns, and attempts by distant margins. So as much as we might like to see Frank Gifford, Rodney Hampton, Dave Meggett, or Joe Morris in this space, it has to be Tiki.
Doesn't mean we like him, though.
Dallas Cowboys: Emmitt Smith
The Dallas Cowboys have been privileged to have Emmitt Smith and Tony Dorsett, two of the greatest running backs of all time, play for their franchise. Dorsett alone would be the greatest running back in the history of many franchises.
Smith, however, is the NFL's all-time leader in rushing yards and rushing touchdowns; plus, he won three Super Bowls.
That is hard to top.
Philadelphia Eagles: Steve Van Buren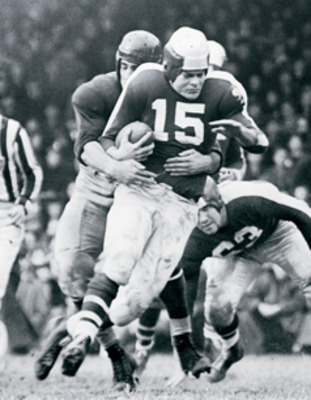 Steve Van Buren was an absolute horse who led the NFL in rushing attempts, yards and touchdowns four times and yards per game five times. He was a five-time first-team All-Pro and was elected to the NFL Hall of Fame in 1965.
During his prime, the Eagles went 54-22-3 and won back-to-back NFL Championships in 1948 and 1949.
He gets the nod at the top of a surprisingly close pack of runners; behind him are Wilbert Montgomery and Brian Westbrook.
By the way, if we ever make a "Greatest Injured Players of All-Time" list, Westbrook gets my vote. I'll never forget the first year I lived in Philadelphia, when Westbrook was perpetually too injured to practice and yet rushed for 1200 yards in 15 games.
Washington Redskins: John Riggins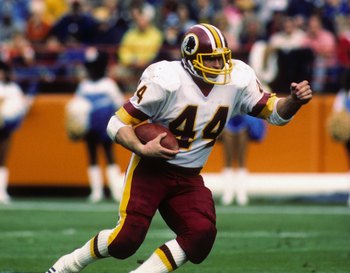 George Rose/Getty Images
Here's my deal with John Riggins: I sincerely believe that, if not for the famed "Hogs" offensive line, this guy would not be in the Hall of Fame and may not even have had a memorable career.
In 1980, at the age of 31, Riggins had been in the league for ten years and rushed for 100 yards three times. He then proceeded to sit out the entire 1980 season due to a contract dispute. His career should have been over.
Then along came Joe Gibbs, who coaxed Riggins back to the team and built that great line, and Riggins prospered.
He had a decent 1981 season, and then—Blam-O—he led the NFL in rushing attempts for the Super Bowl-winning Redskins in 1982, rushed for 1300 yards and 24 touchdowns en route to a second Super Bowl appearance in 1983, and then rushed for another 1200 yards and 14 more touchdowns in 1984.
Eight years later, he's giving a Hall of Fame induction speech.
Minnesota Vikings: Chuck Foreman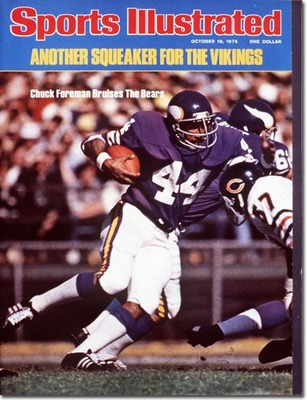 Could this have been Robert Smith? Sure, but when you retire at the height of your career at the age of 28, you better have accomplished more than 6800 yards rushing and 32 touchdowns if you want to be given credit for "what could have been".
Will this one day be Adrian Peterson? Assuming he stays healthy and stops fumbling the ball, yes.
For now, it is Chuck Foreman, who played in an era of 14-game seasons and rushed for 1000 yards three times on his way to five Pro Bowls in his first five seasons in the league.
Green Bay Packers: Jim Taylor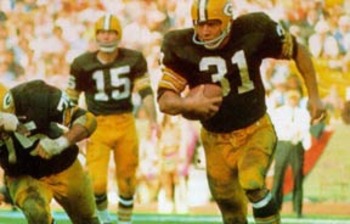 The difference between Jim Taylor and Ahman Green on paper is slight, with Green holding slight advantages in attempts (40) and yards (115). This is misleading.
Taylor won five NFL championships with Green Bay, led the league in rushing once, attempts and touchdowns twice, and made five Pro Bowls. He is now in the Hall of Fame.
Green had a really good career and rushed for an amazing 1883 yards in 2003, a total that didn't lead the NFL.
Detroit Lions: Barry Sanders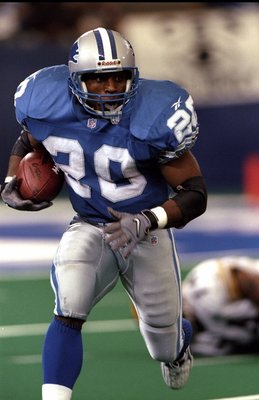 Tom Pidgeon/Getty Images
Here's a startling statistic: no other Detroit Lion in history comes within 10,000 yards of Barry Sanders. Sanders had 15,269 rushing yards; Billy Sims finished second in team history with 5,106.
Here is a startling non-Barry Sanders statistic: Billy Sims and Dexter Bussey both retired after the 1984 season. Sims had been in the NFL since 1980, while Bussey had been in the NFL since 1974.
Sims' last game in 1984 came in Week 8, when he rushed for 103 yards but injured his knee and was lost for the season.
Bussey's last game of his career came in Week 16 of that season, when he got three carries for seven yards to finish his career with 5,105 rushing yards, exactly one yard behind Sims for what was then the Detroit Lions' career rushing record.
Chicago Bears: Walter Payton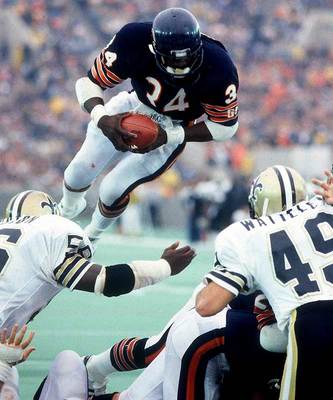 Like Sanders, Payton had over 10,000 yards more than the second-place finisher on his team.
Many people would rate Payton as the greatest of all-time. It is a difficult point to argue with.
Carolina Panthers: DeAngelo Williams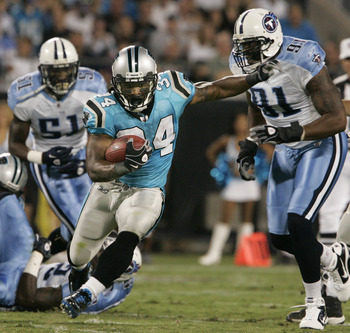 Mary Ann Chastain/Getty Images
You could probably argue all day on the merits of DeAngelo Williams, DeShaun Foster, Tim Biakabutuka, and Stephen Davis.
In theory, this could become a two-man battle between two current players, if Jonathan Stewart can bounce back from offseason surgery in 2010.
How many teams can say that?
New Orleans Saints: Deuce McAllister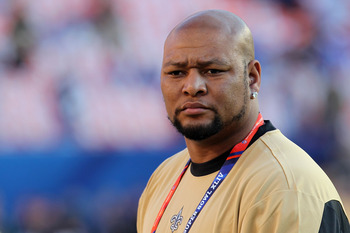 Ronald Martinez/Getty Images
The Saints have had a surprisingly good stable of running backs over the years, starting in the early 1980s with George Rogers, Reuben Mayes, Dalton Hilliard, Craig Heyward, and then finally ending with Ricky Williams and Deuce McAllister in the last ten years.
Did I say surprisingly good?
Deuce is the all-time leading rusher and touchdown scorer on this squad and doesn't look to be upended anytime soon, given Sean Payton's penchant for four-headed monsters at running back.
Atlanta Falcons: William Andrews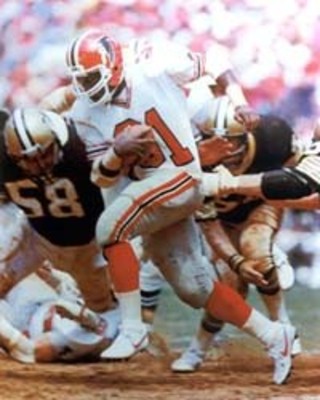 As good of a pick as both Gerald Riggs and Warrick Dunn would be here, William Andrews was a bad man who is quickly being lost to history.
Andrews was a four-time Pro Bowler who played in only five full seasons, but he managed to rush for 5,986 yards and would have had many more if not for injuries and circumstances.
As a 24-year-old rookie in 1979, Andrews rushed for 1,023 yards for a bad Falcons team. The following year, Andrews had 1300 yards rushing and made the Pro Bowl as the Falcons went 12-4, the best record to that point in their history.
He repeated the feat the following year and led the NFL in yards from scrimmage with over 2,000.
Then in 1982, a players' strike cut the season short by seven games, and Andrews had only 573 yards rushing, a total that was good for fifth in the NFC.
In 1983, Andrews enjoyed a career year, running for 1,567 yards and again going over the 2,000 total yards mark. He made his fourth straight Pro Bowl.
And then that was it. He suffered a major knee injury in the 1984 preseason and missed two full seasons, returning for five games in 1986 as a tight end.
Tampa Bay Buccaneers: Warrick Dunn

Tampa's all-time leading rusher, James Wilder, played for the team for nine years and had exactly two seasons as the starting running back.
Tampa's second all-time leading rusher, Mike Alstott, logged some hard yards over eleven seasons with the team, but was never the team's featured back.
Michael Pittman had some solid years with the team, and Cadillac Williams may have some left, but for now the greatest running back in franchise history is a guy who, despite beginning and ending his career in Tampa, had his best years in Atlanta.
(Am I the only one who thinks Warrick Dunn looks more than a little bit like Lil' Wayne?)
San Francisco 49ers: Roger Craig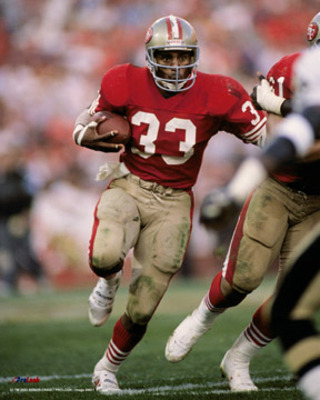 He was Marshall Faulk before Marshall Faulk.
Craig could run, block, and catch, and do it all at an elite level.
Joe Perry, who played in the 1940s and 1950s, had a longer career and had more total rushing yards, but judging Craig by his rushing yards alone can be deceiving.
For example, in 1985, Craig had only 1,050 yards rushing but also led the NFL in receptions and finished the season with 1,016 receiving yards.
While Craig is second in career rushing yards for the 49ers, he is also ninth in career receiving yards on a list that include Jerry Rice, Terrell Owens, Dwight Clark, and Brent Jones.
St. Louis Rams: Eric Dickerson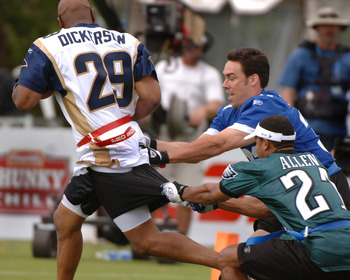 A. Messerschmidt/Getty Images
Marshall Faulk was a better running back and would be the all-time Rams leader if not for his years in Indianapolis.
Stephen Jackson may one day be the greatest runner in Rams history, and would deserve it given the thankless punishment he's put up with for the last five years.
But Eric Dickerson was one of the great physical specimens in football history. He was 6'3" and ran like a gazelle. He was one of the great head-first runners; his upper body tended to lead his lower body— just amazing to watch.
Seattle Seahawks: Shaun Alexander
Seattle is such a football black hole.
I remember marvelling for years about how no one seemed to know who Shaun Alexander was, after marvelling for years about how Chris Warren never got his due, after marvelling for years about how Curt Warner never got any credit.
Unfortunately for Alexander, just as the world was ready to take notice—after his 1,880, 27 touchdown season in 2005–he got injured and never came back.
Still, nearly 10,000 yards in only seven full seasons is pretty awesome.
Arizona Cardinals: Ottis Anderson
Really, in Arizona Cardinals history, there's Ottis Anderson, there's Stump Mitchell, and then there's everyone else.
That their careers overlapped by about five seasons tells you everything you need to know about Arizona Cardinals history.
Oakland Raiders: Marcus Allen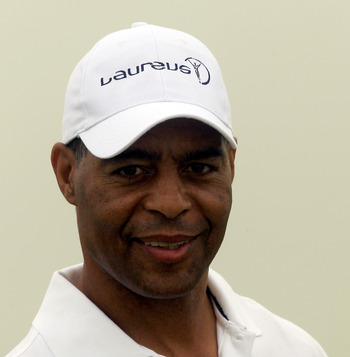 David Cannon/Getty Images
The winner here is obviously Marcus Allen, who rushed for 1,000 yards for the last time at the age of 25, and then played for 12 more seasons.
Honorable mentions to Bo Jackson, Mark van Eeghen, Clem Daniels, and Charlie Garner.
San Diego Chargers: LaDainian Tomlinson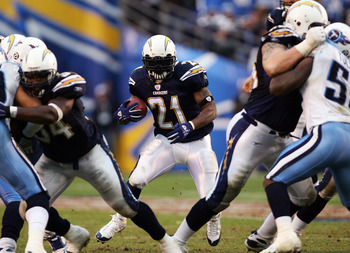 Harry How/Getty Images
So close between L.T. (career rushing yards: 12,490) and Paul Lowe (career rushing yards: 4,972).
Denver Broncos: Floyd Little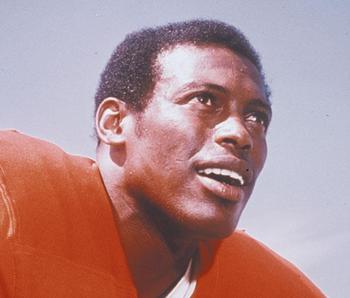 The inimitable Floyd Little and the incredibly brief NFL All-Pro Terrell Davis are in a veritable tie here.
On the one hand, Davis had more career yards: 7,607 vs. 6,323.
On the other hand, Davis played four seasons for a team that, after he became injured, promptly cranked out two 1,000-yard rushing seasons with two different running backs in two years.
I'll roll with Little.
Kansas City Chiefs: Priest Holmes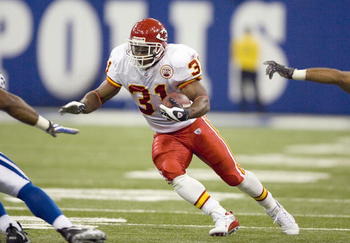 Dilip Vishwanat/Getty Images
Priest Holmes was really amazing for a really brief period of time.
That he is the all-time leading rusher in Chiefs history, ahead of Larry Johnson, Christian Okoye, Ed Podolak, and Abner Haynes, should tell you all you need to know the history of Chiefs running backs.
Houston Texans: Domanick Williams
Tennessee Titans: Earl Campbell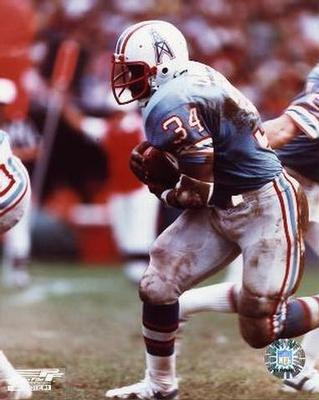 I have a tendency to think of Earl Campbell as slightly over-rated. He was truly one of the most gifted athletes to ever carry a ball out of a backfield, but he also played for only eight years and was a full-timer for only six years.
He is another guy who was robbed by the 1982 strike; he had 1,376 yards in the year before the strike and 1,301 yards in the season after the strike. He's short about 800 yards because of that season.
And while Eddie George was an excellent running back, he doesn't compare favorably to Campbell when considering his performance in the context of his era.
Indianapolis Colts: Edgerrin James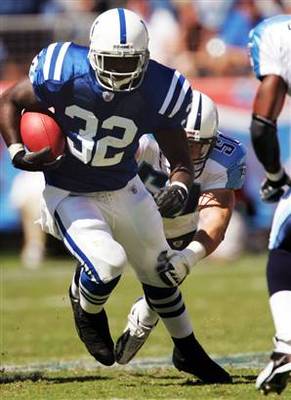 When it comes to the Colts, I must really throw my hands up.
Edgerrin James is the career leader in yards and had some amazing seasons, but the Colts have never had any trouble running in the ball in his absence, giving the impression that any runner could have racked up yards in that offense.
Marshall Faulk and Eric Dickerson each logged five years with the Colts and are third and fourth in franchise history in rushing yards, so you get the impression that either of them could have been the best of all time.
Then there is seven-time Pro Bowler and Hall of Famer Lenny Moore, who played the ambiguous halfback/flanker position for the Colts and was so good at both running and receiving that he never posted a elite total in either category.
And Alan Ameche, of course, scored the winning touchdown in the Greatest Game Ever Played.
Oy, such a mess.
Jacksonville Jaguars: Fred Taylor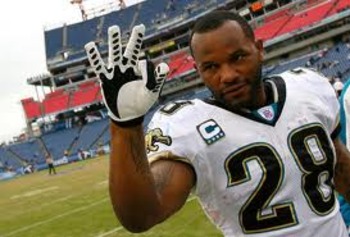 Not much to say here; he's probably the greatest player in Jacksonville's brief history.
Cincinnati Bengals: Corey Dillon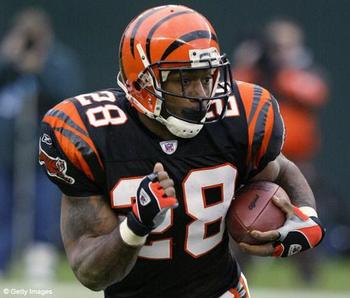 From 1997 to 2003, Dillon ran for 1,000 yards every single season, yet his team lost 10 or more games for five straight years in that span.
Yikes.
No one deserved to win the Super Bowl with the Patriots in 2003 more than he.
Cleveland Browns: Jim Brown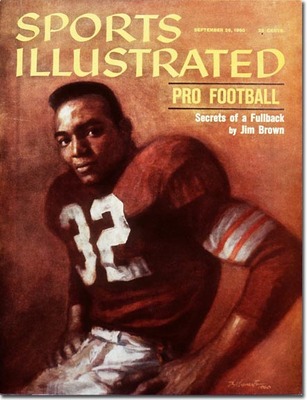 Jim Brown was the Babe Ruth of the NFL, plain and simple.
Brown played for nine seasons and led the NFL in rushing yards and rushing yards per game eight times. He led the NFL in yards from scrimmage six times and touchdowns five times.
In 1963, when he led the NFL in rushing yards with 1,863, the next leading rusher was Jim Taylor with 1,018, and no one else had over 1,000 yards.
Oh, and he had more total rushing yards than all but two other teams.
You could make an argument that Barry Sanders, Walter Payton, or Emmitt Smith is the greatest running back of all time, just as you could argue that Hank Aaron, Barry Bonds, or Ted Williams was greater than Babe Ruth.
You'd be wrong on both counts.
Pittsburgh Steelers: Franco Harris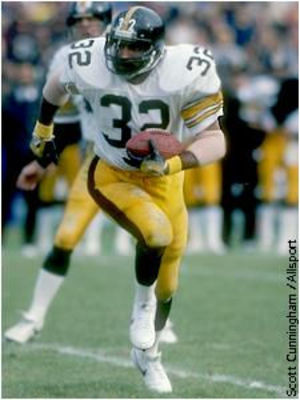 Team leader in career rushing yards and yards from scrimmage, plus four Super Bowl wins.
Sorry, Jerome Bettis, but it isn't even close.
Baltimore Ravens: Jamal Lewis
Doesn't it seem like the NFL world has quietly forgotten how awesome Jamal Lewis was?
In 2000, he did all sorts of crazy things as a rookie, including supplanting Priest Holmes, of all people, as the starter in Baltimore. He became the youngest player since 1960 to gain 200 yards from scrimmage and the youngest player to rush for 100 yards in a Super Bowl, which the Ravens won.
After missing all of the 2001 season due to an ACL tear, he came back in 2002 and played like he never missed a game. Then in 2003, he set the single-game rushing record with 295 yards in the second week of the season, and rushed for 2,066 yards on the year.
Despite repeated injuries, he kept on truckin' and quietly rushed for over 1,000 yards seven times in his nine-year career. His 10,607 career rushing yards are startling considering his nine-year career and his torn ACL after his rookie year.
And yet, no one seems to remember him.
Buffalo Bills: O.J. Simpson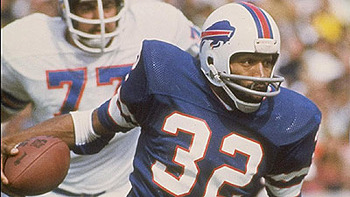 It would be more politically correct to pick Thurman Thomas here—and he was certainly awesome—but no one can top O.J. when it comes to Buffalo Bills runners.
This is a guy who had single-season totals of 2,003, 1,817, and 1,503 rushing yards in 14-game seasons.
The year he ran for 2,003 yards, no other player in football had more than 1,144 yards rushing, and no other player had more than 1,432 yards from scrimmage either.
New England Patriots: Jim Nance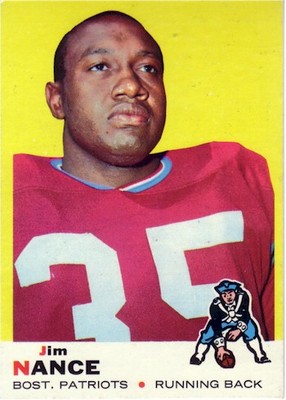 No, not that Jim Nance.
Nance played for the Patriots from 1965 to 1971 and led the NFL in rushing yards, attempts, and yards per game in both 1966 and 1967. He was a Pro Bowler and a first-team All-Pro both years.
And if that sounds like a thin resume, consider this: Curtis Martin played for the Patriots for three years and ranks fourth amongst the Patriots' all-time rushing leaders.
Miami Dolphins: Larry Csonka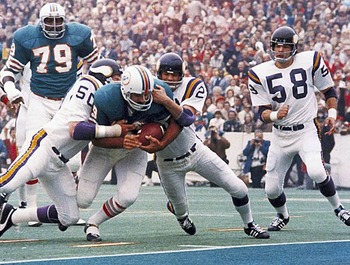 He was awesome in a way that no other Dolphin runner has ever been. He was part of the undefeated season, won a Super Bowl, and is in the Hall of Fame.
Meanwhile, the Dolphins' second-leading rusher is pothead nomad who has squandered what could have been a Hall of Fame career.
New York Jets: Curtis Martin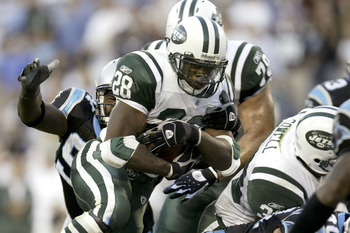 Craig Jones/Getty Images
Who is the most underrated great running back of all time?
I'll give you a hint: after Emmitt Smith, Walter Payton, and Barry Sanders, he is the fourth leading rusher in NFL history.
But he isn't Jim Brown, Tony Dorsett, Jerome Bettis, Eric Dickerson, LaDainian Tomlinson, Marshall Faulk, or Marcus Allen.
He is Curtis Martin, who ran for 1,000 yards every season for his first ten seasons, led the NFL in rushing for the first time in that tenth season, then played one more year and retired with 14,101 rushing yards and 90 touchdowns.
Amazing.
Keep Reading