Five Reasons Donovan McNabb Will Lead the Redskins to the Playoffs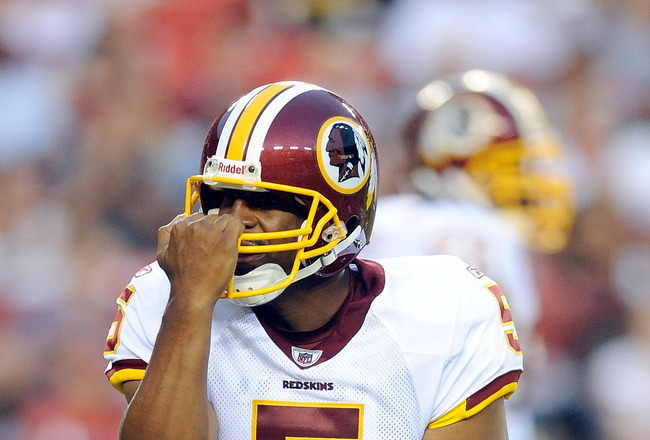 While the Washington Redskins have made several improvements to their entire organization, their new quarterback might be the single biggest. A new head coach, defensive coordinator, general manager, play caller, left tackle, 3-4 defensive scheme and video screens are all reasons the Skins will make the playoffs this season. However McNabb will be the biggest factor in determining how far this team can go in 2010. Here are a few reasons, some based on history, some fact and others based on reputation.
Track Record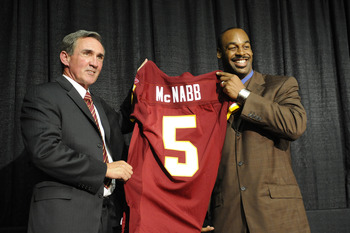 He has made the playoffs in 7 of the last 10 years. Two of the years the Eagles missed the tournament he missed at least 6 games. He has a career record of 92-49-1, despite not knowing that ties were even possible in professional football. The truly talented players do things they don't even think are possible. Since he was drafted #2 overall in the 1999 Draft he been to 5 NFC Championship games and a Super Bowl. Meaning he makes it to the championship round almost every other season. There are very few quarterbacks who have the track record of #5. Being traded in the offseason to a division rival, has to motivate McNabb heading into 2010.
He is Capable of Hitting Big Plays and Rejuvenating Santana Moss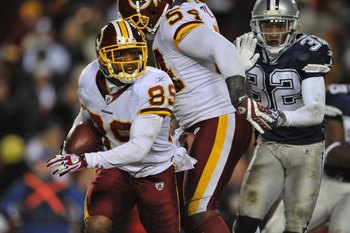 While McNabb is guilty of missing open receivers sometimes, he has always been money when it came to the deep ball. He has turned below average receivers into above average receivers and helped make Desean Jackson a superstar last year. With Kyle Shanahans arrival from Houston where they had the #1 passing offense in the league in 2009 and a healthy Santana Moss expect to see "big plays in the passing game" (Ron Jaworski voice)." Those plays are something Washington has failed to connect on since Jason Campbell was the starter.
If he can connect on just a couple big plays a game the Redskins defense should be able to take care of the rest. They have good players on every level of the defense and will keep Washington in most games all the way to the final whistle.
There is Finally a Leader on Offense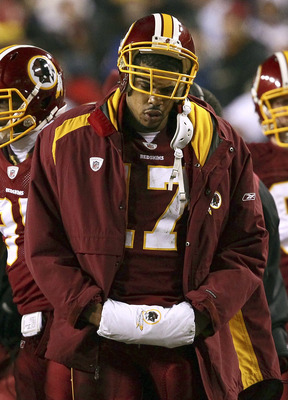 Leadership goes a long way. Even though Jeff George always thought leadership was overrated, most of us believe the opposite to be true. Since McNabb's arrival he has certainly displayed more leadership than the previously aforementioned quarterback. He has embraced the organization and the fans seem to have accepted him as well. If the Skins can find a way to win week one against Dallas you better believe McNabb will be immediately loved by all Redskin fans and teammates.
His Repuation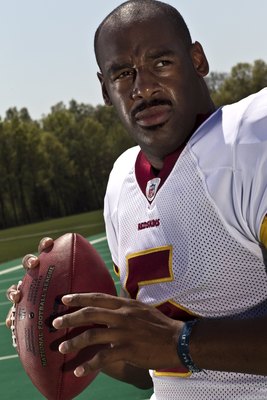 Whenever there is talk about why Donovan McNabb stinks or the Eagles traded him it centers on his inability to get his team over the proverbial hump. In his defense nobody has EVER been able to win a Super Bowl in Philadelphia. I mean if I had a nickel for every time the Eagles won the Super Bowl, I would have zero nickels.
This story is about why he will lead them to a playoff berth this year, not a Super Bowl, and in all seriousness, the guy has put up great numbers over his career and his rating of 92.9 last season is still pretty darn good.
Turnovers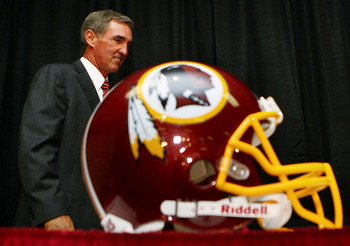 "Ranks 1st among active passers in INT percentage (2.12) and 2nd on the NFL's all time list to Neil O'Donnell (2.11). Also ranks 3rd on the NFL's all-time list in TD:INT ratio (min. 1,500 atts.) (2.16) to Tom Brady (2.29) and Steve Young (2.17)."
There is a stat most of you did not know, including myself.
Teams that win the turnover battle usually go on to win the game. If McNabb can keep his interceptions close to his career average and the Skins defense continues to ballhawk like it has in the preseason expect very good things from Burgandy and Gold this fall and winter. Thank goodness the Skins did not end up with Jay Cutler last year.
Keep Reading

Washington Redskins: Like this team?