The Chicago Bears' Top 10 Most Devastating Injuries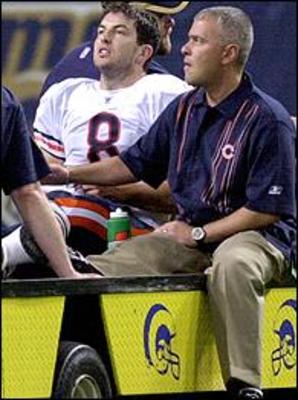 Success in the NFL is often dictated by who stays on the field and who is stuck soaking in an ice bath.
With a rash of injuries—Lance Briggs, Brian Urlacher, and the ENTIRE secondary included—nagging the Bears as they head into the 2010 campaign, we thought it was a good time to look back on the bumps and bruises that have been the biggest factors in derailing past seasons (and promising careers).
With the hope that there will be no additions to this list in 2010, we proudly present the Chicago Bears' Top 10 Most Devastating Injuries.
No. 10: Jim Miller's Separated Shoulder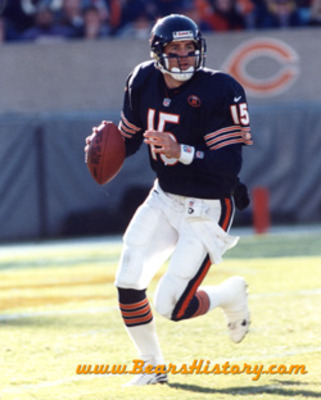 Losing a quarterback in a playoff game is devastating, but Miller's pounding by Hugh Douglas in '99 hurt more than usual.
Miller was an amazing feel-good story—a no-name guy who was a great leader and just made that team click.
The '99 team came out of nowhere and was arguably the most fun Bears team to watch in franchise history. They were running bubble screens and five receiver sets. It was ridiculous, and Miller was the guy that made them go.
When Shane Matthews ran on the field, the going...well...stopped.
No. 9: Curtis Enis' Ankle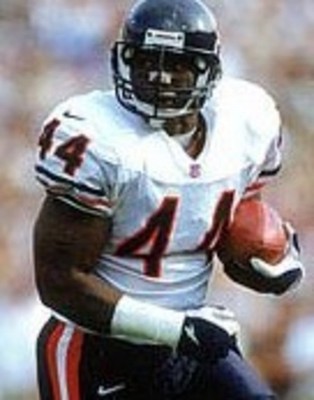 The fifth overall draft pick. Retires at 24. Last seen working at a garage doing tire rotations. You do the math.
No. 8: Rashan Salaam's Hands, Ankle Ligaments, and...Other Habits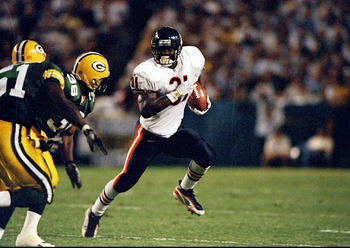 How much room do I have on this one? Is there a word limit?
Let me just say this: If there's a fantasy draft for Heisman Trophy-winning running backs that fumble constantly and are addicted to smoking certain herbs, just make sure you get the first pick and take Ricky Williams.
The other guy...not so good.
No. 7: Mike Brown's Entire Body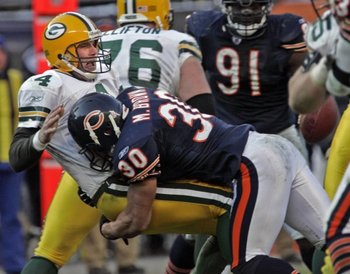 Whenever there's a guy on this list and you have to ask the question, "Which year?", you know he belongs on the list.
Brown's multiple shoulder, foot, and hamstring issues destabilized a secondary that played behind one of the best front fours in Bear history.
On a more personal level, Brown was just flat fun to watch, providing an intimidation factor in the back of the Bears' D that fans hadn't seen since Gary Fencik, Todd Bell, and Dave Duerson were knocking heads around.
In 2008 in San Diego, Brown was hurt on the first series the Bears played following the loss to Indy in the Super Bowl and never played again for Chicago...and actually most of the Bears on the field that day also were invisible for much of that season and beyond.
No. 6: Jimbo Covert's Back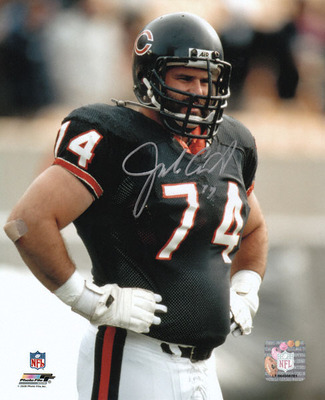 The Bears made the playoffs the year Covert sat out the entire season due to back problems, so this is more an emotional pick than one that specifically hampered the team's efforts.
While Covert didn't get the pub that the other Super Bowl champs did during the team's run in the mid '80s, there was no player that more epitomized that team's personality than Jimbo. Walter Payton does not catch Jim Brown without Jimbo Covert at left tackle—case closed.
His forced retirement effectively ended any connections to the mid '80s teams, Mike Ditka was fired soon thereafter, and...well...we all know what happened next.
No. 5: Tom Waddle's Head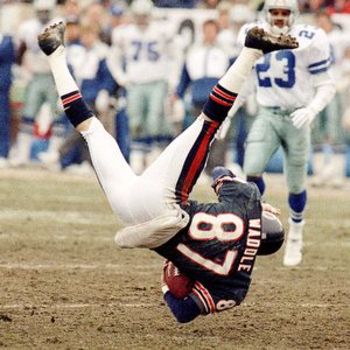 If friends outside of Chicago ask, "Who is the MOST POPULAR Bear of all time?", I always make it a point to include Waddle in the conversation.
I'm not saying he's No. 1—I'm just saying he's in the conversation. Similarly, if you're talking about best movies ever, I'm not saying Caddyshack is tops, but it sneakily always makes it into the debate.
It's difficult to overstate Waddle's popularity, especially after he torched Deion Sanders and had eight catches for over 100 yards in a '91 playoff game.
He had his bell rung by Tampa's Thomas Everitt and eventually had to call it quits after multiple concussions way before his time, but he remains an incredibly popular radio personality in Chicago to this day.
No. 4: Brian Urlacher's Wrist
I'm no John Shoop (who is, really?), but it's pretty clear that when you attack the Cover-2 defense, the biggest open spots are in the middle, where the middle linebacker has a ridiculous amount of pass coverage and run support responsibility.
With that gaping hole lingering for an entire season—combined with Tommie Harris' peg leg and young safeties—2009 was basically a lost cause less than a game into the regular season and less than 18 months removed from a Super Bowl appearance.
No. 3: Dick Butkus' Knees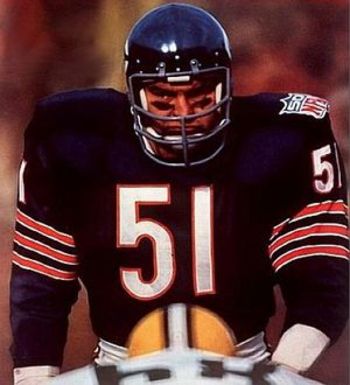 Some might consider No. 3 too low for this, but truth be told, Butkus' career was on the downside even before his knees began to fail him.
An eight-year career for a guy that played with this much ferocity—and at a time when knee scopes and ACL surgeries existed only in James Andrews' daydreams—seems about right.
The fact that the injuries led to a general George Halas/Bears/Butkus falling out was the biggest tragedy—at least No. 51 is finally in the rafters.
No. 2: Jim McMahon's Shoulder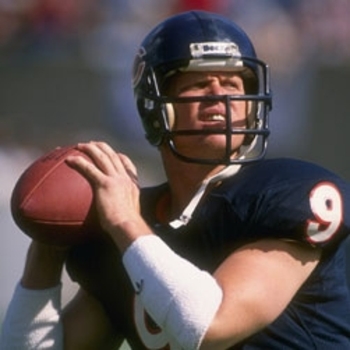 When Charles Martin body-slammed Jimmy Mac to the turf in 1986, the punky (and now toothless) QB's career effectively ended, signaling the demise of the brash and confident Bear teams of the '80s, and forcing fans to suffer through a rash of (still) inadequate quarterback play.
McMahon won 22 straight regular season starts—a record only recently surpassed by Peyton Manning—and his personality on and off the field defined an era for Soldier Field fandom.
No. 1: Gale Sayers' ACLs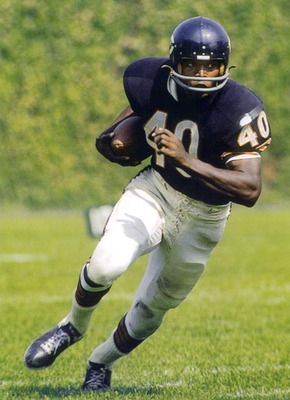 Arguably the most devastating injury in the league's history, Sayers' ACL tears—yes, he ripped one in '68 and the other in '70—cut short the career of one of the most dynamic runners the NFL has ever seen.
Sayers was hands down the most exciting running back in league history—he makes Reggie Bush's USC highlights look like my nephew's Pop Warner games.
The only upside is that his rehab-inspired bromance with Brian Piccolo set the stage for a Billy Dee Williams film classic.
Keep Reading

Chicago Bears: Like this team?