2010 NFL Season Preview: John Fox And 10 Coaches On The Hot Seat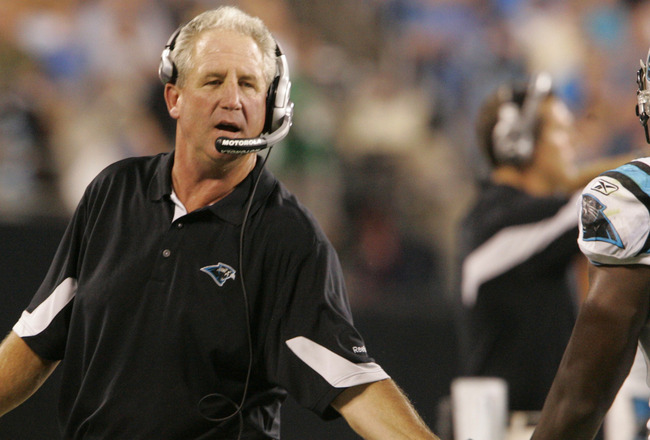 Mary Ann Chastain/Getty Images
In the National Football League head coaching jobs are never safe. Whether the pressure comes from poor drafting, failure to execute schemes, or simply bad strategy, coaches in the NFL are always in the spotlight.
When they win, they are heroes; yet when they lose they are ripped by the media and fans alike. Many coaches will be under extreme scrutiny this season, including Super Bowl-winning leaders.
This slideshow features 10 head coaches that are at risk of losing their jobs this season.
Tom Coughlin- New York Giants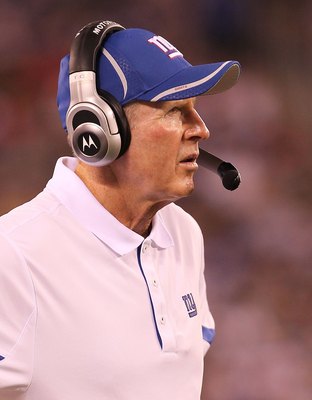 Nick Laham/Getty Images
Tom Coughlin is known as one of the strictest disciplinarians in the National Football League. Just ask Giants safety Antrel Rolle and running back Ahmad Bradshaw, who were benched at the beginning of last week's preseason game against the Pittsburgh Steelers, due to being late.
It is known league wide that if you play for Coach Coughlin, you better set your watch ahead by 10 minutes.
Coughlin is just two years removed from winning a Super Bowl against the undefeated New England Patriots in 2007; however, the Giants failed to make it to the playoffs after beginning the season 5-0, finishing with an 8-8 record.
The Giants had a fierce ground attack led by Brandon Jacobs, with a defense led by defensive end Michael Strahan and linebacker Antonio Pierce. Strahan and Pierce have since retired, leaving gaping holes in the defense, which was displayed when the Giants allowed over 40 points in three of their final four games.
The Giants used their first-round draft pick on a hybrid defensive end/ linebacker Jason Pierre-Paul, who has only one year of college football experience under his belt; and drafted defensive tackle Linval Joseph in the second round to solidify a defensive line that that already features Pro Bowlers in Justin Tuck and Osi Umenyiora.
Coughlin is entering the final year of his current contract, and if things don't turn around soon, he may be out of work by the end of the 2010 season.
Rex Ryan- New York Jets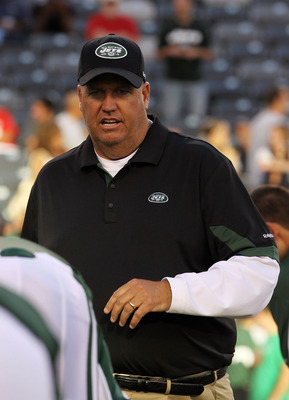 Al Bello/Getty Images
Rex Ryan led the New York Jets to the AFC Championship game in his first season as head coach, thanks to a vicious, blitz-heavy defense and lockdown cornerback, Darrelle Revis.
That doesn't exactly sound like a bad position to be in, yet as we have seen on HBO's Hard Knocks series, Ryan likes to run his mouth, and make guarantees.
The Jets added two aging veterans in running back LaDainian Tomlinson and defensive end/outside linebacker Jason Taylor to compensate for the losses of running backs Leon Washington and Thomas Jones, as well as the hold out of Darrelle Revis.
However, with all the talking that Ryan has done over the course of the offseason, opposing teams will be gunning for the Jets, in hopes of shutting up the Gang Green.
Josh McDaniels- Denver Broncos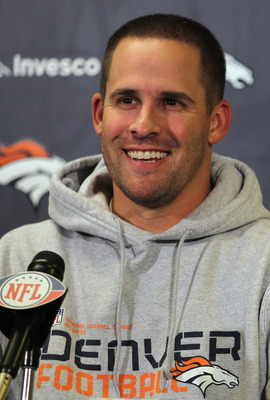 Doug Pensinger/Getty Images
Josh McDaniels is a disciple of arguably one of the greatest football minds in the game today, Bill Belichick.
When he was named the head coach of the Denver Broncos before last season, he inherited a team loaded with talent. He had a quarterback with a cannon for an arm in Jay Cutler, who had passed for over 8,000 yards and 45 touchdowns in the two years prior to his arrival.
In addition, he had Brandon Marshall, a big, physical wide receiver that had caught 100 passes for two straight seasons, as well as a franchise left tackle in Ryan Clady, a multiple Pro Bowl cornerback in Champ Bailey, and Pro Bowl linebacker in D.J. Williams.
McDaniels quickly started getting on everyone's nerves, and traded away Cutler to the Chicago Bears for Kyle Orton. Last season, there was a public feud between Marshall and McDaniels, which led to the Pro Bowler being traded to the Miami Dolphins. He then traded into the first round to select quarterback Tim Tebow, after trading for the former Cleveland Browns quarterback, Brady Quinn. To replace Marshall, the Broncos acquired wide receiver Demaryius Thomas, who is unproven.
McDaniels needs to back up his tough attitude with a winning season this year, or he could be out just as quickly as he arrived.
Jack Del Rio- Jacksonville Jaguars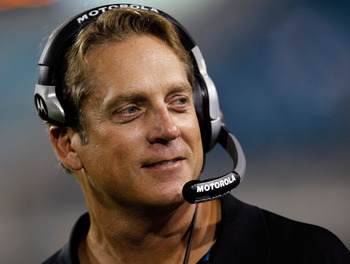 Sam Greenwood/Getty Images
The Jacksonville Jaguars were recently listed as the National Football League's least valuable franchise by Forbes magazine, and owner Wayne Weaver wants more out of his investment. That begins with head coach Jack Del Rio, who took over as head coach when Tom Coughlin was fired in 2003.
Del Rio's contract is through 2012, however the Jaguars have vastly underperformed in the competitive AFC South division, despite having one of the best running backs in the league, Maurice Jones-Drew.
The Jaguars went 5-11 and 7-9 in the last two seasons, respectively, mainly due to the lack of defensive playmaking, as the team earned just 14 sacks last year, the lowest total in the league. The fans in Jacksonville aren't happy with the product that is on the field, and if things don't turn around this season, Jack Del Rio will be looking elsewhere for work.
Gary Kubiak- Houston Texans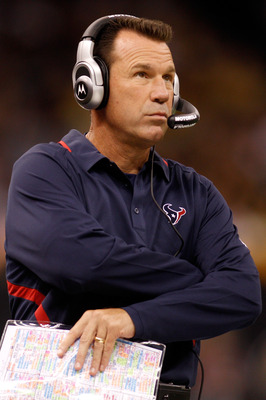 Chris Graythen/Getty Images
The Houston Texans are stockpiled with superstar players such as defensive end Mario Williams, wide receiver Andre Johnson, quarterback Matt Schaub, and middle linebacker DeMeco Ryans. However, the Texans have yet to make the playoffs in their entire history.
Coach Gary Kubiak led the Texans to their first winning season ever last year, yet with the quality of talent on the roster, it is a make-or-break year for him, although his contract was extended at the end of the season.
John Fox- Carolina Panthers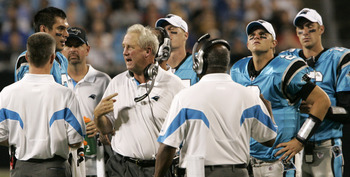 Mary Ann Chastain/Getty Images
Last season was an absolute disaster for the Carolina Panthers. They failed to resign their star defensive end Julius Peppers, and their franchise quarterback Jake Delhomme was atrocious.
Fox is in the last year of his contract, and with a first-year starting quarterback in Matt Moore, the future looks quite grim for the man who coached the Panthers since 2002, and led them to a Super Bowl, in which they lost to the New England Patriots.
Fox will rely on his running back tandem of DeAngelo Williams and Jonathon Stewart, along with wide receivers Steve Smith and rookie Brandon LaFell, to help him keep his job past 2010.
Wade Phillips- Dallas Cowboys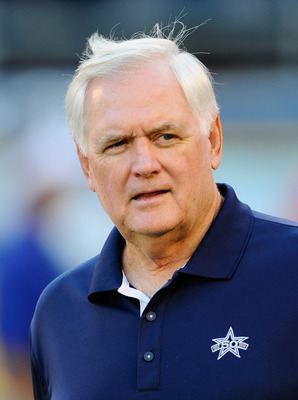 Kevork Djansezian/Getty Images
You can't really hate Wade Phillips, and he has brought the Buffalo Bills to their last postseason, and the Cowboys in 2007.
However, the Cowboys are "America's Team" and owner Jerry Jones wants a Super Bowl in his new, state of the art stadium. The Cowboys have a surplus of talent at almost every position, yet Phillips hasn't been able to bring the Cowboys to the promised land.
If the Cowboys fail to make a deep postseason run this year, it is very likely that Phillips will be out of town.
Tom Cable- Oakland Raiders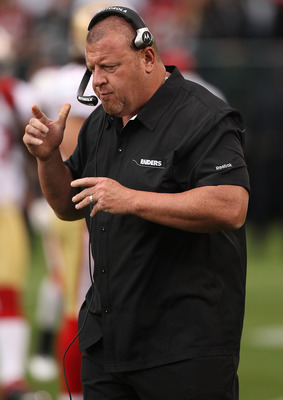 Jed Jacobsohn/Getty Images
The Oakland Raiders finally have a quarterback in Jason Campbell, and owner Al Davis compared him to Jim Plunkett.
They had their first successful draft in years, selecting the stud inside linebacker Rolando McClain from Alabama, and even landed the mammoth offensive lineman, Bruce Campbell, in the fifth round of the draft, when most pundits believed he would be the Raiders' first-round pick.
All this adds up to a ton of pressure on Cable, who allegedly punched one of his staff members in the face last season, breaking his jaw.
When Al Davis is your boss, your job is never safe. Just ask Lane Kiffin.
Jeff Fisher- Tennessee Titans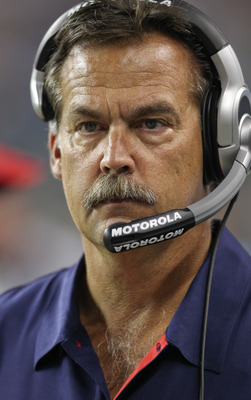 Otto Greule Jr/Getty Images
Jeff Fisher is a highly respected coach in the NFL, and has the longest tenure at his position in the entire league. However, there was tension in the front office last season when owner Bud Adams forced Fisher to start quarterback Vince Young over veteran Kerry Collins, which proved to be successful.
The Titans have the most explosive running back in the league, Chris Johnson, who rushed for over 2,000 yards last year in just his second season.
Fisher did take the Titans to a Super Bowl, which they lost, and Adams has openly questioned his coaching ability this past offseason. If Vince Young and Johnson can't carry the Titans to the postseason, it will probably be the last we see of Jeff Fisher on the Titans sideline.
Eric Mangini- Cleveland Browns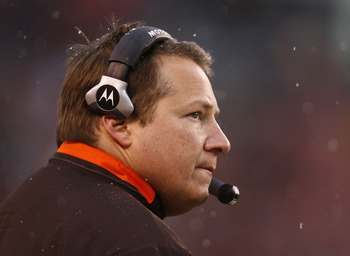 Matt Sullivan/Getty Images
Eric Mangini is beleived to be simply a stop-gap in the Cleveland Browns organization, under Mike Holmgren, who is overseeing football operations.
Mangini was quickly booted out of New York, when he failed miserably with the Jets. Last season, the Browns only managed one victory over a team with a winning record. It is widely believed that if Mangini can't hold his own on the sidelines, Holmgren will be wearing the headset by midseason.
He is another disciple of Bill Belichick, and was dubbed the Man-Genius just years ago, but now he may be on his way out of the Dawg Pound.
Keep Reading

Carolina Panthers: Like this team?