NFL Preseason Week 3: Ten Observations From 49ers Victory Over Raiders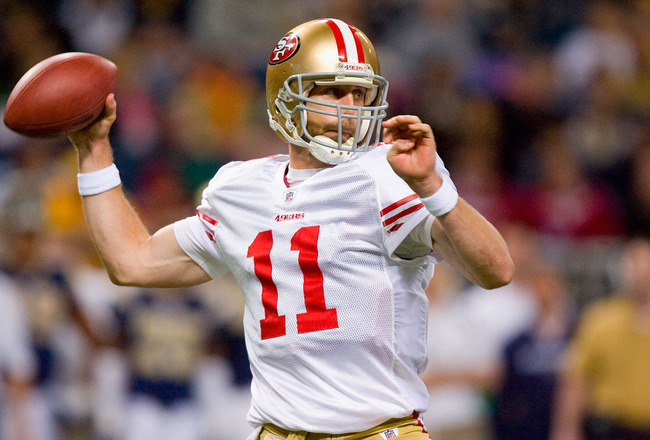 Dilip Vishwanat/Getty Images
The San Francisco 49ers beat the Oakland Raiders in the Battle of the Bay, last night, with the score being 28-24.
The third preseason game is widely considered a 'dress rehearsal' for the regular season, and yesterdays matchup was definitely an indicator of some key team elements.
Therefore, here are 10 observations that I made throughout the ball game.
Solid Pass Protection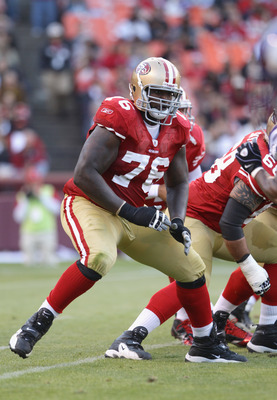 Ezra Shaw/Getty Images
Coming off a six-sack performance, the Raiders pass rush was looking dangerous.
However, the 49ers pass protection negated their efforts, allowing no sacks and only one quarterback hit.
That's great news for this offense, overall.
Anthony Dixon Shows His True Colors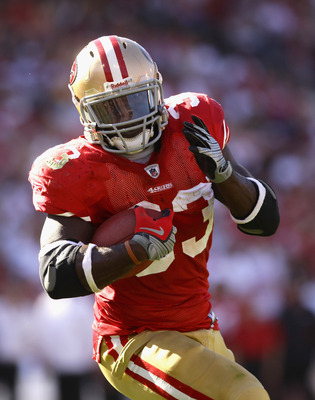 Ezra Shaw/Getty Images
After rushing for a 100 yards in his NFL preseason debut against the Indianapolis Colts, Anthony Dixon has faltered to mediocrity.
Last week, he posted a 2.6 YPC average and he only managed a 3.3 average today.
On the bright side, though, he's demonstrated how he can be effective at the goal-line as he's scored a touchdown in all three contests so far.
Alex Smith Looks Sharp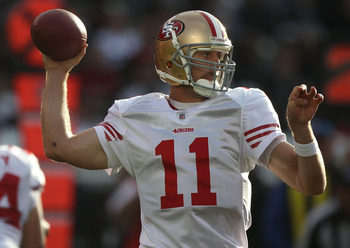 Jed Jacobsohn/Getty Images
After his poor Week 1 performance had some fans doubting his ability, Alex Smith has come back to prove them wrong.
In the past two games, he's displayed pinpoint accuracy by completing 64.3 percent of his passes. Moreover, he threw his first touchdown of the pre-season yesterday, and accumulated an impressive 105.7 passer rating.
Revival Of The Return Game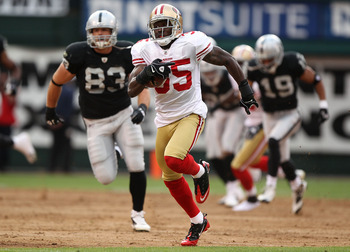 Jed Jacobsohn/Getty Images
Heading into the off-season and training camp, one of the team's most pressing issues was addressing their return game.
Based on what I've seen the last couple weeks, it's apparent they've made great strides.
Last week, Bobby Guilluory broke free for some solid gains. Yesterday, Kevin Jurovich had a 48-yard punt return, while Phillip Adams returned a punt for an 83-yard touchdown score.
...Speaking Of The Special Teams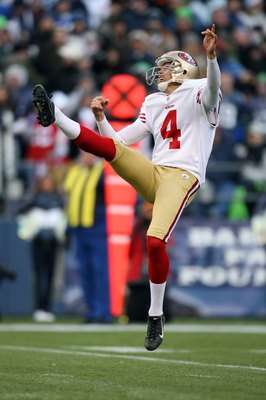 Otto Greule Jr/Getty Images
Pro Bowl punter Andy Lee has looked extraordinary as of late.
Over the three-game span this preseason, he's registered a net average of 41.9 and has pinned 6 of his 15 punts inside the 20 yard line.
It's obvious that he's ready for the regular season.
Patrick Willis Dominant As Always
Jed Jacobsohn/Getty Images
Patrick Willis, who has established himself as one of the premier overall players in the NFL, has looked dominant as always.
Entering his fourth season in the league, he's made plays all over the field during the preseason. Yesterday, he recorded 8 tackles (3 TFL) along with a sack.
Pass Defense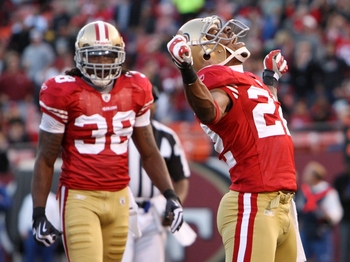 Jed Jacobsohn/Getty Images
The 49ers couldn't stop the Raiders aerial attack.
While the Raiders have improved, that statement, alone, should display how pathetic their pass defense was yesterday.
After Jason Campbell completed 75 percent of his passes, Bruce Gradkowski replaced him (injury) and completed nearly 64 percent of his. He also threw for 202 yards and two touchdowns.
Moreover, they allowed a whopping five passes go for over 22 yards.
This is definitely a problem the team has to fix.
Penalties STILL A Problem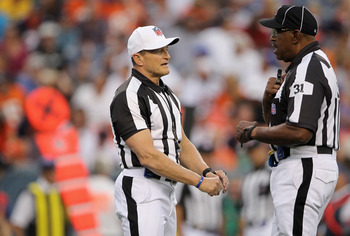 Doug Pensinger/Getty Images
One aspect of the 49ers game that I expected to be fixed was their problem with penalties, especially after commiting seventeen for 165 yards in the first two games.
Apparently they didn't, as they committed another ten yesterday for 82 yards.
The team will need to improve their overall focus by the time the regular season rolls around.
Still Lots Of Work To Do
Dilip Vishwanat/Getty Images
Even though the team won the game, they played very sloppy.
"We did not play very smart. Winning the game was nice, but it was also a reminder to our guys of all the work we still have to do." Singletary said in a postgame interview.
Their first team defense, in particular, which allowed three touchdowns needs to be tweaked up in time for the regular season.
Found A Way To Win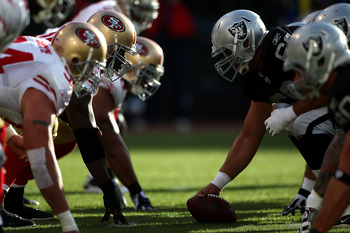 Jed Jacobsohn/Getty Images
Even though it wasn't their best overall effort, the 49ers did indeed find a way to win the ball game.
They put together an impressive 16-play, 80 yard drive to score the go-ahead touchdown with just 1:44 remaining.
The series was highlighted by a five-yard rush by David Carr on a 3rd and 3, where he leaped up and was hit hard by a defender which left him spinning in the air
Keep Reading

San Francisco 49ers: Like this team?