Philadelphia Eagles Monday Morning Watercooler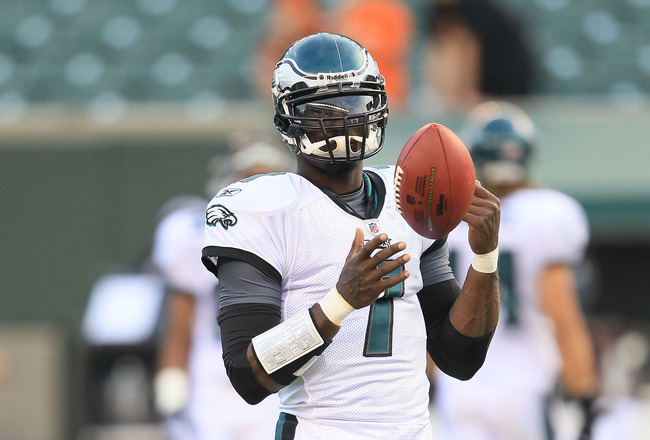 Ok, so it's not Monday, but let's just agree that the preseason is over. The word on the street is that the NFL is holding a league wide scrimmage next weekend, but most football fans have seen enough.
With three weeks in the books, many in Eagles-Nation are already overreacting to what they've seen from the new youth movement. Some people raise legitimate concerns. The rest lack emotional intelligence.
I outline five hot topics the Eagles fans are talking about.
1—Kevin Kolb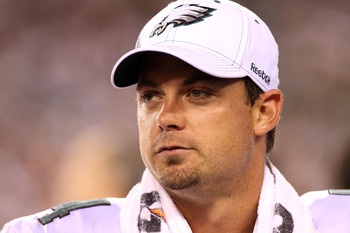 Naturally, Kevin Kolb is garnering most of the headlines and with good reason. Make no mistake, he is no Rocky Balboa underdog. This kid has a world of expectations and has huge shoes to fill.
How has he looked so far? Pretty much as expected.
Earlier in the preseason Kolb demonstrated great scrambling ability and he put those skills on display again versus Kansas City. He has pretty good pocket presence and always keeps his head up when he approaches the line of scrimmage.
Did he have some throws he'd like to have back against the Chiefs? Absolutely. Kolb is not afraid to force a pass and Eagles fans should be well-prepared for some bonehead turnovers this season.
However, all the intangibles are there as he continues to grow in 2010.
2—The Offensive Line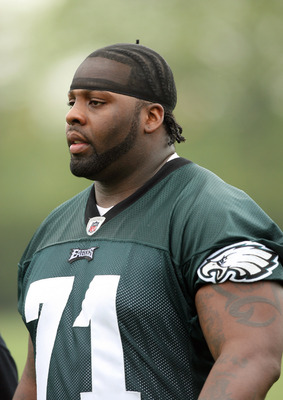 This is definitely a group in need of some bonding time. A lot of fans are up in arms and hovering over the panic button, but a closer look at their play in Kansas City reveals a pretty good overall effort.
The run blocking was pretty good, but came up short once again in third and short situations.
Pass blocking was also very good. A number of times Kolb had time to make the play and it either resulted in a drop or a bad pass.
Two of the sacks were coverage sacks, and the rest were due to line communication problems up front. There weren't many times when someone got flat-out beat one on one.
Receivers need to do a better job getting open and the chemistry on the line should improve as the season rolls along.
3—Michael Vick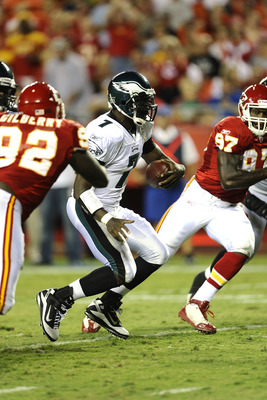 Vick is perhaps the most polarizing player in the NFL both on the field and off. In short yardage situations, he has been outstanding in the preseason. In fact, he picked up two of the three third down conversions in week three.
At the same time, if anything ever happens to Kolb, the Eagles are likely in a world of hurt. If Vick is relied upon to be the starter there are going to be a lot of turnovers, bad decisions, and frustrated teammates.
He does look better than last season, but still seems to be a shadow of his former self.
4—Defense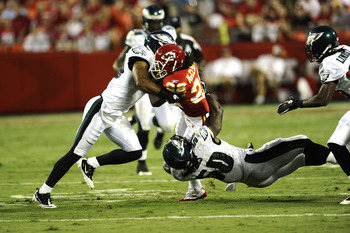 In the regular season dress rehearsal last night, the Eagles defense looked really solid for the most part.
The Chiefs had a lot of problems on offense and could not convert on third down.
Four or five times Cassel was forced to take a sack, scramble, or complete a dump-off due to the coverage down the field. Late in the second quarter the Chiefs started to take what the defense gave them and turned a lot of short gains into a 16 play scoring drive, but other than that fans should feel pretty good about this side of the ball.
There are still some concerns at linebacker as KC connected one too many times on crossing patterns, but this is no revelation to Eagles fans.
At the same time, if the secondary can provide some good man-to-man coverage, the blitz should do some serious damage when the real bullets start to fire.
5—Injuries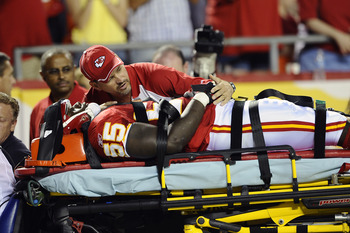 Desean Jackson's fragile frame is finally catching up to him. It only seemed like a matter of time before his size began to cause problems and most Eagle fans will be holding their breath every time he engages in contact. He is currently out with a back and/or neck problem that has been bothering him since training camp.
Trent Cole has an ankle injury, but fans can exhale after it was revealed that x-rays were negative. It is also not the dreaded high-ankle sprain that plagues players for much of the season.
It is never good when your best offensive and defensive player go down in one game, but both should be good to go to start the regular season.
Fans in Philadelphia are just happy they didn't lose any starters to some of the catastrophic season-ending injuries seen elsewhere around the league.
Keep Reading

Philadelphia Eagles: Like this team?