Five Unsolved Mysteries for the Minnesota Vikings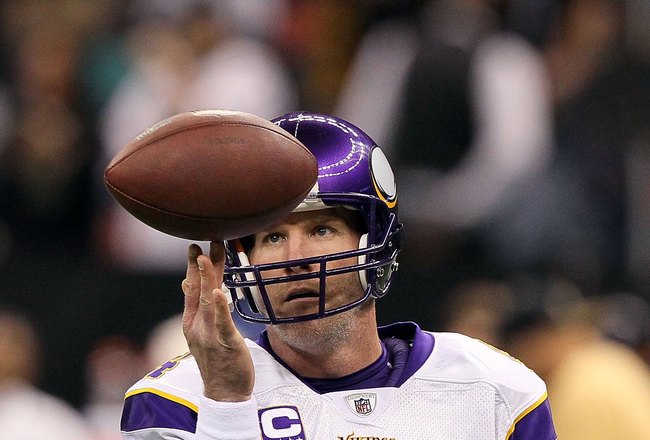 Going into a season with very high expectations, the Minnesota Vikings still have some question marks on their roster.
One thing they are sure of is that Brett Favre will be starting at quarterback, but they still are uncertain about several other areas. With injuries and inconsistent performances so far, here are some areas of interest the Vikings need to address before the start of the regular season.
Wide Receivers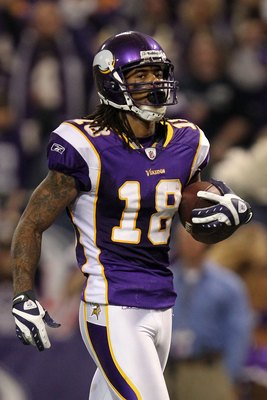 With Sidney Rice out for at least half the season because of hip surgery and Percy Harvin missing significant practice time because of migraines and other issues, the Vikings have signed free agent receiver Javon Walker and traded for Greg Camarillo. Both could be effective in the Viking's offense, especially with Favre throwing passes to them, but do they have enough time to learn the offense to be effective from the start?
The team still has deep threat Bernard Berrian, who caught 55 passes last season while overcoming a couple of hamstring injuries. Can he be the number one guy?
As of right now it looks as though as he and veteran Greg Lewis will have to be the top two receivers while Walker and Camarillo get used to the offense. Harvin, who was one of Favre's favorite targets last season, will probably be around, but will he stay healthy? Even with No. 4 back, there are still questions surrounding the Viking's passing game.
The Offensive Line
Last season, Brett Favre took too many hits. This preseason, the offensive line seems to be even more inconsistent.
Center John Sullivan has missed extensive practice and playing time because of injuries forcing rookie Jon Cooper work with the first team offense. Also, the team has tried moving guard Anthony Herrara to the middle of the line, but that leaves an opening at right guard. With three solid starters in Bryan McKinnie, Phil Loadholt and Steve Hutchinson, it's hard to think that the Vikings would have problems along the offensive line.
Rookie Chris Degeare looks as if he's put himself into position to win the back-up role that Artis Hicks left when he departed via free agency. If the Vikings want to succeed this year, they will have to have consistency along the offensive line, which means they will have to figure out the center situation fast.
Right Cornerback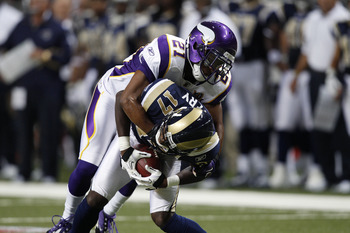 Last season, Cedric Griffin tore his ACL in the NFC Championship and will not be fully recovered by the start of the season. The team signed veteran Lito Sheppard, who was cut by the Jets during the offseason, but he hasn't done enough to earn the starting job.
The team started second-year player Asher Allen in the second preseason game against San Francisco, but his play wasn't very effective. Allen might be a better fit as the nickel back, which is where he'll probably end up given that Benny Sapp was traded to Miami.
For the third preseason game, the Vikings will be starting rookie Chris Cook, the player taken with the team's first pick in the draft. Cook has displayed a great deal of athleticism since joining the team and even coach Brad Childress expressed that he has progressed faster than expected. Cook suddenly finds himself in the mix to win the starting job opposite Antoine Winfield.
Whether it be Cook or Sheppard, someone will have to hold down the right corner position and be effective or the team's secondary could be in trouble.
Middle Linebacker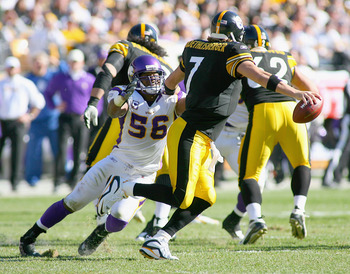 So far this preseason, E.J. Henderson has proven to be nothing short of a miracle. Last December, during a Sunday night game against Arizona, Henderson broke his femur causing many to wonder if he would be able to play this year or ever again. Now, it appears as though he will be ready to start at middle linebacker for the September 9 opener at New Orleans.
He started the second preseason game after not playing in the first and recorded seven tackles. The question here is whether he can maintain his health all season. There's no doubts about his playing ability, but can he play for a full season suffering such a terrible injury less than a year ago?
Linebacker Jasper Brinkley, as a rookie, filled in admirably in Henderson's position late last season. Henderson should definitely get the chance to play this season, but coach Childress shouldn't hesitate to rest him to prevent him from overworking his surgically repaired leg.
Running Back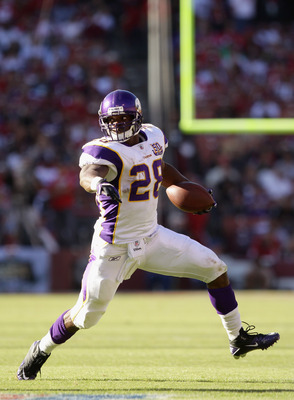 Adrian Peterson is one of the best running backs in the NFL, but he is still unproven as a pass blocker. With Chester Taylor gone, Peterson will have to step in and be the leader of a group of young backs.
Toby Gerhart, who was drafted in the second round, will get some opportunities this season, but it looks like third-year player Albert Young will get a chance as well. Gerhart has the potential to be a great runner, but he might take some time to get used to NFL football.
Young isn't the most elusive runner, but he will be useful in the passing game. Also, Peterson will have to show that he can hold onto the football. He put the ball on the ground too many times last season and has been labeled by many as a fumbler. He will have a hard time overcoming this label because defensive players will swipe extra hard at the ball while anticipating a fumble. If Peterson doesn't turn the ball over, he will probably put up bigger numbers than last season.
Keep Reading

Minnesota Vikings: Like this team?