San Diego Charger vs New Orleans Saints: 10 Things For Bolts Fans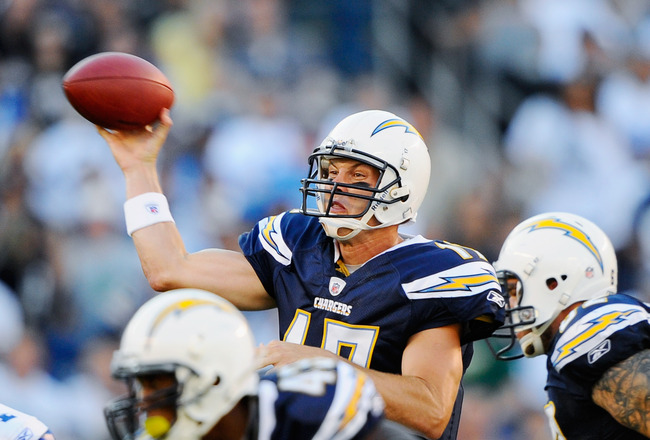 The San Diego Chargers should consider themselves lucky.
The third preseason game is always an interesting one to watch.
For one, the first string offense and defense typically play a full three quarters, and they start to open up the playbook a bit on both sides of the ball.
This late in the preseason, games become more like rehearsals for the real deal. It will be fast paced, and it will be tough.
Now, this could all be inconsequential if the Chargers were playing the Lions, but they're not.
The San Diego Chargers are lucky because they get to play this game against the New Orleans Saints, currently the best the NFL has to offer.
This game should be one heck of a show, so here are some things to watch in Friday afternoon's matchup.
1. Offensive Line Play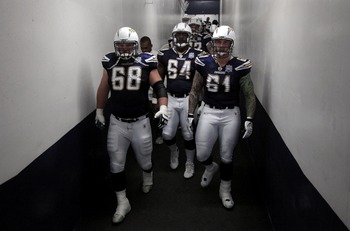 As the regular season comes closer and closer, the Chargers' offensive line is still causing people some concern.
With Marcus McNeill still holding out, despite recent talks with general manager AJ Smith, the left tackle position is still a bit of a question mark.
Brandyn Dombrowski appears to have locked up the job, playing well in pass coverage and very well in run blocking and screen coverage. However, the depth behind Dombrowski is questionable, with second year player Tyronne Green being the best available option.
The opposite side of the line is in similar shape. Jeromey Clary has returned from being placed on Injured Reserve in 2009 to regain his spot at right tackle, and he has performed well so far. He should do a fine job in his typical role.
However, should he fall to injury once again, the depth behind him is questionable. The only options would be Tyronne Green and Scott Mruczkowski, both of whom are more natural on the inside.
2. Defensive Line Play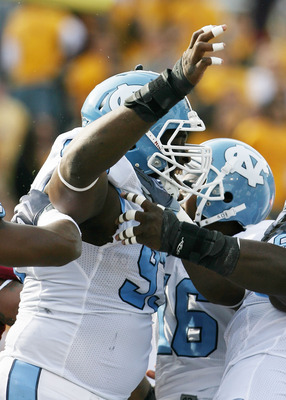 While the Saints aren't particularly known for having a deadly running game, Reggie Bush and Pierre Thomas are not to be taken lightly.
This tandem of backs will certainly test a San Diego defensive line with a dark past.
So far in the preseason, it appears as though the Chargers have solved their defensive woes of 2009, easily containing most run plays. However, this game will be another tough test of the front seven.
Expect the New Orleans Saints to run the ball enough to justify play action at the least.
As for individual players, keep an eye on rookie DT Cam Thomas. Thomas has really performed well so far this off season and looks to place himself at the top of a rotation with Antonio Garay and Ogemdi Nwagbuo.
3. Philip Rivers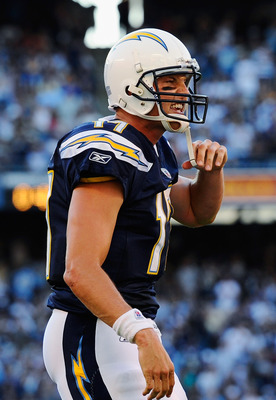 Philip Rivers did not have the best of games against the Dallas Cowboys, throwing an interception without any touchdowns.
He also sent everyone in San Diego into a moment of cardiac arrest when he made a touchdown saving tackle on a fumble return.
Rivers undoubtedly had an earful from the coaching staff, and most likely gave himself a hard time as well. He will likely throw it early and often in this game, attempting to reassert his aerial dominance against a Saints defense notorious for its ability to turn turnovers into touchdowns.
Look for Rivers to also play a cautious game. While he has never been one to take mistakes hard, Rivers has undoubtedly been reminded that this is only the preseason, and that he needs to spend his time working on making good, safe passes, rather than tackling runaway defensive backs.
4. The San Diego Chargers' Wide Receivers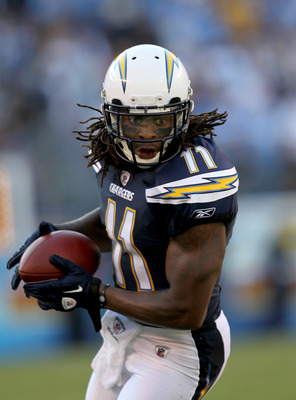 Without Vincent Jackson, a lot of people questioned the ability of the San Diego Chargers' wide receivers, and thus the ability of Philip Rivers to carry on another big passing season.
So far, it seems like San Diego fans have nothing to fear.
Every receiver in the Chargers' arsenal has made some spectacular plays, catch balls high, low, in front, and behind.
Malcolm Floyd has commanded the double coverage that a number one option should, which has left talented players like Legedu Naanee and Seyi Ajirotutu to pick up easy passes in single coverage.
Look for Malcolm Floyd and Legedu Naanee to have good games, and make sure to watch Seyi Ajirotutu in whatever playing time he gets, because he could end up being the third or fourth string WR.
5. Ryan Mathews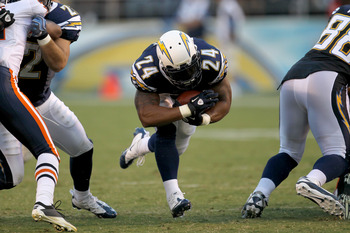 By this point, most everyone has forgotten about LaDainian Tomlinson, and for good reason.
Ryan Mathews is the real deal.
The proving point was likely in the first preseason game, when Mathews took a square tackle from Lance Briggs to the waist, bounced off, and kept running.
Mathews has spectacular balance and strength, and has the speed to burst through a hole for big gains.
Expect Ryan Mathews to have a big night against the Saints, as the San Diego Chargers will likely look to the ground a little more to take some pressure off of Philip Rivers.
6. The Cornerbacks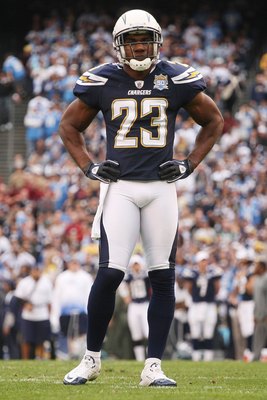 While Quentin Jammer is an understood starter, and a constantly underrated piece of the San Diego Chargers' defense, the rest of the cornerback depth on the Chargers' roster is still questionable.
The Chargers face the league's deadliest passing attack, with former San Diego Charger Drew Brees coming off a Super Bowl MVP year.
Brees, along with Jeremy Shockey, Robert Meachem, and the rest of Drew Brees' toys, will be the ultimate test for new starting cornerback Antoine Cason. If he doesn't perform, his job could possibly go back up in the air, and land in the hands of one of the Chargers' off season acquisitions.
This is why it is also important to watch how Donald Strickland and Nathan Vasher perform. The two are still fighting for the nickel back spot, but one could make a run at the starting spot depending on their respective performances tonight.
7. The Return of Shawne Merriman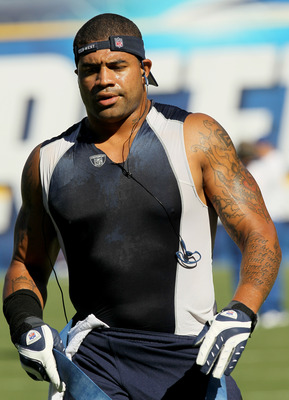 Apparently, Shawne Merriman will make his preseason debut tonight. Who would've known?
Merriman stood on the sidelines last week against Dallas due to an apparent Achilles Tendon strain, which left a lot of fans in San Diego wondering: Will Shawne Merriman ever play a full season again?
While that question cannot really be answered, the question that can, and will, be answered is much more important.
Shawne Merriman's return to the field will give the Charger and their fans the chance to start figuring out whether or not Merriman will ever return to his pre-injury form.
Last year was underwhelming for the star OLB, amassing only four sacks over the course of the season.
Now, a full year removed from his rehab period for his knee, look for Shawne Merriman to attempt to put his name back on AJ Smith's contract To-Do list.
8. The Strong Safety Spot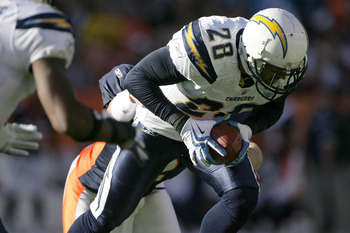 The strong safety position has been a big question mark on the San Diego Chargers' defense since the arrest, and subsequent release, of safety Kevin Ellison.
Most people assumed for a while that rookie Darrell Stuckey would take over at this spot. However, with his recent showings, Stuckey has clearly shown a need for some adjustment time.
The heir apparent to the position, despite what the signing of Quinton Teal would imply, has to be Steve Gregory. He has played at a level so far that would make most people comfortable with the idea of having him start and should continue to do so.
The Saints' offense will be a big task for Gregory, and should provide him the opportunity to prove definitively that he is the right choice for the starting job.
9. Mike Tolbert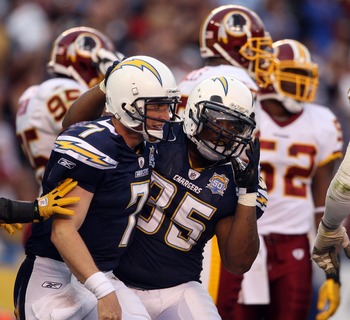 Mike Tolbert is one of those players who is just plain fun to watch.
At 5'9" and 244 lbs, Mike Tolbert is built like a bowling ball, and he plays like one too. He always falls forward on his carries and can be counted on to pick up at least three yards every time.
He is also scary to face on outside runs and swing passes. As the Dallas defensive backs proved, not many people want to get in front of Tolbert when he is running at full steam.
Tolbert will undoubtedly get a few snaps in tonight's game, and he will definitely throw a big hit or two, so keep your eyes on this human bowling ball.
10. The Defensive Scheme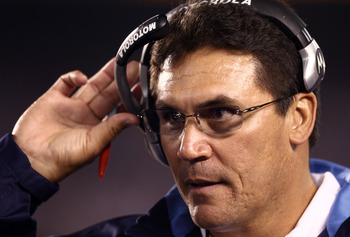 While it is still preseason, none of the league's defensive coordinators seem to be holding anything back, and, therefore, neither should Ron Rivera.
Rivera needs to give San Diego a taste of his exotic blitzing schemes, which could be the only way to slow down a potent Saints passing game.
Rivera has done a great job replacing former defensive coordinator Ted Cottrell and has had enough time to build up good chemistry with his defensive unit.
Rivera has a good understanding of the weapons at his disposal and how to use them effectively, and should show that tonight in New Orleans.
Keep Reading

San Diego Chargers: Like this team?