Arizona Cardinals Depth Chart: Is Matt Leinart Headed To The Bench?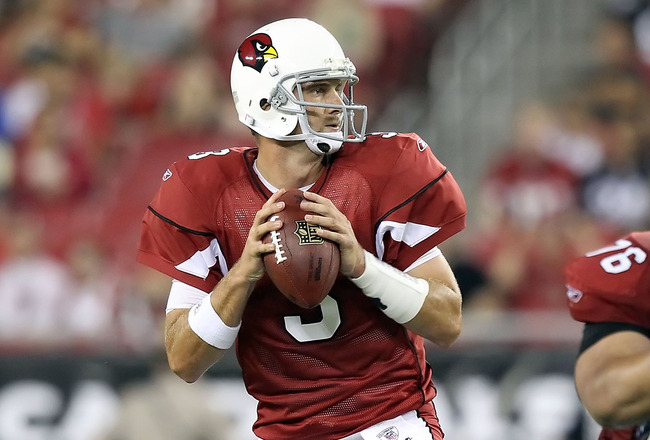 Christian Petersen/Getty Images
This just in--Derek Anderson is your starting QB for the Cardinals third preseason game against Chicago on Saturday.
According to the plan, Anderson will play the first quarter, and then Leinart will come in.
This doesn't come as a shock, given Leinart's lack of motivational play, and given that Anderson has taken some reps with the first team.
Is this the end of Matt Leinart? Is it the resurrection of Derek Anderson?
What does this all mean for Arizona?
Five Thoughts:
1. Matt Leinart's Job Is Not As Safe As Once Thought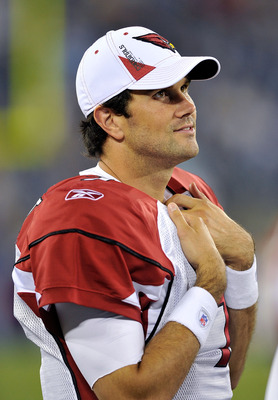 Grant Halverson/Getty Images
Coach Whisenhunt is a guy who doesn't like making changes unless it's necessary (for example, not starting Beanie Wells over Tim Hightower).
So you usually don't see rookies starting right away, etc.
And he doesn't usually make a big change like this either.
So what that tells me is that he is not happy with Matt Leinart.
Coming into training camp, the prevailing thought among the Cardinals camp was that Leinart's job was safe, because he knew the offense, and had had time to sit behind Kurt Warner.
But the first two weeks of preseason changed a lot of things it seems.
It will be even more interesting to see what happens should Anderson clearly outplay Leinart on Saturday.
In my mind, this is "last chance saloon" for Matt. He has to get on the ball...or be returned to backup status.
2. The Coaching Staff Will Do What It Thinks Best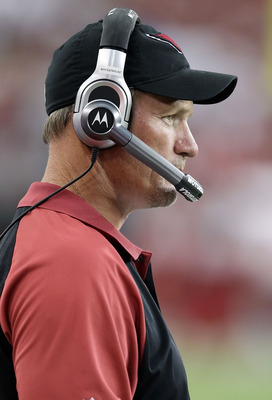 Christian Petersen/Getty Images
We've seen this time and time again for the Cardinals.
Take just a few preseasons ago, when an aging Kurt Warner was picked to start over Matt Leinart, even though many did not like the decision.
That worked out pretty well huh?
It may seem strange at first (letting Wells sit behind Hightower; sitting Rodgers-Cromartie for over half the season, then starting him, etc.), but the staff usually knows what it is doing.
3. You Better Get Results, Or Else
Grant Halverson/Getty Images
After being asked what he was looking for from the two quarterbacks, Whisenhunt simply said, "First downs," according to nfl.com.
That's something that Leinart did not do against the Titans in three possessions.
Meanwhile Anderson's first play from scrimmage produced a first down.
This rule also holds true with another position battle for the Cards: left corner.
Word out of camp this week has Greg Toler running with the first team (as expected some time ago) and not Trumaine McBride, who had a terrible game last week.
This unwritten rule is a very good thing for a team undergoing so much change.
It heightens the players responsibility, and holds everyone accountable, which will only benefit the Cards in the long run.
4. Larry Fitzgerald's Stock Rises
Christian Petersen/Getty Images
One thing that Anderson definitely does have that Leinart does not is an arm.
With Leinart, Fitzgerald was sure to get his catches, although maybe not as many as last season.
But with Anderson, Fitzgerald can open up defenses down the field.
And with Anderson's gun, the ball will get to Larry quicker, allowing him a better chance to make plays.
That's just an opinion of course, but if you look at how well Braylon Edwards did when Anderson had his Pro Bowl Season (80 catches, 1,289 yards and 16 TDs) it certainly gets you excited (especially you out there in fantasy football land).
And let's just say that everyone knows that Fitzgerald is better than Edwards.
5. However, It Could Be a Rough Transition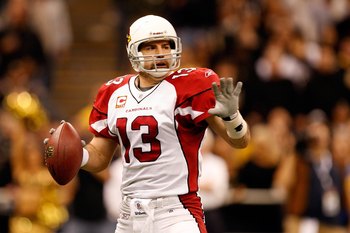 Ronald Martinez/Getty Images
If indeed Anderson does take the job from Leinart, it won't be as smooth as Warner taking it from Matt.
Warner had the distinct advantage of being around for a few years, getting to know his teammates, the offense, etc.
Anderson has not had that luxury.
As well, we all know he's no Kurt Warner.
His accuracy issues are well documented, and even in his Pro Bowl Season, he had 19 INTs along with his 29 TDs.
But then again, Warner had fumble issues for years before he came to Arizona.
Nonetheless, and this is nothing against Derek, but Warner was a genuine leader, and an all-around humble, likeable guy.
If Anderson is to take over, he'll have to earn his teammate's trust quickly, and that won't be easy at first.
Needless to say, many Cardinals fans will be watching the Chicago game if for nothing else but to monitor this situation.
Keep Reading

Arizona Cardinals: Like this team?