Record Setters: 5 NFL Running Backs Who Could Gain 2,000 Yards in 2010
Otto Greule Jr/Getty Images
Last season, Titans running back Chris Johnson made headlines when he passed the 2,000 yard mark and joined a rather small NFL club. His name now sits alongside other greats, including Barry Sanders and Terrell Davis.
The big 2K is one of the great achievements by any NFL running back. So who are the top 5 NFL running backs that could achieve the illustrious number in 2010 if their stars align.
Adrian Peterson, Minnesota Vikings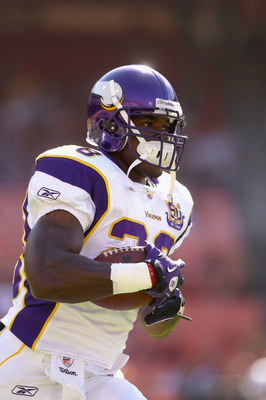 Ezra Shaw/Getty Images
Time to start with the obvious.
Adrian Peterson has been a top threat to eclipse the 2,000 yard marker from the first day he stepped onto an NFL field.
A career rushing average of 4.9 yards per carry over the past three seasons would require Peterson to carry the ball more than 400 times over the course the season to make the mark.
However, if he were to return to his rookie average of 5.6 yards per carry would mean that just over 350 carries would be required.
And with the aerial attack of the Vikings being chock full of question marks, it seems like a realistic possibility.
The pieces are there for All-Day to reach the mark. It will just require him to hold onto the ball.
Ray Rice, Baltimore Ravens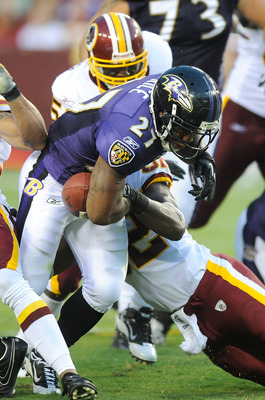 Greg Fiume/Getty Images
The little big man exploded in 2009 averaged 5.3 yards per carry over 254 carries.
He is line to take more carries from Willis McGahee and LeRon McClain proved to be a near non-factor in '09 despite his exceptional '08 campaign.
It's Rice's show for the Ravens' rushing attack. He is running behind a top-10 offensive line. The passing game is primed to take big steps.
A stretched field and already significant line of scrimmage push all play into the equation.
Rice is no longer a sleeper at the running back position. He may quickly make his way into the front-runner position for the rushing crown. Maybe he'll have to earn 2,000 just to grab it for himself.
Jamaal Charles, Kansas City Chiefs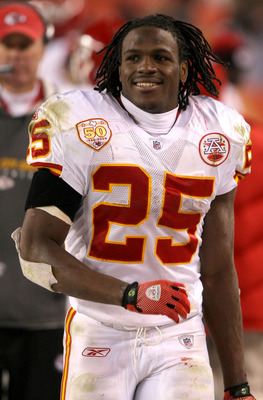 Doug Pensinger/Getty Images
Yes, he is technically second on the depth chart...however...
Did anyone see the comical compiling of yards that Jamaal Charles was capable of during his 10-game starting stretch last season?
It was ridiculous.
Averaging 5.9 yards per carry during 2009 and easily passing the 1,000 yard marker, Charles exploded onto the scene last year, earning him the nickname Chris Johnson Lite.
Some naysayers will mention Thomas Jones stealing carries. Unfortunately, reports coming out of camp say that age has finally caught up with Jones, who is no longer in line to split the carries 50-50.
Judging by the preseason performances as well, Jones may steal goal-line touches, but Charles will be the yardage king.
If Charles maintains his 5.7 yards per carry, the idea of 2,000 doesn't seem so far-fetched. After all, no one expected there to be a CJ2K when the season started last year.
Ryan Mathews, San Diego Chargers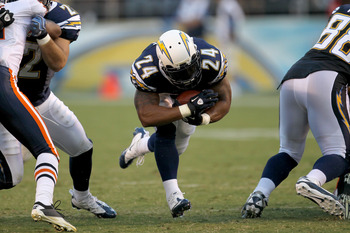 Stephen Dunn/Getty Images
Sleeper selection!
After considering Maurice Jones-Drew, Frank Gore, and Michael Turner, I finally settled on Ryan Mathews. The other three just had lower ceilings than Mathews.
He is the unexpected, much like Johnson and Charles. He fits the prototypical feature back size, speed, and strength.
Mathews is a well-balanced running back who led the way through high school and college. The San Diego Chargers didn't jump up to the 12th overall selection for no reason.
Mathews' ceiling is very high and totally unknown. He will be featured in an offense that is already stellar. His potential is beyond exciting.
Yes, he is untested. Yes, it's a wild pick. But out of the running backs who could possibly hit the 2K mark, he is in my top five for sure.
Chris Johnson, Tennessee Titans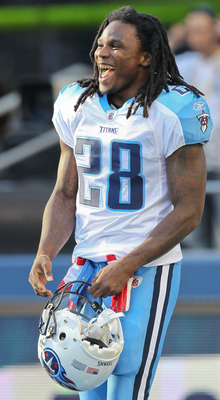 Otto Greule Jr/Getty Images
Chris Johnson's running abilities are scary. He can run between the tackles and is even deadlier on the outside.
Sure, no one has ever repeated the 2,000-yard feat. However, the ceiling can be broken.
CJ2K has an additional force of will that he displayed during his many declarations. He has the power to simple make things happen.
Also, the emergence of Vince Young is a good thing for him. His yardage totals actually went up when Young gained the starting role. The multi-threat of Young as a passer and scrambler helped distract defensive coordinators.
If anyone can post back to back record setting seasons, it is the speed-demon-freak-of-nature Chris Johnson.
Keep Reading