Jim Schwartz and Martin Mayhew Have Some Decisions To Make; Let Me Help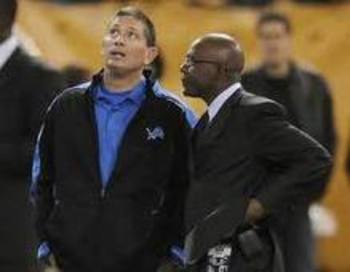 Two games into the preseason and I can't wait for those Bears on opening day but we can't go there yet.
We have some business to take care of yet. We have to get this down to a final 53 first, just who are we going to see in Chicago and who are we going to hope makes it to the practice squad.
Even a couple of starting spots to be decided and maybe an addition or two for us to consider.
Before we start hoping for that next OLB or CB from the waiver wire or maybe a little more Mayhew magic consider this. From this point in the pre-season last year until their first game the Lions added;
Glenn Holt WR Waivers
Rufus Alexander LB FA
Kevin O'Connell QB Waivers
Cletis Gorden CB Waivers
Ko Simpson S Trade
Copeland Bryan DE Waivers
Yamon Figures WR Waivers
Marcus McCauley CB Waivers
Kevin Hobbs DB Waivers
That's a lot of movement but answer this, how many of those players would make this Lion team?
I guess we have to say Ko Simpson might and that Kevin O'Connell thing worked out nice but other than that I don't see much there to get excited about.
Now remember that the Lions had first dibs on waivers last year, this year we have to hope the Rams don't claim a player first.
I'm not saying there is no help coming, I'm just saying don't count on it coming from the waiver wire.
The one advantage the Lions have over last year is some of the veterans that don't survive the final cuts may have an interest in playing here.
Last year I'm sure their agents were on orders to not return Mayhew's calls. This year an eight or ten year vet might consider it if he wants a little playing time.
That could work for me if it's the right player at the right position, a linebacker and a defensive back just might push this team into the playoffs.
More likely it will have to be a trade because Mayhew has built the talent level up to where the usual cut player isn't an upgrade.
But that's not what I wanted to talk about right now.
I want to discuss each positional group and look at who's in and who's out. Do we need to upgrade and what can we expect out of each group this year.
Two weeks into the pre-season most of the positions are set, the first twenty players will come off the board easily however those last half a dozen cuts are looking tough to call right now.
But enough talk, let's get to work.
Defensive Backs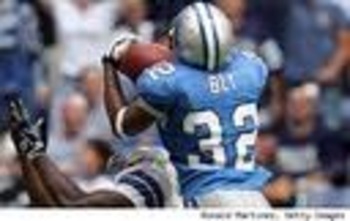 I always believed you do the hardest job first so let's start here.
Louis Delmas S - Sure hope that groin injury isn't a long term thing because they need him playing at a high level.
Chris Houston CB - Has looked okay so far and you have to like the way he has taken on the challenge of playing Megatron. Sure fire starter and let's hope he plays up to it.
Jonathon Wade CB - Had first shot at the other starting corner back and hasn't showed any signs he wants to give it up. The broken hand shouldn't keep him out but we need interceptions so it is some concern.
Randy Phillips S - Boy, did this guy explode on the scene. I'm hoping he keeps it up and starts along side Delmas before too long.
CC Brown S - CC is that trench they dig around a fire, the secondary could go up in flames but it shouldn't get any worse than CC Brown. The question is just how good or bad is that? So far he has looked okay.
Dre' Bly CB - I listed him last in this group because I am not sure he has cemented his position yet. Right now Bly appears to be the nickle back and first CB off the bench.
This next group is fighting over three, maybe four spots.
Eric King CB - Might have played his way off this team
Amari Spievey CB - Kind of hard to believe they would cut him already but stranger things have happened.
Jonathon Hefney DB - His versatility could be his saving grace.
Dante Wesley DB - The veteran special team player faces challenges on that front too.
Ko Simpson S - Just back from injury but he better show something quick.
Jack Williams CB - Still on the PUP and it might make a lot of sense to keep him there for the first six weeks.
The rest of the players are hoping to get an invite to the practice squad with Berry and Pratt in the lead for that hope.
In the end I believe we will see nine DBs make this team with Hefney, Spievey and Wesley joining the six locks. Williams stays on PUP and could be that DB we need later in the season.
While I am not calling this a disaster like many fans are there is no denying this group is questionable at least.
In the grand plan the Lions would like to see 2 or 3 of these guys step up to team with Delmas then add a few pieces in the next off-season.
For now let's give them a D, what the h3ll, let's make it a D+.
Line Backers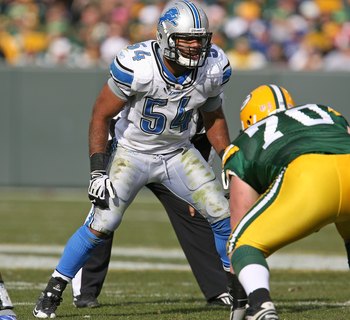 Might as well keep plowing through the heavy lifting.
Julian Peterson OLB - Well that was easy. Could be the key to this defense this year.
DeAndre Levy MLB - Looked okay in his first action and you could hear all of Lion nation breathe a sigh of relief. We can't expect him to be a stud in his first year playing MLB but we sure don't want to know what we would have done without him.
Zack Follett OLB - Welcome to the roller coaster career called the pain train. Maybe we just got our hopes up too high, but than again, maybe he will never be a cover linebacker. He will make the team but that starting position might be in jeopardy.
Isiah Ekejiuba LB/ST - He is on this team because of special teams but I wonder if he can't give us a little LB play too. Showed promise in the middle and might have calmed the Lions worries a little about MLB depth.
The next group are fighting over 2-3 spots. Special teams plays an important role so they are not only fighting with each other; a player from another position group could steal their spot.
Vinnie Ciurciu - His forte is special teams, unfortunately that also means he is not likely to contribute as a LB.
Landon Johnson OLB/MLB - The only veteran back-up on the roster. Hasn't disappointed but hasn't flashed much either.
Caleb Campbell OLB - Nice story but not all nice stories have a happy ending.
Ashley Palmer OLB - I suppose the Dizon injury has given him a chance.
So who stays and who goes?
I am going to use a lifeline here and say the Lions pick someone up, hopefully of starter quality.
I am also going to use another marker and move Ciurciu out of this group of linebackers and into my special teams decisions.
If the Lions do add a LB I have Landon Johnson with a slight edge over Palmer right now for the last spot open I guess if they don't add a LB, both could make the team.
That leaves Campbell for the practice squad - don't fret, he should stick and be back before the season is over.
Overall this is another position group in transition, considering 2/3rds of the starting spots are settled I won't give them a failing grade, let's make it a C- for now.
The Defensive Line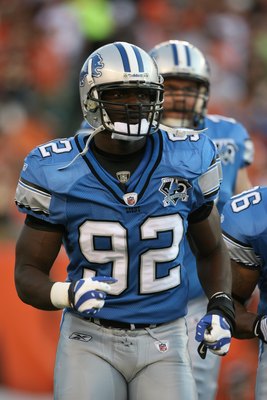 Now this should be a lot more fun than DBs and LBs.
Kyle Vanden Bosch DE - I think we can call that plane trip Schwartz took well worth the money.
Ndamukong Suh Beast - The youngsters don't call these kind of athletes studs anymore, they call them Beasts and if ever a name fit..... My only problem is I want to call him a magnificent beast.
Corey Williams DT - LeBron is not the only athlete glad to be out of Cleveland. He looks ready to revert to that form he had in Green Bay.
Cliff Avril DE - This is the year we will find out about Avril. He seems ready to provide us with some mighty nice answers.
Sammie Hill DT - Now that's how you make a mountain out of a Hill. Don't overlook his contribution.
Lawrence Jackson DE - He has done nothing to be considered in the same breath as those first five but I think we have to include him on the team for now. Could be a real nice complimentary player with a little work.
Willie Young DE - I have him in with a capitol IN. Pass rushers are almost as rare as QBs and you don't risk losing one with his potential.
That leaves two open spots unless these guys make it impossible to cut them. As tough as this decision will be I think the Lions will find a way to get down to 9 defensive linemen.
What a difference a year makes huh, last year Mayhew is turning over trash cans looking for DL and this year there are teams out there waiting to grab whoever we cut.
Who knows, we might actually be able to trade one of them.
Turk McBride DE/DT - I had some high hopes for him but it sure would serve him well to do something in these last two pre-season games.
Landon Cohen DT - If it wasn't for those damn offside penalties. Wait, the Lions said they expect to get those once in a while.
Andre Fluellen DT/DE - Is this the next Millen pick out of town? Stay tuned.
I got Chima Ihekwoaba (why can't they all have names like Suh?) on the practice squad while everybody else is here to enjoy the training camp buffets for two more weeks.
So what happens on cut down day?
The more I think about it the more I say Cohen has a spot but that McBride and Fluellen battle is too close to call. Either way the Lions have to be thrilled with this group.
Let's give them an A-
I want to see something out of the 3rd DE before they can get a perfect score and Suh is still a rookie.
The Offensive Line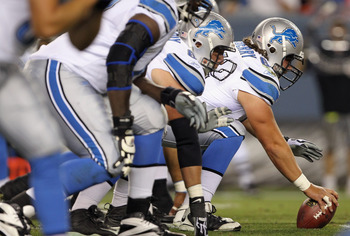 We have some real solid positions on the offensive line and we have some questions yet to be answered so let's get on with it.
Jeff Backus LT - This guy elicits more polarizing views this side of politics. Fortunately for Backus, Jim Schwartz holds the only opinion that counts.
Dominic Railoa C - Okay, maybe he is the most controversial Lion player but Schwartz still holds all the cards.
Stephen Peterman G - Is he a little banged up already? Damn, that worries me a little.
Rob Sims G - The new guy has fit in exactly as hoped, quickly and nicely.
So much for the answers, now onto some questions.
Gosder Cherilus RT - It sure would be nice if he just took over that RT spot but it's looking like it will never happen.
Jon Jansen RT - Used to be among the best RTs in the game. Don't let his challenge for a starting spot fool you, like I said he used to be among the best.
Dylan Gandy C/G - Half way decent back-up.
Jason Fox OT - Only way he isn't on the 53 man roster is if he is on IR and apparently he could end up there.
Corey Hillard OT - Could have put a slash G on there too. Real nice surprise here, somebody get a name plate made for his new locker.
Manny Ramirez G - This might have run it's course.
Trevor Canfield G - Been steady, but it's a steady okay.
Dan Gerberry C - That long snapper practice might help.
Lions have signed a few street free agents lately and while none of them will make the team it does point out that things are a little shaky, especially the depth.
In the end Gosder and Jansen will continue their battle into the regular season while the versatility of Hillard and Gandy are valuable assets as back-ups.
That makes eight and it wouldn't be a shock if they quit there but I believe either Canfield or somebody they sign after the final cut down will back-up at guard. That whole Peterman injury thing worries me too much to not have a back-up around.
That means Fox does indeed go on IR while Gerberry starts out on the practice squad again.
Man Ram will be picked up by some other team and they will talk about how much upside he has and how their coaches will get it out of him.
Overall I want to give them a B, but that guard depth scares me and until someone steps up at RT I'm keeping it at a C+
Tight End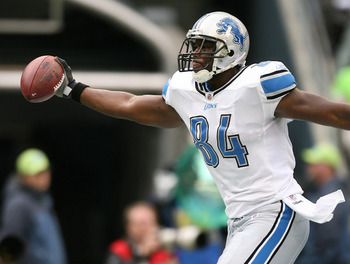 With all the two TE the Lions expect to run this needs to be a deep and talented position group. Don't worry, it is.
Brandon Pettigrew - This guy might qualify for beast staus before too long. He seems to be rounding into shape after the injury, don't be shocked if you hear some talk like among the best.
Tony Scheffler - He will see the ball a lot and the talk about his blocking is a nice surprise.
Will Heller - The veteran we always forget about. Excellent blocker with good hands.
Dan Gronkowski - Love this guy, seems to have picked up his game nicely in year two.
That's a real nice unit there and Gronko just might make the Lions keep 4 TEs. How he does on special teams these last two pre-season games will be big for him.
I'm thinking he nails down a fourth TE spot.
This unit is often overlooked but it is very deep and very talented, if Pettigrew steps it up this could be among the best TE group in the NFL. I'll count that if as a slight tick and give them a A-
Wide Receiver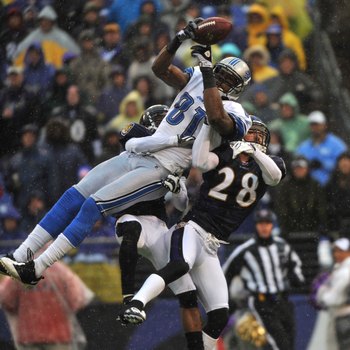 Lions went into the off-season hoping to upgrade the overall talent of the WR position. Mission accomplished.
Calvin Johnson - Where are they playing the Pro-Bowl this year? Actually that's a conservative estimate, we could be looking at the start of something down right historic. I'll predict it now, within 5 years Randy Moss will no longer own the single season TD record.
Nate Burleson - This is the guy Scott Linehan wanted and it's looking like a great choice. Might not break 60 receptions with all these weapons around but don't think that's a bad season.
Bryant Johnson - So glad he gave up golf, or at least riding in golf carts. Sure looks good out there, I just don't know how many passes Stafford can throw his way.
This is where the roster gets a little tricky
Dennis Northcutt - Looks like this Lion part of his career was pretty uneventful - and short.
Derrick Williams - Will the Lions continue to wait for all that athletic ability to explode.
Tim Toone - Interesting skills. No room for a shifty slot receiver right now but he could do something on special teams.
Brian Clark - Talk about special teams and a little more solid at WR than advertised.
Eric Fowler - Is this going to be another GVSU kid playing WR for the Lions?
Matt Moore - The kid from Stafford's college team, has some skills.
Hmmm - I am going to take that lifeline again, even double it up and move Clark and Toone over to the special teams slide.
That leaves Derrick Williams making the team while Northcutt is making sure the Raiders and Chiefs have his phone number.
The Lions will keep Ryan Fowler's phone number and Moore goes on the practice squad.
This is an explosive group that might meet Burleson's goal of being considered among the best. Let's give them a B+ for now.
Running Backs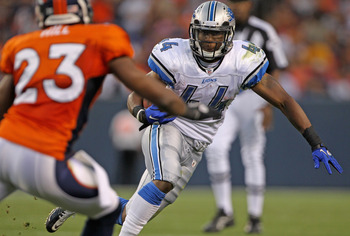 Wow, this group got good in a hurry.
Jahvid Best - Everything the Lions could have hoped for. I wasn't in the draft a RB high camp but I am eating my words now.
Kevin Smith - Bounced back from that injury pretty quick didn't he? Teachers pet and it's easy to see why.
Maurice Morris - Unless they trade him he has to make this team doesn't he? He has some challenger though.
Aaron Brown - He has added to his speed game a little but is it enough?
De De Dorsey - Looks good with that ball in his hands. It's what he does when he doesn't have the ball that will determine his future.
Jerome Felton - The only real big back the Lions have. Too bad he doesn't block that way.
Jake Nordin - With the way Linehan avoids fullbacks he is a longshot for this team.
So how many running backs do the Lions keep?
Good question, could be as few as 4 and no more than 5. That means after Best, Smith and Morris plus they probably will keep one big back Brown and Dorsey could be chasing a rainbow.
Let's move Brown and Dorsey to the special team slide and keep 4 RBs.
The big back? I'm calling the upset here and Nordin makes the team. Felton has missed one too many blocks for my taste.
Not a lot of quantity but there sure is some quality. I watch Best and I wonder just how good he can be, maybe we should be fitting him for a number 20 jersey?
Too soon for that, let's give the RBs a solid B.
Quarterbacks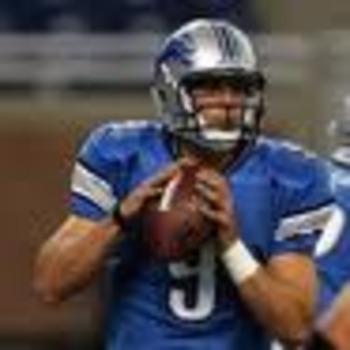 Am I smiling?
Of course I am.
Matt Stafford - Do I really need to say anything? We all hoped he would take that next step. Instead it looks like he took a hop, skip and jump.
Shaun Hill - This was a real nice pick-up. Hope we don't see him after next Thursday until next pre-season.
Drew Stanton - sigh Can we please call an end to this?
That seems to be the only question with this group, does Stanton stick?
Not on this roster. Lions keep his number and sign a young guy for the practice squad.
That might worry some but I say if Stanton gets in a game the season is over anyways.
Final grade for the QBs?
I'll make it an A-. Like Tuffy says, Stafford still has to work on those touch passes a little.
Special Teams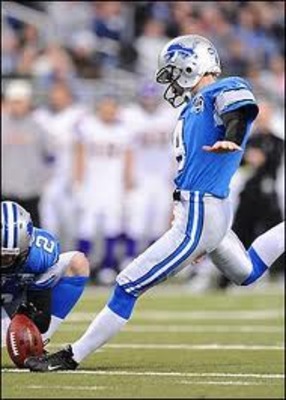 This just seems right.
How many times have we heard a coach say those final spots come down to special teams so let's evaluate those final spots based on special team play.
First the players we know are in.
Jason Hansen PK - Maybe I shouldn't have him down as definite with the injury but until I hear different he sticks. If not Steven Hauschka looks like a viable option.
Nick Harris P - Looking good so far, maybe there was something to all that directional kicking Schwartz blamed Harris' down year on.
Don Mulbach LS - Can't remember the last time we saw a bad snap in the kicking game.
Punt and Kick Returner - You tell me. For now it's Derrick Williams or Tim Toone and while neither have shined, they haven't had too many mistakes either. Schwartz has mentioned more than once that Nate Burleson could return punts. I wouldn't bet against it happening some time this year.
Okay, so how many spots do we have left and who are the candiates for special teams?
So far I have 50 spots filled so 3 left and the candidates are;
Ciurciu, Clark, Toone, Brown, De De Dorsey and upon further review let's bring Caleb Campbell and Palmer back into this discussion.
While I believe they would want at least one returner out of this group I don't believe they would consider it a necessity if Burleson does return punts.
It's going to be pretty hard to keep Ciurci and Clark of special teams so I won't. That leaves Toone, Brown and maybe Campbell fighting over one spot.
Let's go with the white guy with dread locks, Tim Toone.
Overall this is a much improved special teams unit but much improved from where they were starting is still only a C.
So what does this hunting party look like?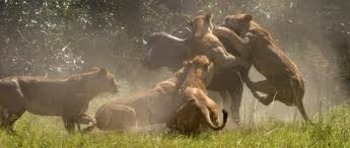 This sure was a tough job, the Lions are building some depth here and there will be interest in a few players the Lions cut. Might even be able to trade a player like Fluellen.
But not all of the positions have that kind of depth and like I mentioned; I expect the Lions to be on the look out for a veteran OLB and maybe a Guard to back-up Peterman.
What about that secondary?
Maybe, but only if they can get someone pretty good. If they do get lucky knock Wesley off this list.
Another possibility is they trade Morris and in that case add Aaron Brown.
Now let me cross my fingers that injuries don't change everything.
Keep Reading

Detroit Lions: Like this team?