Fantasy Football...I Love You So...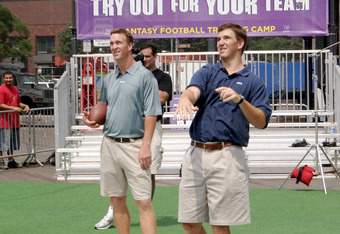 Jemal Countess/Getty Images
Ohhh Fantasy Football ..I do love you. Ohh I could say I love all fantasy sports and that would almost be the truth. I do love the competition of fantasy sports (notice the non-caps when Football was dropped). Competition of any type is an admitted rush and accepted vice. So yes I do love/like all fantasy sports but Football (last capital..I promise),when I first found "you", I was hooked.
I discovered fantasy sports by accident. A friend mentioned, that his knowledge of football was better than mine. Say uhhmm what, I responded. He informed me it could be proven by the playing of fantasy football. I proposed we set up this league and have at it. It really didn't matter that it was free, (it also didn't hurt), because a challenge offered is a challenge accepted, (well of course that is a dependent statement, but onward..)..LET US ROCK.
I was on Yahoo fantasy and we had a grand total of 4 players that first year. I laugh now to think how our league has grown. I..of course...won that first year and the next. Soon I looked about me and the league had grown to ten people. To my shame and embarrassment ..I lost the next year.
As time passed, I also began playing baseball, hockey, golf, basketball, NCAA tournament, and the beloved football knockout, Survival Football. In Survival you are able to pick one team a week but can never duplicate that pick. If you survive all sixteen (yup let's not mention the bye weeks, shall we) weeks or at least outlive all other players, you win. I also played on different sites including MSN and NFL. I once had leagues in all three sites and four teams in Yahoo including a paid league. These teams, of course, were all going at once. I came in second in all leagues except my own, which I won. That was the year of Deangelo Willis. Yes good ol' "D Will" beat me in some leagues and won for me in some. This includes the league in which I had dropped him before his power runs and I had, what I thought, to be a deluge of great running backs. Yes..good times..good times.
I quickly discovered I had a problem with football. If my team wasn't set I would find an internet connection to make it happen. I was searching out information on every site and place to gain an edge. I was thrilled if I won a and devastated if I lost. The other sports, if I missed a set up, I was irritated. But football season my sets had, To Be, Perfect. I paid for the stat tracker option, which allowed me to see stats as they happened. I absolutely sweated the small stuff. It was exhilarating.
After the season of "D Will" I knew I had a problem. Family,friends and obligations had taken a back seat to this virtual world on game days. I hear you out there. What's the big deal. So you turned off on Monday, Thursday and Sunday. Get a grip. No, I had a problem. Here's why.
I am an avowed Giants fan. I had a player that was going against the Giant's defense. It was a critical stop for the Giants or a game changing score for the offense. I have no idea who I had or whom the Giants were playing. I KNEW if this team scored my team would probably lose. I, was actually, hoping, for a breakdown in the Giant's defense...I needed the points... I'm not sure if the Giants stopped them. I'm sure they did ..Giants normally have a rock solid defense, except for the never again to be mentioned 2009-2010 team *Shudder*.
Ok, so I knew I had gone all in and needed to take a clear step back. I still play fantasy but have limited myself to football, basketball, baseball and last year hockey. I play an absolute limit of three teams. I normally use Yahoo but NFL and MSN are both great sites. I just happen to stay where I started. Football however still attempts to draw me in. I want to create teams on other sites. I know that "draw" will always be there..but I'm out and not going back...hmmm I wonder if Tennesee will have the same opportunistic defense as last year...Uhhh well at least not all the way back in..
This article is
What is the duplicate article?
Why is this article offensive?
Where is this article plagiarized from?
Why is this article poorly edited?

New York Giants: Like this team?