Brett Favre's Arrival in Time for Minnesota Vikings' Collapse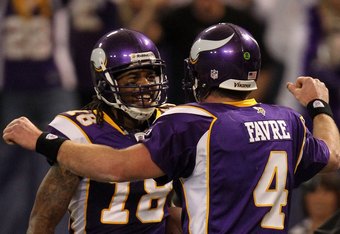 Chris McGrath/Getty Images
Somewhere in the cold, blistery North, a Viking ship began to sink. The distress signal blared and a trio of warriors departed in search of a savior. In bewildering haste they returned, following in the hoof steps of a white horse burdened with safely delivering a valiant gray-haired knight.
As the knight saw the ship in the horizon, he dug in his spurs and rode hard to save the day. The white horse came to a sudden halt as the knight departed his stead, just in time to watch the mast of the ship slip below the water's surface.
That's how the story likely looked in Brad Childress' diary, until I added the M. Night Shyamalan-esque surprise ending. Last year was a fairy tale year for the Minnesota Vikings, and coach Brad Childress could hope for nothing less in 2010. Unfortunately for Childress and the team, not all fairy tales have fairy tale endings.
Big Trouble in Little Eden Prairie
Less than a week after Brett Favre's celebrated arrival in Eden Prairie, MN, news broke that his star wide receiver, Sidney Rice, underwent hip surgery just one day after the Vikings' second preseason game. According to the story from Judd Zulgad of the Star Tribune, Rice "had undergone hip surgery at the Steadman Clinic in Vail, Colo. on Monday" and could likely miss the first half of the season.
After his initial visit to the clinic in June, Rice told reporters, "[the doctor] said it was something I could try and work through. That was the plan I tried. I was trying to rehab it. The area just got worse."
Rice, who caught 83 passes for 1,312 yards and 8 touchdowns in 2009, is a vital key to the team's success. Without him for half the season, along with Percy Harvin's migraines, the Vikings will need to do all they can to plug holes in their sinking ship.
Center of the Issues
If you watched the Vikings' 15-10 preseason loss to the San Francisco 49ers, you would have noticed right guard Anthony Herrera at center. Starting center John Sullivan has missed a few practices with what has been reported as a "tweaked" right calf, but should return in time for the season.
While Sullivan should be ready for the regular season, the game brought a glaring reality to light: The Vikings depth at offensive line is none too deep. In the recent loss, the offensive line allowed four sacks and eight hits on the quarterback.
To add to these troubles, running back Adrian Peterson missed a blitz pickup that resulted in a 10-yard sack by Patrick Willis on Brett Favre.
Defense Revives Hope
As the Vikings offense continues to slowly deteriorate, the defense added hope with the return of linebacker E.J. Henderson. Henderson, now in his eighth season as a Viking, had seven tackles and one tackle for loss against the 49ers, only nine months after suffering a gruesome fracture to his femur.
Vikings' defensive coordinator Leslie Frazier started second-year safety Jamarca Sanford in place of Tyrell Johnson in a move to hopefully improve a secondary that finished 19th against the pass in 2009.
The Vikings are returning with all 11 starters on defense with the addition of rookie Everson Griffen to add further depth to the defensive line.
Some slight concerns arise from the injuries of CB's Antoine Winfield and Cedric Griffin, but Asher Allen and Lito Shepard look primed to fill these roles if necessary.
Bringing in an Old Dog To Perform New Tricks
The same day that the Rice surgery news broke, Zulgad reports that the Vikings waived running back Ryan Moats to make room to sign veteran wide receiver Javon Walker. The signing comes at a time when the Vikings have massive uncertainty at the wide receiver position due to Rice's surgery and Percy Harvin's ongoing migraine issues.
Walker, who will wear No. 86 for the squad, entered the league in 2002 as a Green Bay Packer where he caught 20 of his 31 career TD's from Favre.
With Walker's most recent stint being in Oakland, the question begs to be asked whether or not he can contribute to a hurting wide receiver corps. The reunion of Walker and his old QB leads some to believe that an old flame could burn again in the veteran receiver.
It's uncertain what moves the Vikings may make to further help in a season where they are built to win, but it's safe to say that VP of Player Personnel Rick Spielman and his staff will have a few tricks up their sleeves.
If Favre has any magic left from the 2009 season, we can sure hope he uses what's left to right this ship and sail off triumphantly into the sunset.
This article is
What is the duplicate article?
Why is this article offensive?
Where is this article plagiarized from?
Why is this article poorly edited?

Minnesota Vikings: Like this team?