NFL Preseason 2010: Ranking the San Francisco 49ers Rookie Performances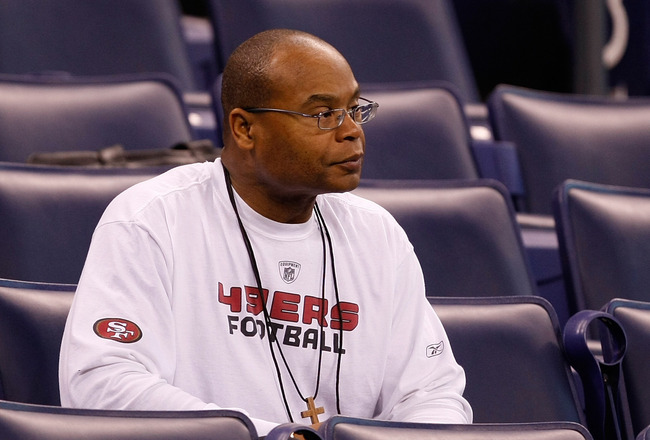 Mike Singletary's eye for talent is being put to the test this pre-season.
Scott Boehm/Getty Images
Mike Singletary has an 'eye' for talent: it's said he reads a young players attitude through said prospect's proverbial windows to the soul.
Singletary looked straight through to some phenomenal specimens last April, and found some motivated youngster who were ready to come out and do some damage.
So far, while some have faded out, many have excelled, and several are vying for starting positions. Here's a look at which rookies have made what kind of impressions.
Phillip Adams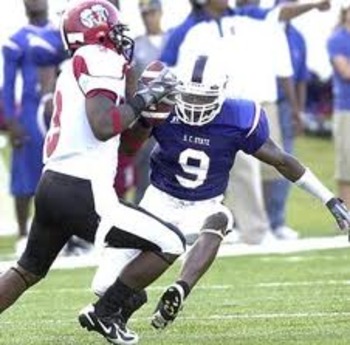 Will the 49ers 2010 version of Mr Irrelevant become relevant this season? Phillip Adams hopes so.
The seventh-round pick has shown the qualities that the San Francisco's coaches value. Specifically, he's been tough, physical, and has worked very hard in an uphill battle to carve out a roster spot for himself.
Matt Barrows phrased Adams' situation well in his 49ers Blog for the Sacramento Bee, stating the issue for Adams, as far as making the roster, was "Four or five corners? If five, does rookie Phillip Adams' potential trump Will James' experience?"
Big, eye-popping plays have been elusive for Adams thus far; playing time in the secondary is in short supply, and training camp is full of hungry defensive backs this year.
Verdict: Not impressed...yet.
Kyle Williams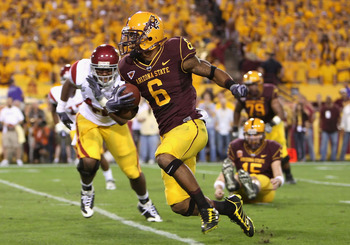 Williams has been unseen since his case of turf-toe developed.
Christian Petersen/Getty Images
For a sixth-round pick, Kyle Williams had fans drooling at his potential upside.
The quicker-than-he-is-fast statements had us seeing visions of a Wes Welker type wearing red and gold. Williams was looking to become a factor on returns, as well as a threat from the slot, but he got derailed in Indianapolis.
On what looked like the beginning of a good career returning punts, the little fellow slashed and cut a decent chunk of yardage. A good old NFL collision sent him flying a bit, however, and Williams was slow to get up.
Despite all his skill and upside, the injury now has many doubting the receiver's durability. He's gonna need to show us something more if he's going to make his mark in the regular season.
Verdict: not impressed...yet.
NaVorro Bowman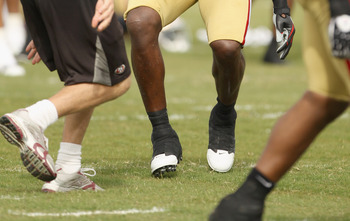 Ezra Shaw/Getty Images
Although he's carved in the image of all-pro Patrick Willis, NaVorro Bowman hasn't been too active yet on the field. The line backing corp is full of savy young vets scratching for playing time, and this rookie has an uphill battle in front of him if he's going to shine.
We do know this about him: he's fast.
As advertised, the young, undersized linebacker has the speed and tenacity to play with the big boys. Sure, he'll see much to most of his time on special teams, but the speed he brings, coupled with a strong work ethic allow us to believe he'll make the most of the time he gets on defense as well.
Verdict: a little impressed.
*Note, is this NaVorro Bowman or Patrick Willis? 52 or 53? Hard to tell isn't it?
Taylor Mays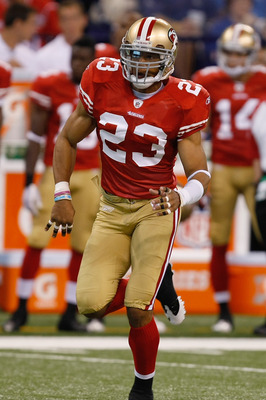 Although his youth shows against tricky veterans, Mays has shown some serious upside.
Scott Boehm/Getty Images
Although he's not there yet, Taylor Mays is on his way to NFL success. He's the player who, when he came into camp, showed he was a bargain in the second round.
As a large safety (6'3, 230 pounds) with tremendous speed, Mays can make a covered receiver seem open, and has the speed to close gaps and chase down ball carriers from behind.
Mays impressed in OTAs, fueling the imaginations of The Faithful with pure, raw skill. Although in the first exhipition game against the Colts, Mays was caught peeking in the backfield and was subsequently ditched by the wide-out he was covering, the freaky kid did catch up to his man after a big first down.
Against the Vikings, however, Mays was sharper and less naive. At one point, Mays ran a tough distance to make a crunching hit that sent a receiver out of bounds for an incompletion.
Mays, growing fast, is looking like he'll be real good.
Verdict: impressed.
Anthony Davis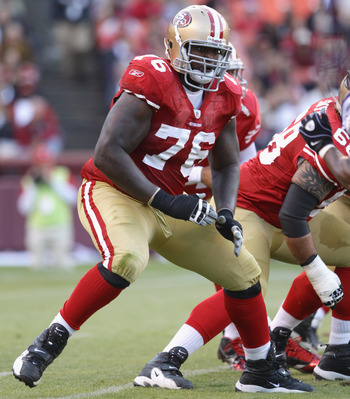 Anthony Davis is getting on-the-job training with the starting offense this pre-season.
Ezra Shaw/Getty Images
When you consider that the 49ers essentially used a high first, and a fourth-round pick to acquire Anthony Davis, the level of expectation is undoubtedly lofty.
The 20 year-old is adjusting to life in the NFL, and it has shown up as a false start here and there this pre-season.
This is to be expected, and really, I think Alex Smith will take a five-yard penalty over a vicious sack any down. Staying low for leverage and keeping up with the speed of NFL ends are his major tasks now, and those things will come in time with practice.
To call Davis a disappointment would just be silly, as he's making strides and working his rear end off to get his game ready for the regular season. So far, he's on his way. Not there yet, but he's on his way.
Verdict: impressed...so far.
Mike Iupati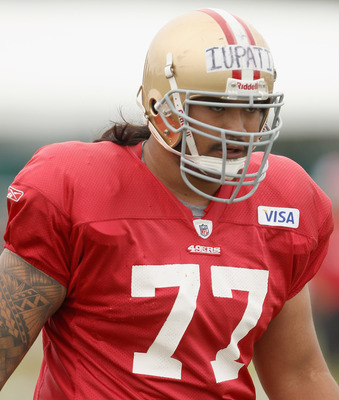 Mike Iupati is quickly becoming the guard SF needs.
Ezra Shaw/Getty Images
The big mauler in the middle, the other first-round pick, has also been injected directly into the 49ers starting lineup.
Mike Iupati has also had a little penalty issue here and there, but again, it's nothing major. The blocking has been effective, although less in the first pre-season game than in the second. The Faithful imagines Iupati becoming the next Alan Faneca, which a lofty expectation in and of itself, and the big man has shown flashes that such hope isn't unrealistic.
As with all transitions, the jump from the WAC to the NFL is going to take hard work and patience—which Iupati has shown.
Verdict: wait for it...Impressed!
Nate Byham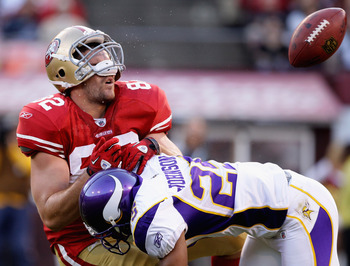 What's with the chin straps this year?
Ezra Shaw/Getty Images
Although the big, bad blocker has shown his soft hands come in handy every once in a while. Byham has been effective through two pre-season games as a receiving threat as well as a blocker.
He'll pluck the ball out of the air and quickly turn upfield with it, and at 270 lb he's a load to take down once he gets going.
Big Nate's just gonna need to get used to the big hits a big target attracts over the middle, and I think in the future we'll see him snaring passes like the one that got away against Minnesota. Really, Byham reminds me of a young Brent Jones, only scarier.
Verdict: impressed, but start making those catches over the middle!!!
Anthony Dixon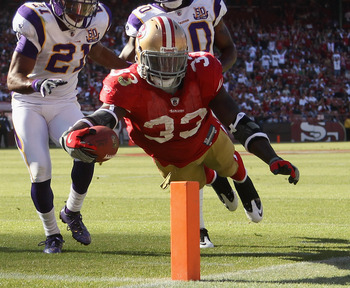 An impressive rookie? Certainly!
Ezra Shaw/Getty Images
"This guy was a sixth-round pick?" The honest word of disbelief came from a friend during the first exhibition game. Laughter, and more yards followed; and by the end of the game, 49ers rookie running back Anthony Dixon had racked up 100 yards in his first career NFL game, albeit pre-season.
With two touchdowns under his belt now, there is much to be said for this young man, like "he's got a nose for the end zone."
A big fella that can rumble, Dixon has the size to lower the shoulder against defenders, and has shown he can throw a wicked stiff-arm. The little juggernaut has an extra gear and the creative style to stay unpredictable.
He's not going to see a lot of time during the regular season, being the understudy to Frank Gore and all, but so far, Dixon has made something out of the opportunity he's been given.
Of course it all comes back to attitude, and his is just great. In listening to the young man speak, I heard no arrogance nor sheepishness. Rather, there is a calm confidence about him, with a humble humility that goes a long way.
Verdict: very, very impressed.
Summation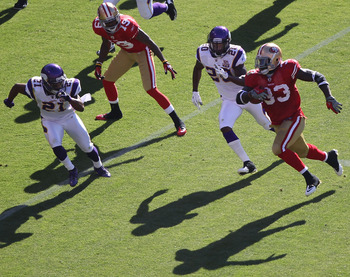 The 49ers' 2010 draft class is primarily impressive.
Jed Jacobsohn/Getty Images
Of the 49ers eight draft picks, all show some degree of promise. Seven are practically locks to make the roster of 53, and at least two should start week one for the 49ers.
Their impacts should be seen, head and felt from all over the field. On offense, defense and special teams, they'll make plays. They'll be ready in backup roles for when their number is called.
Several years from now, when these rookies are hitting their NFL stride, this 2010 draft class could be looked on as one of the great recruitment eras in 49ers lore.
Verdict: Very, very impressive!
Keep Reading

San Francisco 49ers: Like this team?