NFL Preseason 2010: Five Lessons From Arizona's Loss To Tennessee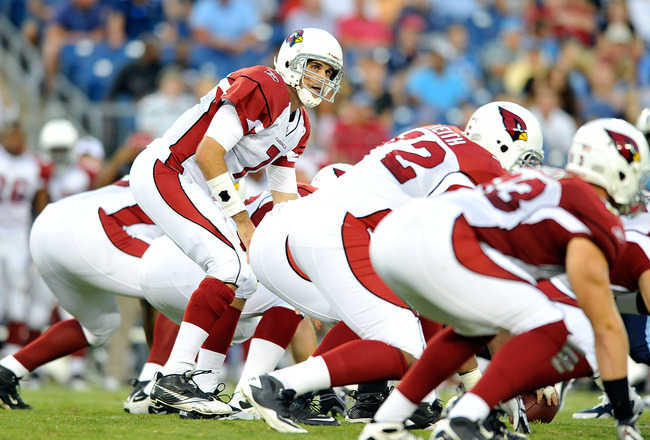 Grant Halverson/Getty Images
Watching the game last night certainly didn't instill any confidence in me as a die-hard Cardinals fan.
But if you step back for a second you'll realize something very important.
It's a secret now--don't tell anybody.
Ready?
It's...the...preseason.
Everyone take a deep breath...and go look at the Lions '08 preseason team.
Feel better now?
Sure, there were some bad and good things done last night. But overall, it is still the preseason.
And there are things that we as fans should take from this game.
1. Game Plans Are Huge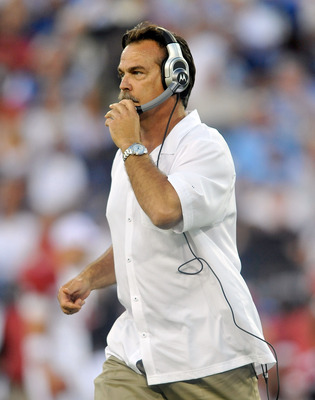 Grant Halverson/Getty Images
The Tennessee Titans, who blitzed the least of any team last season in the NFL (at least according to MNF's crew), came out with guns blazing.
Matt Leinart had very little time to throw.
And when he did, he looked a little razzled.
So it's no real surprise that he only finished 4-6 for 28 yards.
The running game also felt the heat of the Titans game plan, as Tim Hightower simply had no where to run.
I imagine if the coaching staff had a little more time, they would have made some serious adjustments to what the Titans were bringing on defense.
And I think Leinart would've been okay.
But if you put yourself if Leinart's shoes for a second, you'll realize that the staff had not prepared him to face blitz after blitz.
Yes, he could've hung in longer, like Warner did. But Leinart, as we all know, isn't Warner.
But Leinart also didn't have Fitzgerald and Doucet, and no help from the running game.
Could he have played better? Absolutely.
But the game plan the Titans brought certainly made a big difference.
2. The Front Seven Looked Good...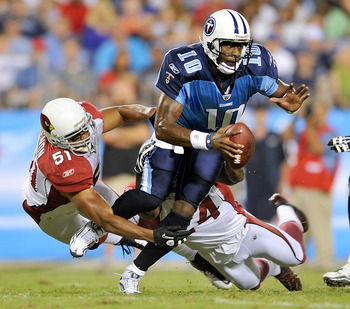 Grant Halverson/Getty Images
Joey Porter seemed more involved last night.
Clark Haggans also had a nice tackle.
And unlike the previous game against Houston, the Cardinals were able to get some pressure, with Darnell Dockett nearly bringing down Young.
So that is an encouraging note—if Young weren't, well, Vince Young, it probably would have resulted in a sack.
And A-Dub (Adrian Wilson) recorded a sack later on, with help from Paris Lenon, who looks like he could help the Cardinals this year, even if he doesn't end up starting.
Even in the second half, guys seemed jacked up when they made tackles. Stevie Baggs especially made a bit of a name for himself last night.
But all in all, the defense did have a little more bite to them last night.
However...
3...The Secondary Didn't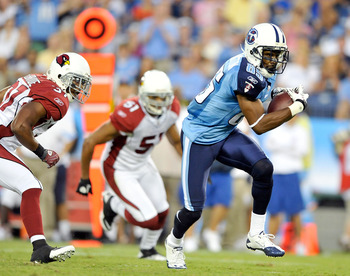 Grant Halverson/Getty Images
Before I say anything, there were some positives from the secondary.
Kerry Rhodes looked good for the most part, as did Adrian Wilson.
Dominique Rodgers-Cromartie really wasn't tested. It was interesting that the Titans constantly threw to the other side.
And that's where the problem lies.
I love Coach Whisenhunt, but I'll be frank: If he doesn't give Greg Toler a chance to start at left corner next game, he's out of his mind.
Because Trumaine McBride looked terrible last night.
He got burned by Nate Washington (really?) on several plays, and he should've had a pass interference call against him to boot.
If Toler can step up and fulfill his potential, the Cardinals secondary has the potential to be really good.
But he needs a chance.
Hopefully he'll get it against Chicago.
4. The Receivers, Despite the Quarterbacks, Did Well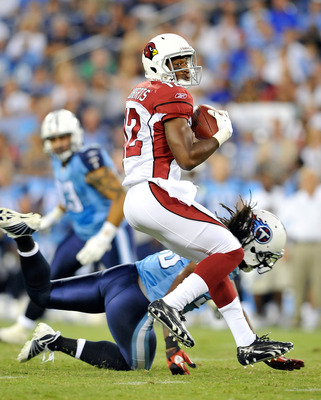 Grant Halverson/Getty Images
Other than Ed Gant dropping a TD pass from Max Hall, the Cardinals receivers made the most of their opportunities.
Andre Roberts had a nice juggling, spinning, nine-yard catch from Leinart.
Stephen Williams caught a nice go route from Derek Anderson.
Max Komar had several nice catches.
The only receiver that didn't really make an impact was Onrea Jones—it will be interesting to see if he ends up making the team.
One receiver who really helped himself was Stephen Williams.
Other than a possible blown route on the third-and-one long throw from Leinart (it could've just been a bad throw), Williams caught anything thrown near him.
He looks like a shoo-in to be the fourth receiver.
Either way, the fact that he got the starting nod shows a lot.
On a quick note, Andre Roberts did sprain his shoulder. Hopefully he won't be out long, as he seemed to do well returning punts.
5. LaRod Stephens-Howling Needs Some Touches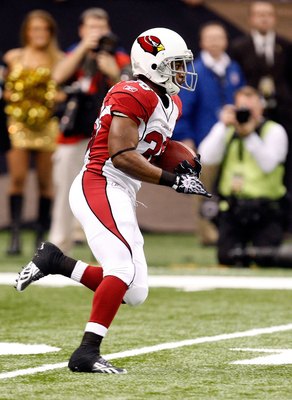 Ronald Martinez/Getty Images
Anyone who stayed with the game and watched the second half saw a very quick, hard-nosed running back.
And no, I don't mean Beanie Wells.
(Speaking of which, I hope he gets more reps with the first team against Chicago.)
Stephens-Howling looked like the best running back for the Cardinals last night, although it was against reserves.
However, his drive and determination were clearly evident.
So were his wheels.
I was a little surprised at first when Madden gave LSH such a high speed rating.
Last night I found out why.
His 16 yard run was the best for the Cardinals last night. He also had another long run erased by a holding call.
Either way, I think he made his case to at least be on the field 10-15 times a game.
Between that and his special teams play, you should hear his name a lot this season.
Keep Reading

Arizona Cardinals: Like this team?