Detroit Tigers Play for the Future: Five Potential September Call-Ups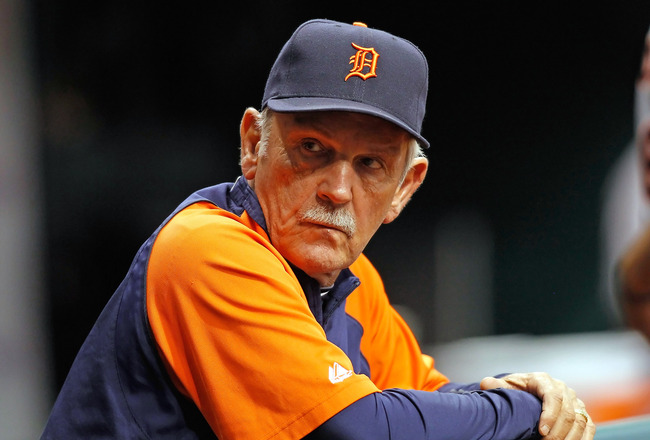 The Detroit Tigers have fallen to third place in the AL Central and are a whopping 12 games back of first place.
For Tiger fans, it is safe to say that the 2010 season is not only in the books, but the books are available at retailers near you.
General manager Dave Dombrowski and manager Jim Leyland have already played the season with a handful of rookies. When the September call-ups roll around, however, these five guys will look to make a lasting impression on the team, and possibly lock up a spot for 2011.
Only two of the five players are currently on the Tigers' 40-man roster. The other three prospective call-ups all depend on how Brandon Inge and Johnny Damon fare on the waiver wire.
Jacob Turner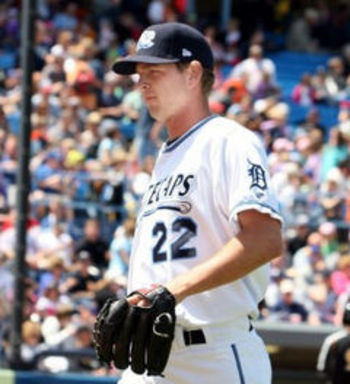 Jacob Turner, 19, is undoubtedly the future ace of the Detroit pitching staff. The 6-foot-5 pitcher is considered to be the best prospect in the Tigers' organization.
The ninth-overall pick of the 2009 MLB Draft was awarded a $5.5 million guaranteed contract and has not disappointed in his first year of professional baseball.
He began this season with the West Michigan Whitecaps in Class A, and was bumped up to the High-A Lakeland Flying Tigers.
Turner quickly adjusted to professional hitting, and is getting better with every start.
In his last five starts, he has only given up four earned runs, including a seven-strikeout performance on August 21st.
Although he is limited to five innings, or 75 pitches, of work per start, it is possible that Turner may make an appearance in the Bigs this season.
He is already on the 40-man roster, putting him on an easier path to the majors.
However, Turner is so young and raw that Dombrowski and Leyland may have to wait another year to bring him up.
Ryan Strieby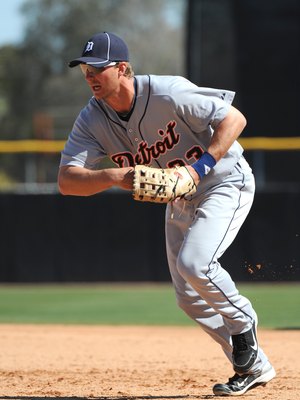 Ryan Strieby, 25, the power-hitting left fielder and first baseman, has spent each of his five years in professional baseball with a different team.
Starting in 2006, he has made stops in Oneonta, West Michigan, Lakeland, Erie, and is now in Toledo.
His best season, by far, came in 2008 in Lakeland, when he hit 29 HR and 94 RBI.
The Tigers, however, have an abundance of corner outfield and first base power hitters. See Miguel Cabrera, Jeff Larish, Jeff Frazier, Brennan Boesch.
If the organization decides to bring Strieby up, it may be just to gauge whether or not he has any value elsewhere. If he pans out, the Tigers might look to trade one of the other power-hitting Minor-League prospects.
He has the potential to hit some into the bullpen, but needs to work on his plate discipline and batting average. He has struck out 85 times this season in 290 at-bats, and is only hitting .245.
Max St. Pierre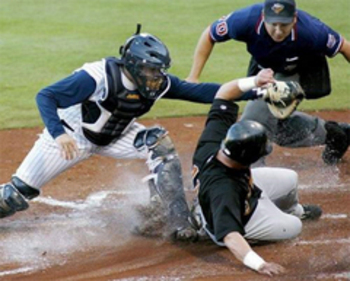 Max St. Pierre, 30, has been a life-long Minor Leaguer in the Tiger organization, except for a brief stint in Milwaukee.
He started as a 17-year-old way back in 1997, and has yet to crack a Major-League lineup.
So what makes this aging catcher so appealing?
Try his .304 batting average in Toledo, his second best ever. The only time his average was higher was when he was 18-years-old in the Gulf Coast League.
Especially in a season when Alex Avila and Gerald Laird can't hit the broad side of a barn, St. Pierre is becoming more and more valuable with each hit.
If he can finally crack the Tigers' lineup, and produce like he has this season, you can say goodbye to Gerald Laird at the end of the season.
Andy Dirks
Andy Dirks, 24, has been a very pleasant surprise for the Toledo Mud Hens this season.
After hitting .278 with the Erie Sea Wolves, he was brought up to Toledo and improved his average to .322.
His OPS is hovering around 1.00, thanks to his combined 14 HR this season in both leagues.
Dirks, like Strieby, plays a position that the Tigers are not particularly looking to fill, however.
If Dirks comes up, he can nix a potential Johnny Damon return, and possibly become a more powerful, left-handed Ryan Raburn.
Brooks Brown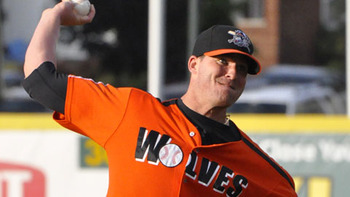 Brooks Brown, 25, is a former first-round pick of the Arizona Diamondbacks, and was traded to the Tigers' organization before the 2009 season.
He started hot out of the gates, going 5-0 in his first six starts in Erie, with an ERA of 2.21.
However, after he was called up to Toledo later that season, things quickly went downhill.
In Toledo, he finished with an abysmal 3-13 record and a 4.71 ERA.
He has settled down this season, and is 11-8 with a 4.09 ERA.
He will be a Major-League pitcher, but it remains to be seen when he will be brought up.
He was an EAS Midseason All-Star, and was named the Pitcher of the Week on August 9th, thanks to his complete game shutout two nights before.
In fact, he has four complete games this season, which is double any other Mud Hen.
Keep Reading

Detroit Tigers: Like this team?