Fantasy Football Rankings 2010: Frank Gore & Top 10 San Francisco 49ers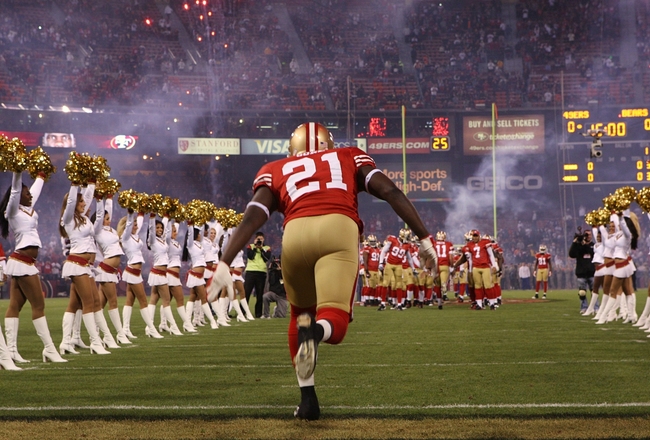 Jed Jacobsohn/Getty Images
10. Joe Nedney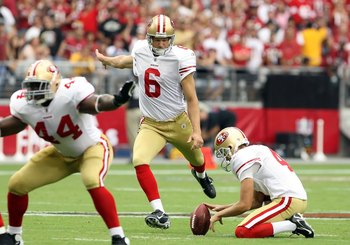 Christian Petersen/Getty Images
With an improved offense, Joe Nedney has the potential to be a reliable low-end kicker this season. While I wouldn't draft him, he's worth taking a look at on the waiver wires.
Over the span of his career, he's been extremely consistent, as he's maintained a career 80.1 field goal percentage.
Moreover, he's got a strong leg, allowing him to hit those long field goals.
I project him to nail at least 20 to 25 field goals, and he could score around 100 points this year.
9. Anthony Dixon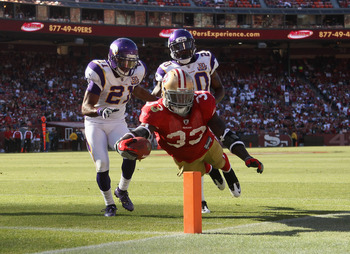 Ezra Shaw/Getty Images
Dixon, this year's sixth round draft choice, is a bruising type of back who can be very effective in between the tackles.
During the preseason, he's already rushed for over 150 yards and two touchdowns. I expect him to improve with time and experience.
Even though his value has dropped with the Brian Westbrook signing, I would keep a close eye on him in the waivers. Considering that both Frank Gore and Westbrook have major injury concerns, Dixon will be given his carries.
I project him to rush for around 300 yards and score a couple touchdowns.
8. Ted Ginn Jr.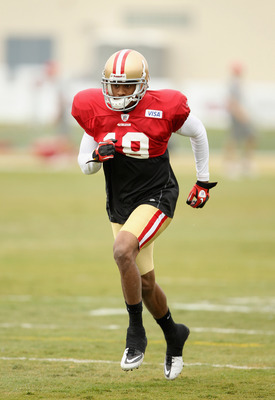 Ezra Shaw/Getty Images
Ted Ginn Jr., a former No. 9 overall pick, hasn't been able to establish himself as a No. 1 receiver yet.
However, with a fresh start in San Francisco and an opportunity to be the team's No. 3 receiver, he could have a solid season.
He's got great speed and has the ability to lift the top off coverages.
I project him to have at least 35 receptions for 450 yards.
7. Josh Morgan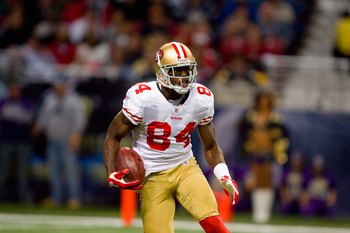 Dilip Vishwanat/Getty Images
Josh Morgan will be a starter opposite Michael Crabtree. He's a decent No. 3 receiver in terms of fantasy and is worth a late-round look.
While he rarely breaks free for the big play, he's a very consistent player.
I project him to have at least 50 receptions for 600 yards and a few touchdowns.
6. 49ers DST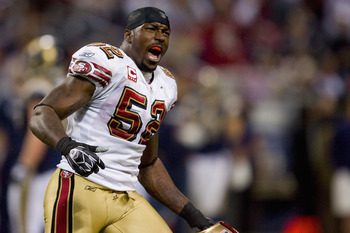 Dilip Vishwanat/Getty Images
The 49ers DST is a viable choice on draft days, as it ranks amongst the top 10 in the league.
The unit has several talented players such as Justin Smith and Patrick Willis. Moreover, they have a defensive-minded head coach in Mike Singletary, which they should benefit from.
Moreover, they ranked tied for fourth best in the league in quarterback sacks last season.
I expect them to play very well this year as well, especially in a weak division.
5. Brian Westbrook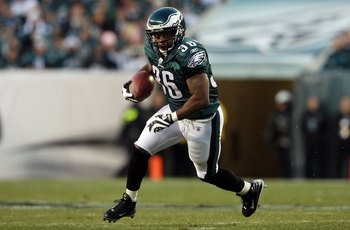 Jim McIsaac/Getty Images
Brian Westbrook was signed via free agency earlier this week and should be the primary backup behind Frank Gore.
Westbrook was once one of the top producers in fantasy, but nagging injuries have hindered his stats.
However, if he can stay healthy, he will pay dividends. I'd take him as a No. 3 running back.
I project him to amass at least 800 yards from scrimmage along with four touchdowns or so.
4. Alex Smith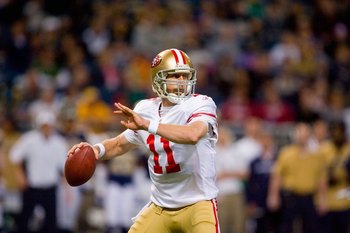 Dilip Vishwanat/Getty Images
Alex Smith, a former No. 1 overall pick, has failed to live up to high expectations so far.
However, in a make or break season, he has all the pressure to succeed. Making it much easier on him, he will have the same offensive coordinator for consecutive seasons for the first time in his career, and he also has a wide array of playmakers in his arsenal.
He played well towards the end of last season and was stellar in his preseason outing against the Vikings yesterday.
I would take him as a low-end No. 2 fantasy quarterback.
I project him to throw for approximately 3,500 yards and 20 touchdowns.
3. Michael Crabtree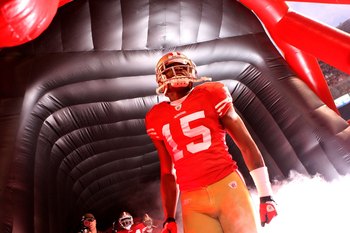 Jed Jacobsohn/Getty Images
Michael Crabtree is one of the big sleepers in this year's fantasy draft. Despite missing all of training camp and the first five games of the season last year, he ended up having a very productive rookie campaign.
This time around, I expect him to make big strides and solidify himself as a No. 2 fantasy receiver.
I project him to have 70 receptions for 1,000 yards and seven touchdowns.
2. Vernon Davis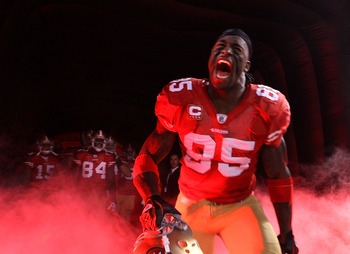 Jed Jacobsohn/Getty Images
Vernon Davis emerged as an elite tight end last season, recording 78 receptions for 985 yards and 13 touchdowns.
Davis also has a bit of added motivation, as he is entering a contract year.
He's among the cream of the crop, and I consider him the third best fantasy tight end in the game. However, since there's so much depth at the position this year, I would fill my other needs as opposed to reaching for him early.
I project him to have at least 70 receptions for 950 yards and 10 touchdowns.
1. Frank Gore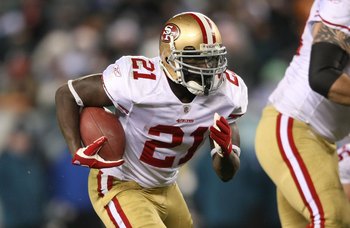 Nick Laham/Getty Images
Frank Gore has proved to be one of the top running backs ever since he entered the league in 2005.
Heading into this season, he's widely considered a sure-fire first round fantasy pick, and ESPN expert Matthew Berry even considers him the fourth overall pick in the draft.
The only issue I have with him is injury concerns, which is why I wouldn't take him any earlier than sixth overall.
Nonetheless, he's the focal point of the offense and will have another great season.
I project him to rush for at least 1,250 yards, gain another 400 yards receiving, and score 10 touchdowns.
Why CBSSports.com?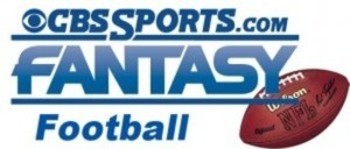 From limitless ways to customize your own personal draft board, to the fastest and most accurate live scoring in the industry, all the way to mobile apps to customize your team on the road, CBSsports.com has anything and everything commissioners and players alike will need.
These are just a few of the many reasons to sign up for fantasy football through CBSSports.com!
Click here to get started as the commissioner of your own fantasy league!
Keep Reading