Fantasy Football 2010: Drew Brees, 10 Overrated Busts I Would Not Draft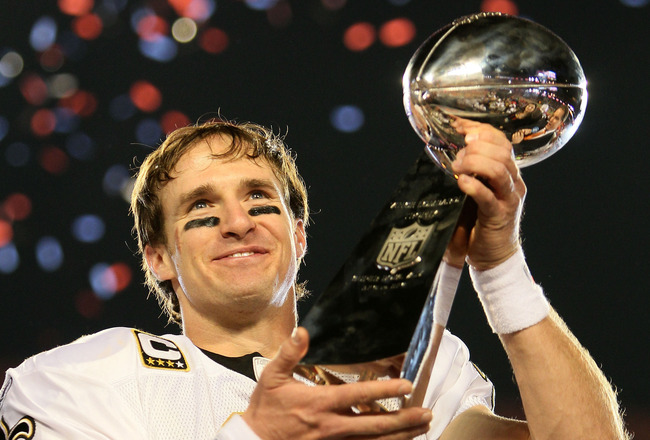 Andy Lyons/Getty Images
With most fantasy football drafts coming up soon, it's time to do some in-depth research in order to gain an advantage over your opponents.
As some don't realize, making the wrong pick can be as bad, if not worse, than failing to make the right one. Wasting an early pick on a potential bust could be devastating for your chances at winning your fantasy league.
Therefore, in order to help your efforts, here is my ranking and evaluation of the top 10 players who I believe are overrated and will not live up to their hype.
Note: Contrary to my headline, this is a list of players who I wouldn't draft at their respective rankings—not necessarily at all.
Cedric Benson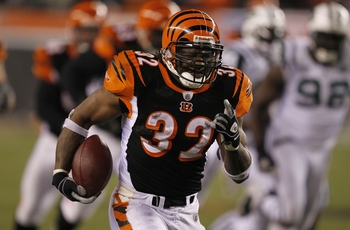 Jonathan Daniel/Getty Images
Facing one of the toughest schedules in the NFL, I expect the Bengals to take a step backwards this year. As the team drops, running back Cedric Benson will as well.
Moreover, while the preseason isn't exactly the best indicator of one's talent, Benson has performed at a very mediocre level.
Not to mention, he's missed 12 games over the past four years.
Simply said, I wouldn't draft him until the third round and as my No. 2 back.
Jeremy Maclin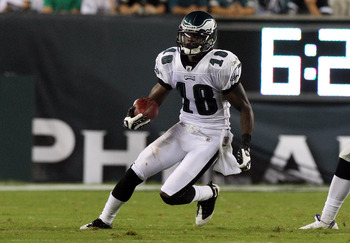 Jim McIsaac/Getty Images
Transitioning to a new starting quarterback is never easy, especially for the wide receivers.
Maclin, a player who has relied on speed and his big play ability, will have his production drop with Kolb at the helm as opposed to the strong-armed McNabb.
Therefore, I would wait until the eight or ninth round to draft him.
Cadillac Williams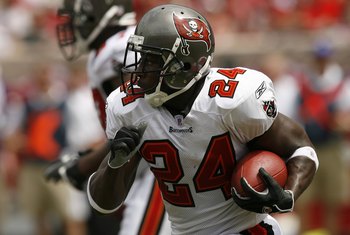 Matt Stroshane/Getty Images
Over five seasons in the league, Cadillac Williams has averaged 648 yards, a 3.8 YPC average, and under four touchdowns. Moreover, he has major injury concerns.
Also factoring in that there are very few other playmakers on the offense, don't expect much from Williams this season.
There are several other running backs such as Justin Forsett and Michael Bush that I would draft as opposed to him.
Jay Cutler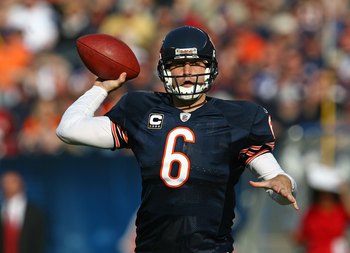 Jonathan Daniel/Getty Images
In my mind, this is a high risk-high reward pick with emphasis on the risk.
Even with offensive coordinator Mike Martz brought in, Cutler will have a tough time solidifying him as a decent fantasy choice.
While he did throw 27 touchdowns and over 3,600 yards last season, he also had a league-high 26 interceptions. With limited weapons in his arsenal, it'll be tough to improve on that.
Antonio Bryant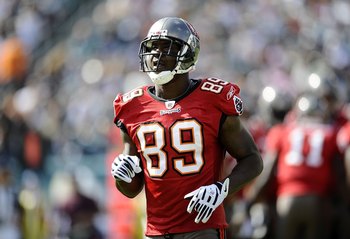 Jeff Zelevansky/Getty Images
During the offseason, the Cincinnati Bengals underwent a major transformation at their receiver position by bringing in talent such as Terrell Owens, Matt Jones, Jordan Shipley, and Antonio Bryant along with tight end Jermaine Gresham.
Honestly, I don't see how Carson Palmer is going to be able to distribute the ball to all of these guys evenly. That being the case, I believe Bryant could be the odd man out.
Moreover, Bryant has displayed inconsistencies after signing a big contract in the past.
Brett Favre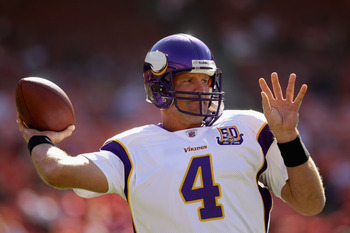 Ezra Shaw/Getty Images
The soon to be 41-year-old Brett Favre is coming back for his 20th NFL season.
Last year, he had one of the best performances of his career as he posted 33 TD and 4,202 yards with only seven INT.
While that would make him one of the top fantasy quarterbacks, the likelihood of that reoccurring is slim to none.
Furthermore, at his age and coming off an ankle surgery, the risk of injury is a legitimate possibility.
I would be skeptical about making him my No. 1 QB.
Steve Slaton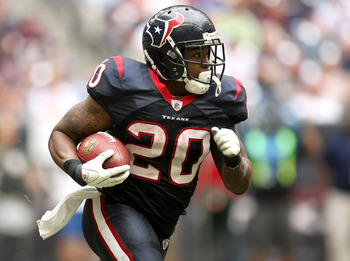 Stephen Dunn/Getty Images
To say the least, Steve Slaton had a terrible season last year, averaging only 3.3 YPC.
By drafting both Ben Tate and Arian Foster this year, it just goes to show how much confidence the Texans organization has in him.
Even with Tate sidelined for the season with an injury, I think this pass heavy team has too small of a backfield for both Foster and Slaton.
Since I wouldn't be surprised to see him only have 12-15 touches a game, I would only look at him in the later rounds.
Rookie Quarterbacks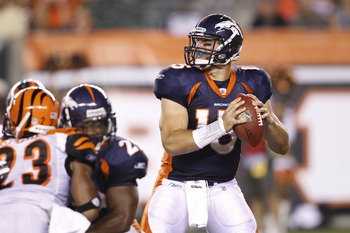 Joe Robbins/Getty Images
While this may have been the most hyped rookie quarterback class in years, none of the first four drafted are viable fantasy options in my opinion.
While Sam Bradford enters a horrendous situation in St. Louis, Tebow, Clausen, and McCoy aren't even expected to start for their respective clubs.
Simply said, don't even think about drafting any of these players.
Percy Harvin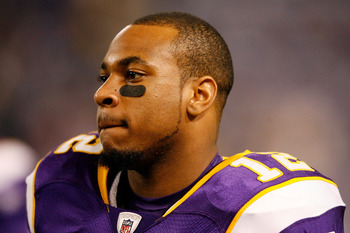 Elsa/Getty Images
Percy Harvin made a fluid transition to the NFL last year, and proved that he can be an electrifying playmaker.
Unfortunately, serious problems with migraine headaches will hamper his potential.
Knowing that an episode could strike at virtually any time, I would stay away from him on draft day unless he's available in round eight or later.
Drew Brees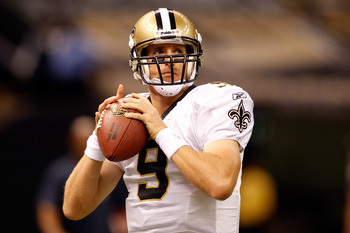 Chris Graythen/Getty Images
Drew Brees has gradually developed into one of the elite quarterbacks in the league.
Unfortunately, the Madden Curse is destined to obstruct his career as it has for several players in the past.
Honestly, I wouldn't take my chances with Brees any earlier than the third round.
Keep Reading