NFL Preseason: Six New Orleans Saints Who Impressed vs. Texans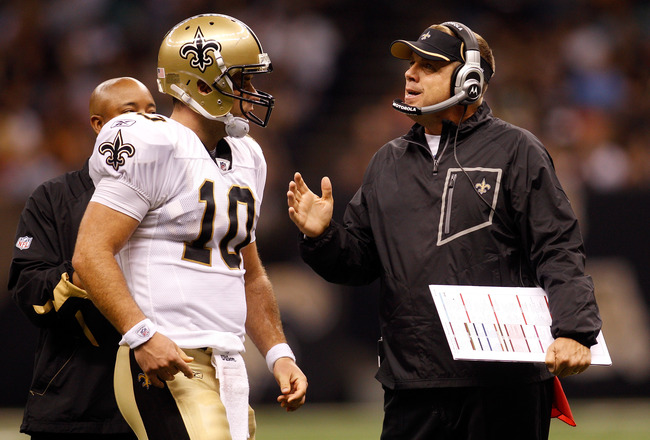 Chris Graythen/Getty Images
Drew Brees led the New Orleans Saints to two touchdowns on his three drives, but he was just one of many players who looked sharp in the Saints' 38-20 win over the Houston Texans in preseason Week Two.
Coach Sean Payton challenged everyone on his team, from the starters to fourth-stringers, to raise their level of play after coming out flat a week earlier in a 27-24 loss to New England. His message was that the Super Bowl is long over and a new season is under way.
The team as a whole met the challenge, and it resulted in an easy victory.
Here are six players whose high level of play stood out in the second preseason game.
QB Chase Daniel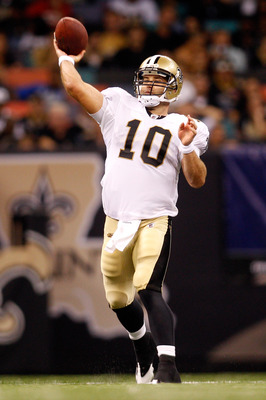 Chris Graythen/Getty Images
In his postgame conference, Payton mentioned that he had planned all along to use Chase Daniel extensively after he had seen enough of Drew Brees. Daniel played most of three quarters and responded with a good performance.
Daniel led four scoring drives, which included three touchdown passes. He got an opportunity to play some with the first team and looked almost as sharp as Brees does on a regular basis. He was accurate (completing 15 of 21 passes) and was sacked just once.
Daniel led a successful two-minute offense at the end of the first half that resulted in a one-yard touchdown pass to fullback Zak Keasey as time expired.
Payton will surely be quick, though, to point out the negatives during the week's film sessions.
Daniel lofted up a pass that was easily intercepted and was responsible for a delay of game call. His 48-yard completion to Adrian Arrington would have gone for a 79-yard touchdown if he had thrown the ball more in front of Arrington so he didn't have to slow down to catch it.
RB Reggie Bush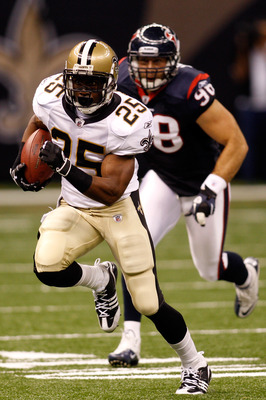 Chris Graythen/Getty Images
Reggie ran hard and with authority. More impressively, he did so almost exclusively between the tackles.
Bush carried the ball four times for 38 yards on the opening drive and punctuated it with a nine-yard touchdown run straight up the middle.
If the Saints get that kind of production from Bush on a weekly basis, their offense will be even better than last year.
G Carl Nicks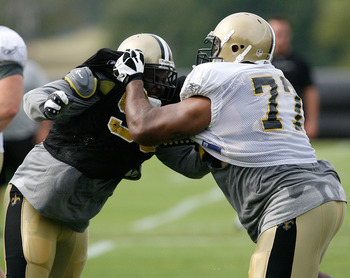 Sean Gardner/Getty Images
Nicks was one of Payton's targets this week. Payton demoted him to the second team for one practice, and Nicks and the entire team seemed to get the message that no job is safe.
Nicks' play at left guard was stellar. He was part of an offensive line that created massive holes for the running backs, and he threw a key block for Pierre Thomas on his 31-yard touchdown reception.
DT Sedrick Ellis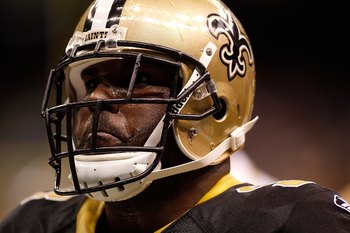 Chris Graythen/Getty Images
Like Reggie Bush, Sedrick Ellis is a player from whom the Saints would like to see more consistency. He'll show flashes of why the Saints drafted him in the top 10 of the 2008 draft, and then he'll injure his knee and be out for two to four weeks.
New Orleans needs Ellis to be a complete player this year in order to improve their defense, and Ellis took a step in that direction Saturday night. He sacked Texans starter Matt Schaub and later recovered a fumble by running back Adrian Foster.
RB Chris Ivory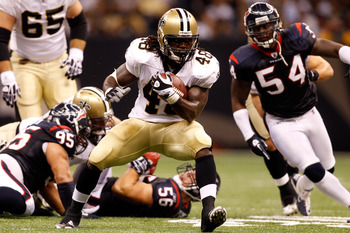 Chris Graythen/Getty Images
Once Reggie Bush and Pierre Thomas came out of the game, the Saints turned to rookie free agent Chris Ivory to take care of the running game.
Ivory got the lion's share of the rushes, as he carried the ball 20 times after entering the game at the start of the second quarter.
Ivory averaged just slightly more than three yards per carry but fulfilled his role, held last year by Mike Bell, as the team's straight ahead, short-yardage runner.
In what appears to be a marathon, Ivory seems to have nudged ahead of P.J. Hill in the race to become the team's third running back.
WR Adrian Arrington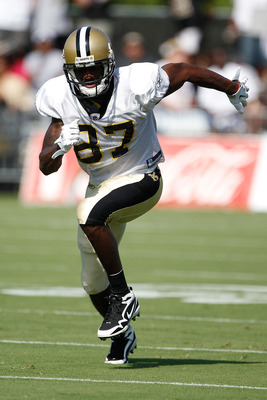 Chris Graythen/Getty Images
Arrington continues to put on an impressive display in preseason. He followed up a four-catch, 87-yard performance in New England with a three-catch, 71-yard show in New Orleans.
He made a 48-yard grab to set up a score at the end of the half and later hauled in an 18-yard touchdown. He has shown a willingness to make plays in traffic despite his lean frame.
Arrington is making a strong case that the Saints have no choice but to keep him on the 53-man roster.
Keep Reading

New Orleans Saints: Like this team?