Top 10 2010 Fantasy Football PPR Tight Ends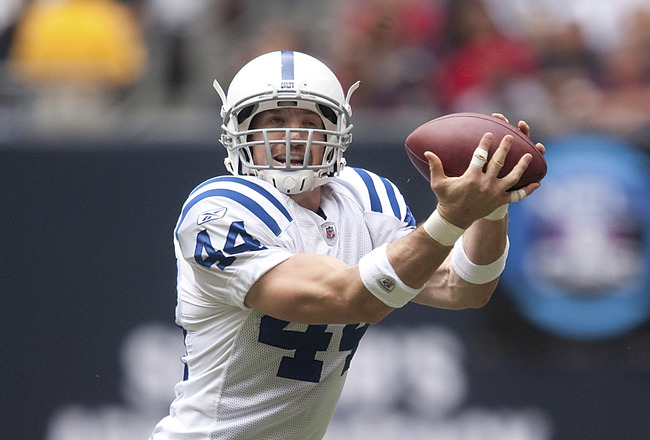 These are, in my opinion, the top 10 fantasy football tight ends in point-per-reception format leagues. These rankings are based on last season's statistics as well as expectations for the upcoming season. Keep in mind that these rankings are for leagues with PPR scoring, so tight ends with more catches have more value than in standard scoring leagues.
Tight ends can be overlooked in fantasy drafts, no matter what the scoring system is. It is important to compare tight ends with receivers and even running backs to gauge where they should be chosen in your draft.
No. 10—Zach Miller, Raiders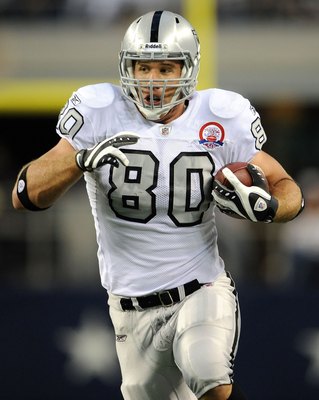 One of Miller's biggest perks for the 2010 season is that he doesn't have JaMarcus Russell throwing to him anymore. Even with Russell, Miller put up decent numbers in 2009. Miller was eighth among tight ends in receiving yards, was targeted 100 times, and was also eighth in receptions.
With Jason Campbell taking the QB reins in Oakland, expect Miller's numbers to increase, especially in the touchdown category, where he only had three last season.
No. 9—Kellen Winslow, Buccaneers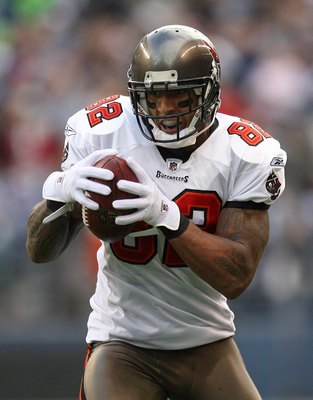 Winslow's 2009 campaign was one of the best of his career as far as fantasy numbers are concerned. Winslow was sixth among tight ends in receptions with 77, sixth in receiving yards with 884, and fourth in targets with 127, not to mention five touchdowns.
Winslow has a young and inexperienced but talented quarterback throwing to him this season in Josh Freeman. Freeman and Winslow were able to develop some chemistry in the latter part of the 2009 season and will continue to develop that rapport this season. Expect similar or even better stats for Winslow in 2010.
No. 8—Visanthe Shiancoe, Vikings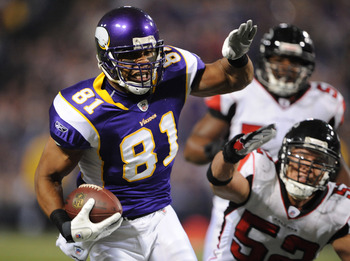 The number that stood out in Shiancoe's 2009 stat line was 11 touchdowns. That was second to Vernon Davis last season. And thanks to the recent assurance that Brett Favre would be coming back, don't expect those touchdown numbers to go down much, if at all.
Shiancoe's receptions, yardage, and targets totals were 56, 566, and 78 respectively, which wasn't very high, but the touchdowns more than made up for those numbers. Expect the Favre-Shiancoe red zone hookups to still be there this season.
No. 7—Tony Gonzalez, Falcons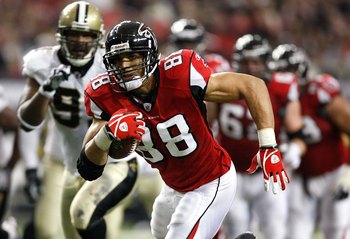 Gonzalez actually led all tight ends in targets last season with 136. With that many targets, it's hard not to put up some pretty good numbers. As long as Michael Turner maintains his threat on the ground, Matt Ryan will be able to continue finding his favorite target.
Gonzalez is arguably the most consistent tight end in NFL history and he's still proving that even in his 30s. Another plus for Gonzalez is that he has Roddy White taking away some attention. The Falcons have a perfect offensive balance which will enable Gonzalez to keep on keepin' on in 2010.
No. 6—Jason Witten, Cowboys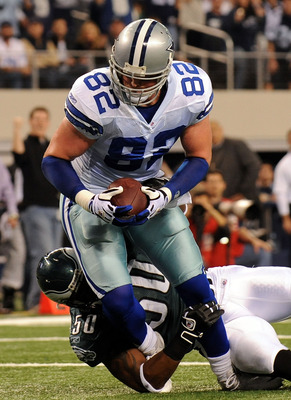 Jason Witten had one of the more disappointing seasons of his career last year. But the fact that the tight end only managed two touchdowns in 2009 overshadows his other strong numbers. Witten was second among tight ends in receptions with 94 and was one of only three tight ends with over 1,000 yards.
Witten also ranked fifth in targets with 125. Witten is bound to score more than two touchdowns this season and should maintain his reception and yardage totals. He definitely has top five potential this season as far as tight ends are concerned.
No. 5—Brent Celek, Eagles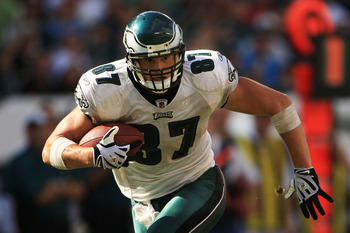 Brent Celek came out of nowhere to rack up some attractive numbers in 2009.
These numbers included 76 receptions, 971 receiving yards, and eight touchdowns, which ranked seventh, fourth, and fourth among tight ends.
The breakout tight end was also targeted 112 times, seventh most for tight ends. Sure, the Eagles lost one of the best quarterbacks in the game in Donovan McNabb, but Kevin Kolb is a very capable replacement.
In the two games that Kolb started last season replacing an injured McNabb, Celek totaled 16 catches, 208 receiving yards and one touchdown.
Celek will remain an integral part of the Eagles offense this season. Expect him to put up similar numbers in 2010.
No. 4—Antonio Gates, Chargers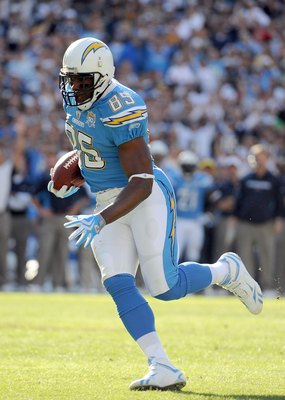 Gates kind of flew under the tight end radar last season with the emergence of Vernon Davis and Brent Celek, as well as breakout seasons from the likes of Jermichael Finley and other young tight ends.
The ex-college basketball player didn't mind though. He was first among tight ends with 1,157 yards and ranked fourth in receptions and touchdowns and sixth in targets.
The uncertainty of Vincent Jackson's status will hurt Gates's value some, but not substantially. The Chargers will still have a respectable ground game with rookie Ryan Mathews and Darren Sproles. His numbers may go down a little bit, but Gates is still a reliable fantasy tight end.
No. 3—Jermichael Finley, Packers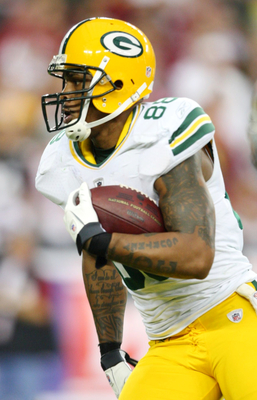 The Packers passing game is arguably the most dangerous there is in the NFL. Finley didn't even start half of the 2009 season at tight end for the Packers, and still had 55 receptions, 676 receiving yards, and five touchdowns.
Finley quickly became one of Aaron Rodgers's favorite targets. With Finley as the obvious No. 1 tight end in Green Bay, don't be surprised if his 2009 statistics actually do double.
No. 2—Vernon Davis, 49ers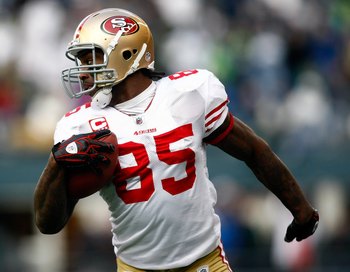 Davis let loose in 2009 with 78 catches, 965 receiving yards, and 13 touchdowns, while being targeted 129 times. We all knew Davis had the ability to put up that kind of a stat line, but it took him awhile to prove that to us.
Alex Smith and Davis developed a nice connection which should carry over into the 2010 season. With Frank Gore in the backfield and blooming wide receiver Michael Crabtree taking attention away from Davis, there shouldn't be much of a difference in numbers for Davis this season.
No. 1—Dallas Clark, Colts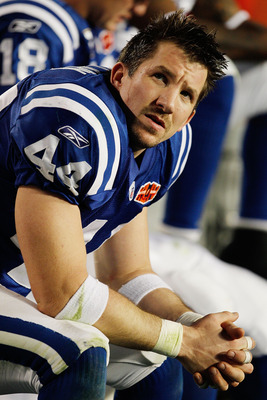 There's a little bit of a gap between Mr. Clark and the rest of the field. After all, among tight ends he ranked first in receptions (100), second in receiving yards (1,106), third in touchdowns (10), and second in targets (132).
Clark has become the most consistent tight end in football except for maybe Tony Gonzalez.
He puts up similar numbers every single season, and with 100 receptions the past two seasons, there's no doubt he has more value in point-per-reception leagues. As long as Peyton Manning is throwing him the ball, Clark will continue to be the No. 1 tight end in the NFL.
Keep Reading