Fantasy Football: Keys to a Successful Draft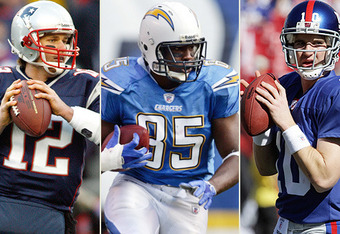 Every August as the summer winds down, the anticipation of football season grows. The highs and the lows, pure joy coupled with pure agony are the stops on the fantasy football roller coaster every fall. It all begins with the most exciting day this side of the Superbowl, the day of the fantasy draft.
The draft can very well determine the course that your team will follow for the rest of the year. If you miss on a player in the early rounds and you could be spending the rest of the season desperately raiding the wavier wire for suitable fill-ins. Anyone who has played at least one season can relate and this conundrum can be avoided with a quality draft.
So how do you put together a "quality draft"? The answer depends on what you consider "quality." My definition of quality is drafting players who hold more value than their draft positions. For example, if you draft a player in the fourth round who produces more fantasy points than a player drafted in the second at the same position, then you drafted a quality player.
The Strategy:
There are many strategies that can be used when drafting a fantasy football team. One is to load up on a key position (usually RB) and hope to either score enough points with that position or trade some of the depth for other key position players later.
Which ever strategy you use, a good draft is the foundation for sustained competitiveness over the course of a season.
To complete a quality draft you have to pay attention to trends in the league and do a little homework about the teams in the league. For example, the NFL has become much more pass oriented in the last few years. When teams pass the ball more often Quarterbacks, receivers, and receiving running backs become more valuable.
This alters the conventional draft wisdom of solely loading up on running backs in the early rounds. With the passing offenses of today, you can ill afford to "pass" up the chance to acquire a top flight QB in the early rounds along with the quality running backs.
If you do not pick up a top QB your team will fall behind when the season hits its stride and teams start to open up their passing games.
Although running backs are still the anchor for your team, a lack of WR depth can derail your championship hopes fast. The last couple of years I have been burned by terrible WR years, by Steve Smith (CAR) in 2009 and Marvin Harrison/Santana Moss in 2008. Because of the fickle nature of the WR position you want to hold out on drafting your WR's until your league starts picking them up, and once they do make sure to grab a couple fast.
You do not stand a chance to make the playoffs without a certified primary target at WR. WR has always been a source of trouble for my drafts in the past and I believe it is one of the hardest positions to get consistent production from.
This year I hope to target Colston, Reggie Wayne or S. Smith (NYG) as a second tier primary target. You want to choose a WR who is not any lower than the second option in the passing game like a Reggie Wayne or Larry Fitzgerald.
Do not get fooled by false targets such as Santonio Holmes, Santana Moss, or any receiver on the Dolphins (incl. Brandon Marshall). Recievers will look good on paper but will disappoint you on a weekly basis due to their teams reliance on the run and shaky quarterback play.
My super sleeper QB picks of the draft (I know they had good years in 09, but they will take another step forward):
Joe Flacco, Jay Cutler, and Eli Manning and the deep sleeper....Alex Smith
So, as your draft progresses you want to make sure you fill your team with quality depth, especially at WR and RB. You also want to keep an eye on a QB as a bye week fill in and manage the rest of your teams bye week absences. The best bet is to look for the underrated backs or rookies poised to explode.
This year the list of under the radar RB's include:
Arian Foster (HOU), Ahamd Bradshaw (NYG), Jahvid Best (DET), Beanie Wells (ARI), and Shonn Greene (NYJ).
As for the WRs set to explode on to the scene:
Michael Crabtree (SF), Pierre Garcon (IND), Jeremy Maclin (PHI), Johnny Knox (CHI), and possibly even Malcolm Floyd in the absence of Vincent Jackson.
I generally follow the following draft pattern to build a quality team:
QB/RB, RB/QB, RB, RB/WR, WR, TE/WR, TE,...the rest depth and Def.
It can be difficult to follow suit with a strategy when a draft is so dynamic and unpredictable, but keep your eye on the goal of building a quality team with consistent producers at multiple positions.
This article is
What is the duplicate article?
Why is this article offensive?
Where is this article plagiarized from?
Why is this article poorly edited?

Seattle Seahawks: Like this team?