Jayson Williams and the Worst Post-Career Freefalls in Sports History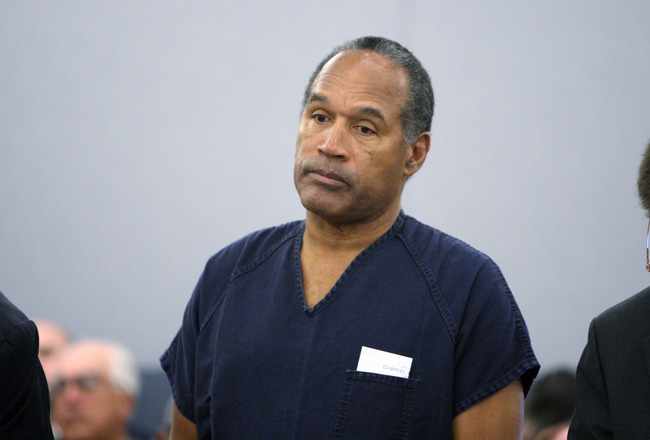 Pool/Getty Images
Former New Jersey Nets center Jayson Williams was back in the news today for yet another criminal issue that remains unresolved.
Williams, who is already in prison for accidentally killing his limo driver back in 2002, now faces DWI charges, which he received one week before his sentencing for the accidental homicide.
Williams' life after his NBA career ended has been one disaster after another. But Williams is just one of a number of athletes who couldn't keep their noses, literally and figuratively, once his glory days were behind him.
Here is a look at 10 athletes that have suffered some of the worst post-career free-falls in sports history.
Lenny Dykstra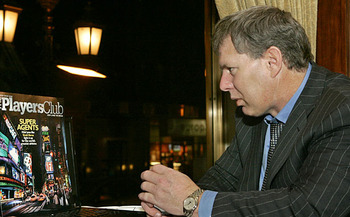 Dykstra became a hit in 2008 with the creation of a charter jet company and high-end magazine that catered to athletes' money management and future planning called Player's Club. It was a great idea for a culture of athletes that suffered far too often from the pitfalls of poor money management.
However, it turns out Player's Club was a smokescreen at best and Dykstra's delusional fantasy at worst.
Dykstra's publication was destroyed by the former outfielder's outlandish spending and horrible money management, which included fraud and bill payment evasion that led Dykstra to lose nearly $50 million in personal assets in a little over a year.
Dykstra eventually found himself living out his career in hotel lobbies before appearing in court, accumulating $31 million in debt, and having to sell of any scrap of the personal assets he could get his hands on.
Jim Leyritz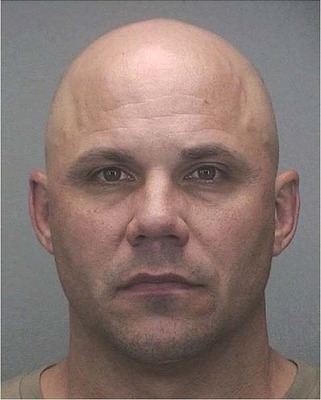 Leyritz was the hero of the 1996 World Series. He hit the game-tying home run that tied Game 3 against the Atlanta Braves and was the catalyst for the Yankees' resurgence in the series en route to the team's first title in 18 years.
However, in 2007, all that glory came to a sudden and horrifying crash—literally. Leyritz was arrested for drunk driving and vehicular homicide after he struck a woman and killed her in a drunk driving crash.
Leyritz was in and out of jail as he awaited trial before he succumbed to a bizarre incident in early 2009, in which he supposedly tried to commit suicide.
That was all before he was arrested for battery in July 2009.
Diego Maradona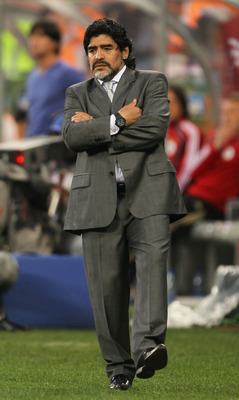 Chris McGrath/Getty Images
Maradona is unquestionably one of the greatest soccer players of all time, but his post-career life has been filled with struggles that carried over from his playing days.
Maradona struggled through a 20-plus year battle with cocaine that took a destructive toll on his physical appearance and his health. It nearly killed him in 2000. He continued to have problems with alcohol as recently as 2007.
In addition to his addictions, Maradona still owes nearly 37 million euros in back taxes to the Italian government, much of which is accrued interest.
Maradona regained the spotlight when he was tabbed as Argentina's coach for the 2010 World Cup (albeit a short-lived job), but the road to that re-emergence has been anything but smooth sailing.
Ugueth Urbina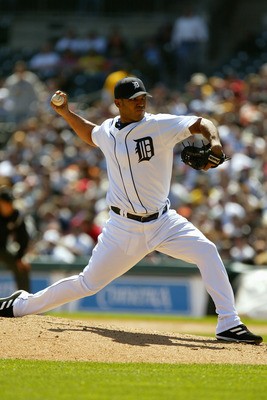 Dave Sandford/Getty Images
Urbina's career wasn't necessarily over in 2005, but the crime for which he was convicted certainly ended any hopes of pitching professionally again.
In November 2005, Urbina attacked five workers on his property in Venezuela with a machete and poured gasoline on them with the supposed intent of burning them.
Eighteen months later, Urbina was found guilty of the crime and sentenced to 14 years in prison.
Doc Gooden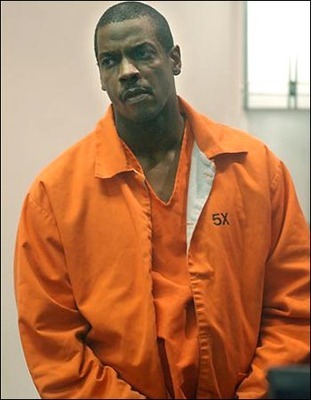 Dwight "Doc" Gooden remains one of the biggest phenoms in baseball history, but drug issues derailed what looked to be a Hall of Fame career.
After drug suspensions and years spent as a journeyman (though he did grab one last moment of glory with a no-hitter in 1996), Gooden retired in 2000. However, that was just the start of his sad downward spiral.
Gooden has since been arrested for evading a police stop, hitting his girlfriend, driving under the influence, and leaving the scene of an accident.
Roger Clemens
Chip Somodevilla/Getty Images
Roger Clemens retired for the first time in 2003 and the world thought of him as one of the greatest pitchers in the history of the game. He returned to the Houston Astros in 2004 and led the club to its first pennant in franchise history in 2005.
But it all went wrong for The Rocket after a cash-grab return to the Yankees in 2007. That winter, Clemens was named in the Mitchell Report and began a personal crusade to rectify his sullied name.
The problem is that his two (formerly) most ardent supporters—Andy Pettitte and Brian McNamee—both turned their backs on Clemens by subjecting themselves to the brutally honest truth of their own actions and participation in performance-enhancing drugs.
Throughout it all, however, Clemens has remained steadfast in his denial of ever using PEDs, to the point where he faces congressional charges of perjury and lying to Congress.
No one believes Clemens' side of the story, outside of himself and his bizarrely loyal attorney, Rusty Hardin, which is why he will go on trial for his freedom sometime in the next year.
Hall of Fame? Forget it.
Marion Jones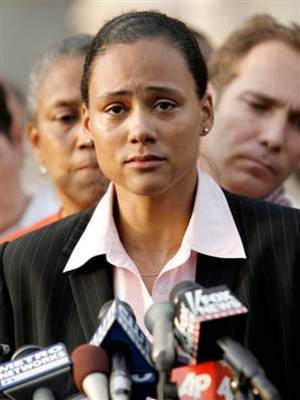 Marion Jones was an Olympic icon after capturing five medals at the 2000 Summer Games in Sydney. However, there was no going back to that stature after the BALCO case heated up in 2005.
Jones took the Roger Clemens approach and denied all she could until she eventually found her tail in the trap.
Jones, having already been stripped of all of her medals from the Olympics and other world championship events, admitted to perjury in the BALCO case and was sentenced to six months in prison.
She is now trying to keep a job in the WNBA, but Jones' international status as a top athlete is gone, as is most of her personal wealth.
Lawrence Taylor
One of Taylor's most famous bits of on-field video shows him saying, "Let's go out like a pack of wild dogs and have some fun."
Unfortunately for the Hall of Fame linebacker, he lived his personal life much in the same fashion.
Numerous drug busts, drug addiction, and the rape charge this spring have combined to make LT's personal life one disaster after another.
Yet, throughout it all, Taylor remains a tragic sports hero who fans continue to root for.
Jayson Williams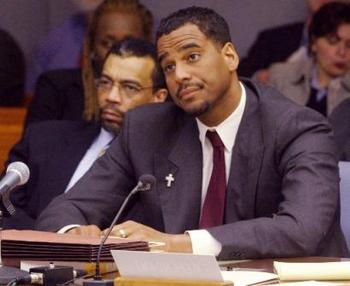 In January 2010, Jayson Williams finally went to jail following the fatal shooting of his limo driver in 2002. However, the former All-Star center endured a litany of other charges in the final 12 months before he was sent to the slammer.
In April 2009, Williams was tasered in a New York City hotel after he appeared suicidal and belligerent. About a month later, Williams was charged with simple assault after punching a man in a North Carolina bar. The charges were later dropped.
Then, on Jan. 5 (six days before his sentencing), Williams was charged with DWI before heading to prison.
O.J. Simpson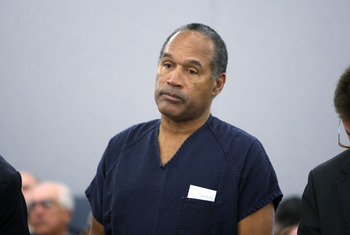 Pool/Getty Images
Let's see...former Heisman winner and NFL Hall of Famer-turned-comedian and national advertising spokesman who was accused of a double-homicide.
Later, after being found innocent for a crime that 95 percent of the world population believes he committed, he finally went to prison for a burglary case that involved the theft of his own memorabilia.
Keep Reading