49ers Passing Attack: Starters, Players, and Roster Contenders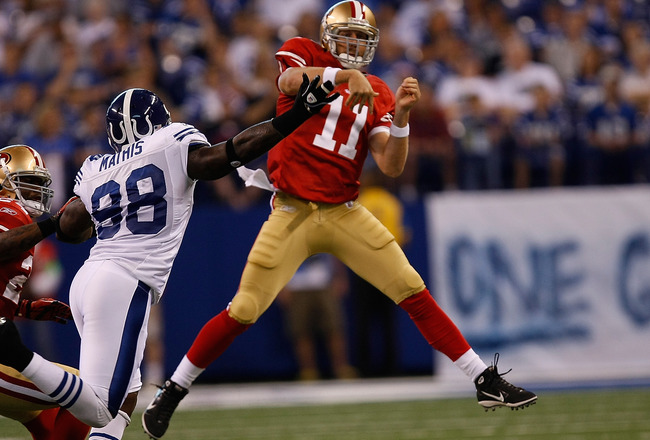 There's more to the 49ers aerial assault than the catapult in the backfield.
Scott Boehm/Getty Images
There's a lot to like about the 49ers passing attack coming into this year. This is hard to describe, given the passing legends the 49ers featured in decades past—compounded with their new run-first mentality.
Nevertheless, there are reasons to be excited about how the team will move the through the air in 2010. Every offensive player has some role in moving the sticks, and stretching the field when the 49ers opt to chuck the old pigskin though the heavens.
From backs to blockers to bodyguards, propelling that leather oval forward requires nothing short of brilliant team synchronization, and there's still reason to be optimistic, weather you believe in Alex Smith or not.
QB—Starter—Alex Smith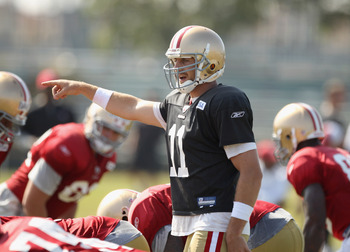 Most seem to agree: Alex Smith is on the precipice become the leader the 49ers need him to be
Ezra Shaw/Getty Images
A friend asked me the other day "do you think Alex Smith has enough weapons...enough tools to make the niners succeed this year?"
How does one answer that?
My retort: "yes, he'd better, I mean, he's just out of excuses now, so he had really better."
Studly young receiving corp: check.
Tough running game to fall back on: check.
Same offensive coordinator for (finally) two years running: check.
Confidence of coaches and ownership: check.
Fully recovered from shoulder surgery: check.
Recovered from Mike Nolan shell shock: check (I think.)
Am I not leaving anything out: I probably am, but whatever—check!
The fact is that this is his make or break year, and given the factors in play, he should prevail. His skill set is a very complete one. Mobility, arm strength and work ethic surround him, and his brain may have been built perfectly for quarterbacking (when the above factors are available.)
Smith's first drive Sunday night was his first sign of life. The passer looked fairly crisp and accurate against an aggressive Vikings defense. Now he just needs to do it for four quarters every Sunday throughout the regular season.
QB—Players—David Carr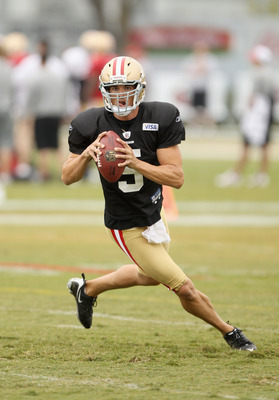 The similarities between Carr and Smith seem bottomless sometimes
Ezra Shaw/Getty Images
Last year through training camp, the 49ers backup quarterback was a former first-overall draft pick. He had a rough introduction to the NFL, and seemed shell shocked by the pounding that was dished out to him over his first several seasons in the league behind sub-par offensive lines. Still, the young man showed promise and poise, and was certainly worth having around as a backup.
Can you say Déjà vu?
This year, it's the same situation, but with a new face: David Carr.
Carr is quite an example for Smith and should help the young quarterback keep things in perspective. Carr's presence is a reminder that Smith is not the only first-overall pick to fall down.
Carr is a demonstration for Smith, of how if Smith falters this year, he will also be cast into the quicksand that is being a journeyman backup. Of course, the other side to this coin is that if Smith breaks down this year and is replaced by Carr, the message becomes "even a journeyman backup can get back to the top."
The similarity of their sill sets also suggest continuity at the position in the event that Smith gets banged up, which is entirely possible given the two rookies set to start on the offensive line.
QB—Roster Contenders—Nate Davis and Jarrett Brown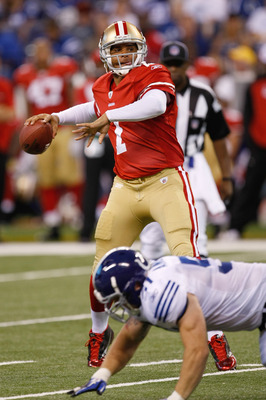 Nate Davis remains in a limbo of NFL uncertainty
Scott Boehm/Getty Images
So, the likelihood of either one of these young bucks getting a regular season snap at quarterback is minimal, if existent.
Davis is still at quarterback base camp, looking at a very serious uphill climb to even make it halfway up the proverbial NFL mountain. Jarrett Brown (more or less) just joined him there.
Sure, Davis has a one-year head start over the rookie, Brown, but he also has the added weight of dyslexia strapped to his back, so we'll call it an even keel going into this weekend's exhibition home opener at Candlestick.
If Davis can hold his spot in the limited action he'll see this pre-season, he should hold down the job, effectively sending Brown to the practice squad, in all probability. If not, well, it's been a fun ride for the young passer from Ball State.
Update: Davis had the play of the day Sunday, chucking a huge pass to receiver Ted Ginn.
WR—Starters—Crabtree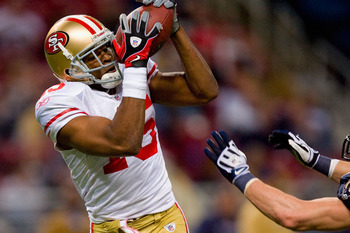 Crabtree: hands of gold
Dilip Vishwanat/Getty Images
Micheal Crabtree is embarking on what we, The Faithful, hope becomes his first full season as a 49er receiver.
Bringing good speed, crisp routes and hands of gold; Crabtree figures to be the 49ers primary threat in the passing game for some years. Many projections predict around 800 yards for the half-sophomore receiver and anywhere from five, to ten touchdowns.
One of his best skills when catching the rock are what some announces call his "late hands". Keeping them subtly pumping during the rout, the mitts come out at the last split-second to snag passes hurled his way.
The young rising star has all the right moves, and with an honest full-season performance, he should begin to excel as the 49ers primary passing target. Crabtree has not seen any time on offense yet this pre-season.
WR—Starters—Josh Morgan
49er WR Josh Morgan could be quietly setting up for a break-out year.
Ezra Shaw/Getty Images
The other guy from last year's confused receiving corp still shows a good upside. With a full bag of youngsters breathing down his neck, Morgan will need to break the three-touchdown-per-year shell he's made for himself over his two-year career if he's to become a serious receiving threat for San Francisco.
At 6'0 220 pounds, Morgan has valuable size to do more than receive, as his blocking is not to be forgotten about. This frame also makes Morgan a difficult target for one defensive back to take down initially, which could be handy if he's going to rack up the YAC.
WR—Players—Ted Gin, Kyle Williams, And...Dominique Ziegler?
Who's Dominique Zeigler?
Harry How/Getty Images
It's at this point that the casual 49ers fan says "I've heard of Ted Ginn; who are those other guys?"
You'll recognize Ginn by the fact the 49ers traded a late-round draft pick for him, and maybe from that game he returned two kickoffs for touchdowns against the Jets. The speed demon has impressed quite a few people with his speed, adding a previously lacking dimension to the 49ers passing offense.
Kyle Williams should at least sound familiar; afterall, he was drafted by the 49ers in April in what might pan out to be the best sixth-round ever for an NFL team. This little guy is described as "quicker than he is fast." Williams, who happens to be of MLB stock (the son of the Chicago White Sox GM) shows a lot of promise, if he can find a way to propogate some durability. Likely one of the team's better options to return punts, Williams is currently sidelined a couple weeks with a turf-toe injury.
So Who is Dominique Ziegler?
Lets just start with a prediction: Dominique Ziegler will make the 53-man roster this year.
He's the team's best bet for a jump-ball receiver right now, and the kid just won't give up the dream. Signed in 2007, he has been a perennial practice squad member, and although he saw roster action for eight games in 2008, his career totals have amounted to an unimpressive five catches for 97 yards.
So how is this skinny dude going to make the roster? Ziegler's hard work has been paying off this training camp, and some of his jumping receptions over defenders have started to catch the eyes of several coaches and quarterbacks, as well as fans and the media.
WR—Roster Contenders—The Rest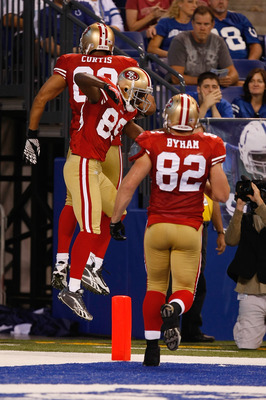 Of the rest of the receiving copr, Jason Hill has the best chance to make the 53-man roster.
Scott Boehm/Getty Images
Maybe San Francisco keeps more than five receivers. Maybe Ziegler doesn't make it. Maybe Williams' turf toe takes him out of the game too long. Maybe alligators start growing beards.
Anyways, the scuffle for final roster spots is dwindling down to the following receivers: Jason Hill, Bakari Grant, Bobby Guillory, and Kevin Jurovich. And I'd say their likelihoods of the making the roster follow that same order too.
TE—Starters—Vernon Davis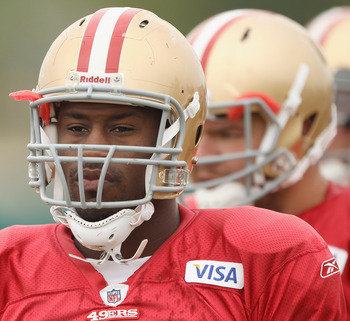 Vernon Davis puts the star in starter.
Ezra Shaw/Getty Images
Vernon Davis puts the star in starter. He's actually the team's best receiver right now, and one of the best blockers. He's one of their fastest, strongest deep threats, and his height and leaping ability don't hurt at all. There were constant comments that his hands would continue to fail him and the team, but his career year in 2009 quieted that peanut gallery for now.
There is still a lot room for him to improve, however, which is some real cause for excitement. The questions surrounding Davis revolve around whether or not he can do it again.
Whatever he does, Davis is going to be a key player the 49ers passing attack counts on heavily. Beyond blocking on runs that set up aerial assaults, the big guy can make big catches in big situations.
When he's not getting double and triple teamed by linebackers and safeties (which opens up numerous passing options elsewhere on the field) Vernon, arguably the best tight end in the league is a threat to score every time any 49ers quarterback drops back.
That's right. In the event that Smith gets injured (or even worse, gets the hook) Davis Carr is going to be looking at Davis as a go to guy. Jimmy Raye's offense uses the tight end to perfection, and recall: he was Shaun Hill's target of choice before Smith took the reigns.
TE—Players—Delanie Walker And Nate Byham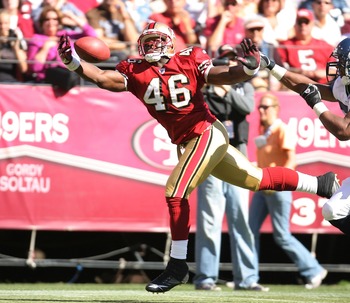 Walker adds yet another TE who can do damage to opposing defenses.
Greg Trott/Getty Images
Walker and Byham are opposites, although not polar opposites. Where Delanie Walker is a good receiving end with blocking ability, Nate Byham is a mashing, blcking end who can catch a pass and hurt you for a first down if you forget about him.
Byham evidenced this late against the Colts a couple times, and expect him to do roughly the same against Minnesota this weekend. Nothing flashy, just functional.
If he develops at a solid pace, he'll be one of the 49ers' three sixth-round steals.
Delanie Walker has very good speed for a tight end. Vernnon has even said at one point "he's as fast as me" which, if you were in a coma last season, is pretty freaking fast.
But he's not kidding. In addition to being a special teams standout, Walker was given the ball on end-around plays that often worked. Vertically, he could catch a defense sleeping on short to medium passes.
Between the two of them, there's not much missing, and when you add Burn'n Vernon Davis, it might be the best tight end corp in the league. There really isn't a lot of room for roster hopefuls at the position.
Running Backs—Starter—Frank Gore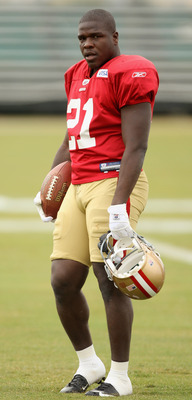 Mr. Do-It-All.
Ezra Shaw/Getty Images
Frank Gore is probably the most important offensive tool on the team, and it's not just because he's almost certainly going to get 1,000 yards on the ground this year.
Last year, when opposing defenses forced the 49ers to pass, Jimmy Raye made a point to keep Gore as a passing option. The 49ers needed him to touch the ball as often as possible.
He's got speed, power, and agility; he can catch the ball, and run with it.
There's no argument Gore's most effective as a runner, but 1,831 receiving yards speak for themselves. If they don't speak loud enough, he's in creased his receiving touchdown by one score almost every year he's been in the league.
Did I mention he's great at picking up blitzes? Oh, well, he is.
RB's—The Players—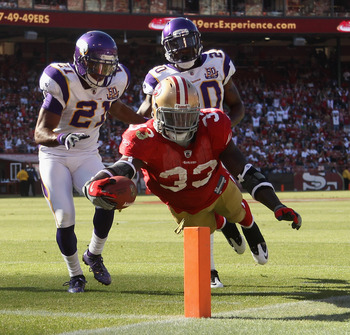 For a big man, Dixon has shown considerable skill and finesse.
Ezra Shaw/Getty Images
Anthony Dixon and Brian Westbrook are available to relieve Gore, as he's not Superman; though he does play like it at times.
Westbrook, one of Donovan McNabb's favorite targets back in Philadelphia, is a sure handed veteran from a West-Coast style offense. The aging star should show remarkable skill in a limited role, as well as effectively tutor the other backs. Westbrook has averaged 3.625 touchdowns receiving a year over his eight year career.
Anthony Dixon is a beastly young talent who could benefit immensely from Westbrook's presence. Though he's the biggest back on the team, Dixon has shown agility and instinct that can cater to both bruising, and elusive styles of play.
Both should be decent passing options, as well as make contributions in picking up the opposition's blitzes.
Summation And Synopsis.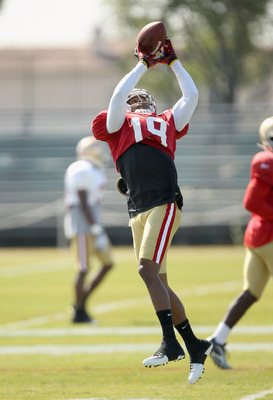 When defenses stack the box, how will the 49ers respond?
Ezra Shaw/Getty Images
They're not the traditional 49ers passing offense; the bombardment is going to be limited when you compare it to the teams of the 80's and 90's.
They'll be a run-first offense to set up the passes, and do serious damage when opposition crowds them up front.
The variety they are finding in the qualities of their many weapons will play to their advantages against most defenses, who will find themselves hard pressed to adequately prepare for the onslaught.
Small, darting play makers, tall jumpers, speed demons cutting right past you, beasts that run you over, and a couple stars that do it all make up the armory the 49ers are towing. And a young quarterback seeking a break-out year is heading the convoy in the direction of success.
Keep Reading

San Francisco 49ers: Like this team?