The Young Talent Explosion!2010 Oakland Raiders 3rd Year Players!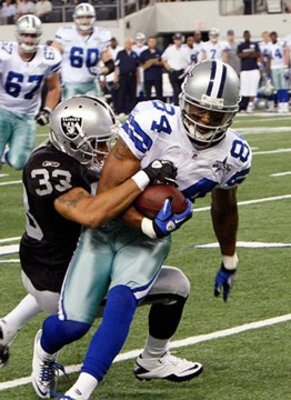 This is an article of all the 3rd year players,all of who have made the starting line-up and have already made an impact in some form or another.
These players are set for bigger roles this year.All of them will stand out and are set to explode as all around NFL Football players!
Some are from small schools and even weren't on anyone's radar other than the Raiders.Unknown or not,these players are set to make even a bigger impact than they did last year!
So without further ado!Enjoy the show.......
Tyvone Branch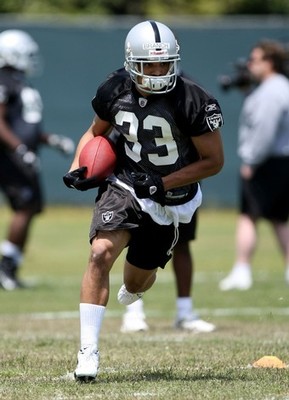 Tyvone Branch was drafted out the University Of Connecticut.Before drafted,I had never heard of the player.
Tyvone was drafted for his coverage skills and to take over for Chris Carr for Return duties.His first year,he was placed on Injured reserve with a injured shoulder.
He last year he shined in camp and was able to make the starting lineup.He started his first game against the Chargers last year and hasn't looked back.
He compiled 124 tackles,two forced fumbles,and one sack for last season.I was one who thought he should have at least been considered for the pro bowl.
I got a chance to speak with Tyvone after the Cleveland game.I told him he was doing a great job and he stated,"Thanks,We are just trying to turn that corner",meaning win two in a row and improve defensively.
This year,with a more stout front four,look for Tyvone to improve his numbers, accumulate many interceptions,and have a pro bowl type year.
Chaz Schillens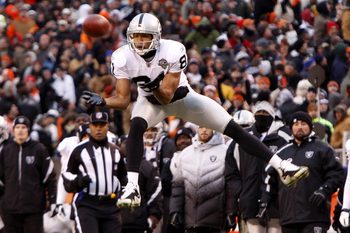 Chaz has been hampered with ankle and foot injuries the last two years.His play when healthy has been spectacular.He has long body frame with high jumping ability,great hands,and the speed to separate from a defender.Last year Chaz made even Russell look good with his ability to "go get the ball".
With the acquisition of Jason Campbell,Chaz will get much more looks his way this year.Chaz must stay healthy and be ready every game in order to get the numbers he's capable of.
I can see Chaz breaking the 1,000 yard barrier this year along with at least 10 touchdowns.
Trevor Scott
Trevor Scott was another under the radar player drafted by the Raiders.He was a 6th round pick (169th overall) from the 2008 draft from the University of Buffalo.Many,(including me)hadn't heard of him and wondered what he was about.
After he was drafted,he stated,"It is like a a dream come true".He has worked hard at his craft ever since and improving each year.
Last year he switched from DE to LB and has done a great job.His pass coverage has improved(and still needs work),but his rushing the QB has produced 12 sacks in two years.
With a much more stout defensive line this year,this kid will able to produce many more sacks this year.I also see some interceptions coming his way.
He produced a sack in the Dallas Preseason game with a nasty pass rush along with a forced fumble.
This "Howie long" type player will be exciting to watch this year!
Michael Bush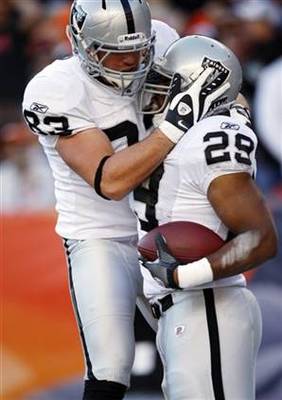 Drafted in the 2007 draft class in the fourth round,he was still nursing a broken leg,but the Raiders liked what they saw of his time at The University Of Louisville.Enough so, that they got one heck of a bargain for the player that was able to produce a 177 yard game on 27 carries and 2 touchdowns ,preventing Tampa Bay from getting into the playoffs his 1st full year healthy.
This year Michael will have much of the carries with McFadden getting the rest.Michael proved last year he was even threat catching passes last year out of the backfield.
He had some pretty good runs against Dallas,but no big break away runs for large gains.He will definitely be taking many to the house this year and you will see a Running Back on fire!
Much of his success will depend upon the Offensive line,but I think this is the area they do succeed at and will get better.
With a more active role and more carries,Michael is ready to pound the rock!
Darren McFadden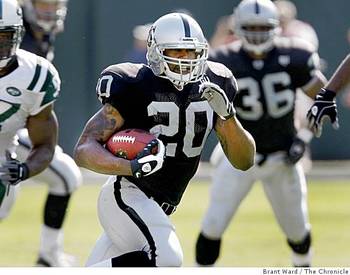 Darren McFadden was draft fourth overall in the 2008 draft,but has yet to live up to the pick.Hampered with injuries these last two years have many considering him a bust already.
The last two years,he was easily "shoe stringed" tackled and doubt has been brought about if he's a between the tackles type runner.Hue Jackson has been working with him on that and is competing for the number 1 spot.
With the training camp injuries,I am beginning to wonder of his durability.If he can overcome the injury bug and play a full year with many explosive runs.
One thing that is certain with Darren is his speed and ability to break a big play at anytime.Look for an improved Darren McFadden exploding up the field for huge gains!
This is a different team this year and many "experts" have the Raiders under the radar.I look for them to SURPRISE the league this year and all of these 3rd years players will have a big part in doing just that!
Tell me what you think Raider Nation!
Keep Reading

Oakland Raiders: Like this team?