Barry Bonds' Historic Blast at Yankee Stadium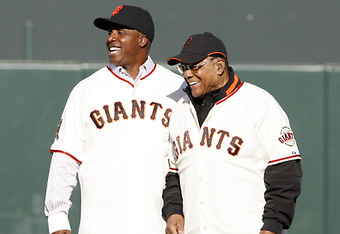 Max Morse/Getty Images
The San Francisco Giants were in New York—not to face New York's most beloved team, as they usually did, but to face the New York Yankees on the weekend of June 7, 2002.

The visit marked the first time in 40 years that the Giants had returned to Yankee Stadium, but it seemed as if time stood still when the Yankees won the Friday night game, 2-1, in front of 55,053 fans.

Barry Bonds changed that the next day when he faced Yankees left-hander Ted Lilly in the first inning.

At the team meeting before the Giants series, manager Joe Torre told Lilly not to allow Bonds to dominate the game, which was like telling a politician not to dominate the discussion.

David Bell led off the Giants' first inning with a walk. Rich Aurilia followed with a ground-ball single to left field, moving Bell to second. Barry was the batter.

Lilly delivered the first pitch, which was a high fastball. Barry swung and missed. The crowd, in unison, screamed with delight.

Some older fans had an image of Mickey Mantle in their minds. Even older fans could see Babe Ruth.

Jorge Posada fired the ball back to Lilly, who toed the rubber, checked the runners, and delivered a pitch that was low and away to even the count at 1-1.

Bell took a short lead off second. Aurilia inched towards second base. Lilly fired, and Barry blasted.


Baseball's Greatest Slugger Was or Is
The fastball that, much to Lilly's chagrin, stayed too far inside landed about halfway up the third deck along the right field foul line. The ball was still rising when it crashed into the seats.
It was a shot that Mantle, Ruth, and even Albert Pujols would have been proud to claim.

Ted Lilly knew what he was up against. He told reporters that most left-handed power hitters would have pulled the pitch foul, but Barry Bonds was not most left-handed power hitters.
Lilly continued:

"There's no shame in it, but when you're facing the best in the game, you want to win a little bit more."

Babe Ruth and Mickey Mantle were always in the conversation when the subject was long home runs. When a player hits one high and far, the shot is often called "Ruthian."

Barry hit them just as far.
It is easy to imagine what he would have done if he had played his entire career in Yankee Stadium, where the distance down the right field line was all of 314 feet and to straightaway right field was 344 feet.

It would likely have been Barry, not Mark McGwire, who topped Roger Maris' single-season home run record, and Barry would have been considered the greatest player in the game during the late 1990s.

There would have been no reason for Barry to feel slighted by the media during the McGwire-Sammy Sosa home run chase. History would have been changed.
But Barry became a San Francisco Giant, and he will always be a Giant. He didn't need Yankee Stadium to become the all-time career home run leader.


References

TYLER KEPNER. (2002, June 9). BASEBALL: Small Victories Equal a Defeat for the Yankees. New York Times (1923-Current file), p. g3. Retrieved August 17, 2010, from ProQuest Historical Newspapers The New York Times (1851-2006). (Document ID: 727161212).

Retrosheet
This article is
What is the duplicate article?
Why is this article offensive?
Where is this article plagiarized from?
Why is this article poorly edited?

San Francisco Giants: Like this team?