5 Keys to New York Jets Season Revisited After First Preseason Game
Almost two weeks ago, I wrote an article looking at five keys for the Jets as they approach the 2010 season. With the first preseason game in the books, I wanted to revisit these five keys, and see how the Jets addressed these keys during the game versus the Giants.
While it's only a preseason game, there were a bit of encouraging occurances to come out of The New Meadowlands Stadium.
Let's take a look at the five keys once again...
Mark Sanchez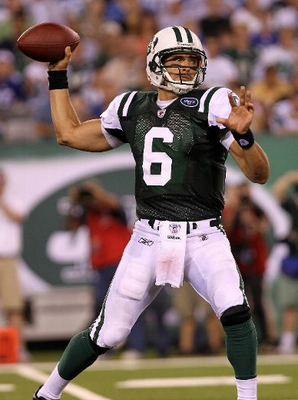 In my opinion, Mark Sanchez had a pretty encouraging performance, playing the entire first half. His numbers were solid:
13 for 17, 119 yards, 1 TD, 1 INT, 90.1 passer rating
In my previous article, I said that Sanchez needed to cut down on the errors. Tonight, he threw his first pass into double coverage, the ball was tipped and intercepted.
While tipped ball was an unlucky bounce for Sanchez, trying to squeeze that ball into coverage like he did was a poor decision, and his team paid for it. Fortunately, he bounced back from the turnover, and orchestrated an 8:42, 14 play, 68 yard scoring drive on the next drive.
On that drive, he threw 8 times, and completed 6 passes, including a 4 yard touchdown pass to Brad Smith on a play in which the Giants defense was thoroughly confused, to say the least.
It may not have been the 2010 debut Sanchez had hoped for, but it was baby steps, and fortunately, he has four more weeks of preseason to improve even more.
Receiving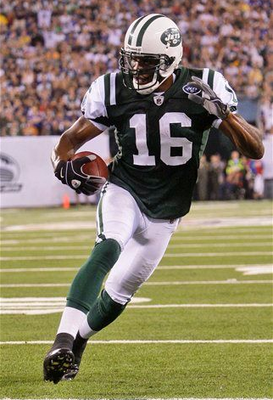 The Jets' number 1 and 2 receivers to start the season, Braylon Edwards and Jerricho Cotchery, both had solid performances. Each had three catches for over 30 yards. While Sanchez was in, none of his incomplete passes were intended for these starting receivers.
One receiver who I neglected to mention in my previous article was Brad Smith, who had a touchdown reception tonight. He continued to have an impact as a QB turned WR.
The most intriguing storyline was the play of Santonio Holmes. He is suspended for the first four games of the season - he can't work out with the team, practice with the team or be at the team's facilities during the suspension - so his playing time in this preseason game and the next three games is very important.
Holmes had a solid night, playing mostly with the second team offense: 4 receptions for 55 yards. The announcers continually marveled at his skill set and size, predicting that if he improves his work ethic and stays out of trouble, he can be a star.
I liked what I saw of him thus far, and I think he can definitely make a big impact come Week Five, as long as he continues to work hard while he is suspended.
Running Game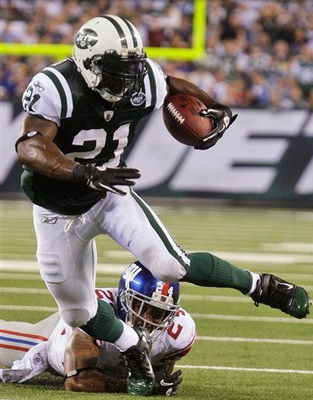 Shonn Greene had a solid performance as the starter, running over defenders at times. He had 5 carries for 26 yards, which was a 5.2 yard average.
Ladanian Tomlinson showed that he's still got it too. He had a decent rushing performance, including a 14 yard touchdown run which was called back on a holding penalty. Despite the penalty, he showed that he could still hit holes hard and explode with his breakaway speed. It's only a matter of LT showing that he can return to form consistently throughout the grueling football season. He also had one reception for 14 yards, and should have an impact receiving out of the backfield, as well.
In the battle between Matt Slauson and Vladamir Ducasse for the starting spot in the O-line, Slauson got the starting nod this game.
Slauson had a holding penalty called against him, as did center Robert Turner, who was filling in for the banged up Nick Mangold.
Nick Folk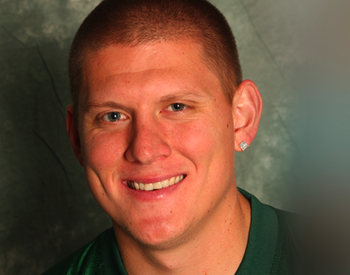 Creepy roster picture aside, placekicker Nick Folk may have shored up some doubts tonight. He had three field goals: a pair of 36 yarders and a 22 yard FG. He also added an extra point, as he better have.
The only problem was he missed a 46 yard FG in the third quarter, wide right. Perhaps a long FG miss can be excused this early in the season, but he absolutely needs to make them when they count.
If he doesn't improve his consistency even more, he may be without a job before this season is over.
Darrelle Revis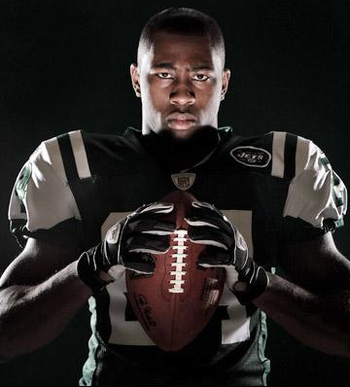 Darrelle Revis is still a holdout, and obviously didn't play in tonight's game. As of now, the Jets and Revis' agents are presumably still negotiating, but have agreed to remain quiet on the negotiations. That means that no news isn't necessarily bad news at this point.
I still believe that the Jets need Revis, and Revis needs the Jets. I also optimistically believe the Jets and Revis will work something out before the season starts. But the Jets first team defense still looked impressive tonight, even without the leagues best CB.
Antonio Cromartie had a good game, which included a couple tipped passes. Rookie Kyle Wilson added a tackle, but didn't make any particularly noticable plays, good or bad.
Other Stuff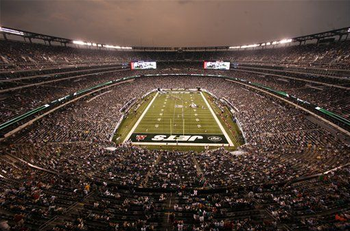 The Jets special teams added a blocked punt, and the defense effectively prevented the Giants offense from getting anything going during the first half. The Giants TD was from a first and goal situation, but it took them three tries to get in. Their other score during the first half was a Lawrence Tynes 32 yard FG.
After the first teams came out, the second half didn't quite go the Jets way. The defense gave up a couple of long touchdowns, while the offense didn't really get anything going.
I guess the end result isn't entirely important, as it is only preseason, but undeniably Rex Ryan wanted to win this game. It wasn't very encouraging how the subs played in the second half. But more importantly, the Jets starters looked pretty good, and stayed healthy, despite playing the entire first half.
Of course, there are more improvements to be made, but preseason game one was an encouragement.
Hard Knocks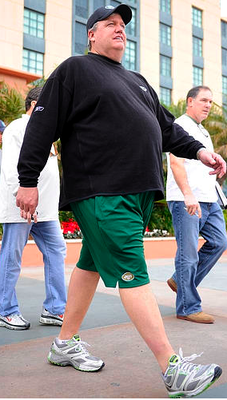 The first episode of Hard Knocks was awesome. If you don't think so, you're a liar. There were some pretty interesting storylines, and Rex Ryan was as entertaining as can be.
Adam Schefter even tweeted that after watching Hard Knocks, players were texting their agents saying they wanted to play for Rex.
I bet it was this ridiculously cocky but equally as awesome speech that you would love if Rex was your coach but hate since he's not that did it for them:
"We know we're better than you, we don't give a f--- if you know it or not. We don't give a s--- if you give us your best game, we're gonna give you our best game and we're gonna beat the f--- out of you, how's that?"
Make sure you RSVP to Cafe Rex on Wednesday at 10 pm on HBO.
Keep Reading

New York Jets: Like this team?