NFL Predictions for 2010 Season: NFC South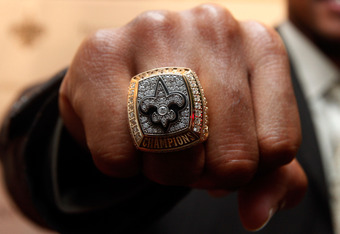 Chris Graythen/Getty Images
2009 saw the stars aligned perfectly for the New Orleans Saints as they defeated the Colts 34-17 for the World Championship. This writer will fully admit that i picked against the Saints in that game but this organization, city, and region fully deserved this world title. Now coming into 2010 the question is can this team repeat? Since the South's creation, no team has been able to repeat as Division Champions. Will the Saints change that?
I have to start this with the Saints for obvious reasons. In 2009 New Orleans blew through the South for a final record of 5-2 (the two losses coming at the end of the season as the Saints were resting starters.). They outscores the south 184-143, which also includes scoring over 30 points in four of the contests. If you factor out the final two games, where the Panthers (20-17) and the Bucs (23-10) beat the JV Saints, New Orleans really blew away the division 157-100. The South got a lot younger in the off season while the Saints returned most of their powerful units so you can be certain that the scoring will continue. In 2009 New Orleans averaged 6.3 yards a play, the bulk of this was passing where they averaged 8.3 to their 4.5 rushing. The Saints of course bring back Mr. MVP Drew Brees at the helm of the offense. In 2009 Drew threw for 4,388 yards, 34 touch downs and 11 picks giving him a QB rating of 109.6 for the season, his career best. Which is scary because he is young and has a lot of games left in the tank.
At running back in 2009, Pierre Thomas really surprised a lot of people piling up 793 rushing yards (5.4 average a carry), with six touchdowns to lead all the rushers. The Saints get Thomas back in 2010 and he should be more explosive, and will go over 1,000 yards rushing for the season. Behind Thomas was Mike Bell who was a nice relief back raking up 654 yards and five scores. Bell was lost to Philadelphia in the offseason which means that Reggie Bush will have to get more carries. Bush picked up 390 yards on 70 carries which comes out to a 5.6 yard average. Bush picked up five scores rushing and three additional scores as a receiver. I am worried about the backs, Bush will have to step up his rushing to help Thomas.
The Saints leading receiver in 2009 was Colston who picked up 70 grabs for 1,074 yards and nine scores. Colston has more then proved himself as a number one receiver for the Saints as he continues to be reliable. Henderson ranked second on the team in grabs finishing with 51 for two scores, then Shockey finished with 47 grabs and three scores. This unit should be better this season. Finishing up the offensive side, the Saints really did not draft much on this side of the ball. They fortified the offensive line with Brown (OT) with their second pick, then Tennant (c) with their fourth.
On defense the Saints look to be a great unit and continue harassing quarterbacks just as they did against two future NFL hall of famers (Brett and Peyton) in the final games of 2009. The biggest news of the off season was Harper deciding to come back to the team for the 2010 season. Harper finished last season with 71 tackles, and nine picks. However, more importantly he was the leader of that defense. Vilma returns at the middle linebacker spot after a great 2010 season that saw him finish with 110 tackles, two sacks, and a couple picks. Vilma was the leading tackler for the Saints last season. The Saints used their first overall pick to help sure up the secondary, and went on to really address that side of the ball. In 2009 the Saints racked up 35 sacks on opposing quarterbacks (feels like most came against Brett in the NFC Championship), with Will Smith leading the way with his 13 1/2 sacks. The unit helped the Saints finish with a +11 turnover ratio which is fantastic.
The Saints open the 2010 season with a fantastic rematch against the Vikings. Now i have two feelings in this game, which totally depend on if a certain flip flopping QB plays or not. If Brett plays then i think the Vikings win a very very close game 28-27 over the Saints. If Brett does NOT play then i think New Orleans wins bigger 33-17. As of right now Brett is still not on the Vikings roster so lets go with that and the Saints start 1-0. After this opener the road gets a little harder for the Saints as they play the up and coming 49ers, and Falcons before they host a rebuilding Panthers team. After the Carolina game the Saints should be 3-1 (loss coming in a shocker from ATL). After the Panthers, New Orleans has three games in a row against teams who are in rebuilding mode (Arizona, Tampa, and Cleveland). I think Arizona will be the tightest game, but the Saints should win all three to move to 6-1 before a great matchup against the Steelers on Halloween. Im not sure where Pittsburgh will be at this point so i have to say that the Saints win to move to 7-1 at the half way point. After this game the Saints get Carolina, and Seattle who they should beat to move to 9-1 and a date with the Dallas Cowboys. I believe that Dallas will be flying high at this point and hand the Saints their second loss in a fantastic game to drop New Orleans to 9-2, and a date with the Bengals T.O.Ochocinco team. This game should be very high scoring but the Saints are the better overall team and walk away at 10-2. After a easy win against the Rams to move to 11-2, the Saints get the Ravens and their fantastic defense and new look offense. This could be a surprise game as i think the Ravens will shock the Saints to drop them to 11-3. After the Ravens the Saints play Atlanta again and repay them for the earlier loss and finish with Tampa Bay to end the 2010 season. The Saints should finish 13-3 in 2010.
The Atlanta Falcons made team history in 2009, with their first back to back winning seasons in franchise history. They look to make 2010 a memorable one for other reasons. This team will go as far as their franchise quarterback Matt Ryan takes them. In 2009 Ryan finished with 22 scores and 14 picks and 2,916 yards. His 22 touchdowns was up from his rookie year but he has been sacked 38 times in just two seasons. The Falcons noticed this and used two draft picks on offensive guards (Johnson and Hawley), to try and help keep Ryan on his feet. Running the ball for the Falcons will be Turner once again in 2010. I love a short guy who can run the ball and prove all the experts wrong, and Turner did so again in 2009 picking up 871 yards and ten scores. Yes this was down from 2008 but they are still solid numbers. Behind Turner is Snelling who picked up 613 yards and four scores in 2009.
Receiving Ryan passes in 2010 will be the same basic squad as 2009 with the only real addition being Meier the Falcons fifth round draft pick. Leading the way in 2009 was White who snagged 85 grabs and 11 scores, followed by future hall of famer Tony Gonzalez with 83 grabs and six scores. This group is rounded out by Jenkins who finished with 50 grabs and one score. This group has some good players and should help Ryan progress even more in 2010.
On defense the Falcons needed help in 2010 and used the draft and free agency to get that help. Atlanta used its first pick on stud linebacker Weatherspoon, then on defensive tackle Peters, corner Franks, and saftey Schillinger. This will give Atlanta a youth movement on defense which could hurt them against the Saints and other high power offenses in the NFC. The Falcons do get back Lofton and his 133 tackles, Coleman with his 116 tackles and Peterson with his 109. However the defensive line took a hit when Babineaux was suspended two games. Babineaux was the Falcons leading sacker last year with 6, followed by Abraham with 5 1/2 and Brermann with 5. Abraham has to get back to his sack master ways to help this defense in 2010. Atlanta finished with just 28 sacks last season, not good. The biggest addition, and one you have to talk about is the addition of Robinson in the secondary. Dunta brings his 393 tackles and 16 career picks with him from Houston to a young unit that will need to stand up to the powerful offenses such as New Orleans.
The Falcons open the season against a Steelers team that has its starting QB suspended for off the field issues, and if the preseason opener has any indication how that starting unit will do with out Big Ben, they are in trouble. The Falcons should start 2-0 after a win over Arizona as they host the Super Bowl Champ Saints. I do believe the Falcons will pull a upset here to move to 3-0 after a very close game. Next the Falcons have to play San Fran, and i can see a stumble here after a win over their rivals to fall to 3-1. However, after a head clearer vs. the Browns the Falcons will raise to 4-1 and a date with two good teams in Philadelphia and the Bengals. I do believe that both teams will upset the Falcons in close games to deliver the Falcons a 4-3 record going into Tampa Bay. After a game the Falcons should easily win to move to 5-3, they face a Ravens team that could be undefeated at this point. I believe the Ravens are just to much for Atlanta and they fall to 5-4 before a date with the number one draft pick and the St Louis Rams. The Falcons should easily beat the Rams to climb to 6-4, then after a fantastic game against the Packers climb to 7-4. Now after the Packers, the Falcons get a bit of a break with games against the rebuilding Bucs, Panthers, and Seahawks so they should be standing at 10-4 with their rematch against the Saints. I believe the Saints will be looking for payback, and the division crown in this game and they get both with a big win. The season final has the Falcons pitted against Carolina so the Atlanta Falcons 2010 record should fall at 11-5.
You have to feel sorry for John Fox, as he is entering his final year on his contract and has a very young Carolina Panthers team around him. This team really injected itself with youth after a disappointing 2009 season, starting with the release of its record holding quarterback. Out is Jake and in steps Matt Moore. All Moore did in 2009 was throw 8 touchdowns against two picks and lead his team to a 6-2 record down the stretch. Now what did that get him, it got him a quarterback taken with the teams first pick (Jimmy Clausen), then another quarterback taken later in Pike. Now Moore should be the starter headed into the regular season, he earned that right. However, it will be interesting to see how things play out if the team struggles and the ownership wants the first pick to play and how Fox reacts.
The Panthers have one of the best running games in the league with Stewart and Williams combining for 2,250 yards and 17 scores. Stewart is the starter and picked up 1,133 yards and ten scores, while Williams finished just 16 yards behind with 1,117 and seven scores. These two backs should take the pressure off Moore and help him progress in his second full year. The receiving core took a major injection of youth in the off season after Muhammad finally retired. That left a receiving corp that really did nothing after Smith and his 65 grabs. The next leading receiver (after Muhammad) was Williams at 29, and he is th half back. So the Panthers went out and drafted not one, not two, but three receivers in the draft to try and give Smith a counter part. Someone in this group (LaFell, Edwards, and Gettis) has to step up or Moore may find himself checking down to the tight ends or backs more often then going down field.
On defense the Panthers return some very good players to a core unit that did not to terrible in 2009, but wore down thanks to offensive turn overs. Beason was the leading tackler in 2009 with 141, and Marshall finished a close second at 88. Now the defensive line upgraded greatly when the team signed Peppers from Chicago. He brings his 10 1/2 sacks in 2009 which doubled the highest amount by a Panther in 2009. (Brayton finished with 5). This should b a immediate upgrade yes, but my question is who else on that line will draw double teams so that Peppers will only get one on one blocking? Well the Panthers went out and drafted Hardy at the other defensive end position to try and help the pass rush on the far side. This line has to step up in 2010.
The Panthers have a very difficult schedule which will not help this young team, and John Fox keep his job. Carolina opens with a date against the New York Giants, who will be angry and looking to start fast after 2009. Carolina will not be able to hold up and starts 0-1, then 1-1 after a date with Tampa Bay. After this game things get very difficult for Carolina as they play the Bengals, Saints, Bears, and 49ers. After this stretch i cant see the Panthers being any better then 1-5 going into a show down against the Rams. This game should provide Carolina with their second win of 2010 but the celebration will be short lived after dates with the Saints when they fall to 2-6. After the Saints, Carolina gets a rematch against the Bucs and could take a shocker to climb to 3-6, however the schedule does not allow them to get any momentum as they have to play the Ravens. After the Baltimore game, Carolina lucks out with a match up against the Seahawks and could pull out a win to climb to 4-7 before a unlucky finish. In the closing weeks, Carolina gets Atlanta, Arizona, Pittsburgh, and finishes with a Atlanta team on the verge of the playoffs. This spells disaster for Carolina as they finish 5-11. I hope management gives John Fox one more season but i would not count on it.
The final team in the South is the Tampa Bay Buccaneers. In year one the rebuilding process proved to be much more difficult then people believed it would be, so there is really no place to go but up for this young team. However, it is in a very difficult division that could have two teams (Saints and Falcons) going to the playoffs. The Bucs return their second year quarterback in Josh Freeman. Freeman's rookie campaign was difficult as he threw 10 scores with 18 interceptions while being sacked 20 times. The Bucs did not address the offensive line in the draft at all so this could be a issue during the season once again, especially in a division with some good pass rushers. Running the ball Williams had a good 2009 finishing with 823 yards and four scores while Ward finished with 409 yards. This unit has to improve to help Freeman make leaps from 2009.
The Receiver spot was spoty in 2009 for this team as Winslow was the leading receiver with 77 grabs and five scores. After Winslow things dropped off greatly as Bryant finished with 39 and Stroughtr with 31. Bryant is gone now to the Bengals so this group was targeted greatly in the draft as the Bucs took Benn with their third pick and Mike Williams with its fifth.
On defense the Bucs went young and struggled in 09, however this should pay dividends this season. Ruud finished 2009 with 142 tackles, his best so far after a great season. Hayes was second on the year with 98 tackles, followed by Black with 84. The secondary was not great last year as long time Buc, Barber did not record a single interception for the unit. Talib lead the team with five. This unit has to get turn overs or it will be a very long year for Tampa. The first pick in the draft for Tampa was McCoy, and the next was Price. So the Bucs knew they had a issue with the defensive tackle spot and upgraded. McCoy should provide a push up front and draw double teams away from Price and the other defensive tackle to make some plays. This unit has to upgrade, it starts with the defensive line on defense. If McCoy steps up and helps this team, the defense should be respectable again in 2010.
Tampa Bay opens the 2010 season with two very winable games against Cleveland and Carolina. I really believe that they start out 1-1 which is respectable for such a young team. Things get worse after this point however, as they have to play the Steelers, Bengals, and Saints. After the New Orleans game the Bucs should be at 1-4 going into a date with the Rams. After a unwatchable game, the Bucs should come away at 2-4 going into another hard two game stretch against the Cardinals, and Falcons which should leave the Bucs at 2-6 and limping into Carolina. After a tough fought game the Panthers beat the Bucs to continue the losing streak to three games, before dates with the 49ers, Ravens, Falcons, and Washington. Tampa will limp into Detroit with a seven game losing streak and at 2-11. The Bucs should upset the Lions to end the streak and climb to 3-11 before beating Seattle to climb to 4-11 for a season ending date with the Saints. I do believe the Saints will be resting players at this point so the Bucs could win a game against the reserves to end the year 5-11.
So a final look at the NFC South
New Orleans Saints 13-3
Atlanta Falcons 11-5
Carolina Panthers 5-11
Tampa Bay Buccaneers 5-11
The south has its first back to back winner
This article is
What is the duplicate article?
Why is this article offensive?
Where is this article plagiarized from?
Why is this article poorly edited?

New Orleans Saints: Like this team?