Pittsburgh Steelers: Mike Tomlin, Start Dennis Dixon, Not Byron Leftwich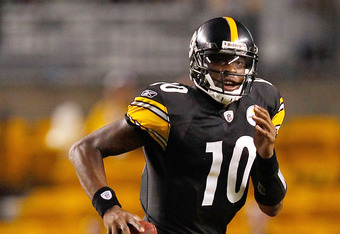 Jared Wickerham/Getty Images
An open letter to Coach Mike Tomlin to change his mind and do what is best for the Pittsburgh Steelers. Start Dennis Dixon for the four games Ben Roethlisberger will miss, not Byron Leftwich.
Dear Coach Tomlin:
I don't consider myself anywhere near the judge of football talent you are. But it doesn't take George Halas to see what was in plain site last night in the rain at Heinz Field.
Dennis Dixon brings a dynamic, explosive element to an offense that, under Byron Leftwich, is predictable and average at best. For the best interests—both long term and short term—of the Steelers, you need to get young Dixon in there. Make him the starter while Big Ben is serving his suspension.
This is nothing personal. Byron Leftwich is a known commodity and tries very hard. The only problem is, he is just as mobile as a the statue of Art Rooney outside the stadium. It takes him forever to get rid of of the ball and he has a lot of mileage on that big chassis. Watching the Steelers offense with him under center is like watching paint dry.
On the other hand, Dixon brings excitement to the game. With him in there you feel like the Steelers might score on any play. Yes, he was playing against the second team Lions defense last night, and Byron was playing for the most part against the starters (actually Leftwich played some against the Lions second team too). But Dixon also had the Steelers second team behind him too.
His ability to get outside the pocket will give defenses pause before teeing off on the pass rush. He makes the running backs and the receivers better. Also with more playing time, he is only going to improve. On the other hand, Byron Leftwich is as good as he is ever going to be right now.
We all hope that Big Ben has learned his lesson. The commissioner realizes it and will reinstate him after a four game suspension. If we can go 3-1 or even 2-2 in those four games, we will have a shot at the playoffs. Do you think Leftwich gives us the best shot in those four games? I don't. With Dixon out there we can still run the ball a bunch, but we have a lot more options available with him as well.
If however Big Ben falls off the straight line again though, we all know the Rooney's will blow a gasket and ship him out faster than a Santonio Holmes Tweet on Twitter. Then we need a QB of the future. Who will that be Byron Leftwich? I don't think so. Dennis Dixon could mature into the Steelers QB of the future. He has all the upside here.
So for both the short term and long term good of the team, put Dennis in with the first team. Let's see what he does over the next few games. If it is not obvious by then that he is best choice to start those first four games this season, then we have found out a big lesson about Dixon and the future plans of this team.
Please consider this advice and request in the spirit it is given. We both want what is best for the Steelers.
Very truly yours,
Alan Shimel
PS- I love the way the two young rookie WRs look, and Ike Redmond is a winner!
This article is
What is the duplicate article?
Why is this article offensive?
Where is this article plagiarized from?
Why is this article poorly edited?

Pittsburgh Steelers: Like this team?