The Perfect Team: AFC West Style (Part 2)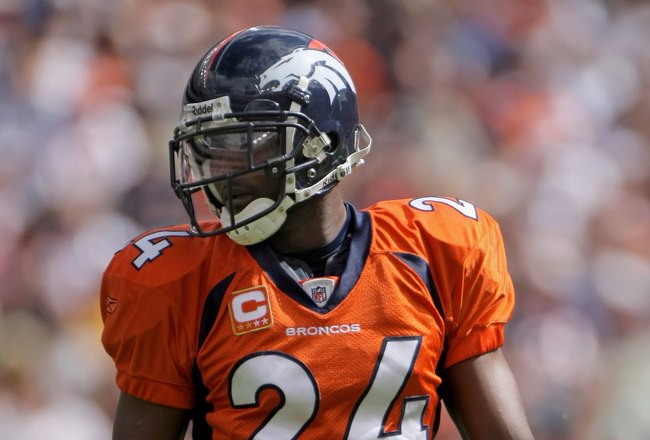 This is part 2 of the AFC West all-star series.  This slide will show the top defensive players in the division excluding rookies.  It's a bit interesting on how this all-star defensive line-up will turn out.
I hope you folks like the line-up as it is open up for debate on who should represent the AFC West on all the positions.
Starting Right Defensive End: Richard Seymour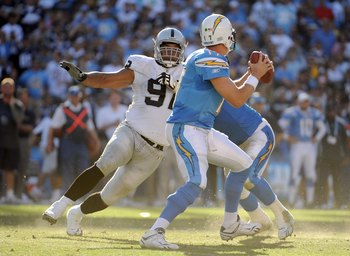 Many words can describe Richard Seymour.  Dominant.  Powerful.  Champion.  Unrelenting.  Winner.  Seymour can do things not many defensive linemen can do and that's having the ability to be effective anywhere along the line.  When you have been a 5x Pro Bowler, 3x first team All-Pro, second team All-Pro, 5x AFC All-Pro, NFL 2000's All-Decade Team, and a 3x Super Bowl Champion, that says a lot about the man as he's the perfect player to represent the AFC West.
He made a immediate impact for the Raiders and will continue to do so.
Starting Nose Tackle: Jamal Williams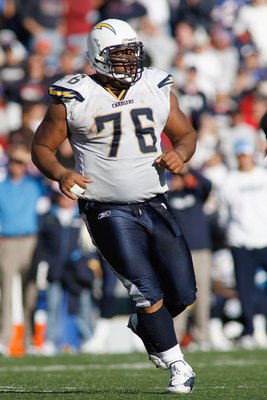 Although he missed the entire 2009 season, Jamal Williams is still considered one of the top NT's in the entire NFL.  Williams can collapse the pocket, take up 2-3 offensive linemen to block against the run, and help everyone succeed in any blitz scheme due to his size.  
You don't measure Williams but the amount of sacks or tackles he gets, but rather by the amount of sacks and tackles others around him gets.  As a 3-4 NT specialist, it takes nearly 2-3 guys out of a offensive line to block him helping pass rushing OLB's get sacks against one-on-one linemen or TE.  Williams is a beast as he is one of the best in the league at what he does.
Starting Defensive Tackle: John Henderson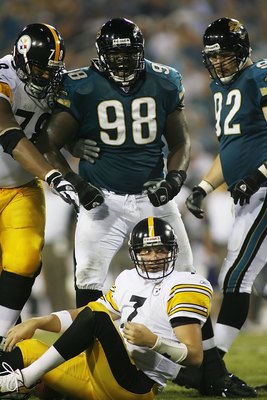 There is a more impressive stat than tackles and sacks, 335 lbs. on a 6'7" large frame.  John Henderson is a impressive DT.  His combination of tenacity and size makes for a very dangerous defensive linemen.  Of all the DT's in the AFC West that can play the 3 technique position along the line, Henderson is one guy you don't want to leave one-on-one against any offensive linemen.  Last season, he had 36 tackles, 3 sacks, and 2 force fumbles. 
Starting Left Defensive End: Luis Castillo
Let's be clear, this wasn't a clear cut decision on having Luis Castillo on the list but there isn't any other DE in any of the 3-4 defenses that can argue to be any better.  Castillo has gone through some tough statistical times but in all honesty, that's really not what 3-4 defensive ends are for.  Castillo does well against the run and have the ability to pressure.  He hasn't done too well in the last 2 years as the Chargers were going through a defensive philosophy change from the days he excelled in Wade Phillips "attack" style defense to Ron Rivera's "bend but don't break" style defense.  After spending about 1 1/2 years in Rivera's defense, look to Castillo to bounce back and get back into the 5+ sack range which is a pretty elite level for a 3-4 DE and he's done in before as a Pro Bowler in 2006 with 7 sacks.  
Starting Weak Outside Linebacker: Elvis Dumervil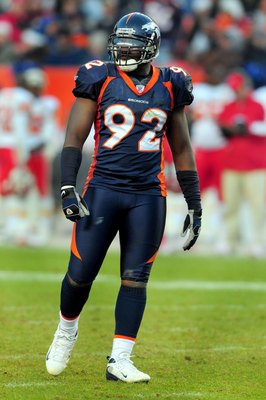 Lamarr Woodley, 265 lbs. on a 6'2" frame.  DeMarcus Ware, 262 lbs. on a 6'4" frame.  James Harrison, 242 lbs. on a 6'0" frame.  Clay Matthews, 255 lbs. on a 6'3" frame.  Tamba Hali, 275 lbs. on a 6'3" frame.
All of these men are top pass rushers in the NFL as 3-4 OLB's and none of them led the NFL in sacks last season.  Who led the NFL in sacks you ask?  Look no further than Elvis Dumervil, 248 lbs. on a 5'11" frame.  That's right, 5'11"!  The man is a very underrated DE in the 4-3 but when Denver went through not only a coaching change but also a defensive scheme change to a 3-4 defense, Dumervil excelled and he never looked back as he owned the NFL by a storm with 17 sacks!  
Dumervil's size won't scare anyone but what does scare opposing offensive tackles is Dumervil's speed.  Marcus McNeil gave up 2 sacks against Dumervil in the first game of the Broncos and Chargers match-up.  Joe Thomas gave up 1 sack against Dumervil.  Flozell Adams gave up 2 sacks against Dumervil also.  
He's a scary player as he's one of the best weak side pass rushers from the OLB position in the league.  
Starting Weak Inside Linebacker: Derrick Johnson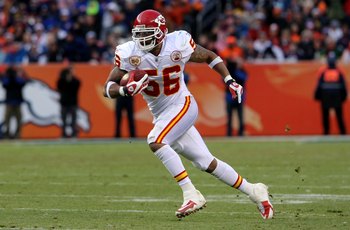 A lot of you may be thinking, "What the hell?".  Why Derrick Johnson?  I'll explain but let me first explain the position that's in question.  Usually the starting inside linebacker in a 3-4 defense is the guy that is strong in coverage.  Their primary job is coverage and secondary responsibility is the run.  So out of all the better weak inside LB's in the AFC West, there are only three guys that can be argued to be on this list.  Brandon Siler, Kevin Burnett, and Derrick Johnson.  The main thing I look for was INT's as it's what weak ILB's are measured by.  Brandon Siler was a great fill in for Kevin Burnett who had a strong season.  Burnett was brought in by the Chargers just for his ability to be a cover ILB.  
I chose Derrick Johnson because he's very strong in pass coverage.  His downfall in stats had more to do with his head coach not playing him maybe because the Todd Haley had too much ego to start him for whatever reason.  You give Johnson a full season as a starter, he'll be a outstanding player.  Johnson only played 340+ snaps last season while the average full-time 3-4 ILB plays roughly 850+ snaps a season.  So you see, in his limited time that he played while starting only 3 games, Johnson had 37 tackles, 1 sacks, 1 force fumble, and 3 INT's.  
Johnson is what you want in a weak inside linebacker in this all-star cast of AFC West.  Johnson also have the ability to play in a 4-3 defense which is also a plus.
Starting Strong Inside Linebacker: Stephen Cooper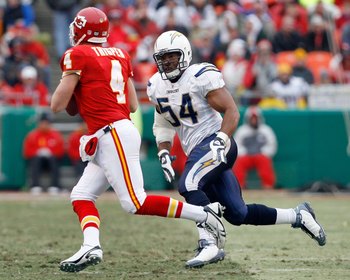 There aren't many LB's that can fit this role.  The strong side ILB, also known as the Mike backer' or thumper,  is a guy that can be physical along the line of scrimmage and is often asked to take up blockers for the weak ILB to make plays.  Then there are some strong ILB's that can just take over the role and make plays.  This position isn't the most glamorous as Ray Lewis, Patrick Willis, and the likes of the other top LB's aren't thumpers.  
 Seeing the requirement that's needed to play this role, the only guy that comes to my mind is Stephen Cooper.  He had 102 tackles with 3 force fumbles.  He didn't have any picks because he had to play the role of a thumping strong ILB to the tee.  The reason why I say that is because Cooper had to play with no true NT the entire season often forcing him to stay close to the line of scrimmage often.  He's a beast of a player as he plays under the radar.  There aren't any LB's in my mind in the AFC West that can be often asked to plug holes in the strong side inside of a 3-4 defense.  The Broncos had Andre Davis and he's done a great job but now he's gone leaving that sole spot undisputedly to Cooper.
Starting Strong Outside Linebacker: Shaun Phillips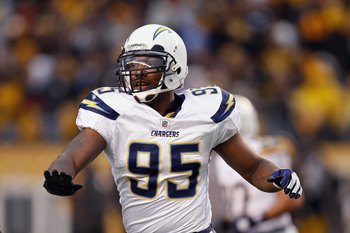 Out of all the OLB's in the AFC West that plays on the strong side of the field, no one comes close to the play of Shaun Phillips.  Strong OLB's must have the ability to blitz or create pressure and have the cover skills to play against opposing team's starting TE.  
Last season, Shaun Phillips had 59 tackles, 7 sacks, and 7 forced fumbles.  That's some pretty impressive stats.  He played very well against many good teams.  Look to Phillips to improve on his 2009 season as he'll be going into his second full season in Ron Rivera's defensive scheme. 
Starting No. 1 Cornerback: Nnamdi Asomugha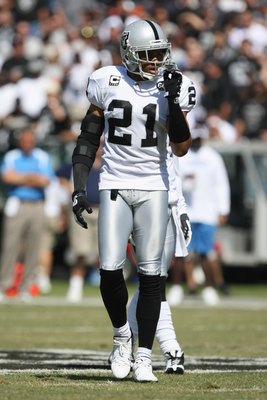 When you're the highest paid CB in the game, there is usually a pretty good reason why.  Nnamdi Asomugha has been one of the top CB's in the game.  Asomugha only had 34 tackles and 1 INT all season but here is just the thing, NFL QB's in the league hardly pass his way while he shut down his side of the field and take out any opposing WR on any offense.  He was only passed on about 25-28 times in the entire season.  If that doesn't scream respect, I don't know what does.  Asomugha is the best CB in the league bar none and that includes that overrated CB Darrell Revis.
Being a 3x Pro Bowl selection also helps as he had been the top CB for the last 3 years.
Starting No. 2 Cornerback: Champ Bailey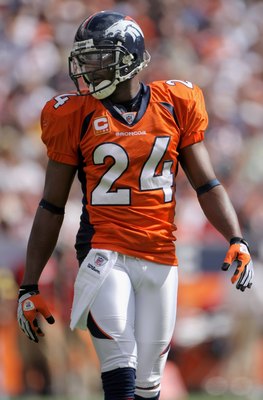 When your first name is Champ, that's a lot to live up.  But when you have been one of the top shut down CB's in the league for the last decade, I think the name Champ is every so fitting especially since Champ Bailey made the Pro Bowl 9x from 2000-2007 and the 2009 season. 
What can I say about this guy, Bailey is a CB version of a ironman athlete.  The guy has been a shut down CB going as far back into the early part of the last decade.  Age is only a number to Bailey as he is heading into his 12th season.  He is one of the few CB's in the league to ever play dominant in any defensive scheme there is.  He's played in the "bend but don't break" system.  He played in the "attack" style scheme of exotic blitzes.  Bailey played in both the 4-3 defense and the 3-4 defensive scheme.  Bailey had 74 tackles, 1 forced fumble, and 3 INT's.  Not bad if you ask me.  
Starting Strong Safety: Tyvon Branch
This one was a tough one but one thing you want in a strong safety is something that not all strong safeties have, that's having the ability to want to sacrifice your body.  The reason why I say this is because no other player did that better in the AFC West than Tyvon Branch.  He wasn't asked to do much in coverage as he was the last line of the Raiders defense to stop the run.  The Raiders had a tough time stopping the run last season and Branch did a stellar job coming up for tackles.  
Branch had 124 tackles, 1 sack, and 2 forced fumbles.  That's the type of stats that make a strong safety.  Branch is only 23 years old and look for more of this young man to continue to get better after he had a strong first year as a starter.
Starting Free Safety: Brian Dawkins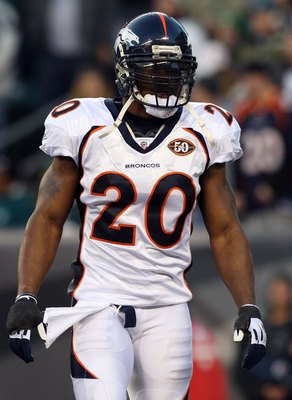 When you think about a good free safety, you think about a guy that could cover.  You think about a player that can diagnose a play before the QB throws the ball.  You think  about a guy that's definitely the last line of defense.  Brian Dawkins can do all that and has been doing it for 14 seasons.  What Dawkins bring to the game is something the usual free safety don't do.  
Dawkins brings the mentality of a LB to the free safety spot.  Why I say that?  The man hits like a beast.  He plays fast and comes up for the run which is unheard of from the free safety spot.  He is able to blitz QB's when called upon and has done so many times in his career.  It's also unheard of to hear that the free safety is the leader of the defense and that's what Dawkins is, a motivator and a outspoken leader of his defense.  
Heading into his 15th season at 36 years old, you would think that his skills deteriorated but it never did as he tallied 116 tackles, 1 forced fumble, and 2 INT's.  
Look to Dawkins to continue his dominance of the secondary as his age don't define him but rather more so his brilliant play.
Starting Kick-Off/ Punt Return Specialist: Eddie Royal & Darren Sproles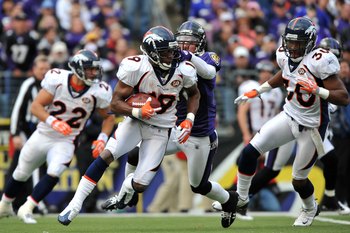 There is probably not a greater pair of returners for a division squad than Eddie Royal and Darren Sproles.  When he think about speed and having the ability to maintain that speed on sideline to sideline movement, these guys are it.  
Both players give their perspective teams good field position and can take any punt or kick-off back to the house.  These guys should continue to get TD's next season as they are the perfect pair of returners in the AFC West.
Starting Kicker: Nate Kaeding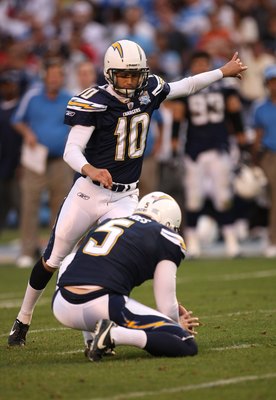 What can I say, the man may choke in the playoffs but one thing is for sure, he's the most accurate kicker in NFL history.  At least in the regular season.  Kaeding hit 32 out of 35 FG's last season.  That's 91.4% of all his FG attempts go in.  He's been one of the most accurate kickers in the league for some time now and having him as a weapon on any team will guarantee get at least some points in the redzone.  
Starting Punter: Shane Lechler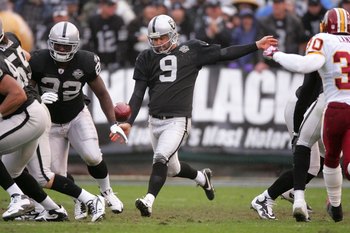 5x Pro Bowler.  5x First-Team All-Pro selection. 2x Second-Team All-Pro selection.  Selected to the NFL 2000's All-Decade Team.  That's a pretty good resume if you ask me for being a punter for this all-star squad as Shane Lechler was the punter for the AFC Pro-Bowl team the last 3 years.
I'm a fan of the Chargers Mike Scrifres but if there is one statistic that stood out the most in Lechler's game is the fact that out of 88 punts last year, 36 of those punts were in the 20 yard line.  Lechler also added 13 touchbacks, 11 fair catches, and 18 downed balls.  Lechler's ability to force a opposing offense to march the field with yards to go shows how really good Lechler is not only as a punter, but also as a defensive weapon in defensive field position.
In Conclusion...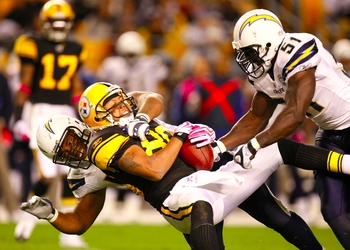 It has been fun making this list of all star players especially on this defensive portion of the AFC West all-star squad.  I'm sure much is to be debated as I welcome all takers.  So if you're reading this David Lurie, I want to see what you think about my version of the AFC West best against your AFC North best.  I believe we'll do just fine taking on the toughest division in the AFC bar none. 
I hope you folks enjoyed these series of articles.  Until next time, GO AFC West!
Keep Reading

San Diego Chargers: Like this team?