10 Observations From The Philadelphia Eagles' Preseason Opener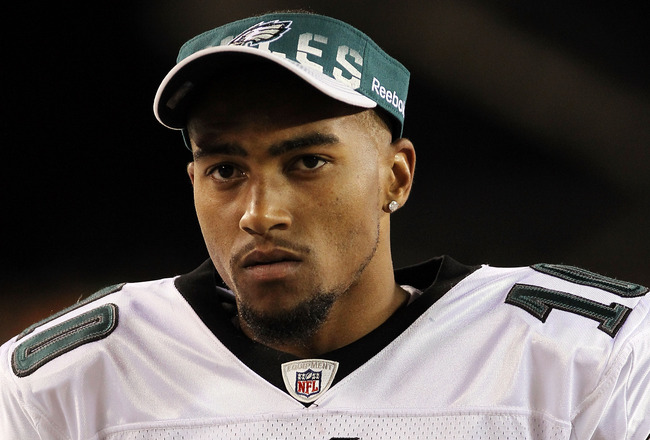 Nick Laham/Getty Images
The Philadelphia Eagles opened their 2010 preseason Friday night with a 28-27 victory over the Jacksonville Jaguars.
While the game wasn't really as close as the score indicated, there were a lot of things—good and bad—that the team discovered en route to the victory.
Well, besides the fact that as great of a sportscaster as Don Tollefson is, he's equally bad as a play-by-play guy.
Anyway, here we go…
Kevin Kolb is More Mobile Than You Think...
Nick Laham/Getty Images
Faced with a third-and-5 on the third play of the game, Kolb scrambled for six yards to pick up a first down.
On the second drive he escaped nicely from pressure on a third-and-9 and fired a bullet to Brent Celek for a first down and later scrambled for eight yards to set up David Akers' second field goal.
He's not exactly Donovan McNabb—who showed some decent wheels in his own pre-season game on Friday night—but Kolb should be okay in terms of escaping pressure.
...But He Needs to Make Better and Quicker Decisions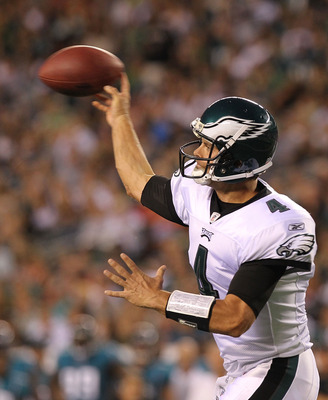 Nick Laham/Getty Images
It took Kolb forever to take off on that first play, and he tried to force a few balls in—most notably one to Jeremy Maclin that was almost intercepted when LeSean McCoy was wide open in the flat.
He also had a couple of ill-advised throws on the second drive: one that Reggie Nelson knocked away from Jason Avant and another that Sean Considine was a step away from taking to the house.
And in either a surprise or a "par for the course for an Eagles QB" moment, Kolb struggled in the red zone.
Still, he finished 6-of-11 for 95 yards and had another 15 on the ground, so it was a decent debut for Kolb.
Michael Vick Will Frustrate the Hell Out of You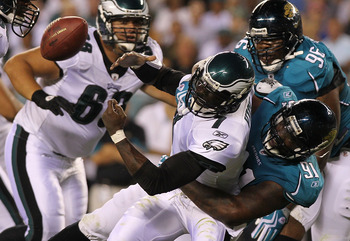 Nick Laham/Getty Images
Vick was 11-of-17 for 119 yards and one interception passing and had six rushes for 50 yards and one TD. Not bad, but looking inside the numbers, there's a lot of room for improvement.
On the plus side, he had a bunch of nice throws—including one down the sideline in the second quarter that Riley Cooper made a great catch on—and a rushing touchdown that was the result of a ridiculous juke on a QB Draw.
On the down side, he fumbled the ball twice, losing one while trying to make something happen. He also made a really bad decision on his interception and looked to run way too much, especially when he wasn't in the shotgun and didn't have time to think.
If he's going to be the backup quarterback and not just a Wildcat decoy, he needs to work on his actual quarterbacking skills quite a bit. It's been a full year now, so "not being at football speed" is no longer a viable excuse.
The Offensive Line Is Gelling Nicely
Nick Laham/Getty Images
The first team tonight was Jason Peters, Max Jean-Gilles, Mike McGlynn, Stacy Andrews, and Winston Justice.
Together they helped the Birds' top unit gain 64 yards rushing, gave Kevin Kolb plenty of time to throw pretty much every ball, and stayed away from the Jason Peters special, aka the false start.
Granted, the Jaguars were playing without both Aaron Kampman and Tyson Alualu, but the Eagles' line still did a very nice job in limited action.
RIley Cooper Should Make This Team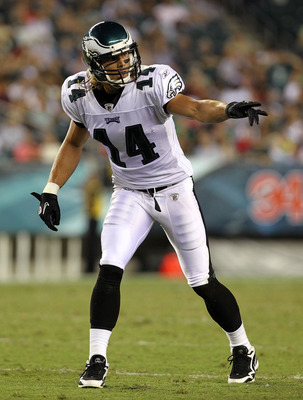 Nick Laham/Getty Images
Cooper had three catches for 61 yards in the game (including the great catch from Vick) and made a couple of key blocks on long runs.
His only negative was that he missed a pass that, while slightly behind him, should have been caught.
Still, he led the team in both yards and receptions tonight. Atta boy, Riley!
And Chad Hall Should, Too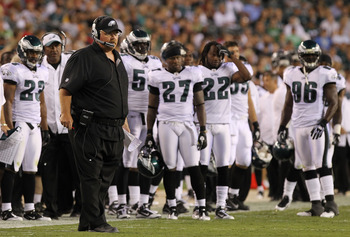 Nick Laham/Getty Images
Not one damn photo of Chad Hall in Getty Images. But he had one hell of a game, even if it was all confined to about 90 second of actual action.
He caught a 57 yard bomb from Mike Kafka, had a couple nice rushes on end-arounds, did a decent job filling in on kick returns, and nearly made a spectacular play in the fourth quarter on a ball that Usain Bolt might have struggled to get to.
The First-Team Defense Looked In Mid-Season Form…
Nick Laham/Getty Images
Two three-and-outs and only 10 total yards allowed? In the words of Wayne Campbell, EXCELLENT!
Ellis Hobbs was very effective in coverage, Akeem Jordan looked very comfortable at the SAM, and the combo of Trent Cole and Juqua Parker got a good rush on David Garrard.
Can't really ask for much more than that!
…But The Second Team Defense Was Awful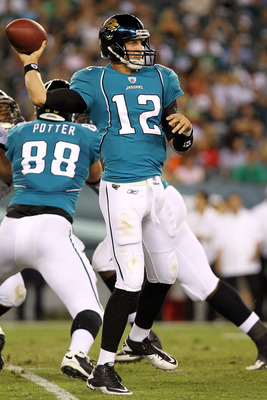 Nick Laham/Getty Images
Okay, not all of them. Daniel Te'o-Nesheim and Ricky Sapp showed excellent rush skills, and Dimitri Patterson made a couple of good reads on attempted screen plays.
However, the rest of the "back seven" on the second team looked horrible en route to giving up 316 yards of total offense—all but 14 of it through the air.
Joselio Hanson was burned for a Troy Williamson TD despite an illegal contact call (one of four or five called on the group), Moise Fokou struggled with fundamentals, and the entire unit made Luke McCown and a poor group of receivers look like the 1999 Rams.
Oh yeah, and I'd be remiss to mention that the five Jaguars scoring drives totaled all of 16 plays—with two of them ending in bombs for touchdowns.
Ugh.
On the bright side, the Jaguars were a whopping 0-for-11 on third and fourth downs, so at least they got the job done in situations where it counted.
Special Teams Is (Mostly) A Mess
Nick Laham/Getty Images
Punter Ken Parrish kicked off tonight, which told me that the Eagles are very worried about David Akers' leg.
Sure, he was perfect on five field goal attempts, but the longest was 36 yards.
There's really no way the Eagles carry three specialists, so if they're willing to see if Parrish can kick off (spoiler: he was awful), they might actually be so worried about Akers that they're willing to part ways with a punter in Sav Rocca who had career highs in net yardage and several peripherals last year.
Parrish did at least have a pair of nice punts (even if his third and final one was out of control), so for the most part he did that portion of his job well.
However, the kick coverage teams did not do theirs. Parrish's lack of ability to get the ball to the end zone is troubling enough, but they allowed four of five lengthy returns—two of which gave the Jags the ball near midfield—and the only touchback came on a lucky bounce.
And to top it off, Quintin Demps hurt his knee on the opening kickoff and never returned.
New coordinator Bobby April has his work cut out for him.
Pre-Season Results Still Mean Virtually Nothing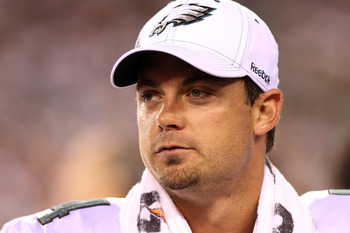 Nick Laham/Getty Images
You can see that from the previous nine slides.
The first-team offenses and defenses played sparingly, Luke McCown looked like Superman, and the Eagles preserved the victory thanks in large part to a pair of crunch-time sacks by Keenan Clayton and Jeff Owens—who currently are no higher than last on the depth chart at their respective positions.
But hey, they're 1-0, right?
Keep Reading

Philadelphia Eagles: Like this team?