NFL Preseason: Top Five Quarterback Battles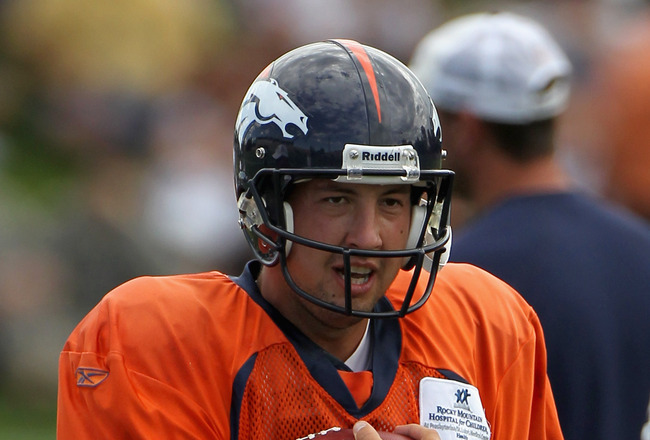 There's no single position in the sport of football that has more impact on his team's chances for success in any given year. Even with a fantastic running game, the sport simply demands you have a quarterback with at leave average capability.
Quarterback battles are generally something a team wants to avoid, but for the fans at least, there are few storylines more intriguing than tough quarterback competition.
There are a number of teams that will face a tough decision regarding this vital position this year. Here are five of the best quarterback battles we're like to see play out this season.
No. 5: Carolina Panthers, Matt Moore vs. Jimmy Clausen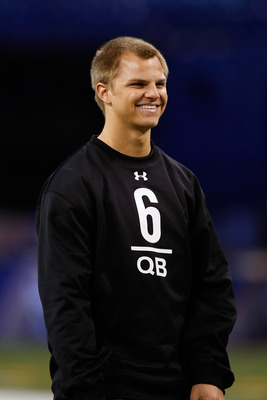 This battle may not be much of an issue going into training camp, but it has the potential to become an interesting issue for the Panthers as the season goes on.
Matt Moore started the last five games of 2009 and proved to be a serviceable starter. During the season he threw for 1,053 yards, connecting on almost 62 percent of his passes and threw eight touchdowns compared to only two interceptions.
Overall, the Carolina Panthers don't need a star at quarterback; they just need someone who can manage the game. The offense will once again focus on the running game with the terrific tandem of DeAngelo Williams and Jonathan Stewart (not to mention their talented fullback, Tony Fiammetta).
Clausen is going to be groomed as the Panthers' quarterback of the future and provided Moore doesn't struggle too badly, they may go the safe route and let him sit this year. He has the physical ability to be an NFL quarterback, but he may need some bench time to mature and develop as a leader.
No. 4: Denver Broncos, Kyle Orton vs. Brady Quinn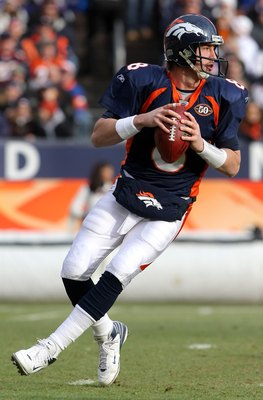 Sorry Tebow fans, but this writer remains unconvinced that the Broncos didn't seriously overreach taking college football's golden boy in the first round.
Kyle Orton is the starter for now, if for no other reason, he's got experience on his side. He's been consistently mediocre over the course of his career, but quite often an average quarterback is acceptable as long as he's consistent.
Orton pretty much exceeded expectations across the board last year, completing 62 percent of his passes for 3,802 yards, 21 touchdowns and 12 interceptions.
However, with the injuries that the Broncos have suffered at tailback, if Josh McDaniels believes that Brady Quinn brings more upside to the table he may be tempted to make a change. Unless he's made a quantum leap from how he played in Cleveland last year though, Orton will probably be safe unless the Broncos really struggle.
No. 3: Buffalo Bills, Trent Edwards vs. Ryan Fitzpatrick vs. Brian Brohm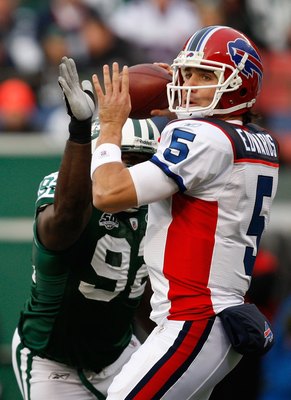 Unfortunately for Bills fans, they're probably in for another long year regardless of who wins this battle. The fact that Brian Brohm's name has even entered the discussion does not bode well for Buffalo.
Trent Edwards showed some promise in 2008, but struggled quite a bit last year and also had to deal with injury problems. He and Ryan Fitzpatrick basically split the season up and neither managed to impress. In eight games last year, Edwards completed 60 percent of his passes for 1,169 yards, six touchdowns and seven interceptions.
On the other hand, in the ten games Fitzpatrick appeared in, he completed only about 56 percent of his passes for 1,422 yards, nine touchdowns and 10 interceptions.
This one's probably a wash, but my guess would be Edwards gets the nod just based on the potential he showed in 2008. Either way though, it's probably not likely that any of the three quarterbacks will be able to do much behind the Bills' horrid offensive line.
No. 2: St. Louis Rams, Sam Bradford vs. A.J. Feeley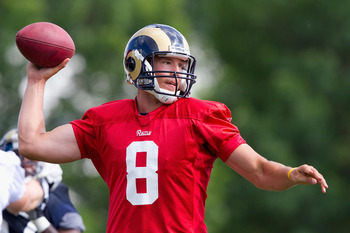 While it's safe to say that the Rams are hoping this will be the last season they'll have a quarterback battle for a very long time, for now the starting job is up for grabs.
Sam Bradford, the number one overall pick in this year's draft, is obviously the future for the franchise. The 2008 Heisman winner will almost undoubtedly take over at some point this season, if not before week one.
For now, his only competition is perennial backup A.J. Feeley.
Feeley was Donovan McNabb's longtime backup in Philadelphia, but played frequently for years thanks to McNabb's injury problems.
Ideally, I'm sure the Rams would love for Feeley to play well enough in camp to justify letting Bradford sit on the bench for awhile, but whether that will happen is a total mystery. Feeley has always been a very capable backup and he's familiar with the West Coast Offense, but he also hasn't thrown a pass in a game since 2007.
A.J. Might get the nod to start in week one, but he might not even make it through that game. I'll be shocked if Bradford isn't starting by week five.
No. 1: Matt Leinart vs. Derek Anderson
Well, it probably took a lot longer than Matt Leinart had hoped for, but the guy that Arizona drafted as their "quarterback of the future" way back in 2006 should finally have the opportunity to nab the starting job.
With the ageless wonder, Kurt Warner, finally deciding to hang 'em up, Leinart will be given the opportunity to win the job during camp.
However, Cardinal fans have to be biting their nails at the thought of what the future holds for them should he win the job. Leinart doesn't have impressive arm strength and has generally failed to impress when he has seen the field.
Over his four year career, Leinart has completed a rather pedestrian 57 percent of his passes and has thrown 20 interceptions compared to only 14 touchdowns.
On the other hand, the Cardinals brought in the enigmatic Derek Anderson to compete with Leinart for the starting job.
Anderson came out of nowhere in 2007 with the Cleveland Browns, throwing for 3,787 yards and 29 touchdowns. Ever since then though, he's been nothing short of bad. Last season he played in eight games, completed only 44.5 percent of his passes and threw more than three times as many interceptions as touchdowns (10:3).
The edge probably goes to Leinart for now, but if Anderson can somehow channel the 2007 version of himself, he could still win the job.
Keep Reading

Arizona Cardinals: Like this team?