Why the Dodgers will Win the West!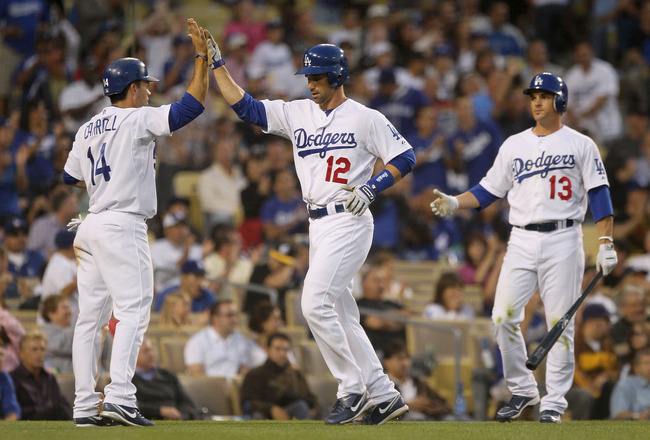 The boys on baseball tonight have written them off; they are living through a divorce; they have no legitimate power hitter; their closers are rocky; their starting line-up has been overhauled; they have to make up almost 5 games just to be considered for the wild card.
But, the Los Angeles Dodgers will win the West.
And, here's why...
Speed and Guile Up Front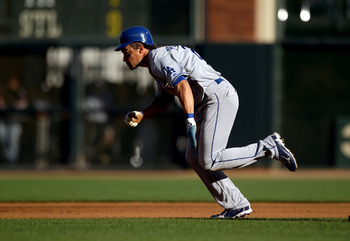 When hot-hitting, hard-running Rafael Furcal went down, it looked bad for the Dodgers. Furcal, between stints on the DL nursing a bum back, had been the spark plug for the team at bat and in the field.
But, while the Dodgers could have used the power of an Adam Dunn, they opted for the speed and guile of Scott Podsednik, a swift veteran who runs like the wind and gives pitchers fits.
With newly acquired Ryan Theriot batting behind him, Podsednik invariably finds himself on second or third, either stealing his way there or having the wily Theriot move him along with a hit to right field.
Ethier will power up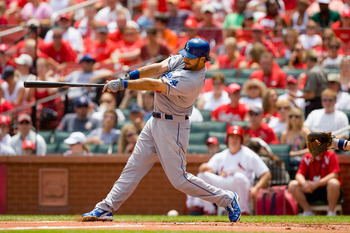 Hitting behind Podsednik and Theriot, Andre Ethier will have men on base to drive in. While he slumped in July, the powerful lefty has surged in the past week and has a .639 slugging average.
Once considered a prime candidate for the Triple Crown, Ethier had to sit on the DL with a thumb injury. His late season rejuvenation will provide the power they need to win games.
Look for Ethier to lead the team in home runs, average and RBI's.
Starting Pitchers Will Hold Down the Opposition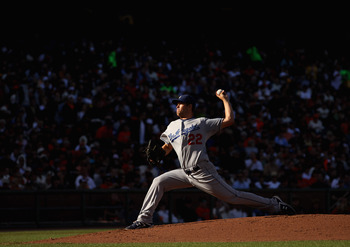 Kershaw, Padilla and a revived Billingsley are as tough a pitching threesome in the league. Now they have Ted Lilly too. Make that four!
Billingsley, in particular, has had stellar numbers in his last four outings and would be considered a Cy Young candidate in a time of lesser competition (Halladay, Josh Johnson, Wainwright, etc.) He has given up 5 earned runs in the last 5 games, averaging six-plus innings per game.
While Kershaw may be hit and miss, he still has the ability to shut down a team and Padilla has turned into a wily veteran mixing a wicked fastball with an even more wicked floater that rarely hits 50 mph.
Lilly's 3.68 era adds to the pitching power that will hold down the opposition.
Giants Will Fold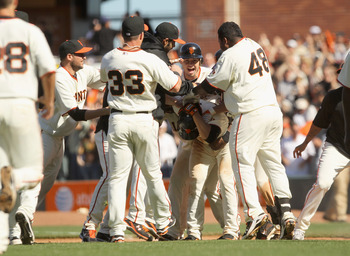 The Giants may be happy now, but they will soon be crying...as usual. Not even the vaunted Tim Lincecum can hold up this wayward team.
They have no great hitting, even though they led the league in runs scored in July, and their pitching while heralded as the best in the league, just can't seem to make up for this woeful team.
Did I mention they lead the majors in hitting into double-plays. Posey or not, Cain, Lincecum and the rest, cannot make this team a winner...and they have one of the worst coaches in baseball.
Nuff said...
The Padres are not for Real
OK, quick, tell me the starting line-up for the Padres...better yet, who is their ace pitcher?
That's right, they got nobody and they are living on borrowed time. Sure, Bud Black has worked magic with this team that many picked to be in the cellar.
But there is no way they can sustain their winning ways.
John Garland? Jerry Hairston, Jr.? Tony Gwynn, Jr.? Some guy named Correia and another named Latos. Who are these guys and where did they put the real Padres?
I'll tell ya'...they put them in third place behind even the Giants who will sweep them this weekend and send them reeling.
Jamey Carroll and a Crew of Wannabes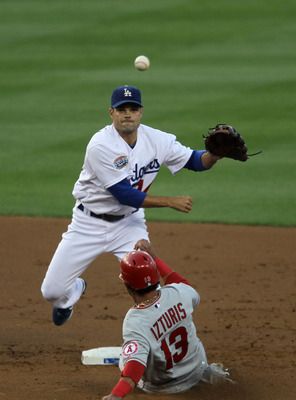 Joe Torre - the Game's Best Coach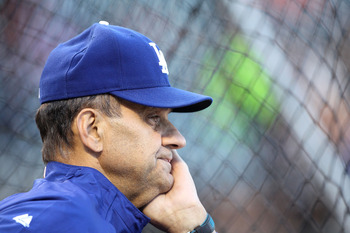 The Lakers have Phil Jackson and the Dodgers have Joe Torre.
Never underestimate the value of a great coach.
Motivator, poised under pressure, supreme strategist, Torre understands that it is now how you start the season but how you finish and like a wise old jockey working his horse down the last stretch, Torre is guding the Dodgers to the top.
Would you bet against him?
Keep Reading

Los Angeles Dodgers: Like this team?