Fantasy Football: Over and Underrated Quarterbacks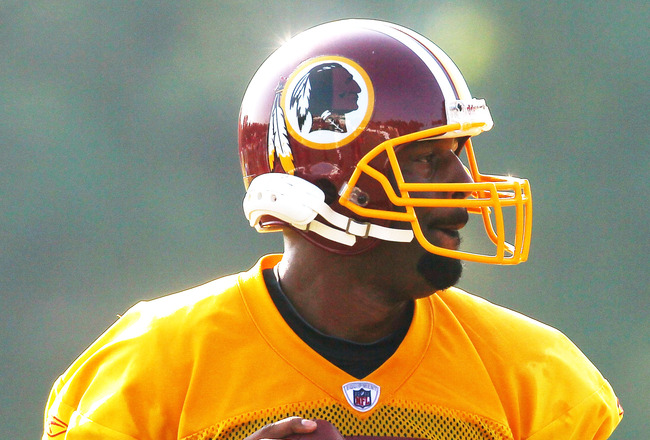 In our last piece, we looked at late round prospects that are still under the radar, but may be poised for breakout seasons. But the bottom of the draft is not the only place to find a great deal.
Getting a player with third round value in the fourth or fifth round is a coup in itself. (It's the little things, isn't it?)
Every season, we under or overvalue players in the offseason; it's the nature of the beast. Whether it is personnel changes around them, scheme changes, or injury concerns, something jumps out and makes us either love or hate a player before the season even begins.
Over the next two weeks, I will take a look at a few players at each position who I believe are undervalued and overvalued, based on their Average Draft Position (ADP).
Note that just because I think someone is overrated, doesn't mean I don't think they will perform this season. I just think the cost of drafting them is too high. Likewise, if someone is underrated, it doesn't mean they will be the top fantasy scorer at their position, just that they will outperform their draft position.
Let us begin with the quarterbacks…
Donovan McNabb - Underrated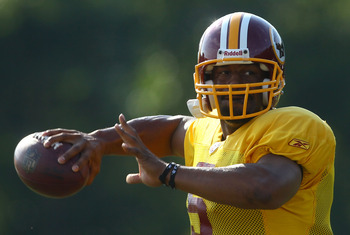 Donovan McNabb (ADP 104)
McNabb was a Top 12 QB last year despite missing two games. Considering his replacement, Kevin Kolb, threw for 700 yards and four TDs in his stead (vs NO, vs KAN), I would argue that McNabb would've been a Top Eight QB had he played those games.
Presumably, his lower draft position (25 spots behind Kolb, now the starter in Philly) is out of concern for his supporting cast. But McNabb has done more with less before, and he still remains a viable fantasy starter. And his career average 2.5 rushing TDs per season, should help to buoy his value, even if his legs aren't what they once were.
Currently the 14th QB off the board, behind the (retired?) Brett Favre, McNabb will deliver QB1 stats at a QB2 price.
Carson Palmer - Underrated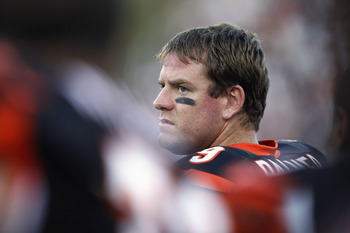 Carson Palmer (ADP 107)
Palmer threw the ball fewer times in 2009 than in any other full season he has played. It appears Cedric Benson will avoid a suspension. These signs alone might indicate that Palmer's ADP is about right and that the Bengals will continue with a smash-mouth style that limits Palmer's ceiling.
But a pair of season-ending beatdowns suffered at the hands of the Jets underscored the Bengals' need to develop a downfield passing threat. They attempted to do so by drafting Jermaine Gresham, a pass-catching tight end out of Oklahoma, and signed Antonio Bryant and Terrell Owens.
While they will still try to pound the ball on the ground early and often, the Bengals didn't add these new weapons to play decoy for Benson. Expect the running game to setup the downfield play-action to maximize Palmer's yards-per-attempt.
A return to 2005-2006 form (3900+ yds, 30 TDs, 12.5 INTs avg.) may not be in order, but a Top 10 finish among QBs shouldn't surprise anyone.
Chad Henne - Underrated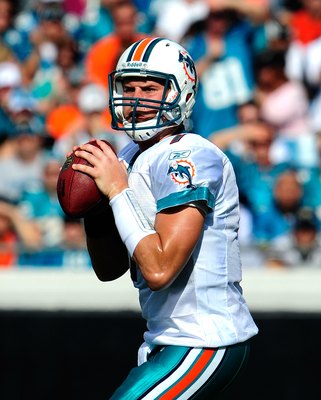 Chad Henne (ADP 132)
I'm not going to extrapolate the pass attempts he got at the end of last season (40+ in three of the last five games) into a full season and predict record-breaking campaign.
However, you may have heard that the Dolphins traded for Brandon Marshall this offseason. That's the same Brandon Marshall who caught 101 balls for 1120 yards and 10 touchdowns last season from Kyle Orton. Say what you will about Henne but his arm is stronger than Orton's, and the difference in talent between Marshall and Ted Ginn Jr., who Miami traded to San Francisco, is more a chasm than a gap.
With defenses honing in on Ricky Williams and Ronnie Brown in the backfield, there should be plenty of room for Henne to find Marshall's big body, especially in the red zone.
He's not going to lead the league in passing, nor will he revolutionize the position, but he's a bargain as a QB2 with potential to leapfrog into a low-end QB1. He's being drafted amidst Defenses, so the cost is negligible.
Eli Manning - Overrated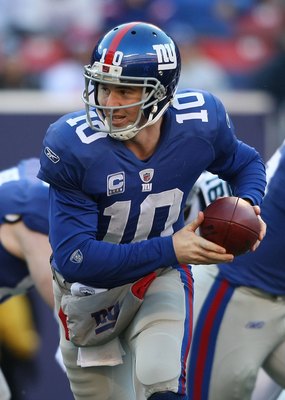 Eli Manning (ADP 94)
Many will point to New York's hot start in 2009 before Brandon Jacobs inability to stay healthy as reason to grab this gunslinger in the middle rounds.
I'll argue that those are reasons to avoid Eli in 2010. First, the "hot start." More than one-third of Manning's TDs (10 of 27) came in the first five games of the season—against Washington, Dallas, Tampa, Kansas City, and Oakland. With the exception of Dallas (a wildly inconsistent team in their own right), these teams were considered a "gimme" for most opponents.
Once the injury bug bit the Giants' backfield, the team's offense was thrown into disarray. While some people would argue that highlights just how well Manning performed, I'm not so easily convinced. With neither Jacobs nor Ahmad Bradshaw healthy enough to shoulder the load, the Giants were forced to rely on Eli's arm.
This year, with a renewed dedication to the defensive side of the ball, we could see a return to a ball-control offense relying on a healthy dose of Jacobs and Bradshaw, which will cap Eli's ceiling.
He's a decent low-end QB1, but with other options available deeper in the draft, I'd prefer to invest in a Thomas Jones (ADP 90) or Montario Hardesty (ADP 88) in this spot and grab someone with more upside later.
Jay Cutler - Overrated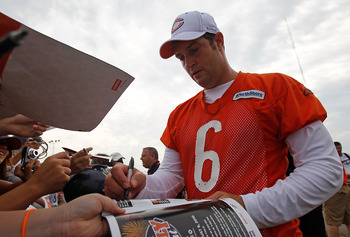 Jay Cutler (ADP 71)
Everything you've heard about the Mike Martz offense is true: the playbook is a 12-volume tome that you need a PhD to fully understand, the TEs are persona non-grata, and the quarterback will throw the ball until his arm falls off.
The bazooka-armed Cutler may seem like a great fit for a high volume offense, and there is virtually no chance he doesn't throw for 4,000 yards in 2010. But unless you're in a league that doesn't penalize for turnovers, the monster yardage totals will be, largely, offset by 20+ interceptions. And with an offensive line that can be generously described as tenuous, expect Cutler to take a beating on a weekly basis.
Cutler, like Manning, is a decent low-end QB1 (perhaps with a slightly higher ceiling), but is not worth the price. He is currently being drafted just after Ricky Williams (ADP 69) and before Fred Jackson (ADP 76), both of whom I would rather have in the mid-rounds.
Matt Ryan - Overrated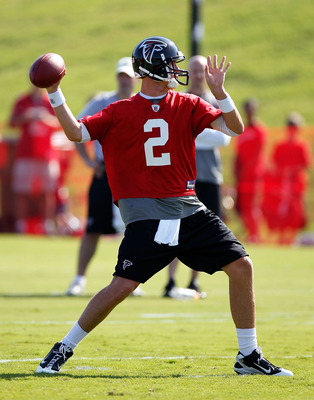 Matt Ryan (ADP 80)
The Boston College has made a phenomenal transition to the NFL and, in the process, has saved the Falcons franchise from oblivion after the Michael Vick debacle.
In two seasons, he has led his team to the playoffs and to the franchise's first ever back-to-back winning seasons. Unfortunately, none of that counts in our stat-based fantasy football world.
The Falcons are a run-first team who will rely on Michael Turner to shoulder the load. Matt Ryan is a solid backup, but is being drafted as a starter. Use this mid-round pick to stock up at WR or RB, and grab a more fantasy-friendly QB, such as those listed above, later in the draft.
*Average Draft Picks taken from mockdraftcentral.com.
Visit TheFantasyFix.com for more great fantasy sports insight..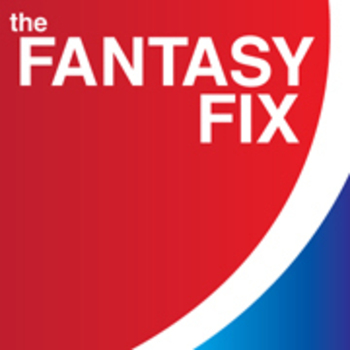 Keep Reading