2010 Fantasy Football: 35 Late Round Options You Need to Know About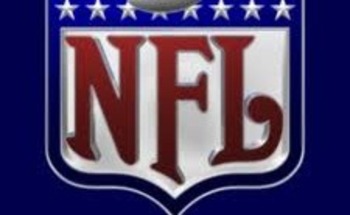 When drafting a fantasy football team many may find the beginning of the draft to be extremely easy and automatic. I've been a commissioner of two football pools for over five years. I've found many similar problems that fantasy owners run into come the late rounds.
I'm writing this article because I've been asked, over and over, the reason why some owner's struggle throughout their fantasy football seasons. One of the reasons is their inability to find contributors in the late rounds on draft day. Here, I will provide all of my fans and readers a key fundamental tool when drafting in the ladder rounds. Furthermore, I will unleash 35 key players that I feel will give fantasy owners throughout North America the edge for their desired leagues.
35. Washington Redskins: Tight End, Fred Davis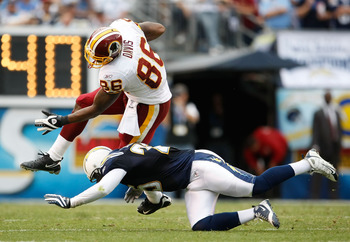 Jeff Gross/Getty Images
With Chris Cooley still being the go-to-guy in Washington, Fred Davis may see a few less reps than him. But on the flip side, Fred recorded some interesting numbers last season that should be noted. In the second half of the 2009 season, he recorded five touchdowns and had 33 receptions for an average of 15 yards a catch.
I feel that the Redskins are getting Fred Davis ready to be the future starter. With that said, he's good for a late round selection. Look for Davis to get at least 600 receiving yards this season and 8 touchdowns.
34. Miami Dolphins: Quarterback, Chad Henne
Joe Robbins/Getty Images
Many fantasy owners lean towards the name brand quarterbacks in the beginning of the draft and ignore what is at the bottom of the barrel.
I was asked about Chad Henne and his future as a Dolphin. My answer to one of my emails is pick him up if he's still available near the end of your draft.
Remember star quarterbacks do get injured, and with that said, Chad Henne's services will come in handy. I know that Miami isn't completely sold on him, but he does have a lot of new weapons. With Brandon Marshall jumping on board there's no telling what kind of numbers Chad may produce.
I'm a firm believer that the receiver makes the quarterback! With that said, Chad should put up at least five 300 yard games. As a fantasy owner, bonus points are huge! He will be close to 3000 yards throwing and 25 touchdowns in 2010. With the help of his new receivers and powerful arm, he will be a great pick up in the last round.
33.Detroit Lions: Tight End, Tony Scheffler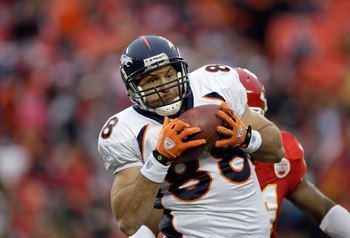 Jamie Squire/Getty Images
Tony Scheffler was one of the better pickups that Detroit acquired this season. He's not the greatest blocker but who cares! We're talking fantasy right? This man has sticky fingers. The ball rarely falls out of his hand once it touches his palms.
Although his statistics took a little dip , look for Tony to set up in a double tight end formation with Brandon Pettigrew. Tony recorded only two touchdowns in 2009. With Brandon Pettigrew still recovering from surgery, Tony may have a chance to breakout in 2010.
32. Philadelphia Eagles: Running Back, Mike Bell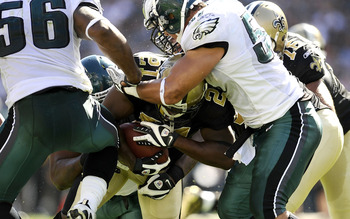 Jeff Zelevansky/Getty Images
The new and questionable Philadelphia Eagles are going into the 2010 football season with a lot of fresh faces. They signed Mike Bell for running back depth. Now with so many people focused on LeSean McCoy, I feel Mike might just be a great sleeper in fantasy leagues.
He showed a lot of potential last year as he started for the injured Pierre Thomas in New Orleans. If all hope fails with LeSean this year, get ready to see Mike Bell take the load. If you're thinking what I'm thinking, then Mike Bell is a great late round pick.
31. San Francisco 49ers: Running Back, Anthony Dixon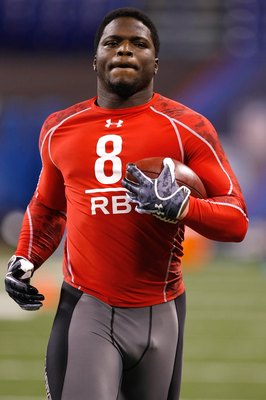 Scott Boehm/Getty Images
I once wrote an article about Glen Coffee. I have great faith in this individual, but by the looks of what Anthony Dixon is doing in training camp, I believe that he might get the handcuff to Frank Gore. Anthony has been taking a lot of snaps and is beating Coffee at most of the drills. Even quarterback Alex Smith had plenty of positive comments towards him.
Now with Frank Gore turning 28 years old, his career is fading slowly away, look for Dixon to start a few times when Gore is injured.
30. San Francisco 49ers: Quarterback, Alex Smith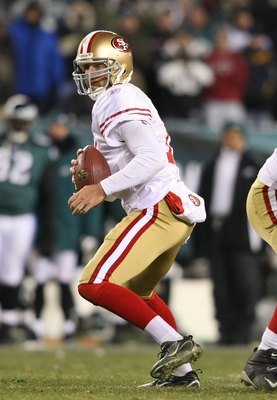 Nick Laham/Getty Images
Since were talking about the San Francisco 49ers, we may as well bring up their quarterback Alex Smith.
Listen it's simple with this young man. He's struggled throughout his early year's no doubt. This season he has all the tools to bloom out of his garden. He has so many stars on his team. Smith has Frank Gore, Ted Ginn Jr., Vernon Davis, and Michael Crabtree to add a few.
If you're looking for a breakout quarterback, look no further. Simply add Smith to your roster come draft time.
29.Philadelphia Eagles: Wide Receiver, Jason Avant
If I had to go with a sleeper pick for this years fantasy football draft in the wide receiver slot, I would pick up the slot machine himself, Jason Avant.
Jason has one of the best hands in the game. He has earned his spot on an Eagle's squad that has talented receivers to compliment his game. He's a short yardage type of guy, but can also be a big threat in the middle of the field.
He recorded 41 receptions and had three touchdowns to compliment his 587 yards receiving in 2009. Now that he's signed a fresh new contract in Philadelphia, I see him smashing his previous stats. Look for Jason in the later rounds of the draft. He's got a lot of upside to his game.
28. Minnesota Vikings: Quarterback, Tarvaris Jackson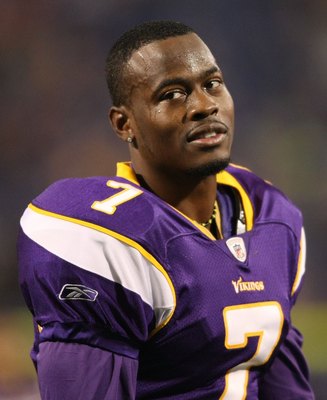 Nick Laham/Getty Images
Yes Brett Favre has issues, and so do the Minnesota Vikings. With that said, there's a young potential star on the bench waiting to prove his skill. Tarvaris Jackson is a great late round option when conducting your fantasy draft.
If Jackson gets the start in Minny, he will have one of the best offensive lines to work with. Also, don't forget he's got weapons, come this year he will have Sidney Rice, Percy Harvin, and Bernard Berrian. With a great running game to compliment the pass, Jackson may have one of his best years given the chance to be the leader of the squad.
27.Pittsburgh Steelers: Quarterback, Byron Leftwich
With Big Ben serving his suspension when the season starts, many are wondering what happens to the quarterback situation in Pittsburgh. Well, to tell you the truth, there's an answer. His name is Byron Leftwich and he's got his last chance to prove something to the rest of the league.
You have to remember, Ben Roethlisberger put up some great fantasy numbers in 2009.The great system that Pittsburgh runs contributed. With that said, I feel as a last pick in a fantasy draft, Byron is a great quarterback to grab. He can throw the ball. He's recorded some stellar numbers in his early years.
26.Detroit Lions: Quarterback, Matthew Stafford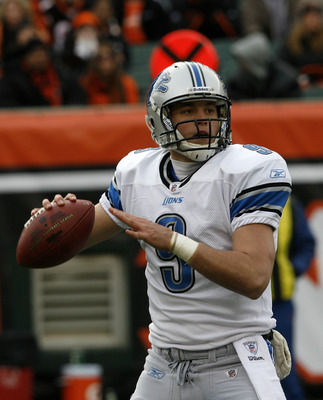 John Sommers II/Getty Images
This player here is a secret, don't tell anyone. This kid has all the fundamental skills needed to become great. He's on a team that is rebuilding. He posted some great rookie numbers last year. He reminds me of Troy Aikman and Peyton Manning.
If he's around in the bottom of the barrel, take him and run. Matthew Stafford has all the weapons surrounding him to become one of the elites in the league.
My prediction for this young stud: 3000 yards, 26 touchdowns, and 15 interceptions.
25.Dallas Cowboys: Running Back, Tashard Choice
I know fantasy owners get brain freezes when they're nearing the end of their fantasy drafts. But believe me when I tell you, most owners blow their chances of winning a fantasy championship because they fail to pay close attention to detail in their later rounds.
The key is to make the right CHOICE! My next player is an athlete that amazed me at the scouting combine a few years back. Tashard Choice is my next sleeper pick. This young lad has some fine speed and jukes to compliment his football career.
We saw him a few times in 2009 as he shook off defenders and entered the opponents end zone. The only thing holding him back is that he has Felix Jones in front of him. You see, in my books Felix will get injured and Tashard will start. I don't know exactly when it will occur, but my senses tell me that Felix is an injury type of player.
Gentlemen, once again I unveil a secret sleeper pick for 2010.
24.New England Patriots: Tight End, Rob Gronkowski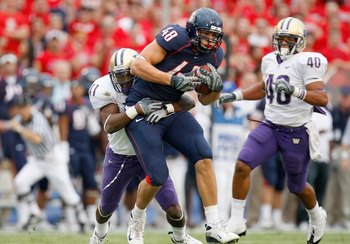 Gregory Shamus/Getty Images
I know call me crazy but this young star coming fresh out of the draft will surprise a lot of owners. Rob Gronkowski was drafted 42nd overall by the New England Patriots. Believe me when I tell you this; If anyone has an eye for talent it's the Patriots.
This kid will have one of the best quarterbacks throwing the ball to him. Tom Brady will enjoy this big target come the start of the season.
23.Houston Texans:Running Back, Ben Tate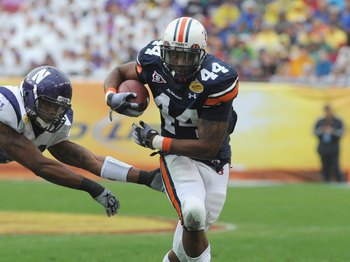 Al Messerschmidt/Getty Images
When the Houston Texans selected Ben Tate in the second round of the 2010 draft. It showed me that the Texans are looking into the future with their running back woes.
With Steve Slaton struggling last season, Ben will have his chance to be a starter in Houston. Ladies and gentlemen if you're looking for a nice sleeper to fill in a bye week for your fantasy pool, look no further and draft Ben Tate in the later rounds!
22. Chicago Bears: Running Back, Chester Taylor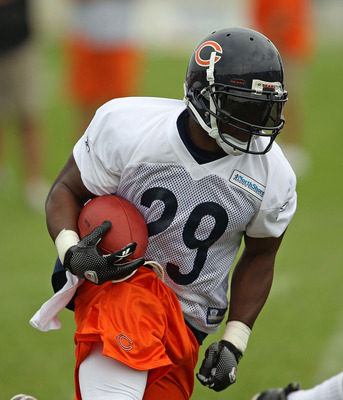 Jonathan Daniel/Getty Images
To all the fantasy owners that have Matt Forte in their pools, please keep an eye out for this beast. Chester Taylor was a stud in Minnesota. He played extremely well as a backup to Adrian Peterson. He's a great back to use when needed to catch the ball.
If Matt Forte goes down with an injury or struggles again like last year, be sure to see Taylor get the nod to start for the Bears.
21. Arizona Cardinals: Quarterback, Matt Leinhart
These video highlights are from Matt Leinart's earlier days in college. As you watch the video you should see the potential this young lad has at the quarterback position.
He's finally getting the chance to shine at his position. Given that Arizona is driven by the pass, there's no telling what Matt can offer.
Kurt Warner rekindled his career with Arizona. Why can't Matt do the same! If you're looking for an extra quarterback to be on your roster, consider him at the end of your fantasy draft.
20. Miami Dolphins: Defense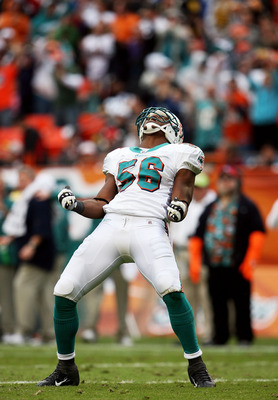 Doug Benc/Getty Images
Oh ya! Miami Dolphins will be this year's surprise at defense. All the younger players on Miami are maturing and developing into stronger individuals. They were in the middle of the pack last year for defensive points in fantasy. If your fantasy league offers defensive teams, you might want to consider the Miami Dolphins.
19. San Diego Chargers: Kicker, Nate Kaeding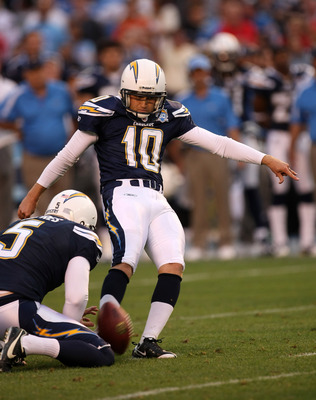 Stephen Dunn/Getty Images
Most owners forget about the importance of kickers in their respective fantasy leagues. Most people tend to rush through this position without giving it a close observation.
Nate Kaeding is a great pickup for fantasy owners because he can produce as much points as an average wide receiver.
Last year Nate Kaeding averaged 5.8 points in a fantasy league that I conducted. The average receiver had 4.5 points. You may say big deal because it's only one point a game. On the flip side, we had nine games that were decided by one point. You understand what I'm saying?
You have to learn to carve the fat off the steak. So if you have a chance to grab Nate Kaeding, do so and the rewards will be limitless.
18. Houston Texans: Tight End, Owen Daniels
Last season was a horrible season for Owen Daniels. His season ending injury left him out of work all of 2009. Many have said that he's washed up. I find this hard to believe. Owen has been a rock ever since he entered the NFL.
He posted some creative numbers while he was active. He was on pace last year for 80 catches and 1,000 yards receiving. This year brings some skepticism and doubt, but if you're a gambling type of person, I would consider him in the eighth round.
17. Indianapolis Colts: Running Back, Donald Brown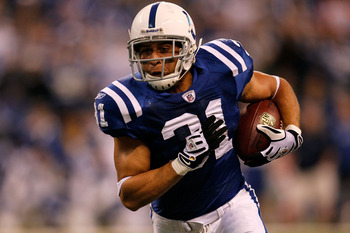 Jonathan Daniel/Getty Images
If Joseph Addai avoids injury, I might be wasting your time with this pick. Joseph showed the Indianapolis Colts that he still has what it takes to start at the running back position. Donald Brown will see limited time as a back in Indianapolis.
The only upside is that if Addai does sustain another concussion, you might hit it big with Brown. If you have Addai in your pool, Brown is a great handcuff to have.
16. Tampa Bay Bucaneers: Running Back, Carnell Williams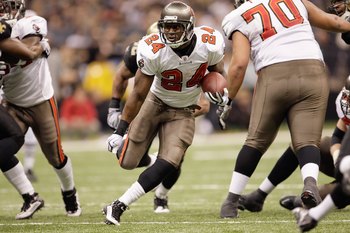 Jamie Squire/Getty Images
This freight train has crashed too many times. He's had multiple surgeries to repair his ankle, knees, and etc.
He's back on track now, and looks pretty good in training camp. While healthy, Williams showed a lot of fantasy owners why he was worth a first round selection. These days a lot of fantasy owners are skeptical about his health. With all do respect, they have a right to feel this way.
If your stud half-backs are in a bye week, consider this potential disaster to give you at least one great game for your fantasy league.
15. Seattle Seahawks: Running Back, Justin Forsett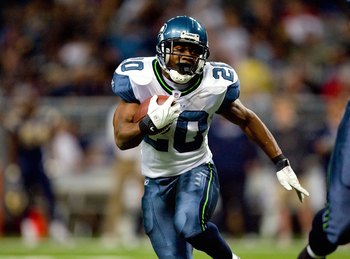 Dilip Vishwanat/Getty Images
Before you start to say that Justin Forsett isn't a late round pickup, give me a chance to explain this. In some pools the level of intelligence in fantasy owners is very minimal. With that said, many don't know the likes of Forsett.
For all you inaugural fantasy owners out there, wrap up Forsett in your late round options and the points that he will produce will be monumental.
14. Philadelphia Eagles: Wide Receiver, Jeremy Maclin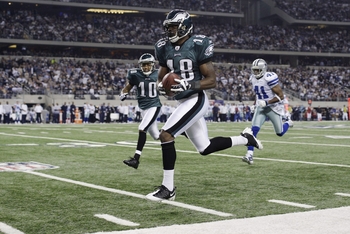 Jamie Squire/Getty Images
Drafted in the first round of the 2009 NFL Draft, Jeremy Maclin was a surprise to all. Being picked so high left many to ponder his potential. His rookie season was impressive. Playing along side superstar DeSean Jackson he put up some good first year statistics. Maclin had 762 yards receiving with four touchdowns in 2009.
The Philadelphia Eagles are planning more from Maclin in 2010. My prediction is that Maclin gets at least 1,000 yards receiving and eight touchdowns.
He's a great late round pickup. Especially if you have Jackson in your fantasy team, it will be great to see these two athletes duke it out.
13. Cleveland Browns: Tight End, Benjamin Watson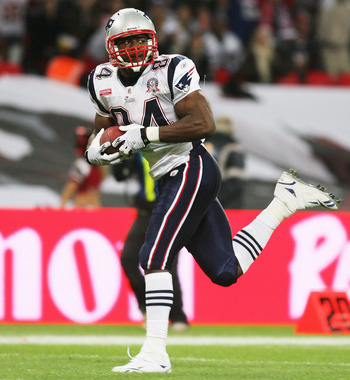 Elsa/Getty Images
Honestly, who else will the quarterback have to throw to in Cleveland. Benjamin Watson has great hands and speed to compliment his game play. Many will forget about his skill come draft time. Keep him on the low down as I see him getting most of the work in Brown's town.
12. St. Louis Rams: Wide Receiver, Donnie Avery
So here I go with my super sleepers for this years fantasy league. Sam Bradford has to find a favorite come this season. My best guess is that it's gonna be Donnie Avery. If Avery was on any other team he would have some sick numbers to add to his career.
Please note, Avery is playing for the worst team in the league. With that said, he's managed to place some impressive numbers as a Ram.
Last year Avery had five touchdowns and approximately 600 yards receiving with a garbage quarterback. If quarterback Bradford becomes a star, we can see Avery's numbers increase dramatically.
My prediction for Donnie Avery is 1,000 yards receiving, 8 touchdowns, and 75 catches.
11. St. Louis Rams: Quarterback, Sam Bradford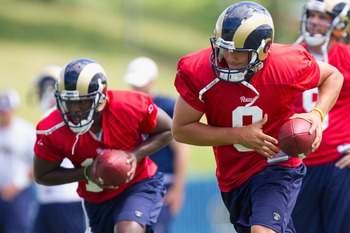 Dilip Vishwanat/Getty Images
Since I was talking about Sam Bradford in my previous slide, I might as well include him in the mix of late round picks.
Sam Bradford was picked up first overall for a reason. He's got lots of potential and his heart is in the right place. I'm including him in the late round options because I know he will be left behind. Many fantasy owners like to see players produce before they select them. I find that to be another fault in their system.
The most important thing to remember in fantasy is to take risks! If Bradford doesn't pan out, release him into the waiver wire. But to tell you the truth, I feel he might get rookie honors this year.
10. Cincinnati Bengals: Tight End, Jermaine Gresham
Donald Miralle/Getty Images
When the Cincinnati Bengals chose Jermaine Gresham 21st overall in the 2010 draft, many asked why? Well I'm here to explain to you why this happened. The Bengals always wanted a star tight end to compliment their vicious air attack.
With Terrell Owens signing and Cedric Benson finally finding a home to play, I see the Bengals making it deep into the playoffs in 2010.
Now back to Gresham. If this fine athlete continues to shine, the future will look bright for him and the Bengals.
If you're the type of owner that likes to save the tight ends for last, be sure to check out this young prospective star.
9. New York Giants: Running Back, Ahmad Bradshaw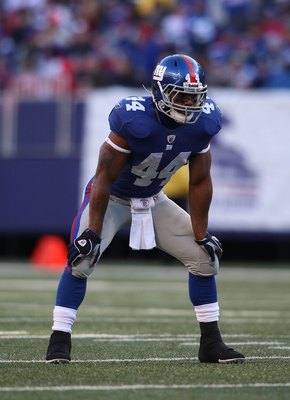 Nick Laham/Getty Images
Being rated as deep as 50th in most fantasy drafts, Ahmad Bradshaw is one player that might add a little pepper to your tongue if you miss him come the later rounds of your draft.
Ahmad Bradshaw saw some action last year as a Giants running back. With Brandon Jacobs getting the nod to start, Bradshaw may just see 10 snaps a game. But please remember, if Jacobs goes down with an injury, be sure to see Bradshaw at the half back position.
Again, this is another case of handcuffing your running backs!
8. Houston Texans: Wide Receiver, Jacoby Jones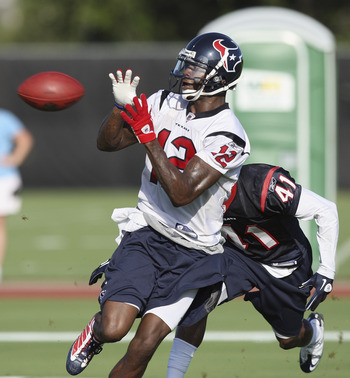 Bob Levey/Getty Images
Yes, there's no doubt in my mind that Andre Johnson is the go-to-guy in Houston. But every team needs a number two receiver, right?
So with that said, Jacoby Jones is one skillful athlete that needs to be taken note of this season. Jones had six touchdowns last year and 437 yards receiving. He's currently fighting with Kevin Walter for that second receiver position.
I'm not saying that he's gonna be great, but I think he will be a good buffer for fantasy owners that need someone to fill in for those late season bye weeks.
7. Baltimore Ravens: Wide Receiver, Dante Stallworth
Let's all forget what transpired last year, and move on with what this man truly is all about. Dante Stallworth is a beast of a player. He's got speed to elude players and moves to send defenders to their butts.
Stallworth is finally ready to prove to the fan's in the NFL what he's really about. Many have forgotten what abilities he has. The Baltimore Ravens have given this man a chance to shine.
His stats have been above average his whole career. He's ranked in the mid-1,000's. I don't know why!
If you can attain his services, do it in the late rounds, he's currently fighting for his position in Baltimore against Mark Clayton. I think Stallworth will beat Clayton and prove to the rest of us his ability to be a star in the NFL.
6. Oakland Raiders: Running Back, Michael Bush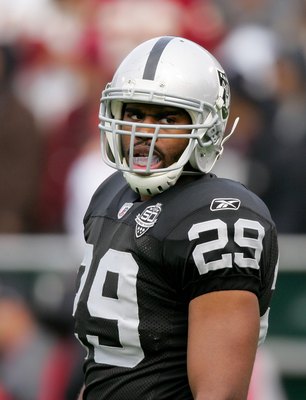 Ezra Shaw/Getty Images
Finally gaining the respect he deserves in Oakland, Michael Bush will finally have his chance to start in the NFL as the starting running back. He's worked his whole life to get to this position, and I feel that he will impress a lot of people out there.
For the past few years, fantasy owners have overlooked the Oakland Raiders because of their poor way of executions. This year seems a little more prominent with a new quarterback and starting running back.
If you find Bush in the seventh or eighth round, take him and go!
5. Chicago Bears: Wide Receiver, Johnny Knox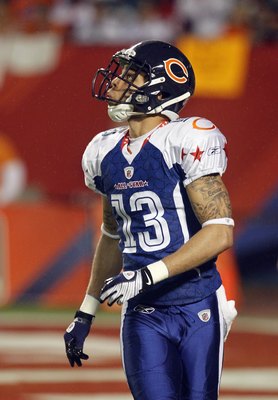 Scott Halleran/Getty Images
This rookie receiver made the pro bowl in 2009 specifically as a returner. He's got a lot of speed and talent. As a receiver, Johnny Knox recorded some impressive numbers. Knox had five touchdowns as a rookie.
He caught the ball 45 times and was one of Jay Cutler's favorite receivers. If Cutler can find his magic again, we can see a great combination forming in Chicago.
If you're in desperate need of receiver help, tryout Knox in the later rounds.
4. Tampa Bay Buccaneers: Quarterback, Josh Freeman
Does Tampa Bay have any hope in making the playoffs this year? Nope. Do the Buccaneers have potential at the quarterback spot? The answer is yes.
Josh Freeman had an up-and-down season as a rookie. He did show some signs of leadership near the end of the season. This year brings much hope to this quarterback. He had 1,800 yards passing in 2009, which isn't much.
He had 10 passing touchdowns and had a 59.8 rating. He's been predicted to go in the early hundreds and that's probably right. He's worth a late pick. Moreover, I'm gonna make a bold prediction and say that he doubles his touchdowns this year and surpasses 3000 yards.
Last note, he reminds me of Donovan McNabb. Seriously!
3. Arizona Cardinals: Running Back, Tim Hightower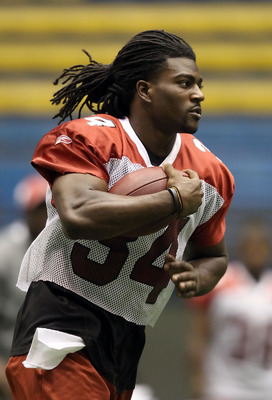 Christian Petersen/Getty Images
Now that the running back battle in Arizona is over, we can now see what each running back will bring to a powerful Arizona offense.
Chris Wells is the go-to-guy for the running game, and Tim Hightower is the special weapon when they're close to scoring.
Hightower has one upside over Wells. Hightower plays better in the passing game. He scored eight times last season and averaged 4.2 yards a carry.
He's moved down a lot of spots in the fantasy football world. Hightower is a great pickup for the late rounds!
2. Dallas Cowboys: Wide Receiver, Roy Williams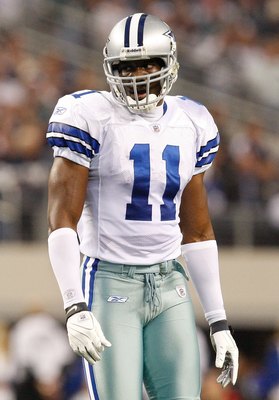 Ronald Martinez/Getty Images
I'm not sure what happened to Roy Williams last season, but there's only one way with this individual. The direction is upwards from last year.
Williams struggled all of last year because of health issues and other personal problems. This year brings many challenges to the table for this prominent star. With Dez Bryant added to the mix, Williams will have to pickup his game in 2010 to avoid being cut from the team.
My prediction is that he has a breakout season.
1. Philadelphia Eagles: Quarterback, Michael Vick
Say what you want, in my books this is the best bottom barrel pick for this year. In a fantasy perspective Michael Vick has all the skills to win you a game on his own.
Yes that's right, on his own! He has rushed for over 1,000 yards in a season. Do you know what kind of points that posts in a fantasy football league. If Kevin Kolb turns out to be a bust, I guarantee you that Michael Vick gets the starting job and keeps it through the years to come.
In my agenda, if Vick had the starting role from the beginning of the season, I would have him picked up in the first two rounds. But because of circumstances, I have him picked up in the later rounds.
Keep Reading