What a Difference a Manager Makes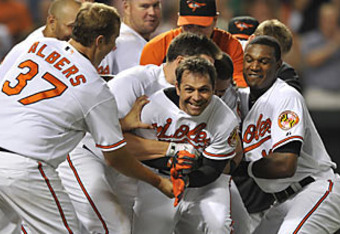 Monday night saw another exciting end to what has been one of the most exciting weeks in recent Oriole history. Brian Roberts hit his first HR of the year as the Orioles beat the White Sox 3-2 in the game and 3-1 in the series. Imagine for just one minute Oriole fans what this season could've been like if the Orioles had played like this all year.
One week ago today the Baltimore Orioles made Buck Showalter the 17th full time manager in the clubs history. There was a certain buzz around the team because if anybody could turn this team around its Buck. In the 3 stops he had the team got better, and in New York and Arizona they won World titles right after he left.
Even with the new manager nobody was expecting anything different from what they had seen all season. Buck was brought in early for one major reason, to evaluate what he has so he can get a head start on the offseason moves. Then one of the strangest things happened the Orioles stopped being an embarrassment and started to play some baseball.
The energy from the team and crowd was something i havent felt all season. I was at the game last Thursday and to be honest i lost my voice because of the excitement. Now being the age i am (24) i could count on one hand how many times ive lost my voice at an O's game, not a lot to cheer about in the last 13 years.
Maybe all the Orioles finally got the message because for some reason Dave Trembley or Juan Samuel could not get through to this team. So does that speak more about the players or managers? Not saying this is true but if the players didnt play hard because they didnt respect or take the other managers seriously thats a problem and hopefully Showalter will rid the team of those players.
We always say that when things go wrong the manager is always the scapegoat and its not always their fault. Maybe in this situation its different because Showalter is getting more out of the Birds in 1 week than Trembley and Samuel got all season. You could say injuries played a part in the O's woes but its basically the same roster. Other fans of other teams would see the optimism on the Orioles page and not understand it but the way this season has gone we take what we can get.
I know its only 1 week and i know there is still a long way to go especially this season every game in September is against a team with a record over .500. This could all fall apart and the O's could lose 10 in a row but for now we are seeing the payoff of having a qualified manager. Being an Oriole fan i am as impatient as the rest of you but for the first time in a while i truly feel this will turn around sooner than later. In Buck We Trust!
Follow me on Twitter http://twitter.com/AndySnakovsky
This article is
What is the duplicate article?
Why is this article offensive?
Where is this article plagiarized from?
Why is this article poorly edited?

Baltimore Orioles: Like this team?