Brandon Morrow Strikes Out 17: Why He Should Be on Your Fantasy Team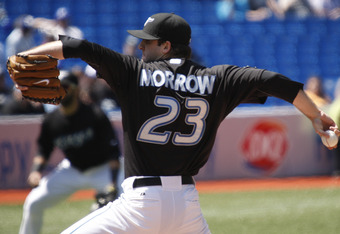 Abelimages/Getty Images
Yesterday, Toronto Blue Jay Brandon Morrow arguably pitched the strongest outing of the year, let alone one of the finest in history. Morrow went 8 2/3 before surrendering a single to Evan Longoria off the glove of Aaron Hill. In only 136 pitches (93 for strikes), he gave up one hit and two walks. Oh yeah, then there was the 17 strikeouts, the most in a game since Johan Santana had 17 in 2006.

Morrow, the first round pick of the Mariners in 2006, never found his footing in Seattle. The most one could have said was that the young gun could strike people out (204 K in 196.5 IP). Seattle only started using Morrow as a starter towards the end of last year. We got a small glimpse at how good he could be in the last game of last year when he threw an eight inning one-hitter with 9 Ks against Oakland.

Brandon certainly has had some ups and downs this season (13 quality starts out of 22), but more than not has shown us what he can do. Although this was the first time this year that he had more than 10 strikeouts in a game, Morrow has had seven games with eight strikeouts and three games with nine. Including tonight's game, Brandon is leading the league, averaging 10.69 K's per nine.

It appears that Morrow is really hitting his stride now and has won four straight. Yes, his season ERA is high at 4.46, but, after tonight, I'd say Morrow has turned a huge corner and could be part of the elite for years to come, or at the very least a feared strikeout artist.

As of this morning, Morrow was only owned in around 30 percent of leagues, a number that will probably jump to around 40 percent by tomorrow. Comparatively, Max Scherzer
Do you think that Morrow will be a top ten pitcher by 2011?
of the Tigers is owned at around 60 percent and has similar numbers for the year. So, before you know it, Morrow will be gone in 2/3 of the leagues as well.
Written by Evan Marx exclusively for TheFantasyFix.com. Evan stares at goats but nothing ever happens. Check back daily for more poor humor.
Leave a comment and let us know, or reply to us on twitter @TheFantasyFix
This article is
What is the duplicate article?
Why is this article offensive?
Where is this article plagiarized from?
Why is this article poorly edited?