Oakland Raiders: Time, Chance, Talent, Tough = Touchdowns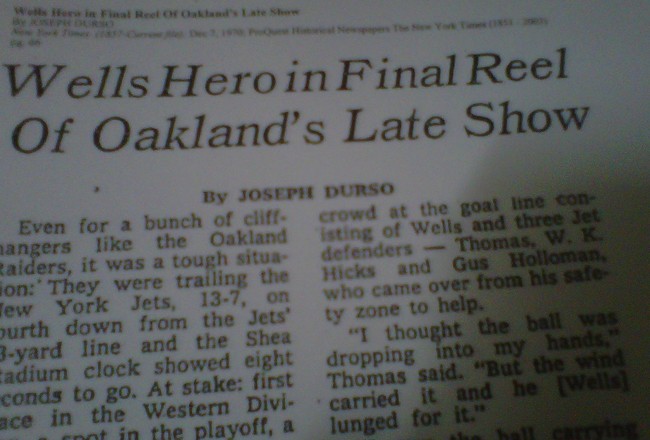 Article written in collaboration with Damali Binta YAEL and Karume Kanyama. Karume is Damali's son.
They called the Oakland Raiders "cliffhangers." It's time for that type of tag to be used again so that the Oakland Raiders can get those touchdowns, even if it is the last few seconds of the fourth quarter.
I will never forget the game on Dec. 6, 1970. It taught a lesson: Never, ever give up.
The historic play during a game between the Oakland Raiders and the New York Jets was indeed a cliffhanger. It wass in Shea Stadium in New York City.
Warren Wells, a deep threat and a gifted wide receiver, was near the goal line with three New York Jets defenders surrounding him.
He was surrounded by W. K. Hicks, Gus Holloman and Earlie Thomas.
Earlie Thomas, the Jets' right-cornerback said,

"I thought the ball was dropping into my hands, but the wind carried it and he (Wells) lunged for it."
Wells was at the right place at the right time. He was equipped. That historical moment happened because of time, chance, talent, toughness and a determination to get touchdowns.
Remember the words Thomas used, "Wells lunged for it."
Wells moved with a sudden, quick and accurate thrust.
A lot can be said about that moment in 1970. The quotes, however, give us a feel for the greatness of the moment.
More can be said, but this quote got my attention after all of these years:
Gus Holloman added,
"I was coming in behind either Earlie or W. K. Hicks and Wells happened to be facing the right way. It just doesn't make any sense."
In this brief article let me share this quote:
"What the Jets had done was to tip the ball into the air. And what Wells had done was to make a spectacular catch on the rebound while tumbling into the end zone."
Warren Wells is 67-years old now. He is still keen, lean, and quiet. He is the wind beneath my wings in researching and writing about the Oakland Raiders and the NFL. Perhaps that wind around my effort to do sportwriting is somewhat like the wind that Thomas saw in the trajectory of the football.
Several other people encourage me to continue researching and writing about sports.
It's a long story and it is one that needs to be written. I am honing my skills to write an aspect of the story on the career of several others. The restoration and strengthening of the Oakland Raiders must be a part of the story.
One thing I have learned about Mr. Wells is that he has an almost perfect memory, and has a laser-focus and determination.
Further, when my son and I drive to Southest Texas to talk with Wells, he is always at the right place, at the right time.
The gift of intuition, the quality of being in the right place at the right time, and the gifted hands to grasp the football, all helped Wells and his generation get those last second touchdowns.
After hearing a television interview of Emmitt Smith, I realize that Smith and others just seem to have an intuition in the game of football. Smith indicated that he and his teammates really knew each other.
That's what's needed in the current Oakland Raiders. A type of knowing that can not be fully explained or quantified, but, it is indeed real. It places the player in the right place, at the right time, with the right amount of talent and toughness.
Increase in your "knowing" and get those touchdowns!
Today I found my file with the New York Times article contained in it. Again, it seems that some folks experience things in the right place, at the right time, to fulfill their destiny for victories, large and small.
I want to thank Mr. Warren Wells for serving as one of my mentors as I blend the study of NFL data with my research experiences.
My hope is that the Oakland Raiders will give us the type of victories like those mentioned in the article photo. It could read, "Current Wide Receiver is a Hero in Final Reel of Oakland's Late Show."
Go Raiders! Thanks Mr. Al Davis for having that "eye and intuition for great talent" like that of so many Oakland Raiders, both past and present.
This article is
What is the duplicate article?
Why is this article offensive?
Where is this article plagiarized from?
Why is this article poorly edited?

Oakland Raiders: Like this team?