NFL Preseason Power Rankings: Training Camp Week 1 Edition
Week one of NFL training camp is just about over, and with this milestone comes yet another series of preseason power rankings.
In past rankings, we've seen the usual teams occupy the top five spots.
Indianapolis, New Orleans and Dallas are always likely contenders, however, now that a solid week of training camp is under our belts, a storm has hit these predictable rankings like a hurricane in the Deep South, and has mixed things up quite a bit.
Injuries, arguments, no-shows and retirement games have bombarded the league this week.
Therefore, here's a look at The Week 1 Training Camp Power Rankings, along with a few reasons why certain teams have moved up or down a spot.
Begin Slideshow

»
Unfortunately, my list probably isn't all that different to ones you have read in the past, seeing as though the Rams continue to occupy the No. 32 spot.

But for the record, it is extremely hard to place the Rams above any other team in the league, considering that they still have an enormous amount of work to do this season.
In training camp, the Rams have looked good. Sam Bradford has stayed loyal and signed with the team, and the Rams' young and promising talent has been on display for the world to see.
Still, no amount of talented college prospects can win everyone over, and until St. Louis turns action into wins, they'll continue to rate low on preseason power rankings.
Prior to the NFL Draft, the Bills were probably one or two spots higher in preseason power rankings.
Unfortunately though, Buffalo have failed to name a starting quarterback, and this lack of decision making alone sees them occupy the No.31 spot.
For the Bills, an obvious rebuilding process is underway. Not only does this show in training camp, it also shows off the field, as the team has a new head coach in Chan Gailey, along with a potentially explosive running back in C.J Spiller.
More importantly, the Bills are still trying to find a passer, and the options are slim to none. For you see, it's simple: Trent Edwards or Brian Brohm. It's an arguable call to make, but one that does need to be made.
I guess it's the old saying of "What goes up, must come down." While Buffalo were far from "up" in the past, their lack of offseason motivation, excluding the Draft sees them quite down in the present time.
Still, perhaps we'll see a 2008 Miami Dolphins story unfold. A poor record to a decent one? We'll wait and see, until then, the Bills have a task ahead of them.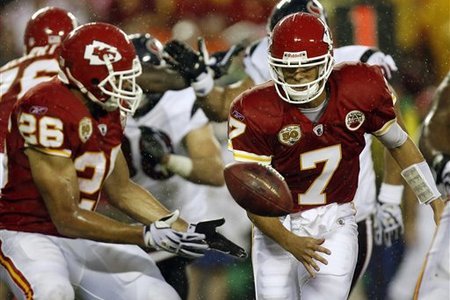 The Chiefs are an extremely hard team to decipher. On paper, they don't look to have the talent, away from Matt Cassel and Jamaal Charles.
However, when looking at how far they've come, there are some promising signs for this franchise.
I think that one of the Chiefs' biggest problems is coaching. While Todd Haley has brought forward some positive moves toward Kansas City, he is quiet at times, and may not be the tough as nails leader that the Chiefs originally desired.
So what about the Chiefs' training camp?
To tell the truth, not much has come out of Kansas City, other than a routine performance by all players.
Fortunately for the Chiefs, there haven't been any offseason dramas, and more importantly, no holdouts by any players.
Personally, I'm not willing to go out on a limb and say that the Chiefs are a "sleeper" team this season, but they may surprise a few people. They seem to have things together now, and confidence is slowly building.
Considering where the Bucs have come from in the past, they've made many necessary footsteps to turning their bad luck around.
None was more evident than the way young quarterback Josh Freeman played last season, as he just about knocked the socks off of everybody in his rookie year.
To top the good news off, Tampa Bay also had a rather successful Draft campaign. The additions of Gerald McCoy and Brian Price will surely solidify the defensive tackle position, a spot that saw Tampa Bay have problems last year.
However, until Tampa Bay puts it all together and start winning some games, they will always be viewed as a struggling team.
Yes, they have a tremendous amount of potential, and yes the talent is arguably there, but realistically, Tampa Bay may be a few good years away from playoff football.
Rest assured, they may get their one day. Until then though, we'll have to wait and see.
Good news everyone, Ndamukong Suh has finally signed with the Detroit Lions.
Not only is this big news, it also means that the Lions are now a complete team, and funnily enough, possible contenders in the NFC North.
Okay, so the Lions do have a lot to overcome this year, but is there any real reason that Detroit can't steal the second spot in the North if Favre retires and the Bears continue to collapse? I don't see one.
Therefore, the Lions are back on track. At training camp, although the Suh situation held things up a little, the Lions have looked great.
Quite possibly one of the better sights to come out of the Lions camp so far is the fact that Jahvid Best is rushing well and fitting in the offensive scheme.
This isn't just important for the Lions; it is vital, as some serious competition awaits Detroit when it comes to the run game.
Yes everyone, stand up and applaud Detroit, they've done some good. They were the bottom barrel dwellers for quite some time, and now they are heading on the right track.
Like Tampa Bay, the Oakland Raiders have come from the bottom up.
That isn't to say that they are at the very top right now, but they've made some serious adjustments when it comes to repairing this once broken-down team.
The first adjustment was to draft Rolando McClain. Some, including myself, say that Rolando may struggle a little in the early going, but he should come good as the weeks roll on.
The second adjustment was of course to sign Jason Campbell, and toss JaMarcus Russell out. Not only is Jason Campbell a very capable quarterback, he may also be the right guy to help stabilize this team.
And what about training camp?
Well, I guess hell froze over, as the Oakland Raiders have played very well together. They've been out of the media, Tom Cable has kept his hands to himself, and more importantly, things have appeared positive from the Raiders' perspective.
Not only is this a welcome change, it may also be enough to boost the Raiders up a few spots in future power rankings. It's still very optimistic, but I like what this team has done so far.
There's no doubt in anyone's mind that Pete Carroll is the right man to be taking over this franchise.
Not only did he have a great Draft campaign back in April, he is also the right motivator needed to steer Seattle back to the playoff spot that they so desire.
But before we go ahead and look toward the Seahawks' future, Seattle's past must be discussed.
Firstly, some serious pressure lies on Matt Hasselbeck. He's taken a significant step down from where he once was as a passer, and must regroup this season, and be a team leader for the Seahawks.
Secondly, Seattle needs to start winning. Unfortunately for the Seahawk faithful, their team may struggle when it comes to the bigger and tougher opponents this season, but there are many games the Seahawks could easily win.
Therefore, training camp and preseason football is vital to this team. Their camp season hasn't been all that eventful, however the team does look steady.
If Seattle stay on the straight and narrow, there's no reason they can't begin to put it all together.
For those frequent readers of my work, you'd be aware of how much I have commended David Garrard in the past, for his work ethic and devotion this offseason.
If it isn't communicating with his wide receivers, or putting in a 110 percent effort in training camp, David Garrard may be the sole reason that the Jaguars don't totally collapse in 2010.
Still, the big picture is this. Jacksonville are a struggling team, and when the fan base is small, this is a recipe for disaster.
Jacksonville's Draft campaign wasn't exactly dismal, but the addition of Tyson Alualu wasn't the only thing that the Jaguars needed to reform themselves.
Therefore, in 2010, expect some better play from the Jaguars, but don't expect miracles. They are a struggling team who lack motivation, and with Jack Del Rio on the hot seat, things may go from bad to worse quickly.
Right now Jacksonville ranks at No. 25 on this list. It is fair to say though, they could be much lower.
Give the Browns credit; both Eric Mangini and Mike Holmgren have put forward a tremendous effort to turn this team around.
Signing Jake Delhomme may look questionably promising, but given Cleveland's highly commendable draft, the Dawg Pound may become quite fierce again this season.
For the Browns, the only real problem has been talent. Shifting through quarterback after quarterback seems to have been an ongoing dilemma, and the lack of consistency has also angered Browns fans for many years.
Now, not to say that a single offseason will turn all of this around, but I think you'd agree that the Browns haven't looked this good in a very long time.
At camp, Cleveland have looked impressive. In OTAs, newly drafted quarterback Colt McCoy has gotten in a handful of throws, along with the rest of the team playing nicely.
Are the Browns a team to watch in 2010? I'd say so, but their season could go up or down.
Like the previous teams mentioned, the Carolina Panthers are a rather tough team to decipher right now.
On one hand, you could look at the negative, and say that they did struggle in the NFC South last season. While on the other, you could say they have a young quarterback, who may just prove a few people wrong this season.
I remember nearly two seasons ago, the Carolina Panthers were all the rage. They were playing well, and were a playoff caliber team. Boy, what a fall from grace we've seen.
Now we are faced with a possibly below .500 franchise, who still has one of the leagues most talented running backs DeAngelo Williams, and wide receiver Steve Smith to their name.
Unfortunately, there isn't much to report from Panthers camp. Maybe this is due to the absence of Julius Peppers, I guess we'll never know.
Let me just say though, don't write Carolina off. The NFC South is a funny division, and it may be wise to list he Panthers as a sleeper pick this season.
Like most people, I am extremely excited to see how Donovan McNabb fares with the Washington Redskins.
Not only will the twice-yearly blockbuster game between the Redskins and Eagles be a delight, seeing whether McNabb really is the real deal away from The City of Brotherly Love should prove to be a tough test.
However, when it comes to the Redskins as a team, things are slightly looking up. For you see, now that Washington has a quarterback that could deliver in more ways than one, the team is once again a threat in the NFC East.
Reports from training camp say that the Redskins are gelling. There are some issues still to work out, such as the fact that McNabb is still a No. 1 wide receiver short, but for the most part it is all positive in red and yellow.
Could we possibly see the Skins post an above-.500 record? Don't count it out. The East is tough, but the Redskins appear to be the real deal for once.
A lot will depend on McNabb, although if you go by how well their offseason has looked, Washington could be in for a good year.
It's obvious to any football fan that the Bears have some problems.
The first issue occurs on offense, as Jay Cutler is now coming off a woeful 2009 season.
The second issue is defense. Can the Bears stand up to the potent passing attacks that the NFC North has to offer? Or will they crumble come midseason?
These questions still have no answer, and until the season kicks off, we'll all be left in the dark.
But all is not lost in Chicago. No, funnily enough, the Bears offense may be able to muster up a few surprises this season.
If you look away from the fact that Chicago doesn't have a number of solid receivers, now that Jay Cutler has experience, he may finally be ready to lead this team to som place special.
Chicago's offseason has been impressive, and with Julius Peppers now on the team, along with Chester Taylor, some leadership may finally be seen by The Monsters of the Midway.
Realistically, the NFC North may play against Chicago, as they fight for a respective spot.
Just remember that the Bears always put up a fight, so expect to see a different side of Lovie Smith's men this season.
From one NFC East team to another, we take a look at the N ew York Giants, a team that has notably had a quiet offseason thus far.
Perhaps it is due to the loss of many of the Giants' "egotistical style players," but the younger and impressive Giants have kept out of the media, and kept their heads in the game of football.
For many, New York are a No. 1 sleeper pick on their lists. They have a very young wide receiver corps, and with the addition of Jason Pierre-Paul, many fancy their chances as a Wildcard team in 2010.
As of now, there aren't many issues that plague Big Blue. Aside from the fact that they lack a serious run game given Brandon Jacobs' fall off, everything appears to be looking close to solid for Tom Coughlin's men.
However, one issue does appear, and that is the Giants defense. Jason Pierre-Paul is a huge asset to have, but until things are sorted out, and some depth is added to the Giants defense, some issues may still occur.
Aside from that, the Giants are still very much in contention. They rank rather low on this list, considering how impressive they've been in the past five years, but the problems aren't easy to ignore.
Keep an eye on the Giants this year; they may just sneak into the playoffs.
Like the Bears, the Broncos also have some concerns at the quarterback position.
With three potential candidates to take the starting role, not only will an all-out war be seen at Mile High this season, all three guys do have the potential to fail this season.
To put the cherry on the cake, head coach Josh McDaniels also faces a crucial year as he tries to push his team forward over the final hurdle, and into a postseason spot that Denver fans want so badly.
So how has Denver done in camp this offseason? To put it bluntly, very poorly.
Playing wise, Denver haven't looked all that bad. No, unfortunately for the Broncos, the injury bug has bitten them, more than once.
Firstly, the leagues leading sack leader Elvis Dumervil went down with an injured pectoral muscle earlier this week.
Secondly, linebacker Jarvis Moss fractured his hand, and thirdly, LenDale White was also injured. His situation is unknown at the present time.
Does all this add up to a bad season? It does look that way, but fortunately, all of these injuries aren't devastating.
Denver needs to win the AFC West early this season, and take over the division. They were halfway there last season, and ultimately collapsed.
This year, it's time for action. Otherwise, we'll have to take action, as the Broncos have made us suffer for long enough.
For the most part, everyone has criticized and analyzed the whole Matt Leinart and Anquan Boldin situation quite excessively.
I guess there is no ignoring the fact that Arizona have lost two of their key players this offseason in Kurt Warner and Anquan Boldin.
Both will of course be sorely missed,, but it is important for the Cardinals to move forward, and leave the past behind.
Firstly, some faith must be shown toward Matt Leinart. If he is questioned, he will surely fail. Secondly, just get the ball to Larry Fitzgerald. We all know how capable this guy truly is.
Unfortunately for all Cardinals fans, I hate to be the bearer of bad news, but by this time next season, we may be looking at Arizona in a totally different light.
Given, the Cardinals could overcome the odds, but if you prefer to stick to your guns, Arizona look to be heading toward a struggle-filled season.
Kevin Kolb steps into the starting role this season, as the Eagles look to be as competitive as they have been in the past, in the NFC East division.
On paper, the Eagles still look good. Sure Donovan McNabb and Brian Westbrook are missing, but blockbuster wide receiver DeSean Jackson still remains on the team, and he alone should help comfort Kolb.
Instead of talent, it's the Eagles schedule that provides the negative aspect for this team. Many tough games face Philadelphia this year, and this is the exact opposite of what you want as the new guy.
Analysts and experts seem to have written the Eagles off this year. But if history is noteworthy, Philadelphia is notorious for sneaking into the playoffs as a Wildcard contender.
They did it last year minus all the hiccups and stumbles. This year can they do it? Maybe, it will be 10 times tougher, though.
It's fair to say that the Steelers offseason has been one to forget.
Ben Roethlisberger's crime, the loss of Santonio Holmes, and numerous other discrepancies have plagued the Steelers as of late, and as a result makes them one of the leading contenders to have a "make it or break it" type year.
For fans, the usual Steelers of old seem to be a thing of the past.
Firstly, minus trusty wide receiver Santonio Holmes, the team struggles to find a suitable target.
Secondly, seeing as though Roethlisberger is set to miss 4-6 games at the start of the season, if the Steelers get off to a rocky start, then their season may be as good as dead by the time Big Ben steps back in.
For the most part, this is unfamiliar territory for Pittsburgh. After all, they have been so consistent in past years.
However, to quote Bob Dylan "The times they are a changin'," and unfortunately for the Pittsburgh faithful, they could be in for a rough and unexpected year.
Finally, Alex Smith has some protection to rely on this season.
After his team drafted both Anthony Davis and Mike Iupati, Alex Smith should have a decent amount of time in the pocket, while he tries to lead the 49ers atop the NFC West in a rather weak and easy division.
So far this offseason, I've been impressed with the 49ers. They haven't given up, and credit head coach Mike Singletary for his persistence to get this team to the very top of the NFL.
While his task isn't over yet, it is clear now that the 49ers are a playoff contender, and are for real when it comes to who could make a name for themselves this season.
Whilst we haven't heard much from training camp, perhaps this is a good thing, as all signs point to go for this season.
It may not be a season identical to the Joe Montana days, but it may be wise to tip the 49ers in your office pool. They are a team on the rise, and should be playing a much longer season in 2010.
Things looked down for Tennessee in the past, but now, it appears the only place the Titans are going is up.
With Vince Young leading the way, and Chris Johnson running down the competition, Tennessee have become a superior team to keep an eye on in the NFL.
Unfortunately though, it isn't all smiles in Tennessee, as Chris Johnson has created quite a stir so far this offseason, due to his recent attitude.
However, away from off-the-field dramas, the Titans seemed to be quite possibly one of the more determined teams in the league.
Some fans aren't willing to give Vince Young the credit he deserves, so his simple outlook is "I'll earn it instead."
Playoffs? Yeah, I'm talking about playoffs. As the Titans are in a division that could go either way this season.
Sure it features the Colts and the Texans, but what's to say Tennessee couldn't outmuscle both? That's right, nothing.
I'm not asking you to become a Titan fan, I'm just saying, acknowledge them. They are close to their best right now, and have a very good chance to improve this year.
Ordinarily, I wouldn't rank Atlanta over the Titans, but given the fact that Michael Turner is now back to 100 percent, I get the feeling that we will see the old 2008 Falcons that made it to the playoffs in impressive fashion.
What I like about this team is that they keep it simple. They aren't about impressing everyone, and are happy being quiet achievers.
Therefore in 2010, Atlanta will rally New Orleans in the NFC South, and may capture the division like they have in the past.
So what will be the cause of a sudden burst in victories?

Well aside from Michael Turner's brilliance that we are all aware of, young Matt Ryan is also due for another big year, as he has very dependable wide receiver Roddy White in his arsenal.
Atlanta back to their best? It would be a safe bet to make. They have the talent and the coaching to go a long way this season.
Like many people have in the past 12 months, I have jumped on the Dolphins bandwagon, as they finally seem to have their team together, and focused on the same goal.
For those that haven't seen much of Chad Henne, let me inform you of how well this guy plays. Sure, he is no Dan Marino or Peyton Manning just yet, but considering the skills that he has brought to the Miami Dolphins, he is a much-loved quarterback in Tuna Town.
So why have the Dolphins been ranked so highly in recent preseason power rankings?
Well aside from Chad Henne, it is also the addition of Brandon Marshall that has fans buzzing when it comes to Miami's chances in 2010.
Last season saw the Dolphins end the year with a 7-9 record. Realistically this is a dismal record considering how much talent this team really has.
Therefore, in 2010, the Dolphins have automatically become a threat in the AFC East. Sure the Jets and Patriots are still factors, but the Dolphins are no longer the roll over team they once were.
Stand up, Tuna Town, and smile, as your team has accomplished the necessary steps toward rebuilding, that many teams are trying to decipher.
I think you'll agree that the Chargers have taken a sudden fall from grace this offseason.
Not only has the loss of LaDainian Tomlinson set the team back a peg in the run game, losing Antonio Cromartie on defense may also prove costly as the season draws on.
However, all is not lost in Charger land, as the team still has Philip Rivers, along with newly recruited rookie Ryan Matthews, who hopes to develop into a solid starting running back as time passes.
For San Diego, the problem has of course been consistency. Countless years they've started 0-4, and somehow made the playoffs, only to choke in an almost humorous fashion.
So what will be different about this year? Well, to be honest, perhaps not a whole lot.
Norv Turner is beginning to feel the hot seat a little, and the team will be evenly matched in the AFC West, now that the Broncos and Raiders are providing some serious competition.
During the Chargers camps, there hasn't been much to report, aside from the fact that they still look to have their act together.
Not only is this important, it should also prove costly if the team is to appear in the postseason again in 2010.
We now crack into the top 10, and take a look at a team who is just barely hanging on to their respected name in football.
In the past, the Patriots have been great. They've won Super Bowls, provided us with numerous unforgettable highlights, and overall have been a joy to watch.
But now, something's different, the Patriots lack defense. Yes, the veteran roles on the Patriots defense are now absent, and as a result, the Patriots have struggled in games that they easily may have won in the past.
Not only is this a concern, seeing as though the AFC East is a tough division nowadays, New England can't afford to slip up this season, as the Jets and the Dolphins will be right behind them, or possibly in front of them.
As for the positives, the Patriots are still chugging along. Tom Brady is still happy in Foxboro, and no real concerns arise on offense, aside from Randy Moss' aging, and Wes Welker's long and indecisive recovery.
Don't be surprised to see the Patriots out muscled in the AFC East, and perhaps reduced to a Wildcard team.
They do have the talent, and their training camp so far has been successful, but some dark days may lay ahead for this once-glowing light of the NFL.
We now head into single digits, and take a look at a team who were vastly underrated, up until now.
Ah, the Houston Texans, the team that is the newbie in the NFL, and still have yet to make a name for themselves.
For some fans, the argument could arise that the Houston Texans have never won a playoff game in their history.
While this is totally true, there is no denying that they are a playoff contender this year, and are a serious threat toward the Super Bowl.
What I like about this team is their passing and receiving. Matt Schaub was the one of the best quarterbacks last season, and despite his contract issues this offseason, Andre Johnson is a treat to have for any team lucky enough.
"The negatives?" I hear you ask. Well aside from the Texans never winning a playoff game, they are still short on a run game.
Fortunately, their draft pick Ben Tate should solidify this position, and add another weapon to the roster.
Houston to play in the Super Bowl in Texas? It's still a long way away, but you can't help but like their playoff chances.
Since the 2009 season ended, everyone's opinion of the Ravens changed, once they made the AFC Divisional Playoffs.
They have the talent, they have the coaching, and they have the potential to go toward the Super Bowl if they play their cards right.
Unfortunately, one of the Ravens' negative aspects is perhaps a concern, as Joe Flacco has yet to step up as the leader of this team, and take the bull by the reins.
Maybe this is the reason for the Ravens inability to jump that last hurdle toward the Super Bowl, but until Flacco takes over like he should, the team may struggle in the future.
Away from the negatives though, credit the Ravens, they've done well. They are many peoples Super Bowl favorites, and given the way they look on paper, that is quite a reasonable statement.
This season sees the Ravens welcome Terrence Cody and Anquan Boldin, along with numerous others. Let's hope they glue it all together, and make a winning season out of it.
Prior to this whole Brett Favre saga we have seen in the past week, the Minnesota Vikings would have been much higher on this list.
Unfortunately though, Brett's media mind games see the Vikings fall a little this week, as we began to get an idea of what this team really looks like without the old timer, No. 4.
In training camp, the Vikings have been extremely positive. Jared Allen, along with numerous others didn't display any hate or warmth toward Favre, and claimed that "They would just keep playing football."
However, when we all see Tavaris Jackson passing the ball as the possible starter this season, I think a few of us get a little concerned in regards to how this team will fare without a decent quarterback.
Still, the talent is there and Brad Childress is a great coach to have. The Vikings may slip to a 9-7 team without Favre, but they can still make the Wildcard, right? Exactly.
Who knows, Favre may come out tomorrow and say he is playing, and the Vikings will be right back in Super Bowl contention. Now though, it's a guessing game, and Brett Favre is the narrator.
Ever since the Packers drafted Bryan Bulaga, everyone realized that this team had found the missing piece to the puzzle for potential Super Bowl success.
In 2009, Aaron Rodgers was a star. He was sacked a league high 50 times, but when it came to his passing, let's just say he came very close to capturing the MVP award.
Away from Rodgers himself, the Packer defense has also improved immensely, and the transition to the 3-4 has made the difference between winning and losing for Green Bay.
In 2010, most people expect the Packers to excel. Their trusty wide receivers Greg Jennings and Donald Driver are back, along with new starting tight end Jermichael FInley, who has all Packer fans saying "TGIFinley."
The offensive line is still a mild concern, but the Packers are in the hunt for the top spot in the NFC North. The Vikings will be no cakewalk, but you can't help but like this team's chances this season.
I never thought I'd say it, but since the Bengals acquired Terrell Owens, the team has become a major contender in football.
Firstly, the Bengals receiving corps is exciting. Two egotistical players are sure to spark up some kind of news, and with Jordan Shipley, Antonio Bryant, and Jermaine Gresham, the Bengals offense is electric right now.
But can they put it all together?
That is the question we need an answer to.
For the most part, a lot lies on Carson Palmer's shoulders. Can he provide accurate passes to all of these guys? And is he a reliable passer?
We'll find out the answer in due time, but for the moment, admire the Bengals, as they have gone from zero to potential hero in a single offseason.
A few of you may not appreciate their high ranking in this list. But the talent they have, surely they can make it all work, right?
The Jets' offseason has been great. They've gained Antonio Cromartie, Santonio Holmes, and LaDainian Tomlinson, and are among the favorites to take home the Super Bowl this season.
As for the Jets' training camp though, it hasn't been quite as successful. Due to Darrelle Revis, the Jets have become accustomed to a holdout, that has Rex Ryan defending his team from left, right, and center.
Still, one of these days, Darrelle will get in line, and the Jets will go back to being the threat they are in the AFC East.
Last season, saw New York make a great playoff run that will be remembered for decades for all Jets fans.
Can New York bring home the Lombardi? You have to like their chances.
Mark Sanchez does have to step up a bit, and training camp hasn't been a joy, but with the talent and coaching they have, the Jets may christen 2010 as their Super Bowl year.
New Orleans slips from the No. 2 spot on this list, but that doesn't mean they still aren't the exact same team they were in 2009.
For the most part, the Saints are still contenders.
Drew Brees is an elite passer now, who finally has a ring, and with Darren Sharper and numerous other highly talented players on Sean Payton's roster, New Orleans should be capable of returning to the playoffs in 2010.
However, perhaps one team will stand in their way: the Atlanta Falcons. This season, don't expect the NFC South to be a cakewalk for the Saints, and seeing as Michael Turner is back from injury, the Falcons will be looking to checkmate the Saints on any given opportunity.
Still, they are the Super Bowl Champions, and they are worthy of a high ranking on this list. It wouldn't be wise for New Orleans fans to expect another fantastic year, and the chances of repeating do play against the Saints.
On paper, they look great though, so for now, they are playoff contenders.
Ah the predictable Colts, when aren't they in the top 3 on any list?
Yes, Indianapolis are still continuing along their impressive path. Peyton Manning is as good as gold right now, and with the talent that continues to produce in blue and white, there is no realistic reason for Indianapolis to slip from the top tier any time soon.
When it comes to problems, there isn't much I can dig up. However, perhaps some confidence issues may plague the Colts, given that they did lose the Super Bowl, and have many newer and tougher AFC teams to overcome in 2010.
But at the end of the day, it's Peyton Manning, and no one can argue against him. You wouldn't look foolish to mark them down as Super Bowl contenders, and I am sure many of you already have.
The Colts are consistent and reliable, both of which are the makings of a great playoff team for years to come.
No you are not seeing things, the Dallas Cowboys occupy the top spot on this list.
"Why?" I hear you ask, well it's simple, they've had a great offseason, and have a tremendous amount of talent.
For you see, if you were basing this list on overall power rankings, the Cowboys would obviously be lower. But considering this is based on training camp week 1, Dallas have by far been one of the most impressive stories thus far.
Yes, Tony Romo is passing well. Yes, the receivers are running well. And yes, the Cowboys heads are finally in the game.
Maybe it's due to the Super Bowl being in Texas this year, I guess we'll never know. But something seems different about these Cowboys, and they have their game faces on.
Unfortunately in camp, Dez Bryant has been injured. It is not season ending, but it is a minor concern for all Cowboy fans.
Away from that though, it's all been positive. And when everything is positive, the Super Bowl becomes all that more likely for any team in the hunt.